Opinion: UCLA must address overcrowding, prioritize well-being of students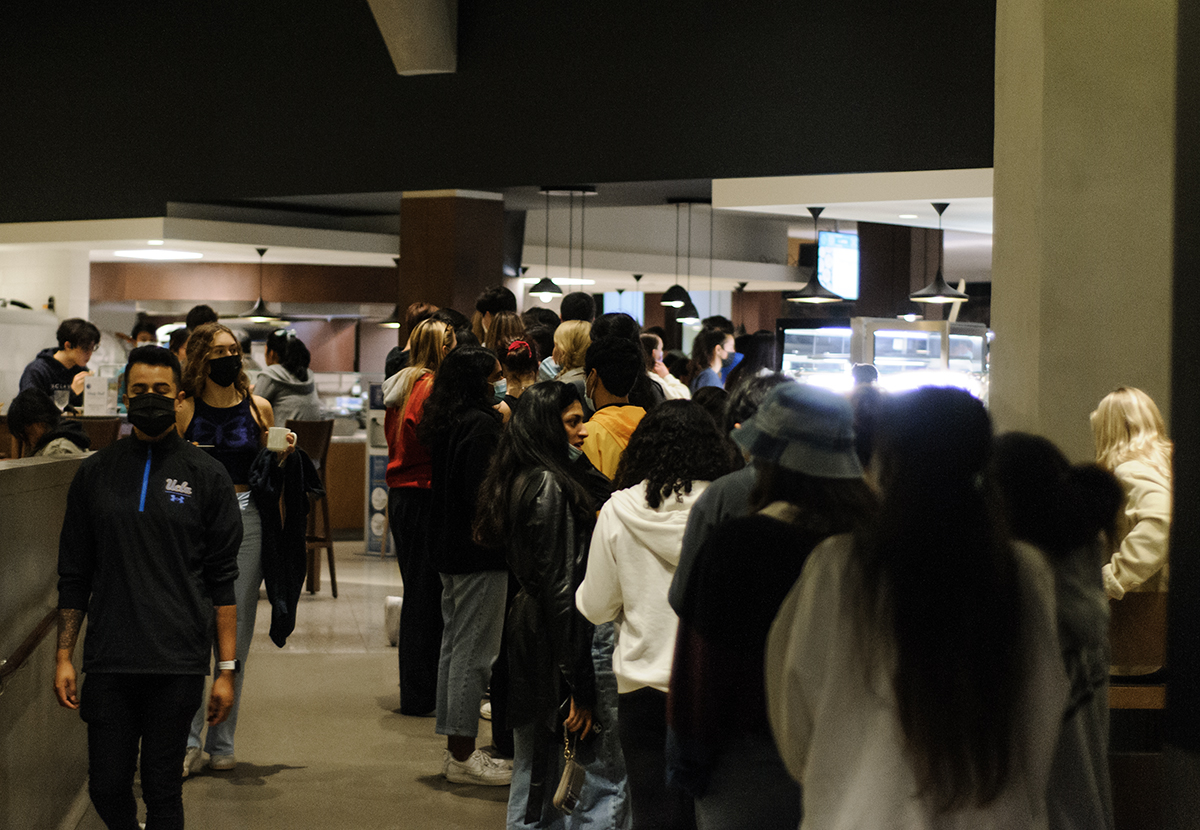 A throng of students waits in line for desserts at Epicuria, UCLA's Mediterranean-inspired dining hall on the Hill. As the number of enrolled students continues to increase, the university must act to address and mitigate the consequences of overpopulation on student life. (Bryan Palmero/Daily Bruin senior staff)
"God, it's so overpopulated."
Walking through Bruin Plate, a girl on FaceTime showed her friend how crowded the dining hall was. Almost all the tables were taken, there were long lines for the herb-roasted chicken and flank steak, and the rotating chain of dishes was overflowing.
The signs of crowding aren't limited to dining halls. Obtaining a parking permit, or even a spot, has become increasingly difficult. Once-peaceful walks through campus are now disrupted by the growing masses, and even the internet connection is struggling to deal with the high number of students.
And it will only get worse.
Over the years, we have seen a steady increase in enrolled students. Looking back 10 years to the freshman profile of fall 2012, UCLA admitted 15,982 students, of which 5,621 enrolled. Moving forward five years from then, for fall 2017, UCLA admitted 16,456 students, of which 6,037 enrolled. For this fall, UCLA admitted only 12,844 students but had a record-breaking 6,462 enroll.
If UCLA continues to admit as many or more students as in previous years, the university must take steps to ensure current students' needs are met first. This means opening up more dining halls, hiring more student and non-student workers, and advertising its resources better.
Although 2022's number of admitted students may be lower than in previous years, UCLA has an expansion plan in place.
"UCLA is committed to increasing its in-state enrollment in the next five years, so growth plans will focus on in-state students," UCLA spokesperson Ricardo Vazquez said in an emailed statement.
Although the growth plan is meant to reduce out-of-state enrollment and prioritize California residents, this focus does not alleviate the problem of general overenrollment.
Vazquez referred to the 2021 Budget Act, which increases funding for various University of California programs and requires UCLA to reduce nonresident undergraduate enrollment. Evidently, this initiative's motivation is not to enhance the student experience but rather to gain more funding.
Despite being beneficial for California residents who hope to obtain a UC education, the initiative to enroll more in-state students may be a detriment for current students who are already disadvantaged by overcrowding.
Naturally, after the online and hybrid learning models of the past two years, the campus is much more densely crowded this year than in the past.
"I think everyone has in-person classes now, so it feels busier on campus," said Hannah Joo, a second-year biochemistry student.
Even with operations almost back to normal after the COVID-19 pandemic, dining halls and Associated Students UCLA restaurants still struggle to meet the demands of the student population.
Although a bit shorter than last year, long lines and wait times at residential and fast-food restaurants still affect students.
"I think the wait times for the dining halls just increase every year," Evan Starr, a fourth-year anthropology and cognitive science student, said. "I'm an RA so I'm on the Hill, and I don't remember waiting in the lines now like I did back when I was a freshman."
To accommodate a growing student body, UCLA should reopen its dining to full capacity, which means reopening Cafe 1919 and extending Epicuria's and Feast at Rieber's hours to include lunch.
In addition to long wait times at dining halls, students also struggle to secure classes during their competitive enrollment appointments. More often than not, classes fill up quickly and students are unable to enroll, left on the waitlist or forced to take a class they are uninterested in.
As a university that prides itself on its high-quality academics, it is concerning that the simple task of enrolling in a course has become a challenge. While college should be a fruitful time to explore a wide variety of course options, students are left with a meager selection and deprived of the ability to branch out and learn new things.
"To ensure students have access to the courses they need, the campus will add a greater percentage of seats in classes than the percentage of enrollment growth," Vazquez said in an emailed statement.
However, simply increasing the number of seats would only add to the problem of UCLA prioritizing enrollment – and the funding that accompanies it – over students' education. With ample evidence revealing a positive correlation between reduced class sizes and academic performance, UCLA should make a strong effort to offer a greater course catalog as well as increase its academic staff with qualified professors, lecturers and other employees.
UCLA's misguided attempts to address overcrowding can also create a feeling for students that they are cogs in a machine.
"We also plan to create capacity for additional students by continuing to improve graduation rates and accelerate graduation times through increased summer enrollment and other efforts," Vazquez said in an emailed statement.
Although some students may be inclined to make use of such opportunities and graduate as soon as possible, others may simply wish to enjoy the four years they have on campus. As UCLA pushes students to graduate in order to quickly replace them with a fresh batch, the university's priorities are clear.
Starr reported feeling rushed out as a fourth-year student.
"More and more people are coming every year, and there's this feeling in your senior year of [UCLA] wanting to get you out, so they get the next people in," Starr said.
Vazquez noted UCLA's accomplishment in being the first UC to guarantee housing to all incoming freshmen for four years and transfers for two years. However, this accomplishment underlies a deeper issue of UCLA packing students in as a means to increase enrollment and funding.
There are positives to expanding the university: An increase in funding would allow UCLA to advance its resources and offer more aid to students. Along with that, an increase in enrollment would provide more California residents with the opportunity for a UC education. Before addressing prospective students, however, UCLA must prioritize the well-being and academic success of its current students.
We are not cogs in a machine.
We are students trying to live and learn without the added stressors of feeling like our time is limited and we are taking up too much space.