Editorial: University of California must fairly compensate academic student workers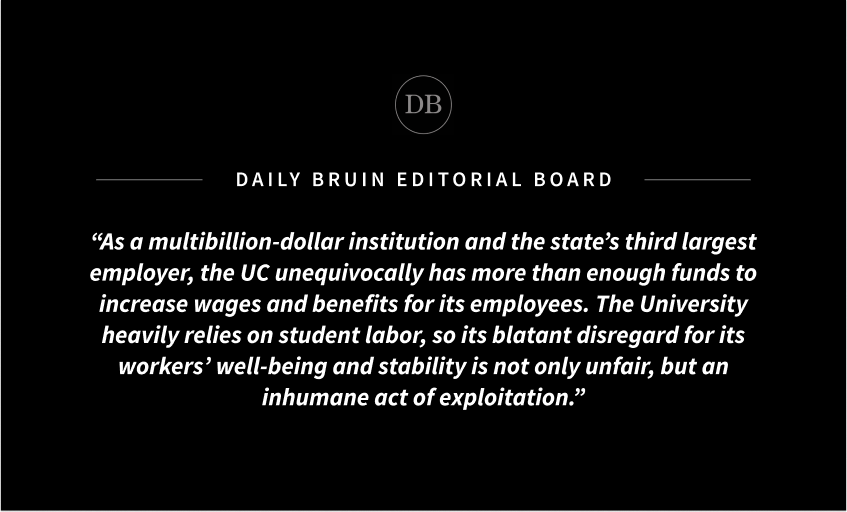 The University of California has failed to meet the basic needs of student workers, time and time again.
Despite their crucial role in fostering a high-quality learning environment, academic student employees are still significantly undervalued, undercompensated and underpaid for their labor.
The UC simply cannot function without student workers, and it's about time it realizes that.
Academic workers across the entire UC system have united to make their demands not only heard, but impossible to ignore. United Auto Workers Local 2865, a UC student-workers union, is taking its demands to the picket line alongside UAW Local 5810 and Student Researchers United-UAW to simultaneously bargain four separate contracts with the University for a fair workplace.
Around 48,000 academic employees – including teaching assistants, postdoctoral students, tutors and researchers – have collectively mobilized to join the UC-wide strike and advocate for an equitable system that provides all workers the support and resources they deserve. The Los Angeles Times reports it could be the largest strike of academic workers in United States history.
The unions presented a strong set of proposals to the University, calling for increased wages, job security, transportation benefits, childcare reimbursements and more. Nevertheless, it is evident that the UC is making minimal effort to reach a tentative agreement and fulfill the needs of struggling workers.
As a multibillion-dollar institution and the state's third largest employer, the UC unequivocally has more than enough funds to increase wages and benefits for its employees. The University heavily relies on student labor, so its blatant disregard for its workers' well-being and stability is not only unfair, but an inhumane act of exploitation.
It comes as no surprise that the UC continuously fails to financially support its workers, yet it unabashedly invests millions of dollars into high-earning elites while neglecting the needs of marginalized communities who would significantly benefit from increased funding.
While academic workers were struggling to pay their rent and survive, the University bought a $6.5 million mansion for UC President Michael Drake.
On top of that, the UC invested more than $106 million of funding of its police department, which continues to disproportionately target people of color across UC campuses.
While meeting student workers' expressed needs may cost hundreds of millions of dollars each year, the UC budgets more than $40 billion annually. There is no doubt the necessary funds exist.
The UC picks and chooses where this immense funding should be allocated, and its poor decisions have deprived thousands of student workers of livable wages.
The University must redirect funds into the community to efficiently serve the academic workers who diligently maintain its top-tier institutions.
As the cost of living rapidly increases in Westwood and the broader LA area, 90% of academic workers spend more than a third of their income on rent, according to a UAW Local 2865 press release. Because of the excessive rent prices, many student workers are unable to afford housing on or near campuses, leading to additional spending on public transportation or gas for commuting, which the University refuses to compensate them for.
On top of that, academic workers who have children are burdened with extensive child care costs, all of which must be paid with their meager income. Despite the unions' proposal for a monthly $2,000 child care reimbursement, the UC inadequately proposed a $450 reimbursement for grad workers and only $208 for postdoctoral students.
Enough is enough. Academic workers should not have to fight tirelessly on the picket line and intentionally disrupt the UC system for their basic humanity to be acknowledged and restored.
This reflects a broader systemic issue of the education system in which teachers – people with one of the most important careers in society – have historically been underappreciated, underpaid and overworked.
From teaching students to conducting research, academic workers' daily contributions to the UC system are what allow it to claim the titles it prides itself on, such as being home to the No. 1 public university in the country. As the unions put it on their website: "UC works because we do."
The current deplorable working conditions at the UCs are only destined to continue if the University fails to meet the bargaining demands put forward by UAW Local 5810, UAW Local 2865 and SRU-UAW. The UC has the special opportunity to stand on the right side of history and in solidarity with academic workers – and it must not pass this up.
This groundbreaking decision is bigger than ourselves and the current UC system. It will build a more equitable workplace for future generations and ensure an end to the exploitation of academic workers to come.
While 48,000 student workers can collectively unite at the picket line and fight for a better tomorrow, our future is in the hands of the University to make a change that matters.
It's about time academic student employees are fairly paid, compensated and valued for their contributions that fuel the entire UC system.