Editorial: University of California must alter its policies, hire undocumented students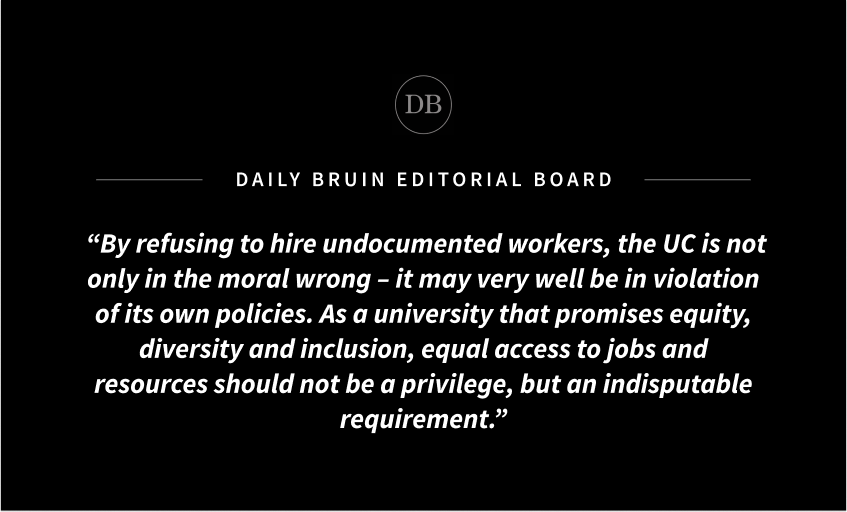 Editor's note: Editorials do not represent the Daily Bruin as a whole. The board encourages readers to respond to our editorials at dailybruin.com/submit.
While the federal government fails to protect immigrant youth, the University of California must fight to turn the tide.
The Deferred Action for Childhood Arrivals program, better known as DACA, was ruled unlawful by a district court judge in 2021 and the ruling was upheld in a federal appeals court in October, freezing enrollment. According to the New York Times, this has left over 44,000 college students without documentation in California unable to receive DACA status.
Under current prevailing interpretations of federal immigration law, these students have no means of legal employment; however, a team at the Center for Immigration Law and Policy at UCLA released a well-supported legal analysis in October which concludes that this interpretation does not apply to state governments.
In other words, the University – California's third-largest employer – has a strong legal basis to begin hiring those who have been left behind without DACA.
Hiring undocumented workers is not just legally defensible, it is also consistent with the UC's stated values and would advance its mission as an institute of knowledge and education. For the sake of our community and the University itself, the UC must immediately begin hiring students without permanent legal status.
The Opportunity for All Campaign is already calling on the University to do just that – and for good reason.
Undocumented students deserve the same opportunities for employment as their peers.
According to a report conducted by the UC Collaborative to Promote Immigrant and Student Equity, undocumented students disproportionately experience financial and legal vulnerability, along with food insecurity. Despite the necessity for additional resources, the UC fails to provide the bare minimum of support and acknowledge a larger systemic issue at hand.
In addition to employment barriers, qualified students without permanent legal status are being denied opportunities that encapsulate academic success itself, including fellowships and research positions.
University jobs often offer support for student workers that can be monumentally helpful in ensuring their academic success is not compromised. To their detriment, undocumented students are deprived of this opportunity.
If unable to find a job through the University, other students can seek work opportunities elsewhere; however, the same laws that are mistakenly keeping the UC from providing job opportunities to undocumented workers are keeping other potential employers away as well.
Until now, discrimination based on documentation status has presumably been allowed at the UC – in spite of its own policies prohibiting employment discrimination on the basis of citizenship – under the notion that it is "specifically mandated by law."
But UCLA's scholars and their esteemed peers across the nation have now confirmed no such specific mandate actually exists.
By refusing to hire undocumented workers, the UC is not only in the moral wrong, but it may very well be in violation of its own policies.
As a University that promises equity, diversity and inclusion, equal access to jobs and resources should not be a privilege but an indisputable requirement.
It's time for the UC to step up and address this matter of concern that leaves undocumented students in a further state of limbo.