Labor Center holds teach-in calling on UC to allow hiring of undocumented students
Ju Hong, a presenter at a teach-in Tuesday, is pictured. A new UCLA campaign, Opportunity for All, advocates for the hiring of students without legal resident status. (Shengfeng Chien/Daily Bruin staff)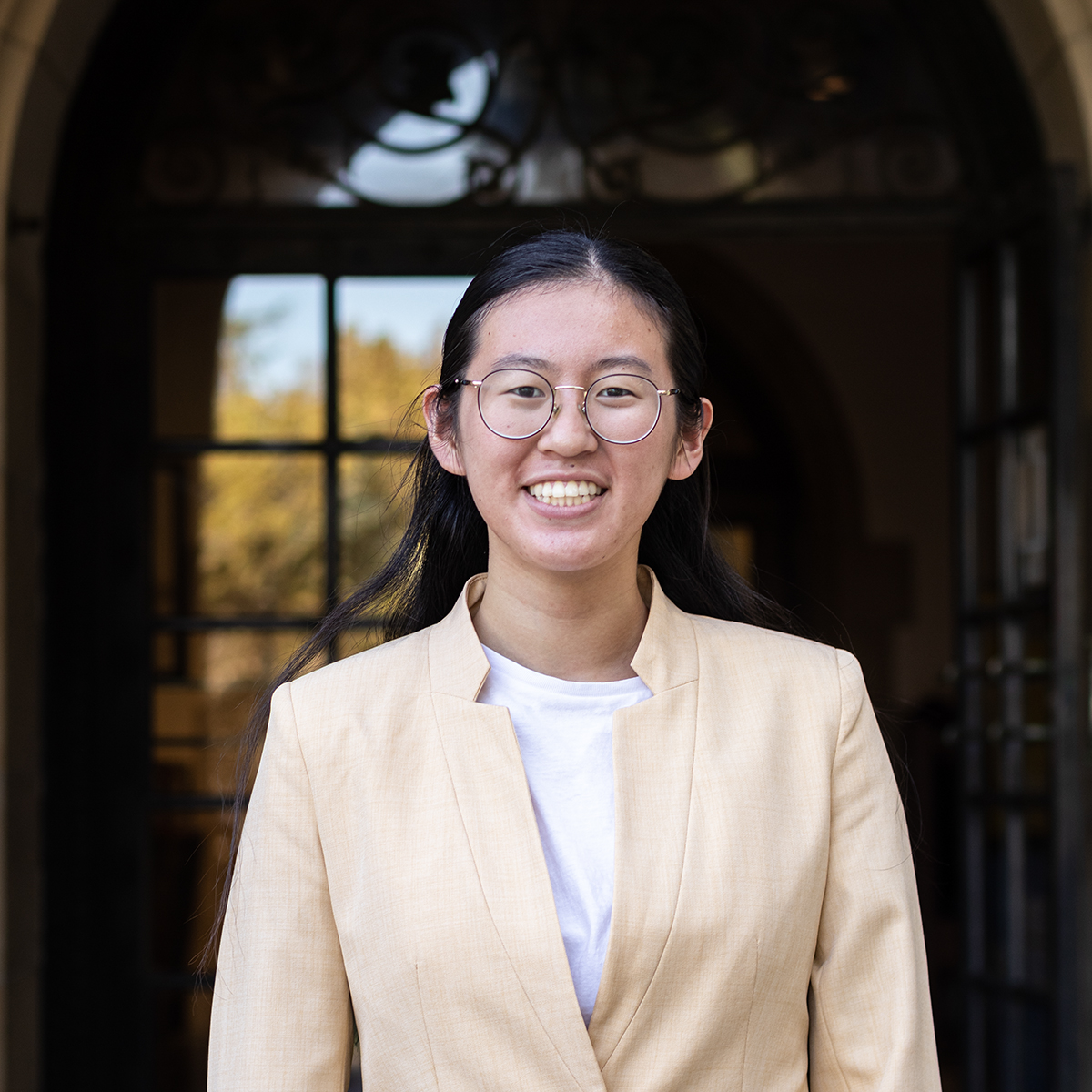 The UCLA Labor Center hosted a teach-in on Tuesday afternoon to advocate for the University of California to allow the employment of students without permanent legal status.
The Opportunity for All campaign, launched Oct. 19, is a UC-wide movement calling on the UC system to permit the hiring of students who lack permanent legal status. In a letter to UC President Michael Drake, students who were unable to be employed by the UCLA Labor Center said the limitations of the Deferred Action for Childhood Arrivals policy – which only protects children who entered the United States before June 15, 2007 – have led to promising students being denied fellowships, research positions and jobs vital to their academic advancement.
Student speakers at the teach-in shared stories from their own lives and from their families.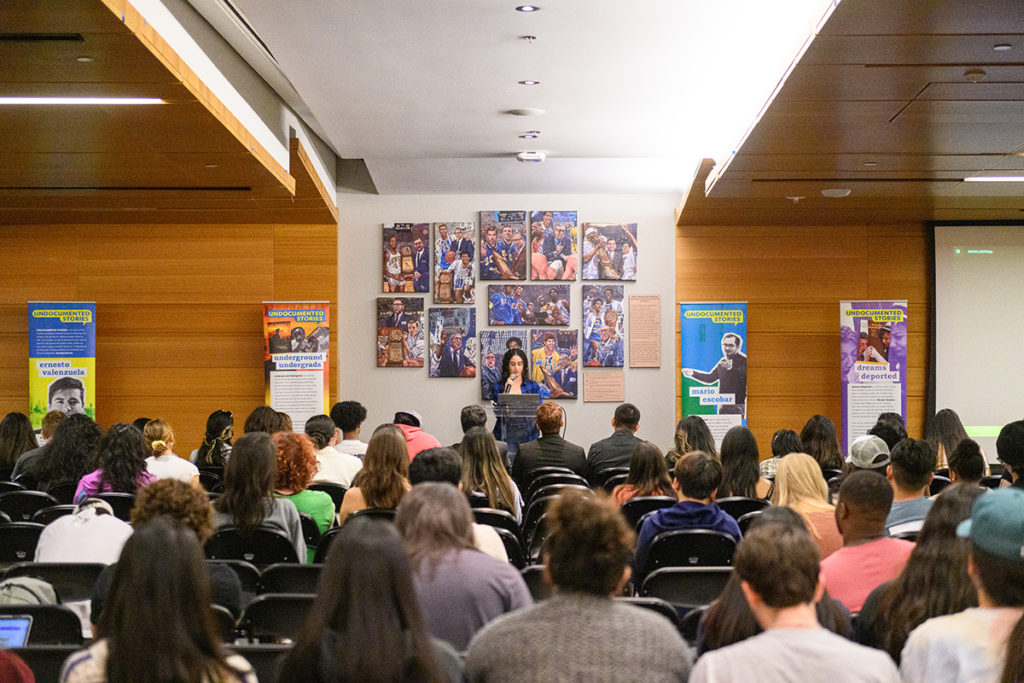 Students without permanent legal status must work to pay for higher education while facing other challenges, said Alondra Banda, a second-year labor studies student. She added her older sister used to live on less than $20 for weeks at a time when she was in college.
Karely Amaya, a public policy graduate student, said she had received an offer to work at the UCLA Labor Center that could cover her tuition but could not take it because of her immigration status.
"I'm unable to take advantage of this opportunity that I earned because of my hard work despite all of my balancing," Amaya said. "I'm feeling alienated by my own campus and have been treated as less than compared to my classmates."
Karen Ruiz Diaz, a third-year psychology transfer student who attended the teach-in, said she had also been offered employment but was unable to accept it, which discouraged her.
Carlos Alarcón, a graduate student of public policy, added that undocumented students were not able to receive assistance under the 2020 Coronavirus Aid, Relief, and Economic Security Act because of limitations added by former U.S. Secretary of Education Betsy DeVos.
Keith Stahl, a third-year labor studies transfer student, added jobs off campus are also more unsafe because students are vulnerable to being approached by U.S. Immigration and Customs Enforcement.
Alarcón added that there is a legal basis for hiring immigrants lacking permanent legal status. Ahilan Arulanantham, co-director of the Center for Immigration Law and Policy and a professor from practice at the UCLA School of Law, said because state governments are not explicitly named in federal legislation that prohibits the hiring of people without work authorization, the UC is not obligated to follow those restrictions and can hire students who do not have permanent legal status.
Both Alarcón and Kent Wong, director of the UCLA Labor Center, said they hoped the teach-in would convince students who do have permanent legal status to advocate on behalf of students who do not.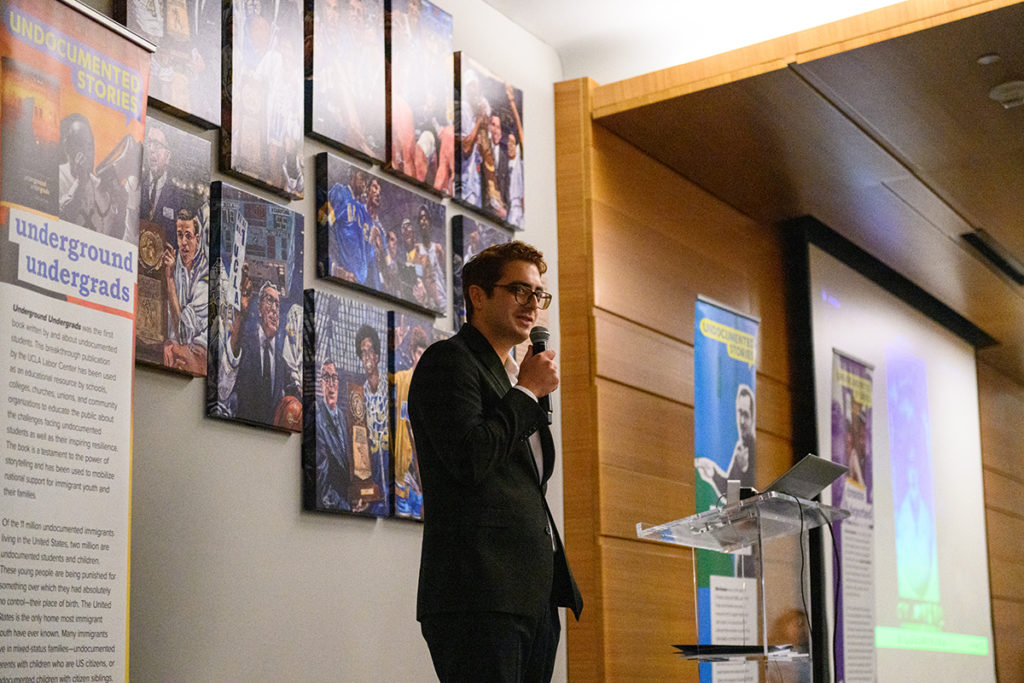 "Don't take no for an answer," Alarcón said. "I've been an undocumented student activist at the UC for – this is my sixth year now. And I wouldn't have been able to do anything if I just took every no that UC told me. Every step of the way, I've heard no from UC administration, and every step of the way, I've ignored that and continued to push and ended up succeeding."
Jeffry Umaña Muñoz, a third-year Chicano studies and labor studies student, said students and faculty will be providing public comments at the UC Regents meeting on Nov. 15. Wong added as it becomes increasingly likely that DACA will be struck down, UC protection of the rights of students lacking permanent legal status would be a lifeline for thousands of students.
"We still fall short of this promise by depriving these well-educated students who have worked so hard to get to this point," said Katie Garamendia, a third-year labor studies transfer student. "We're sending a message that they're less than when in reality, they should be praised and rewarded for their diligence and measurable courage and extraordinary achievements. We're sending the message that yes, you can participate in the race, but you cannot cross the finish line."
Dai-Liu is a News reporter on the science and health beat and a Copy contributor. She is currently a a second-year neuroscience student.
Dai-Liu is a News reporter on the science and health beat and a Copy contributor. She is currently a a second-year neuroscience student.