UCLA community members demonstrate against women's rights violations in Iran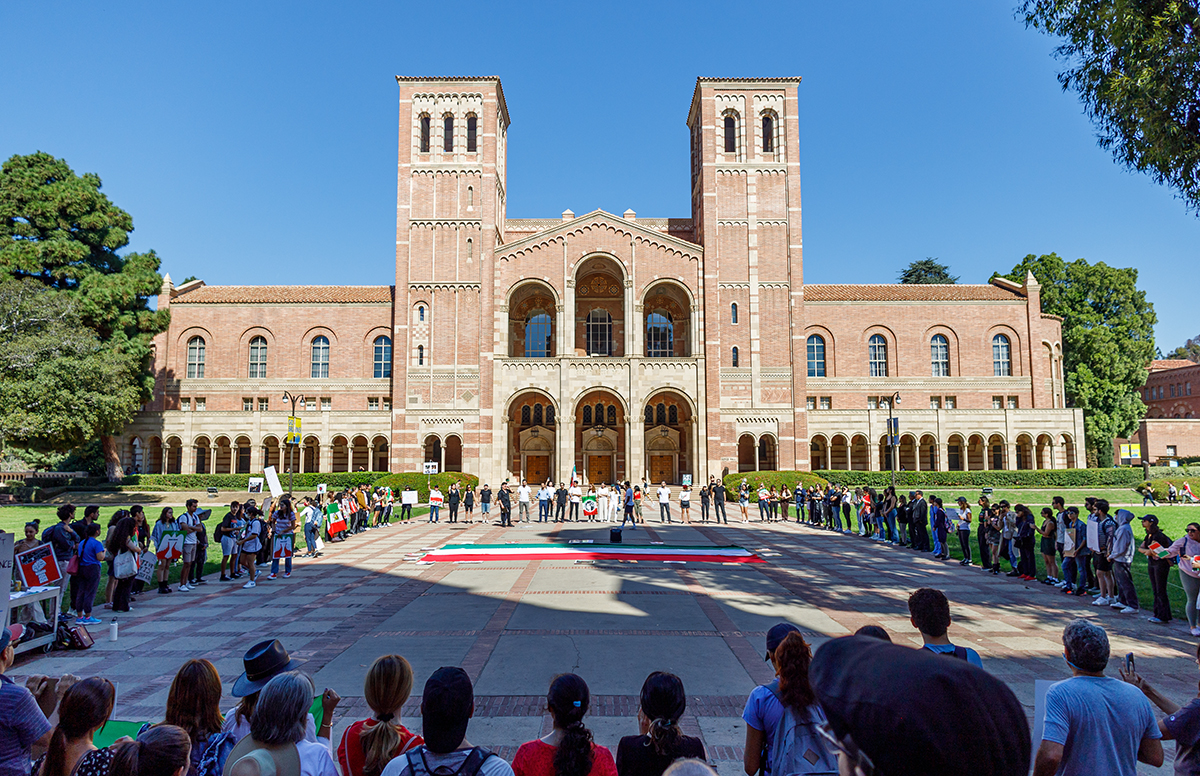 More than 100 people gathered on Tuesday outside Royce Hall (pictured) in protest against women's rights violations in Iran. (Shengfeng Chien/Daily Bruin staff)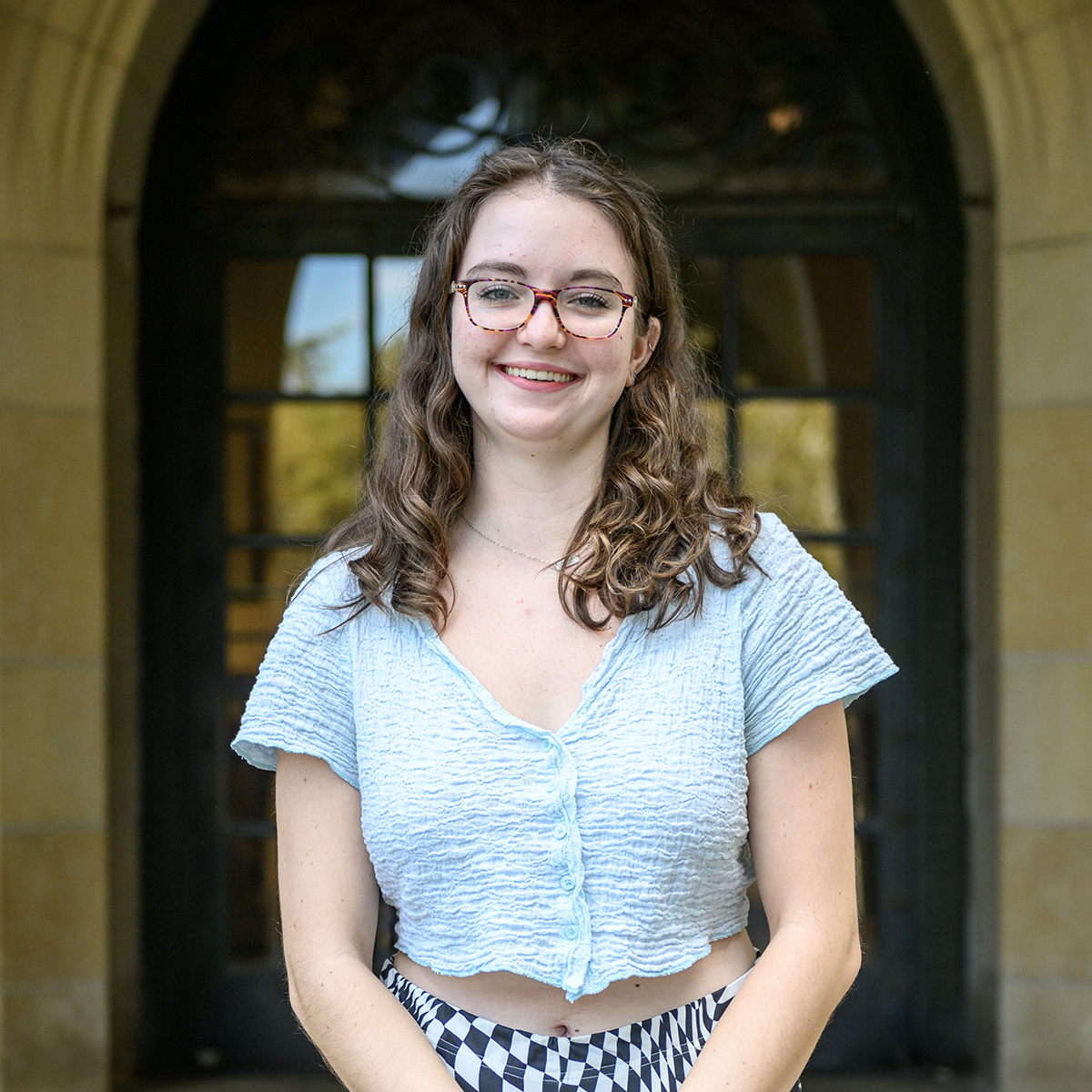 This post was updated Oct. 19 at 3:15 p.m.
More than 100 UCLA community members gathered on campus Tuesday to protest women's rights violations in Iran.
The rally – organized by the Iranian Graduate and Professional Association, the Iranian Student Group at UCLA and Sigma Pi Sigma Psi, a Persian sorority – began at 11:30 a.m. in front of Royce Hall. The group then marched to Bruin Plaza, chanting "Zan, zendegi, azadi" in Farsi and "Woman, life, freedom" in English, as well as "Human rights for Iran."
Protests have erupted around the world in response to the Sept. 16 killing of 22-year-old Mahsa Amini after she was detained by Iran's morality police for reportedly wearing her head scarf incorrectly.
[Related: Global outrage over Iran's morality police reaches UCLA community]
Rally speakers called for the Bruin community to stand in solidarity with Iranians as they asked for support.
Kimia, a behavioral neuroscience doctoral student and member of the UCLA Iranian Graduate and Professional Association who wished to remain partially anonymous for safety reasons, said in a speech at the rally that the Islamic regime has crushed protests and limited internet access. With Iranian youth at the forefront of the protests, she added, the government now perceives children as young as 7 years old as a threat.
The Iranian government has forcefully taken underage protesters to mental health facilities and has killed at least 23 children in the past month, according to CNN.
Vice Chancellor of Student Affairs Monroe Gorden Jr. read a statement from UCLA Chancellor Gene Block and provided an update on resources Iranian students can access on campus, such as the UCLA Dashew Center for International Students and Scholars and UCLA Counseling and Psychological Services.
"To our Iranian students, community members of Persian descent and all those who stand in solidarity at today's rally, please know that UCLA stands with you," Gorden said at the rally from Block's statement.
Sam Yerbi, a candidate for the Los Angeles City Council District 5 seat, which represents Westwood and UCLA, also spoke at the protest. He said there is currently an opportunity to educate the world and fight for freedom.
Paria, a co-president of the Iranian Student Group and current Arts contributor for the Daily Bruin who was given partial anonymity for safety reasons, said protesters outside of Iran are also fighting for every Iranian girl with dreams of freedom. She added that LA, which has a large population of Iranians, is the closest she feels to home without being in Iran.
"I have a right to share my love with the people around me, but there's a problem. My people are dying. My people are crying, … 'Women, life, freedom.' My people are running to the streets with their lives on the line because at some point, they decided they have nothing more to live for," said Paria, a fourth-year cognitive science student.
Abigail Rubtsova, a second-year anthropology and global studies student, said she came to the protest in support of one of her friends, who is half Persian, and to advocate for women's rights. In the U.S., where there are greater opportunities for choice, it can be easy to ignore human rights violations happening elsewhere, she added.
Kash Makker, a second-year business economics and global studies student, said it is important for people from all communities to show up to events such as protests.
"Someone from my math class from last year is here. … That's awesome, because it shows you don't need to have something in common," Makker said. "You just need to believe in what's right. And that's really important."
Atisa Shirvani, an Iranian woman who came up from Long Beach to attend the rally, said that she would go anywhere where demonstrations were happening. She added that this was her 13th protest since they first broke out.
The protest ended at 1 p.m. with songs and more chanting of "woman, life, freedom."
"This time, the protesters are not alone. People in Iran are not alone, … they simply are asking for their freedom. Is it too much to ask?" said Noor Nakhaei, a computer science doctoral student and president of the Graduate Students Association. "Show them they're not alone. That we will be their voice."
Hamilton is the 2022-2023 national news and higher education beat editor. She was previously a national news contributor. She is also a second-year English and political science student.
Hamilton is the 2022-2023 national news and higher education beat editor. She was previously a national news contributor. She is also a second-year English and political science student.