Five Things: UCLA vs. South Alabama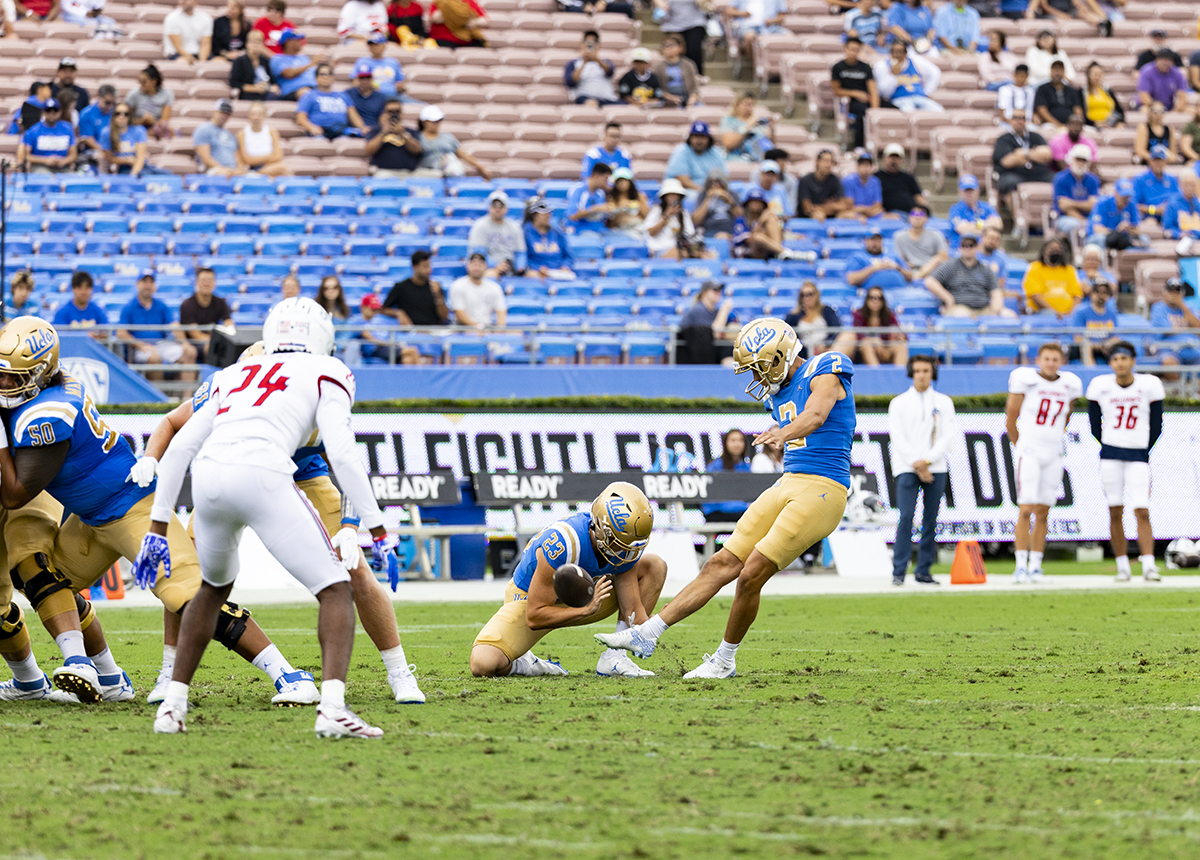 Redshirt junior kicker Nicholas Barr-Mira kicks a field goal. Barr-Mira hit the game-winner for UCLA football against South Alabama on Saturday. (Anika Chakrabarti/Photo editor)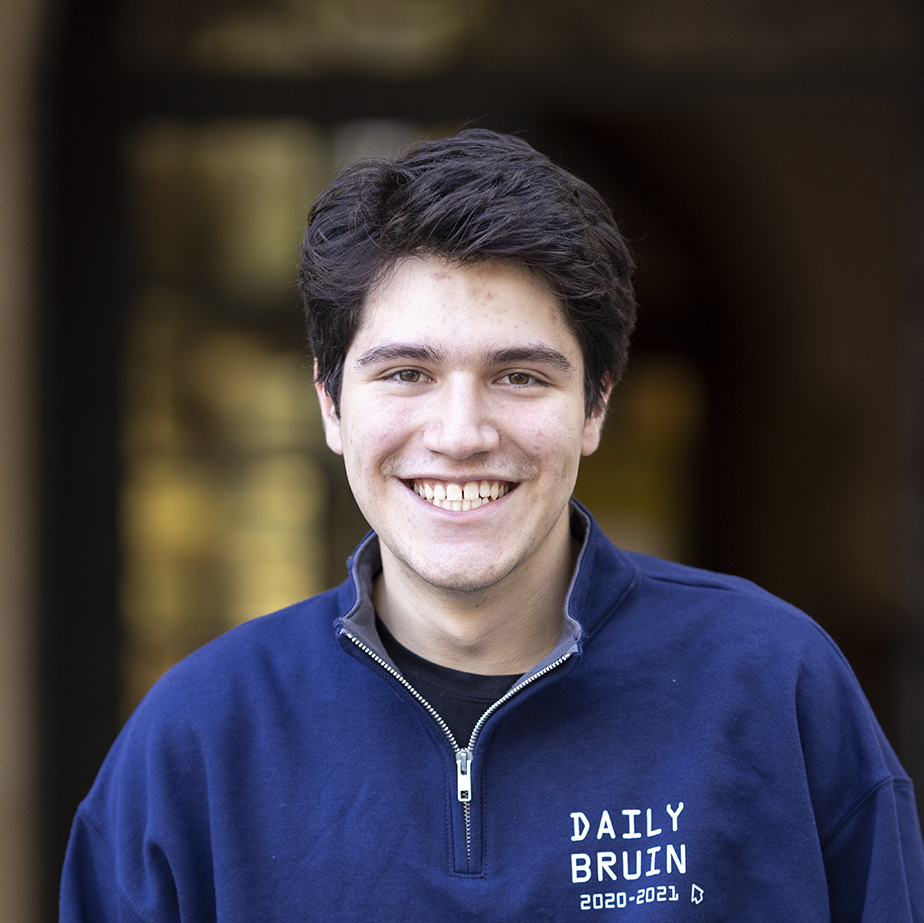 This post was updated Sept. 22 at 12:02 a.m.
UCLA football (3-0) finished off its nonconference slate in dramatic fashion Saturday at the Rose Bowl, taking down South Alabama (2-1) 32-31 thanks to a last-second field goal from redshirt junior kicker Nicholas Barr-Mira. Senior staffer Jon Christon gives his five main takeaways from the blue and gold's nonconference finale.
"Money Nick" and a message of resiliency
How could this article not begin with the game's hero?
Barr-Mira had one of the great kicker games in UCLA history. Not only did he drill the game-winner, but he connected on all four of his field goal attempts, including a career-high 49 yarder in the first half.
Barr-Mira's stats put him in rare air in Bruin history, making him the first UCLA kicker to hit four field goals in a single game in seven years and the first to nail a game-winning kick as time expired in five years.
Just a few short weeks ago, the weather on Barr-Mira island wasn't as sunny. He went 1-for-3 in week one against Bowling Green – including a miss from 28 yards out – and many fans wondered if Barr-Mira truly was the best option going forward.
But the Bruins stuck with him, and their trust paid off in critical fashion Saturday. Beyond that, Barr-Mira should be commended for his resiliency, something the team clearly fed off down the stretch after coming back from multiple deficits.
And, most importantly, he lived up to his nickname, "Money Nick."
Empty seats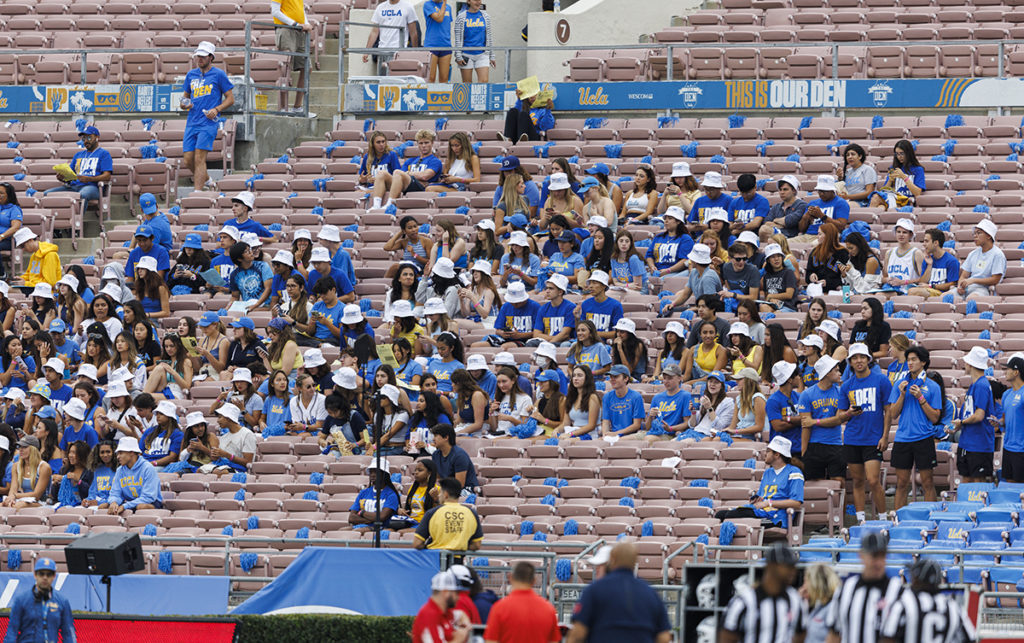 For many, the main takeaway of this game wasn't on the field itself.
Instead, it was in the stands.
UCLA had only 29,344 people in attendance Saturday, marking its second-lowest total ever – only topped by week one's poor showing against Bowling Green. Pictures of the crowd size circulated throughout social media, even drawing the attention of UCLA legend Troy Aikman.
https://twitter.com/TroyAikman/status/1571261069615861760?s=20&t=VVUczw1psPa7xElDasPFPw
Quite frankly, this whole situation is a little overblown.
Is it disappointing to see the empty seats? Absolutely.
But that's life in Southern California. That's also life when the first three games of the season are against bad teams located many, many miles from Westwood. And lastly, that's life when your school is on the quarter system and starts significantly later than the rest of the country.
Fans will return as the season drags on and if UCLA continues to win, as evidenced by the more than 66,000 fans who attended games on average under former coach Jim Mora from 2012 to 2017.
UCLA has a few intriguing home games on its schedule with Washington on Sept. 30, Utah the following week and then USC in the home finale.
Until then, the Bruin faithful will just have to endure being Twitter's punching bag for a few more weeks.
A wide receiver room shakeup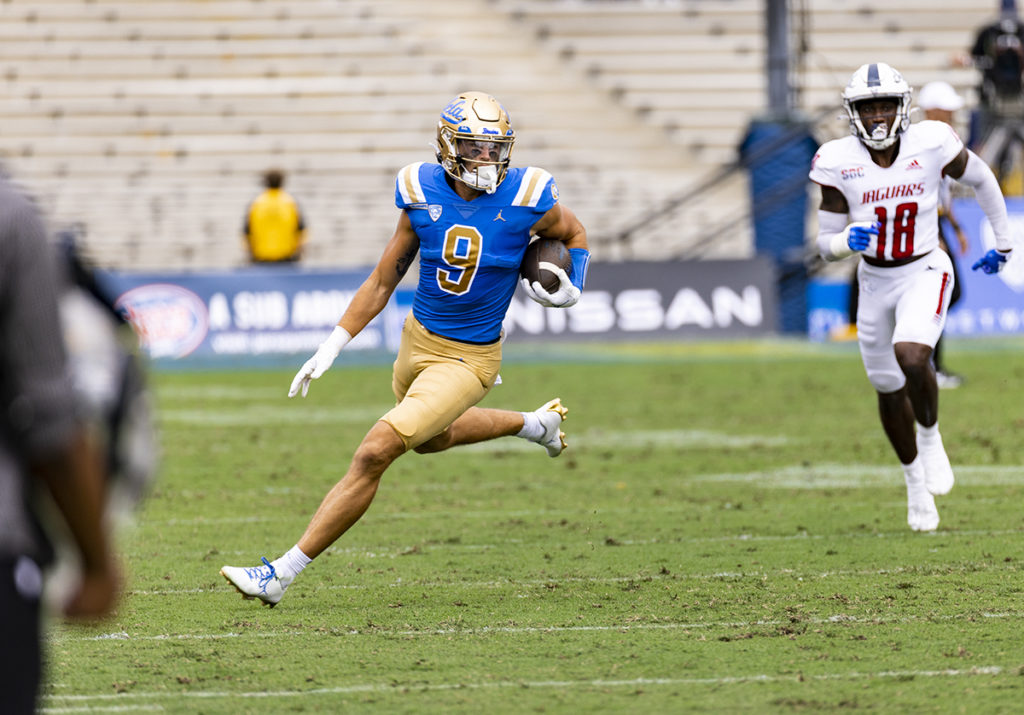 After the Bruins lost their top three receivers in the offseason, many wondered who would step up and replace the lost production.
That answer was still fuzzy following the first two games of the year.
Saturday's contest – which featured more urgency from the UCLA offense due to the higher-quality opponent – may provide the clearest view of the receiver room going forward.
The presumed leading receiver entering the season, redshirt senior wide receiver Jake Bobo finally looked the part Saturday after a slow first two games in the blue and gold. He led the Bruins with five catches for 89 yards and a touchdown against the Jaguars, emerging as redshirt senior quarterback Dorian Thompson-Robinson's favorite target.
Another offseason addition, sophomore Titus Mokiao-Atimalala, also made his mark with 47 yards on three receptions, including one that went for 29 yards on the game's final drive. Redshirt junior Kam Brown and junior Logan Loya – who both missed the season-opener due to injury – each had their first touchdown grabs of the season as well.
Granted, this is only one game. But it is the most representative of the nonconference bunch, so expect to see a similar pattern going forward: Bobo as the top target, followed by Mokiao-Atimalala, Loya and Brown. Redshirt junior Kazmeir Allen will also get plenty of touches, though he only had two catches Saturday.
Bend don't break… at what cost?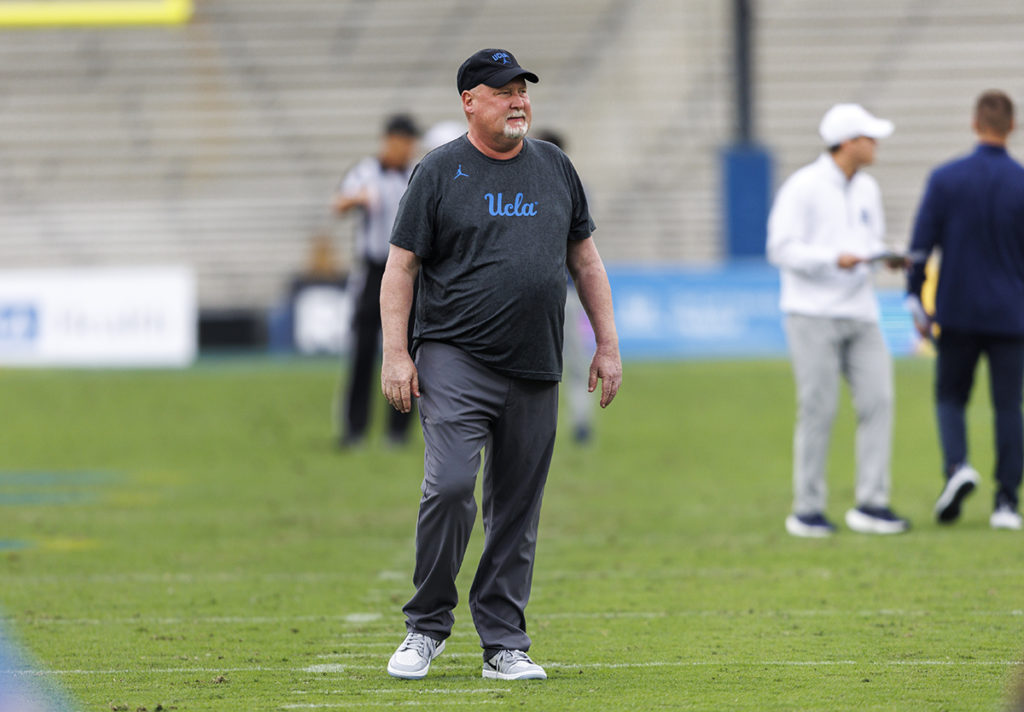 Former defensive coordinator Jerry Azzinaro is long gone.
But that didn't stop the Bruin secondary from revisiting one of the most frustrating guiding principles of the Azzinaro era.
As they did routinely a year ago, UCLA cornerbacks provided their opponents ample cushion out wide. This is a sound strategy to avoid giving up big plays – the Bruins only allowed one reception of 20 yards or more – but it gave South Alabama a consistent formula to move the ball as it pleased.
The cushion was most visually obvious on third downs, where South Alabama converted on nine of 13 opportunities – including six through the air. UCLA defensive backs retreated beyond the yard line to gain, giving Jaguar receivers the opportunity to plant themselves at the first-down marker and extend drives with ease.
The "bend don't break" defensive philosophy is a little like playing with fire. It may save you from giving up chunk plays in the short term, but it forces you to keep your defense on the field longer and longer. Long drives lead to a tired defense, which is a recipe for disaster.
The strategy didn't tank the Bruins this time around, but, as evidenced by the last four years, it will come back to bite them later in the season if they don't make adjustments going forward.
A slow(ish) but good(ish) start
Yes, UCLA is 3-0.
It marks the best start to a season for the blue and gold since 2015, when the team started the campaign 4-0. It also represents the best the team has played against nonconference opponents in the coach Chip Kelly era, as the team was 2-7 against non-Pac-12 foes entering 2022.
However, many Bruin fans are not satisfied – and it's hard to blame them.
This is arguably the easiest nonconference schedule UCLA has ever had, without a Power Five opponent for the first time since 1992. It was thought the Bruins would breeze to a 3-0 start without breaking a sweat, but that didn't happen – the team has looked far from dominant.
Some will say all of this foreshadows trouble later in the season. But patience is key, and so is looking at the bigger picture.
A year ago, UCLA had a similar chance to start the season 3-0, but fell to Fresno State in its nonconference finale. While the Bulldogs certainly were a good team, most will agree it was a game the Bruins should have won and therefore spelled bad things to come.
Instead, UCLA became an offensive juggernaut by season's end, averaging nearly 50 points per game in its final three contests to finish with its best record in recent memory.
South Alabama – similar to 2021 Fresno State – is a good team. While the one-point victory may have left fans wanting more, it's already an upgrade over what UCLA did last season.
And if 2021 is any indication, a late-season crescendo is on the horizon, regardless of how thoroughly unimpressive the team looked in nonconference play.
Christon is currently a Sports senior staff writer. He was previously the Sports editor on the men's basketball and football beats and the assistant Sports editor on the women's basketball, softball, men's tennis and women's tennis beats. Christon was previously a contributor on the women's basketball and softball beats.
Christon is currently a Sports senior staff writer. He was previously the Sports editor on the men's basketball and football beats and the assistant Sports editor on the women's basketball, softball, men's tennis and women's tennis beats. Christon was previously a contributor on the women's basketball and softball beats.