Bruin Bash 2022 shines past sunset with hype performances, packed crowds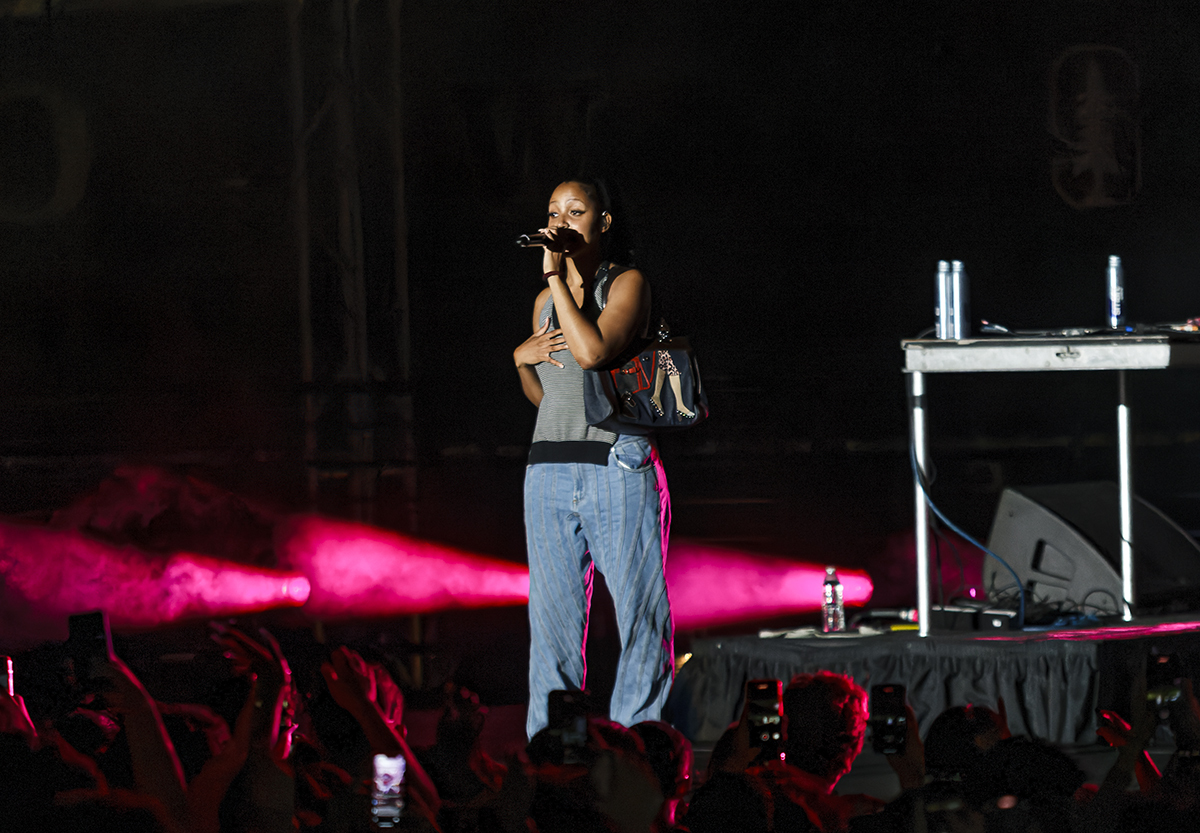 PinkPantheress sings to the crowd surrounded by fog and fuchsia pink lights. The 21-year-old alternative hyperpop artist headlined this year's annual Bruin Bash concert Monday. (Joseph Jimenez/Assistant Photo editor)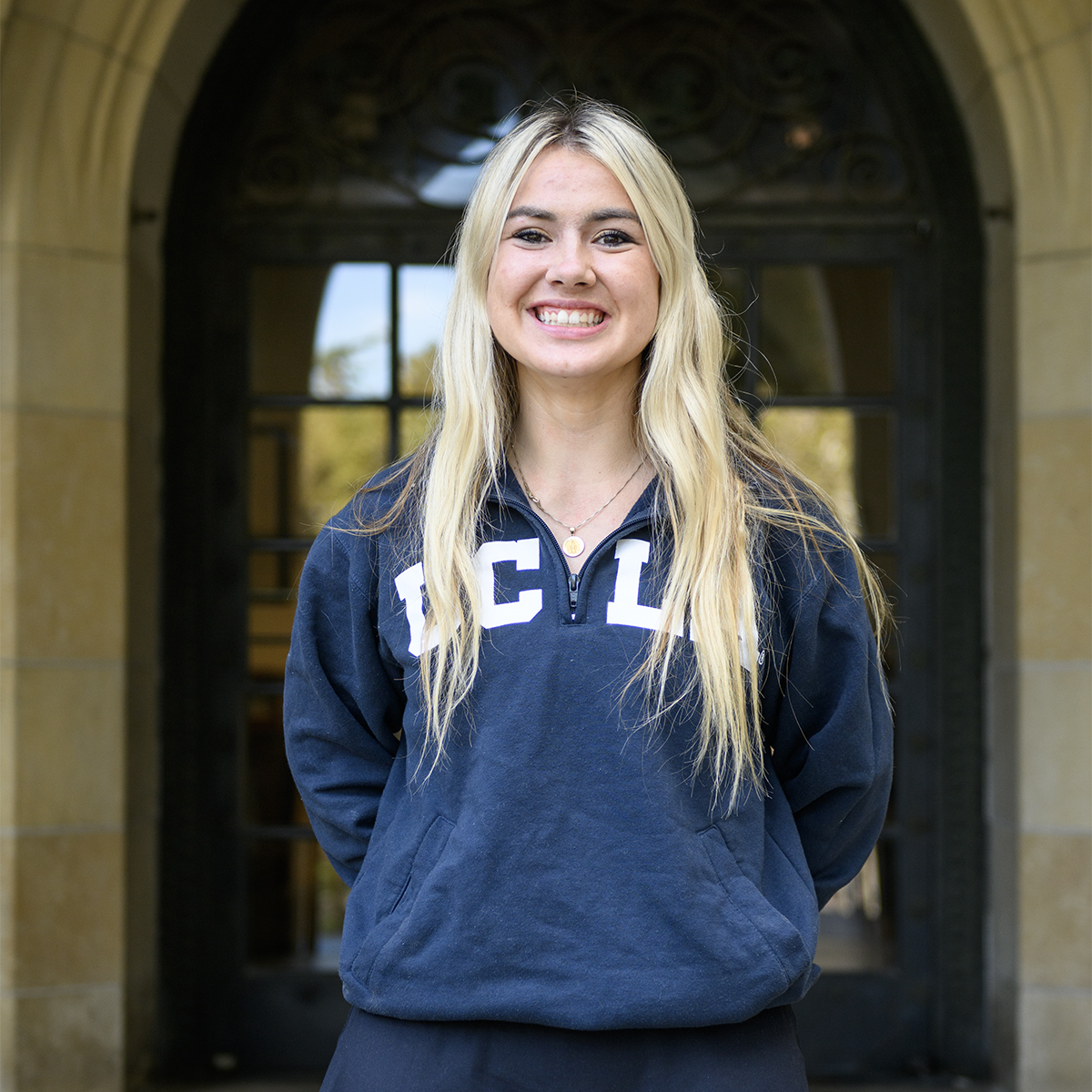 Sept. 19, 2022 11:59 p.m.
This post was updated Sept. 21 at 9:30 p.m.
Audiences flew to new heights at Bruin Bash 2022.
Welcoming students back to campus, the annual concert returned to the Los Angeles Tennis Center on Monday for the second year in a row. While the floor crowd took up about half of the tarped tennis court area – leaving room for students to dance in groups away from the stage – attendees seated in the bowl sections were huddled together, making for a packed section. First-year undeclared engineering student Amory Martin said attending Bruin Bash felt like an ideal way to celebrate the beginning of college by socializing with peers.
"It's important to take advantage of every opportunity, the first week of college especially, because that's how you make friends," Martin said. "You grow relationships and have fun in college – start on the right foot."
With a stage setup mirroring that of last year's, a large screen overlooking the stadium and two smaller side monitors displayed the event's pink and green airplane-themed logo. The side screens were utilized at the start of second-time Bruin Bash performer DJ Olea's set, shifting between visuals of lightning and text reading "Straight from the Valley." Before the sun set, students swayed their flashlights in the air, chanting "I do" as part of the chorus of SZA's "I Hate U."
At 7:52 p.m., student opener Saya Mosaic, a third-year psychology student whose real name is Angela Takagi, joined her four-member band on stage. Performing her own tracks such as "Looking Glass" and "Curry Rice" as well as a cover of Frank Ocean's "Sweet Life," Saya Mosaic pumped her fist as she moved across the foggy platform illuminated by purple and white lights. For "Old Fashion," the last track of her soul-filled set, Saya Mosaic enthusiastically led attendees in a call and response, rallying them to yell back the hook, "You're so old-fashioned."
In between sets, DJ Olea took a moment to congratulate the audience on UCLA's ranking as the No. 1 public university in the country and encouraged listeners to follow their dreams. Soon after, DJ Olea garnered cheers from the crowd when he launched into a melody featuring Ye songs "I Wonder" and "All Falls Down" and concluded with audiences loudly singing along to "American Boy." He also performed a melody dedicated to Hispanic Heritage Month later in the evening featuring hits from artists such as Selena and Bad Bunny.
Deep blue and purple flashing lights accompanied R&B alternative-soul singer-songwriter Ravyn Lenae when she sauntered onto stage to join her drummer, keyboardist and guitarist at 8:45 p.m. Opening her set with "Satellites," Ravyn Lenae led pit members in waving their hands and endearingly complimented the audience before launching into the rest of her performance.
"You all sound good, you all feel good. We're going to have some fun tonight, yeah?" Ravyn Lenae said.
[Related: Bruin Bash announces PinkPantheress as headliner for 2022]
Dressed in textured brown pants with painted floral patterns and a tan fur top, Ravyn Lenae sang both slowed-down tracks like "Skin Tight" and more beat-heavy songs like "Xtasy." During the outro of "Venom," Ravyn Lenae slowly left the stage as lights aggressively flashed whites and blues to climactic instrumentals, prompting some audience members to believe the set had ended. However, Ravyn Lenae still had some more tricks – and dance moves – up her sleeve when she returned for several more silky, upbeat songs before concluding with "Sticky."
After an introduction from her hype man J.K., PinkPantheress walked out at 9:47 p.m. wearing blue jeans, a striped tank and a decorative tote purse for her entire performance – reminiscent of her signature Y2K aesthetic. As she roamed around the stage dancing, PinkPantheress opened with "Break It Off," accompanied by her personal DJ and J.K., who remained on the stage to engage the crowd with backing chants and cheers.
The 21-year-old alternative hyperpop artist frequently chatted with the crowd and made jokes between tracks, which included stories of her university experiences and her hometown of Bath as well as a humorous explanation for the purpose of her tote bag: to carry Vaseline for lips dry from singing. Audience interactions also included expressions of gratitude and close-up odes to fans, particularly when the artist sat near the edge of the stage to sing "Nineteen" to two audience members at the barricade.
PinkPantheress ended her set at 10:15 p.m with "Where you are" and "I must apologise" – preceded by a warm shoutout to Ravyn Lenae, someone whom the U.K. singer has listened to since she was young. In line with the singer's earlier stated goal of making every audience member shine, PinkPantheress' ensemble continued dancing to bright sounds and visuals as she left the stage, vibrantly playing the crowd out of the stadium.
"Even though it's nighttime, can we pretend the sun is shining on us right now?" PinkPantheress said.
Paxton is the 2022-2023 music | fine arts editor. She was previously an Arts contributor from 2021-2022. She is also a third-year psychobiology student from Morgan Hill, California.
Paxton is the 2022-2023 music | fine arts editor. She was previously an Arts contributor from 2021-2022. She is also a third-year psychobiology student from Morgan Hill, California.