Nelson's Noggin: UCLA men's tennis needs quick revamping to overcome historic lows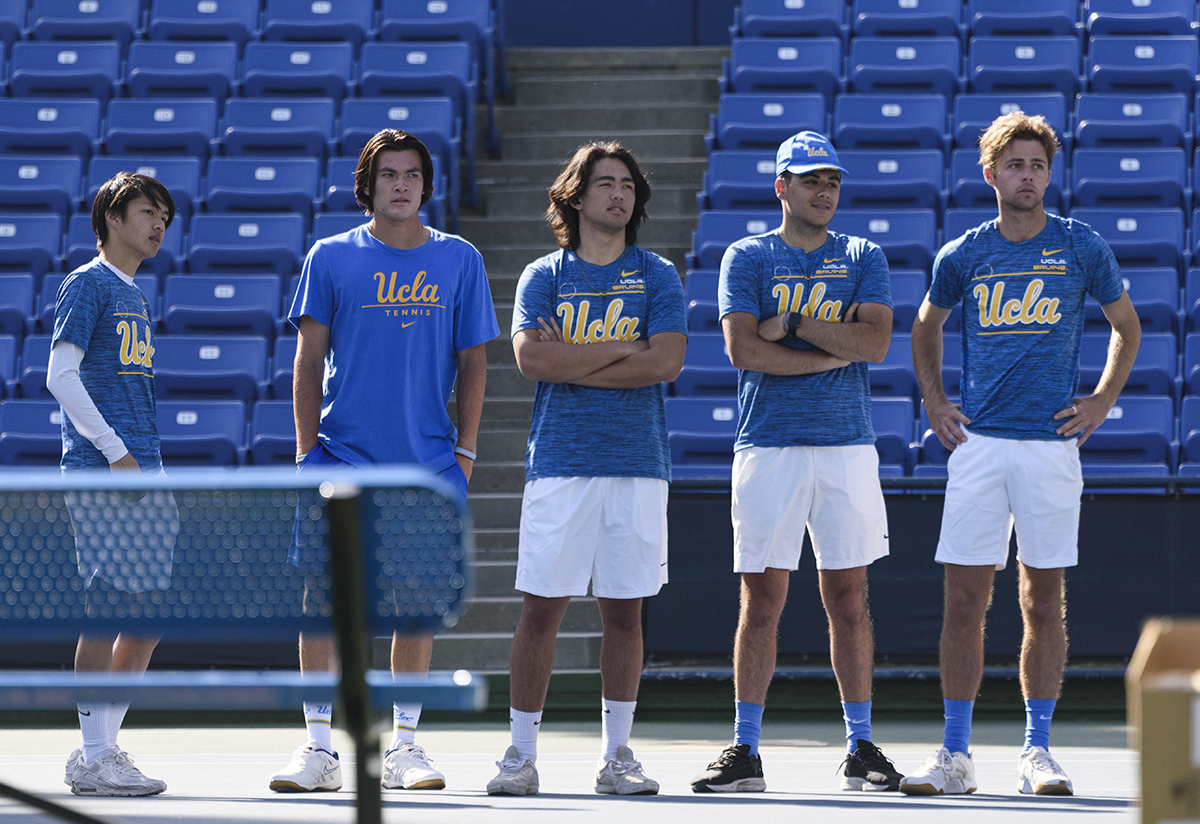 Members of UCLA men's tennis watch as their teammates compete. The Bruins will enter the 2023 season carrying their first postseason drought in at least four decades after missing out on the NCAA team championships last season. (Jeremy Chen/Assistant Photo editor)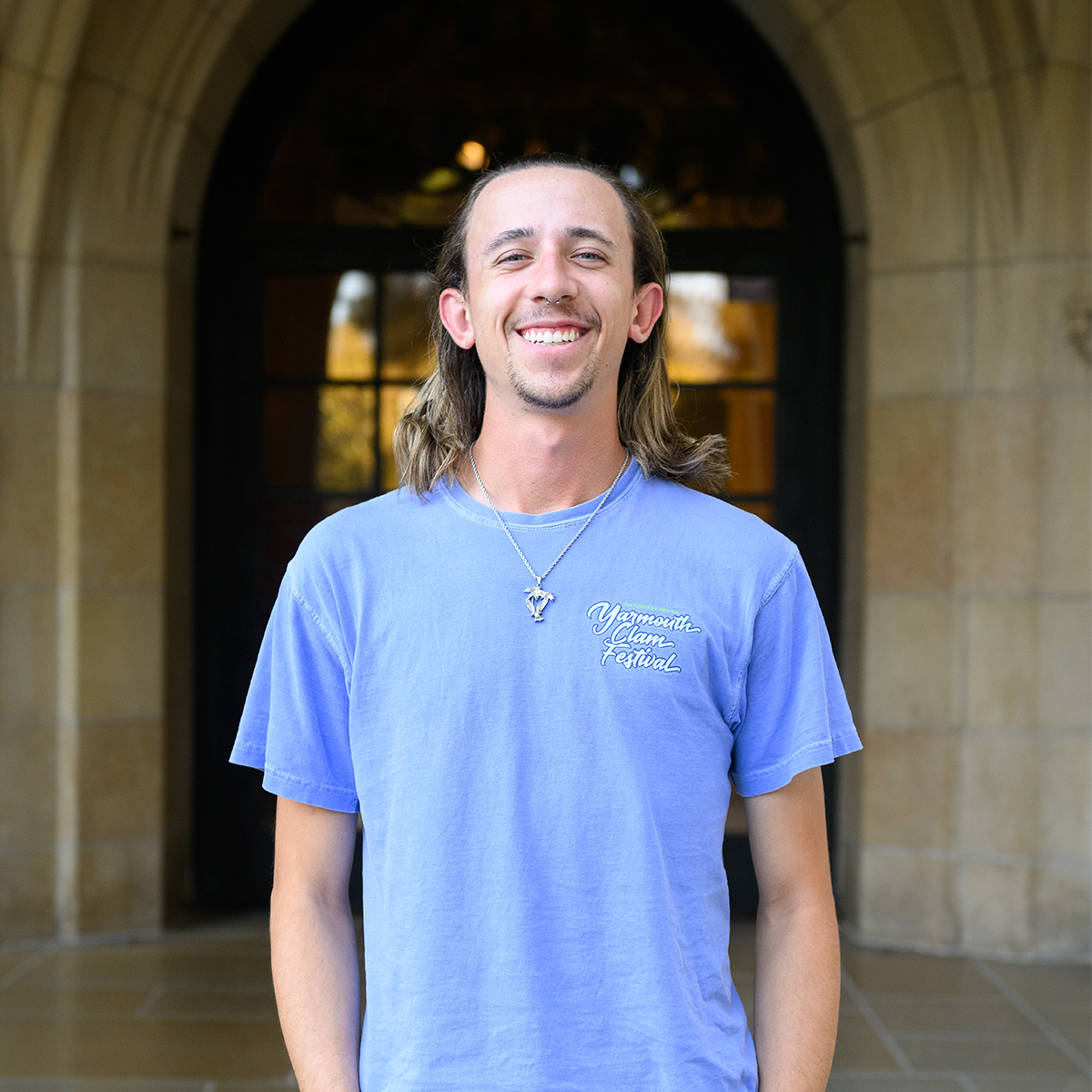 Sept. 16, 2022 10:53 a.m.
First, the team's earliest NCAA tournament exit in over three decades.
Then, missing out on the tournament entirely.
That's how the last two seasons ended for UCLA men's tennis – which by its own standards, resembles a historically bad trend. The blue and gold followed up its first-round loss to Northwestern in the 2021 NCAA championships by barely breaking .500 in 2022. And despite a surprisingly deep run in the Pac-12 tournament, the Bruins as a team ended up absent from the national postseason picture.
It's worth mentioning that the standards for the program are astronomical. Men's tennis has been around at UCLA for over a century, and the team has only seen four head coaches. It has secured the second-most national titles of any program in school history, and the past 40 years of public records don't even go far back enough to find a season before 2022 in which it missed the NCAA championships.
It's no stretch to call the Bruins the definition of consistency, but because they've been so consistent for so long, it becomes even more concerning as to why they no longer are.
The shortcomings from the 2022 season can be largely attributed to injuries to key veterans exacerbated by the fact that fresh faces underperformed. It didn't help that Keegan Smith and Govind Nanda – two major Bruin talents who supplied 96 dual-match singles wins between 2018 and 2021 – left a crater to fill upon their departures. Perhaps the emergence of COVID-19 and the subsequent outbreaks that disrupted last season were also too much for the Bruins to overcome.
In 2021, a lack of late-season momentum stilled any hope at a deep postseason run.
Lists of excuses, however, don't answer the question that really needs to be asked: How do the Bruins navigate a crisis they've never faced before?
The person at the wheel has the most power to redirect the ship. For UCLA, that's Billy Martin, who upon entering his 30th season as head coach carries with him a sparkling 630-147 career record and 23 top-five NCAA championship finishes.
Even as the longest-tenured active head coach on campus, Martin is a stranger to postseason droughts. He's spent most of his career concerned with getting back to the title match – having an opportunity to make a run at that match has traditionally been a guarantee.
Returning to the postseason and staying there demands Martin to get more out of his younger players. Last season's batch of underclassmen went a combined 46-34 in dual singles action and 31-29 in dual doubles play. The recruiting class of 2021 alone – the highest-ranked class for the Bruins since 2017 – turned in marks of 32-19 in singles and 22-21 in doubles, respectively.
It's not that the younger players haven't been winning – it's that they haven't been winning enough. That's a problem that most collegiate tennis programs would love to have, but it's a problem that UCLA doesn't want. And for Martin to solve it, he has to challenge these players in new ways – because new problems require new solutions.
Whether that means ramping up practice, tougher competition in the fall season or even bringing in assistant coaches with fresh ideas, Martin has the intellect and the tools to make changes. But one thing remains clear: His traditional strategies for player development will have to be revamped in some manner if the Bruins are to dodge a long-term postseason drought.
The pressure on younger players is compounded by the fact that only one senior is projected to start for UCLA this season. And that senior doesn't carry the proven success of seniors past.
Rising senior Drew Baird possesses a cumulative record of 18-19 in dual-match singles and a record of 16-14 in doubles. Smith, who led the way at No. 1 singles in 2021, was 48-7 in singles play alone heading into his senior campaign.
Those younger Bruins – anchored by sophomores Alexander Hoogmartens, Karl Lee and Giacomo Revelli – will also have to make changes themselves in addition to any adjustments Martin makes. Increased involvement in tour-level matches before the start of dual-match play would greatly benefit them.
With tour matches come stronger opponents, and now that Hoogmartens, Lee and Revelli have experienced the rigor of a Pac-12 schedule, that benefit becomes all the more obvious. The trio put together a 23-20 record across all tour action as freshmen.
Pressure for a Bruin postseason return is also inherited by incoming freshmen and blue-chip recruits Aadarsh Tripathi and Azuma Visaya. Their contributions in making that return happen will more so be the responsibility of Martin, as they'll see comparatively less action than returners.
If the Bruins can fuse ramped-up player development with a spike in strength of fall competition, fans can expect to see them back competing for a title sooner rather than later.
But if the program sticks to its guns like it has for the previous decades, it may reveal a flaw in a once flawless system.
Nelson is currently an assistant Sports editor on the softball, men's tennis and women's tennis beats. He was previously a contributor on the men's tennis and women's tennis beats.
Nelson is currently an assistant Sports editor on the softball, men's tennis and women's tennis beats. He was previously a contributor on the men's tennis and women's tennis beats.