Between Two Bruins: Daily Bruin Sports answers your questions about 2022 season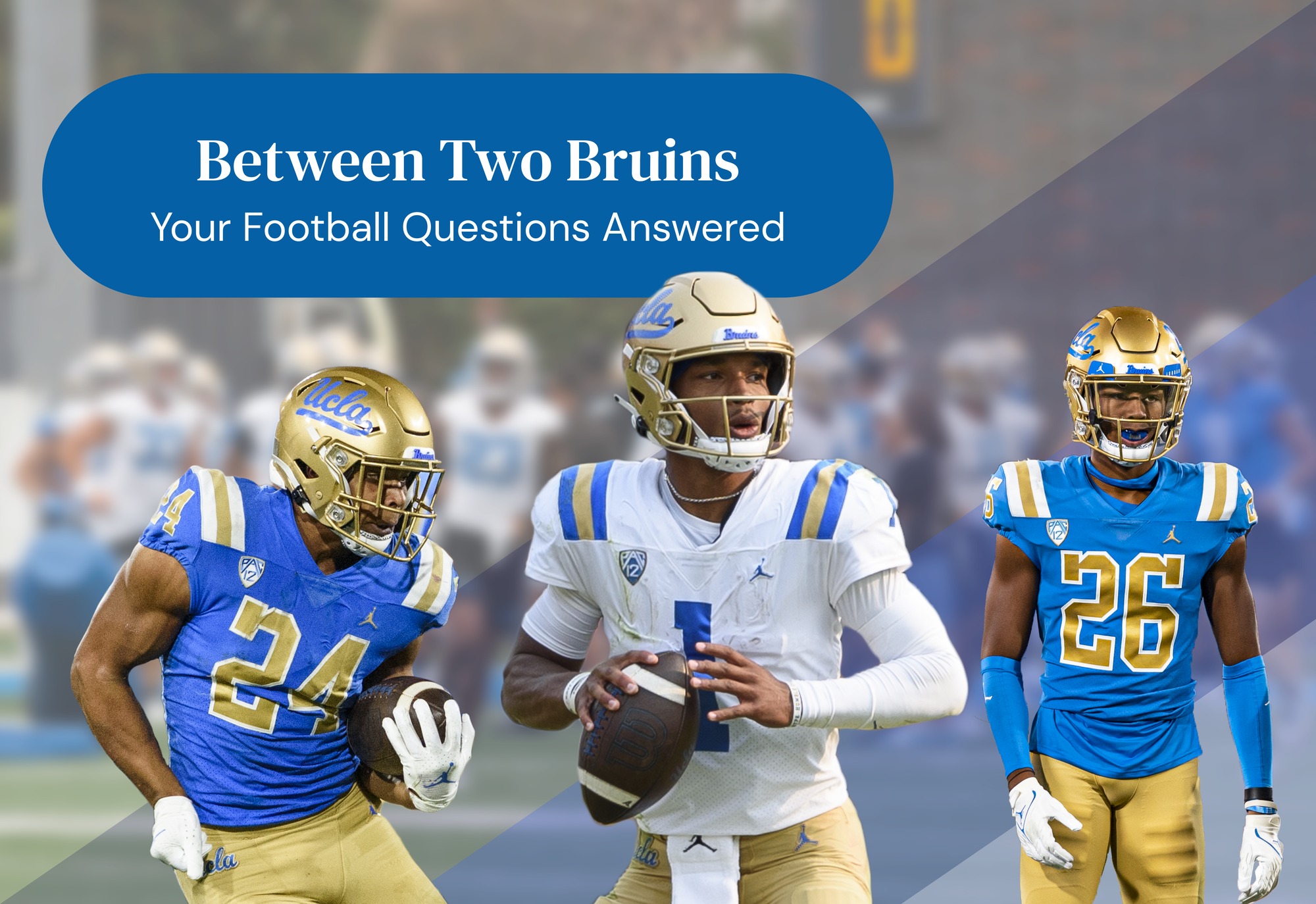 (Maya O'Kelly/Design director, Photos (left to right): Jason Zhu/Daily Bruin staff, Jeremy Chen/Assistant Photo editor, Sakshi Joglekar/Daily Bruin senior staff)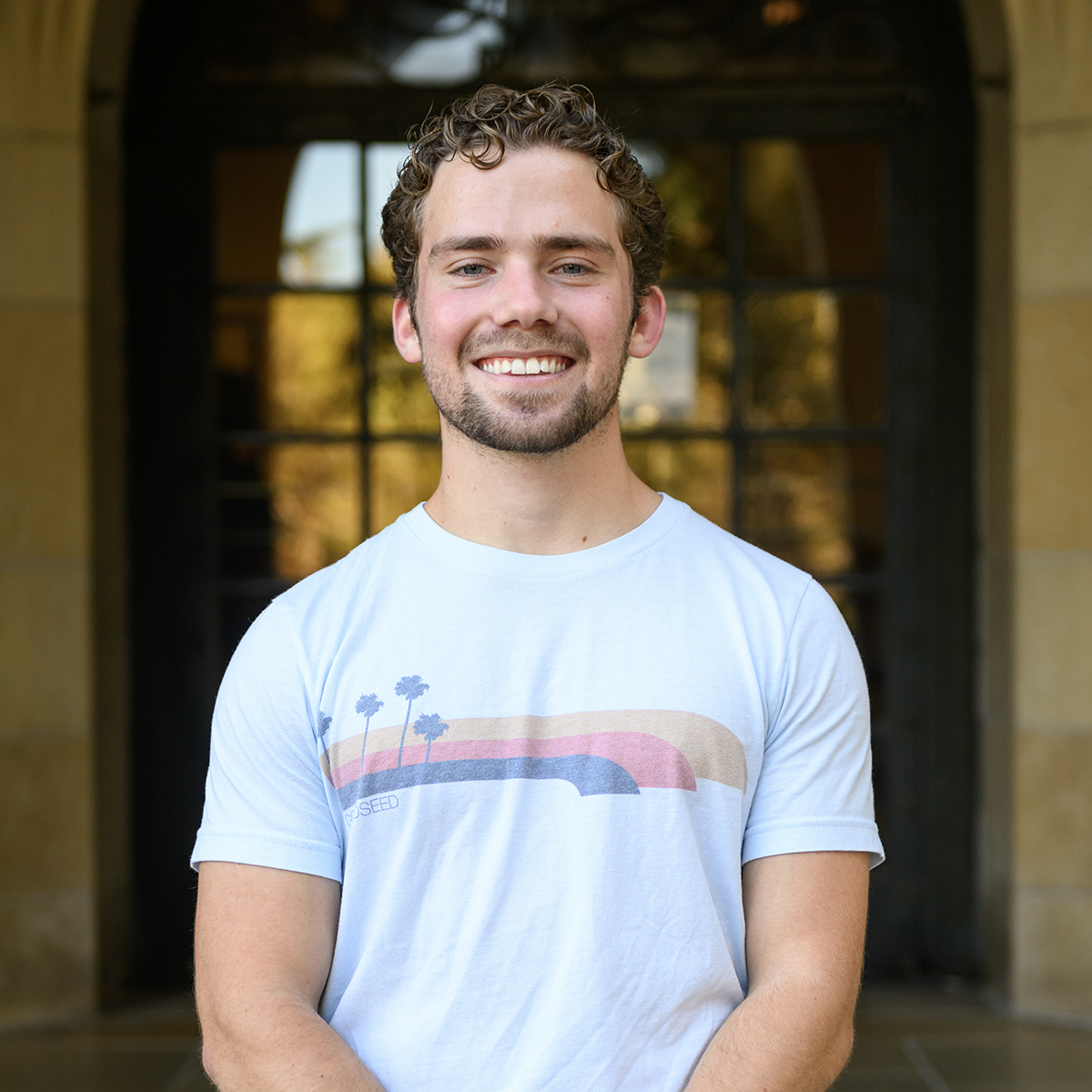 The Daily Bruin collected questions from Bruin fans across social media regarding UCLA football's upcoming season. Sports editor Sam Settleman takes a stab at answering a selection of the queries.

I wouldn't expect the Bruins to surge onto the top-25 scene like they did a season ago, but a return to the polls at some point in 2022 is certainly not out of the question.
Last year, an upset win over a ranked LSU program shot UCLA into the national rankings just two weeks into the season. But with three noncompetitive nonconference games on the early slate for the blue and gold, don't expect a 3-0 start to put UCLA into the top 25 – even if all three wins come in blowout fashion.
But if the Bruins can cruise through their early conference schedule and go unbeaten through five games, a spot in the national rankings could easily be in the cards.
A 3-0 start is the expectation, and with one of the Pac-12's weakest teams in Colorado up first on the conference slate, four straight wins for UCLA to kick off the year seems more likely than not. Washington will provide a bigger test, but if the Bruins can get through that one unscathed, it'd be hard to imagine they don't find themselves in the top 25.
Maintaining that spot might be more difficult, however, with back-to-back games against preseason No. 7 Utah and No. 11 Oregon after the showdown with the Huskies.

Coach Chip Kelly is far from a dud.
Yes, the beginning of his tenure at UCLA didn't go how the Bruin faithful would've hoped. But there's a reason Kelly is a former NFL coach and led Oregon to a 46-7 record and three straight 12-win seasons during his four years as head coach in Eugene.
In 2018, Kelly inherited a program that wasn't in good shape to begin with. It probably took longer than he expected to develop the Bruins considering how fast he found success with Oregon, but Kelly has started to turn UCLA around.
Most Bruin fans still cling to the idea that Kelly isn't the man for the job, but his team went 8-4 last season and was playing its best football late in the year.
All things considered, it's no surprise Kelly found himself with a four-year extension this offseason. This team might surprise a lot of people this year, and Kelly's reputation in the eyes of the Bruin faithful should start to align with the athletics department and boosters as a result.

Is Kelly's job safe? Not entirely.
But is it fair to say Kelly is on the hot seat? Probably not.
As mentioned above, Kelly and UCLA are poised for a successful year after a breakout campaign a season ago that saw the Bruins suiting up for a bowl game before COVID-19 had other plans.
That being said, if the Bruins find a way to lose one of their three nonconference games, the same fans that were calling for Kelly's job in the first three seasons of his tenure in Westwood will certainly make their voices heard.
With Bowling Green, Alabama State and South Alabama on the schedule, UCLA almost has to go undefeated through nonconference play. If not, Kelly may very well find himself on a scalding seat.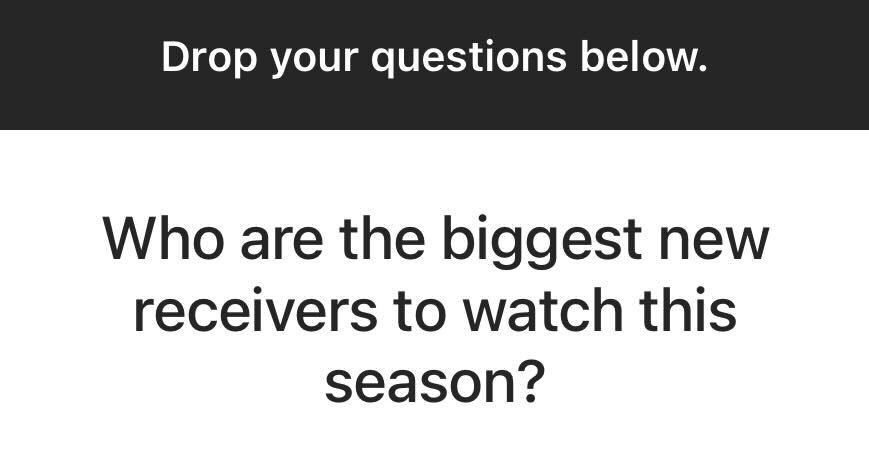 UCLA will have a totally new look at receiver in 2022.
All three of redshirt senior quarterback Dorian Thompson-Robinson's top weapons are no longer around, with wide receiver Kyle Philips and tight end Greg Dulcich in the NFL and wide receiver Chase Cota transferring to Oregon. As a result, Thompson-Robinson will have to find some new favorite targets this year.
At the top of the list of receivers to watch is redshirt senior wide receiver Jake Bobo, a transfer out of Duke. The top target for the Blue Devils in 2021, Bobo has impressed in fall camp so far and is poised to take over the top spot out wide for the Bruins.
The 6-foot-5, 215-pound target can make contested catches with his big frame, but also has considerable quickness for his size. He averaged just over 10 yards per catch last season, but expect that to increase as UCLA uses him as more of a downfield threat.
While Bobo might be the most likely candidate to lead the Bruins in receptions this year, sophomore wide receiver Titus Mokiao-Atimalala – a transfer out of UCF – has also earned some buzz in the offseason. Mokiao-Atimalala saw limited action with the Knights, but will likely see a lot of time opposite Bobo out wide.
Lastly, while he's not new to the program, redshirt senior tight end Michael Ezeike is one name Bruin fans should get to know. Tight ends have featured prominently in Kelly's game plan on offense, and with Dulcich out of the picture, Ezeike will be the top option at the position.
Whether it's Bobo or someone else, Thompson-Robinson's favorite target this season is likely to be a new face in Westwood.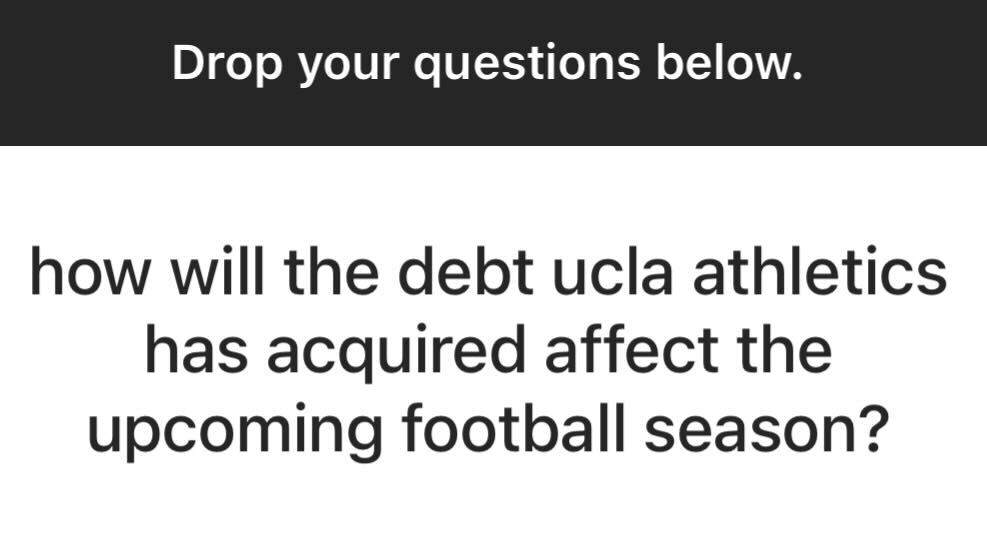 Luckily for UCLA football, if any team in Westwood is going to face the repercussions of UCLA Athletics' mounting debt, it won't be them.
Given the revenue it brings in, no team is more important than football to the athletics department. So while multiple sports found themselves on the verge of being cut before UCLA planned its move to the Big Ten in June, football would never have faced the consequences.
Ultimately, while the $102.8 million worth of debt is an eye-popping figure, you won't see it have any sort of major impact on UCLA football's season.

While the move to the Big Ten might have saved the athletic department from drowning in debt, it won't be kind to the football program.
UCLA football has already struggled to stand out in the Pac-12, and the competition will only get tougher when it moves to the Big Ten. Led by programs like Ohio State, Michigan and Michigan State, the Bruins' future home is a much stronger football conference than their current one.
With Utah, Oregon and USC on the rise, the Pac-12 has started to earn more respect as a football conference. But make no mistake, the competition is much better in the Big Ten – and it will likely reflect on UCLA's record beginning in the 2024 season.

The move to the Big Ten might not be a game-changer for UCLA football on the recruiting trail, but it certainly can't hurt.
At the very least, with the Bruins soon having to play many of their games in the Midwest and on the East Coast, their exposure outside of the West Coast should increase considerably.
Of the 11 enrollees in UCLA's 2022 recruiting class, 10 hail from California while the 11th is from Utah. In the 2023 recruiting class, five of the Bruins' six hard commits are from in-state as well. Evidently, much of the blue and gold's recruiting efforts are tailored toward athletes from California.
But as UCLA begins to build its presence outside of the West Coast, it could see an uptick in out-of-state recruits. The allure of playing for a Los Angeles school while also making regular trips out east is sure to sway a few Midwest prospects who might otherwise have settled for a program closer to home.
Settleman is currently the Sports editor on the football, men's basketball and gymnastics beats. He was previously an assistant editor on the gymnastics, women's soccer, women's golf, men's water polo and women's water polo beats and a contributor on the gymnastics and women's water polo beats.
Settleman is currently the Sports editor on the football, men's basketball and gymnastics beats. He was previously an assistant editor on the gymnastics, women's soccer, women's golf, men's water polo and women's water polo beats and a contributor on the gymnastics and women's water polo beats.