UCLA student shares personal health journey through social media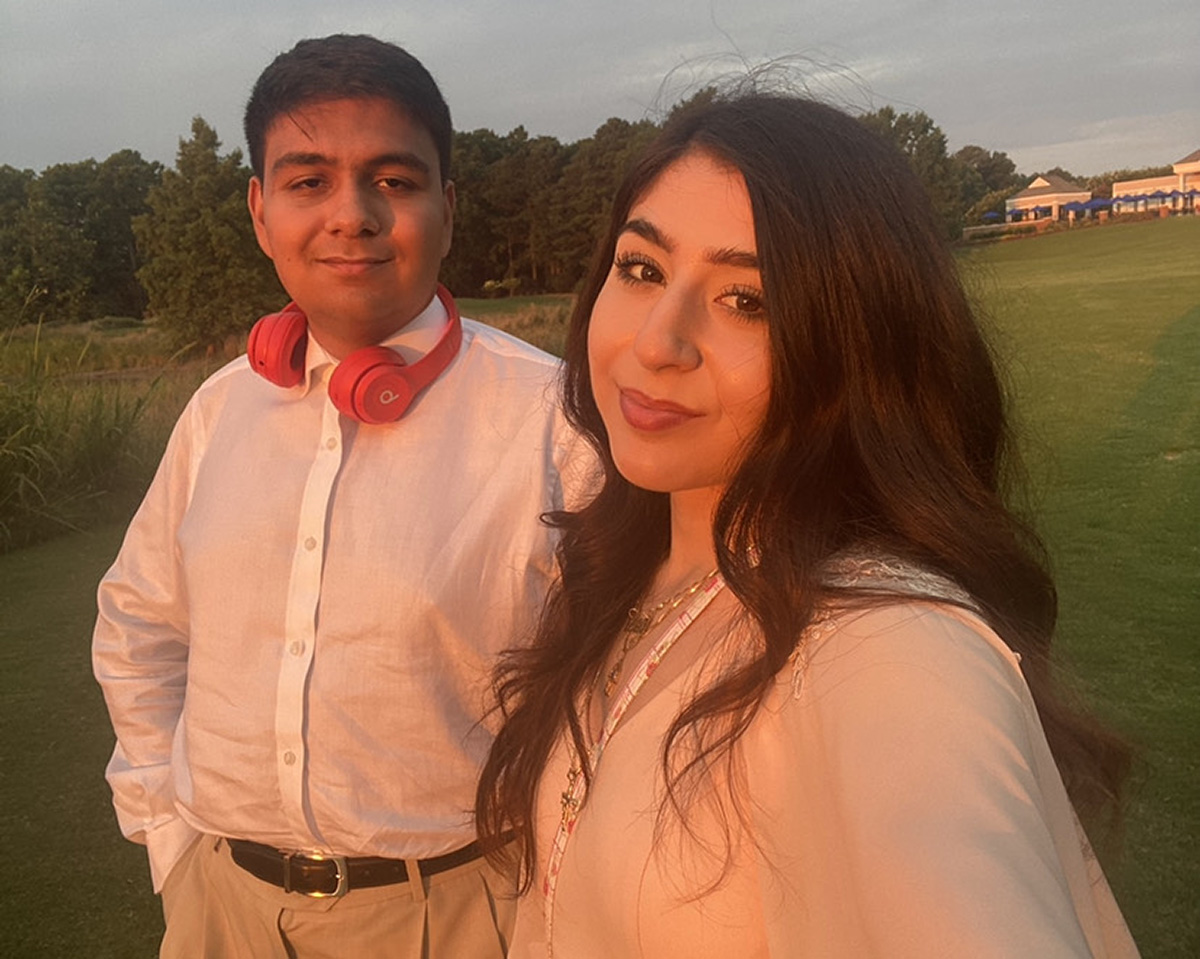 Rising second-year Daniella Shahrdar stands next to her younger brother (left). With a steadily growing following on TikTok and Instagram, Shahrdar said she is learning how to balance content creation, school and being the guardian of her younger brother. (Courtesy of Daniella Shahrdar)
Daniella Shahrdar is showcasing her personal growth through social media to inspire those who share her same struggles.
The rising second-year political science student primarily creates lifestyle content that focuses on both mental and physical health and her daily life in college. Posting on Instagram and TikTok under variations of the handle "daniellajuliet," she said she started her accounts on a whim, initially adopting a fake username to maintain privacy online. It was not until one of her first videos about her weight loss journey received 10.5 million views on TikTok in August 2020 that she said she started sharing her story on social media seriously.
"The reason I started my weight loss content in the first place was to really give off that message that if you do want to lose weight, you should really be doing it for yourself and not for anybody else," Shahrdar said. "That mental journey is really the most important part."
[Related: Alumnus uses social media skills to showcase lifestyle, curate brand image]
While she was mostly excited about the unexpected engagement, Shahrdar said she also found herself overwhelmed by the speed at which her online following grew. Because of her experiences being bullied throughout her life, Shahrdar said she was prepared to deal with negative comments from other users on her videos. However, she was not used to the amount of public support she started receiving, which further motivated her to continue creating content, she said.
Since she started her account while in high school, Shahrdar said she initially had more time to work on creating her lifestyle videos about various situations she faced, meals she cooked, and outfits she put together. However, when she began college, she said she had to find her footing with content creation again. But with her freshman year complete, she said she has been learning to manage her time better and is regaining the motivation to post more frequently.
A friend of Shahrdar's since their sophomore year of high school, Leslie Leonardo, said she has followed Shahrdar's social media journey since its inception. Leonardo said she thinks Shahrdar's open and vulnerable content is different from the content of other influencers because it focuses on her determination and growth.
"There's no facade," Leonardo said. "That's who she is as an individual, which is why I do follow her journey, because she's keeping it authentic… I think when you meet her, even if you watch her from a distance, you can tell that she's an amazing person… she's one of those people that you meet once in a lifetime, then they just stick with you."
Shahrdar's determination to keep working hard in all aspects of her life stood out, said rising second-year English student Aaliyah Williams, who met Shahrdar through Instagram a year ago. She said her favorite aspect of Shahrdar's content is the creator's positive outlook on life despite everything she has been through. Shahrdar discussing her daily challenges and being honest about challenges shows people experiencing similar struggles that they can get through those hardships, Williams said.
[Related: Student cultivates online brand, focuses on authentic college experience]
On top of social media, Shahrdar said she juggles many responsibilities, including her previous job working at an after-school program and a new role as a UCLA philosophy department assistant. Additionally, Shahrdar said she is now the primary caretaker of her younger brother, as her mother passed away recently and her father a few years ago.
"When my mom was still here, I watched her struggle, raising my brother as a single mom all by herself and while being sick," Shahrdar said. "Just watching that always made me know that I wanted… to be able to provide for them. And unfortunately, now she's (not) here so I'm not able to fulfill that dream, but I still have my little brother that I need to take care of."
Social media has become a way for her to heal, Shahrdar said, as she sees it as a source of enjoyment rather than another responsibility she has to balance. While her primary genre of content is on her daily life as a student and guardian for her brother, she continues to incorporate nutrition and fitness tips into her videos, instead of showing before-and-after weight loss transformations. Despite the expectation she felt to maintain her body weight because she originally posted weight loss content, Shahrdar said she has shifted her focus to how changes in weight are a natural part of growing older.
"There's a lot of lies on social media and there's an unattainable expectation, especially for a lot of young girls," Shahrdar said. "I feel like with me, I try to prove that that's not true… (you can) embrace who you are naturally."