Student Committee for the Arts enriches UCLA art scene through campus events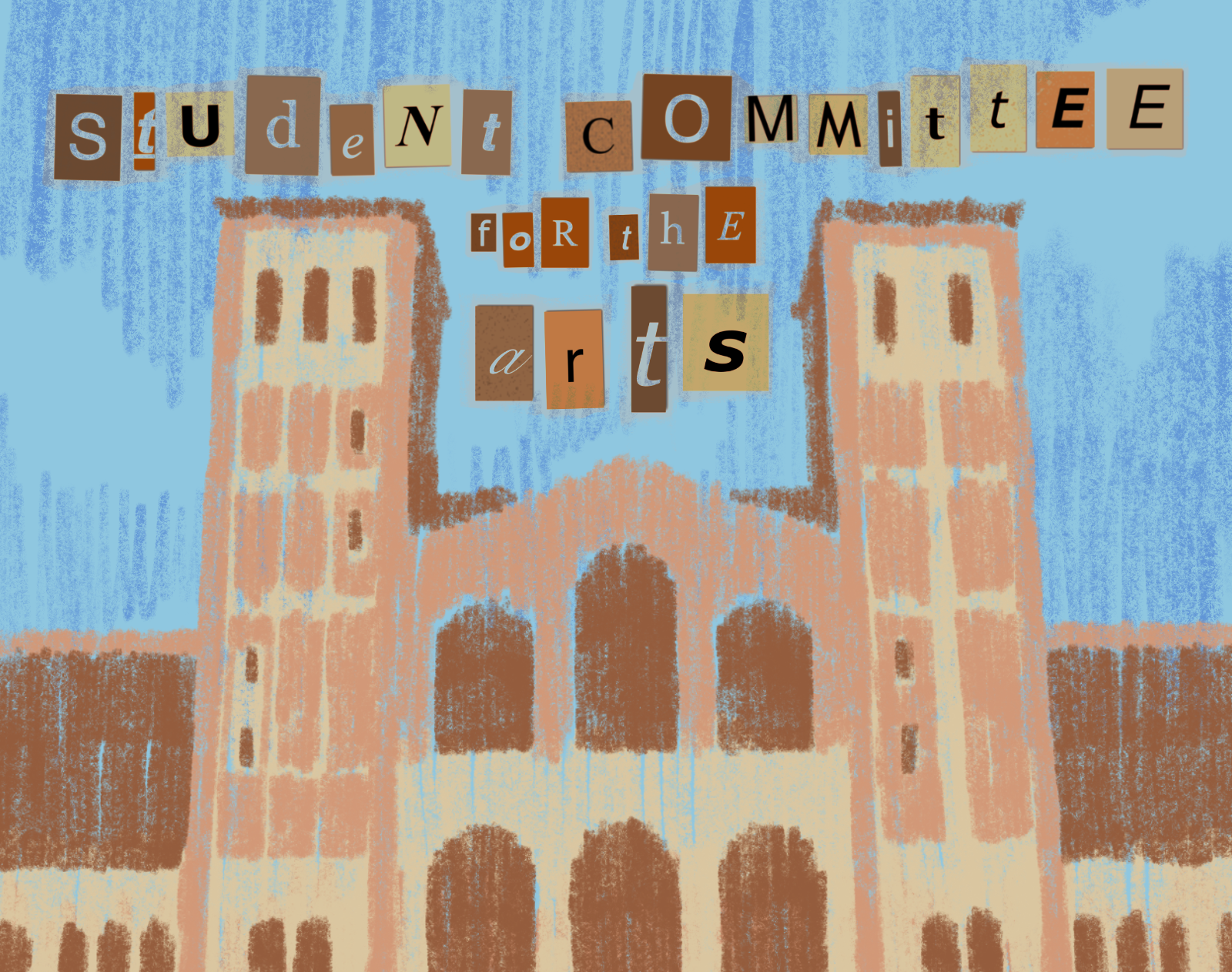 (Isabella Lee/Illustrations Director)
Every year, the Student Committee for the Arts cultivates and enriches the art scene at UCLA one campus event at a time.
As a student-run organization, SCA hosts art-related events and programs in an effort to promote student artists and connect the UCLA community to the art scene on and off campus. Co-director of SCA Elizabeth Haan, a rising third-year art history student, said UCLA's Center for the Art of Performance is a major proponent of SCA, as the performing and fine arts programming organization provides funding and supports SCA's goals of increasing accessibility to the arts at UCLA.
"Our main focus is uplifting student artists," Haan said. "We're (also) trying to bring … free (arts) events to campus."
Comprised entirely of students, all 30 members of SCA are involved in event planning, said general member Max Orroth. Orroth, a rising third-year cognitive science and architectural studies student, said every member has the opportunity to pitch their ideas for campus events to the committee, and the leading members and others can discuss their viability and reach a verdict.
"All of our events have been designed (so that) anyone in the committee can … create an event of literally any kind," said Sophia Russo, a rising fourth-year communication student and SCA programming director.
In the past few years, SCA has hosted a wide variety of campus events. Haan said one of her favorites was a craft fair held last year, where student vendors sold their handmade products, which included board games, prints, jewelry and crochet pieces. A first-time event from the year before was the drag show in February that SCA partnered with UCLA Sexperts and the UCLA LGBTQ Campus Resource Center to put on, Russo said.
[Related: Student-run business Jewels by Jocy brings beaded accessories to buyers]
One type of event SCA puts together is a pre-show event that leads up to a different headlining act, such as the annual Royce Hall performance and a guest lecture from author and comedian David Sedaris, Orroth said. Past pre-show events have included student authors reading their work or poetry stands where students can write their own poetry, Orroth said.
According to Haan, SCA's biggest event of the year is the Royce Hall concert, in which committee members choose an up-and-coming artist to perform. Each year, the organization aims to give these artists – which have included Doja Cat, The Marías, Caroline Polachek and Weyes Blood – a platform to showcase their music to the UCLA community, Haan said. Haan said Weyes Blood's performance in 2022 was especially memorable, with some attendees telling her it was the best concert of their lives.
Another notable event is the Associated Students UCLA Arts in the Union, where ASUCLA and SCA partner to showcase UCLA students' artwork in Ackerman Union. The event focuses on bringing attention to student artwork and the buildings in which they are displayed, Haan said. As the building manager responsible for coordinating events held in Ackerman Union and Kerckhoff Hall, Haan said she hopes students will be able to appreciate these buildings where so many events are enjoyed by students.
"If you're using the buildings … (to) their fullest extent, they are the living room of campus," Haan said. "Arts in the Union … seeks to inform the students (of) what the student union buildings have to offer them."
Additionally, Russo said SCA frequently partners with other campus organizations to host events or create new programs, such as the drag show partnership with Sexperts and the LGBTQ center. Russo added that these organizations' and SCA's shared values of LGBTQ+ representation allowed for this collaboration to occur. Any students that are passionate about the arts or arts programming are encouraged to collaborate with SCA, Russo said.
[Related: Annual Queer Prom creates inclusive space for LGBTQ+ students]
Beyond collaboration with other clubs, Haan said there will soon be an education and outreach sector of SCA that will focus on supporting students in the arts. One project she said she hopes to revive is Project ARTS (Arts Realized Through Students), which aimed to connect student artists with established artists to foster mentorship between them. With more people on the committee this year, SCA plans to reinvigorate these types of education and outreach programs in order to continue giving back, Haan said.
"We want people to be able to engage in the arts without having to pay, … and we want to be able to give everyone the opportunity to experience what UCLA (arts) has to offer," Haan said.