Alumnus's business Ang3larts showcases personality through artistic creations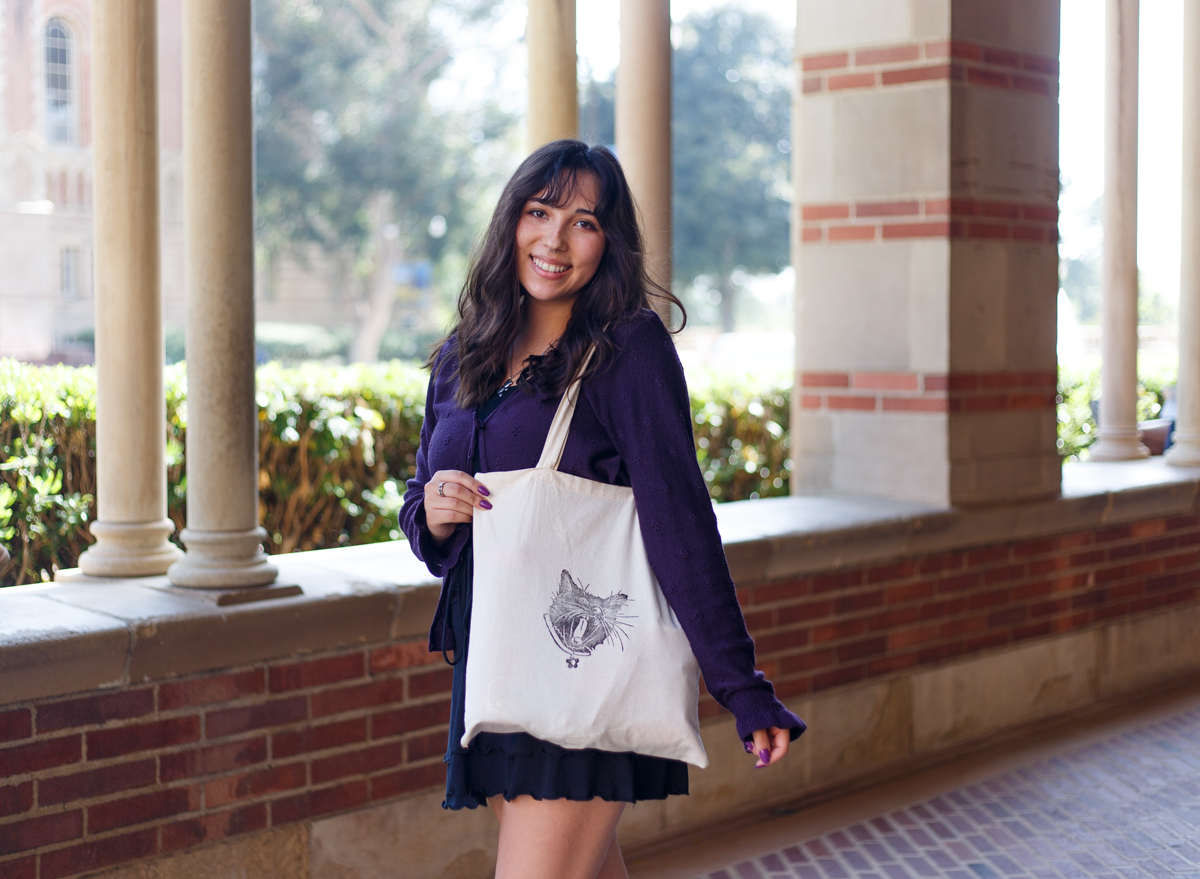 Alumnus Angela Dugan poses with one of her tote bags sold through her business, Ang3larts. Dugan said the brand acted as a creative outlet for her during the COVID-19 pandemic. (Jenny Xu/Daily Bruin)
This post was updated on 8/14/2022 at 6:45 p.m.
Like the theme of her pieces, Ang3larts came naturally to Angela Dugan.
Through her business Ang3larts, the alumnus sells handmade items of mixed media, ranging from crochet to illustrated prints, both online and at outdoor venues. Dugan said she wanted to return to a time when she regularly created art after moving back home because of the COVID-19 pandemic, and she started her business to sell the numerous pieces she had crafted. Initially, she said she donated half of her profits to organizations dedicated to supporting mutual aid causes, such as the Black Lives Matter movement.
"I wanted to do it for me, personally, but I didn't have a job," Dugan said. "I didn't have an income coming in, and I was making money off my art that was practically just therapy for me. It was the natural route for me."
Dugan said she had always admired embroidery growing up, specifically cross-stitching – given how prominent it is in the Mexican culture – and wanted to modernize it in her work. She said she has also drawn for most of her life and sells digital prints of her illustrations. She more recently learned how to crochet last summer after she said her roommate, alumnus Kristida Chhour, bought a beginner's crochet kit.
Most of Dugan's pieces are a hyperactive imagination of plants and animals, said Chhour, who also described them as whimsical and edgy. Specifically, she said Dugan has created a teddy bear with two heads and flowers with eyes, as well as other unconventional stuffed items such as a jaguar, a cougar and her own housecat yawning, complete with its full set of teeth. Dugan said her love of flowers and entomology inspires her work, and she believes the symmetry found in nature can be seen in her crafts.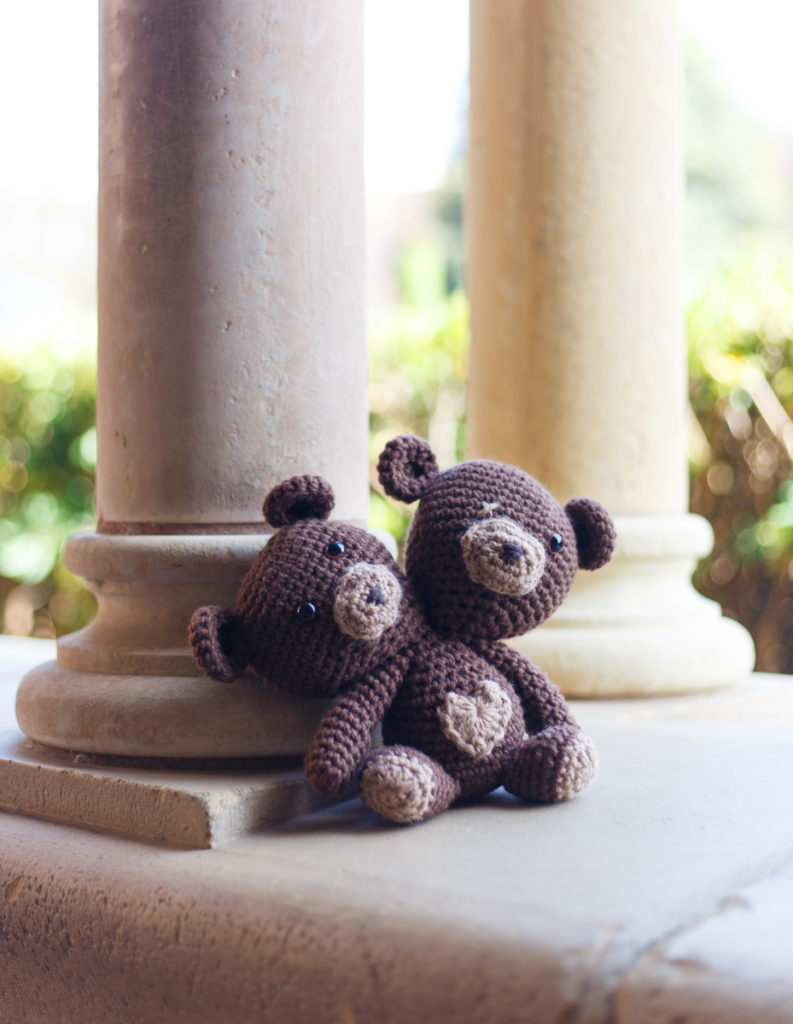 [Related: UCLA student crafts jewelry business Venitulz to sell handmade pieces]
In addition to crocheted stuffed animals, Dugan said she sells crochet bags and hats along with block print tote bags, posters and stickers. Chhour said Ang3larts is different from other businesses because of Dugan's artistic twist on the production of her items. For instance, she said Dugan designed postcards featuring her prints and allowed customers to send in their own personalized messages for Dugan to mail out to their intended recipients for Valentine's Day.
"She shows a lot of dedication to her customer base and what she's doing on a level that is so much work," Chhour said. "She puts her all into it, and it really stands out in her work and the quality of it. She's always trying to improve her product and make the user experience better and more personal."
Previously crafting with plastic acrylic materials, Dugan said she started purchasing yarn of pastel and vibrant colors from her local bookstore because it was more environmentally friendly. As with the sustainable production of Dugan's tote bags, alumnus and customer Cassandra Cruz-Ramos said she appreciates how selfless and aware Dugan is when it comes to the planet and donating a portion of her sales to mutual aid funds to ensure the people affected have some financial support.
[Related: Student repurposes items to craft distinctive designs in business Pearly Rights]
Since she first met Dugan their first year at UCLA, Cruz-Ramos said she has purchased several items from the business, including an embroidered butterfly piece and matching crocheted hats. Through the development of Ang3larts as a brand, Cruz-Ramos said she has enjoyed witnessing Dugan's growth as a creator in her acquisition of new skills and how much she loves to craft.
"Her passion makes you want to purchase her items more because you know that much love is going back into the products that you're receiving," Cruz-Ramos said.
As her business has evolved over time, Dugan said she has learned new techniques through online tutorials. Because her brand is an extension of her personality – shown in ways such as predominantly featuring her favorite color purple – she said the way Ang3larts presents to the outside world is deeply personal to her, as it is a reflection of her beyond her art.
With her next vendor fairs at the end of the month in her hometown of Merced and a larger-scale art hop event in Fresno, Dugan said she prefers selling in person as opposed to online commissions because it grants her more freedom to experiment with creating a new item. Though she said she is in a transition period in her career as a recent graduate, Dugan is content with expanding Ang3larts for the time being.
"My business is based on what I want to make rather than the profit I want to make," Dugan said. "I create to create. The business isn't first, making art is first for me."