Westwood Village Rewards program ends, points to individual business programs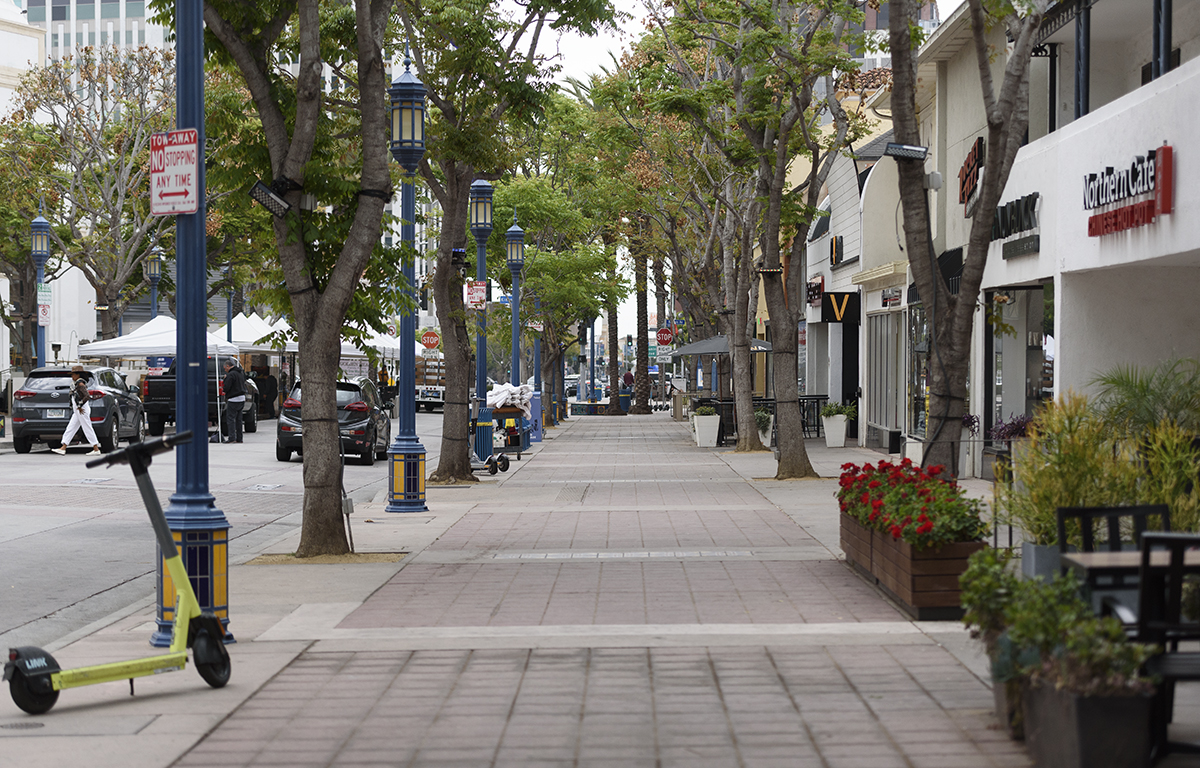 The Westwood Village Improvement Association ended its Westwood Village Rewards Program on July 30. The WVIA developed the program to offer discounts for purchases in the Village to promote local businesses. (August Suchecki/Daily Bruin)
This post was last updated on 8/14/2022 at 8:18 p.m.
The Westwood Village Improvement Association ended its Westwood Village Rewards program on July 30.
The WVIA announced in an emailed newsletter in July that it would be discontinuing the program, which offered discounts for purchases at Westwood Village businesses.
Ariana Gomez, the deputy director of the WVIA, said the association created the rewards to encourage patronage at businesses in the Village. She added that the program was a collaboration with Saltwater Software, who helped promote it.
[Related: Westwood Village Rewards set to officially launch next month]
Gomez said the WVIA decided to discontinue the rewards program because it is no longer partners with Saltwater Software, and individual businesses already have their own private rewards programs.
"Since a lot of our businesses already have their own programs, it makes the most sense to promote what's already here," Gomez said.
Furkan Yalcin, the president of the North Westwood Neighborhood Council, said the program allowed small businesses to offer customers rewards similar to larger chains.
All accounts within the program closed, and all unused points expired July 30, according to the announcement.
Gomez said the WVIA received complaints about customers having to input credit card information.
"We wanted to be able to provide something that still fulfilled our goal of promoting merchants in Westwood Village, of helping create repeat customers for our businesses, but also something that was much easier for customers to use," Gomez said.
The WVIA will promote individual businesses' rewards programs through its website as a replacement for Westwood Village Rewards, according to the emailed announcement. The announcement added that they plan to promote physical punch cards, loyalty programs, weekly promotions and any other store's rewards programs.
Gomez said the association is in the process of collecting information from businesses in order to promote their individual rewards programs and is open to new businesses interested in promoting their programs. She added that the association will implement business information into the new program website.
The site already displays promotions from several businesses in the Village, including Aahs! Gift Store, Enzo's Pizzeria and Junbi Matcha and Tea.
Yalcin said it is unfortunate that the program ended, though he understands the strategic rationale behind the decision to discontinue it.
"I think now the onus – in terms of having these types of awards programs – falls on the business itself, if they want to participate, if they see it as a benefit," Yalcin said.