UC Regents recap — July 20-22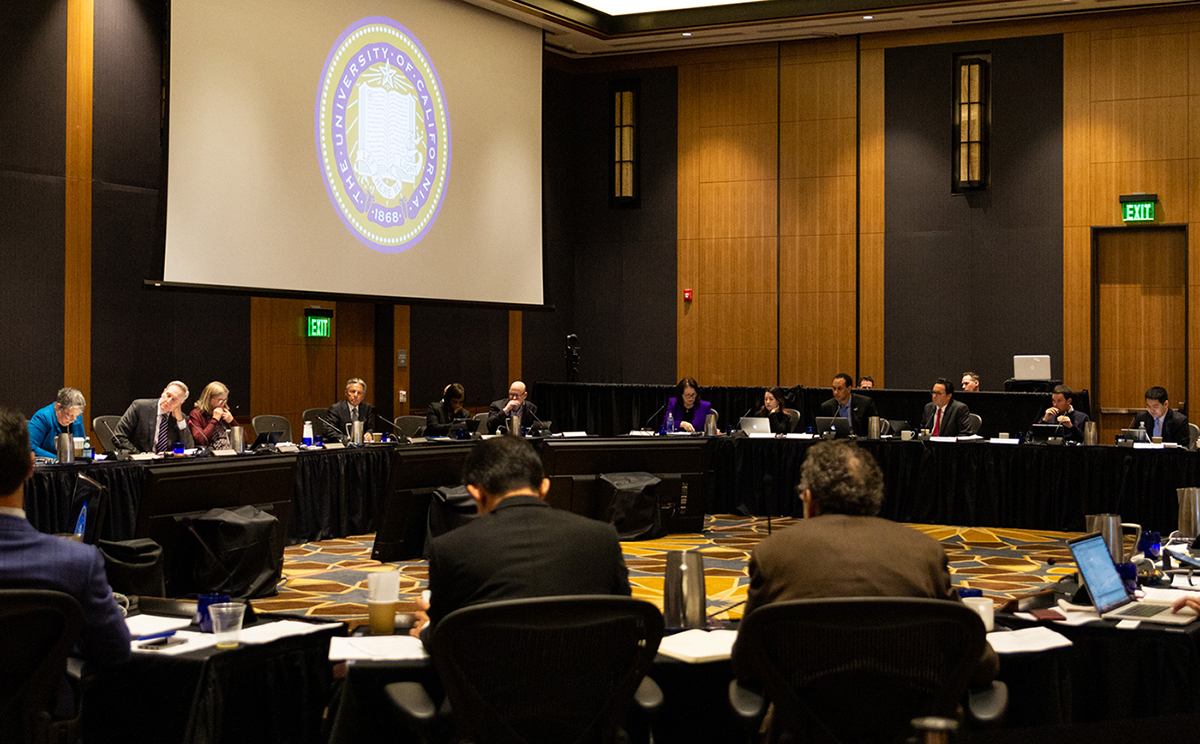 One of the bimonthly University of California Board of Regents meetings, previously held in person, is pictured. When the board met in July, they discussed things across the UC system such as new programs and funding allocations. (Daily Bruin file photo)
The Board of Regents, the governing body of the University of California, met for its July meeting via teleconference and in person at UC San Francisco from July 20 to July 22. The board discussed new financial aid programs and a plan for increasing student body diversity.
Wednesday, July 20
Board:
Stakeholders were allowed to make public comments on issues that affect students and community members both in person and online, ranging from enrollment costs to calls for stronger climate actions on campus.
The board voted UCLA doctoral student Merhawi Tesfai as the next student regent for the 2023-2024 year.
Public Engagement and Development Committee
Brent Colburn, senior vice president for external relations and communications for the UC Office of the President, spoke about #CaliforniansForAll College Corps, UC's new partnership with the state that aims to create debt-free pathways to college while engaging students to solve challenges with climate change, food insecurity and education. Seven of the 10 UC campuses were chosen for this partnership, including UCLA. The program is application-based, and 6,500 participants will be selected.
National Laboratories Committee:
The committee approved a plan for the allocation of the fee income the University earns from its ownership of the Los Alamos National Laboratory, Lawrence Livermore National Laboratory and Lawrence Berkeley National Laboratory in part to help cover costs of the University's oversight.
Academic and Student Affairs Committee
The Board of Admissions and Relations with Schools produced a report on comprehensive review in undergraduate admissions, in which admissions are determined based on achievement and potential.
The board voted to approve a revised policy on augmented review in undergraduate admissions, which reinforces that standardized tests are not to be included in the admissions process and nonresidents are to be compared favorably to California residents, gives priority to transfer students from California community colleges and prohibits preferential treatment in the admissions process.
Madeleine Sorapure, chair of BOARS, said campuses are providing outreach programs to create a pathway for African American, Native American and Latinx students to integrate into campus life as a way of improving yield rates of students from these communities.
Kyle Schmidt, student observer for the committee, said the UC has not yet created a guaranteed path to a UC school and must redefine the criteria for transfer students to enter a UC school.
Finance and Capital Strategies Committee:
The Finance and Capital Strategies Committee approved the UC Riverside School of Business' budget adjustment for a new building, an increase of $17 million because of rising labor costs and disruptions.
Nathan Brostrom, executive vice president and chief financial officer for the UC, and David Phillips, associate vice president of energy and sustainability for the UC, provided an update on the 2022-2023 state budget, which gives the UC $360.3 million in new ongoing funds and $754.2 million in one-time funds, enrollment growth funding, one-time provisions for additional funding and grants for student housing.
The committee approved a one-time cost of living adjustment for retirees because of recent inflation in an effort to restore purchasing power to the 85% minimum level.
Thursday, July 21
Board:
Community members were given the opportunity to make public comments during the first part of the meeting. Many statements were in regards to California Senate Bill 1141, which plans to provide increased access to in-state tuition costs for immigrant students and has general support. Some students mentioned their own experiences having to pay for out-of-state tuition as immigrants and how it was detrimental to their education.
Crystal Petrini, immediate past chair of the Council of UC Staff Assemblies, presented the board with data showing that faculty members of color have less favorable experiences in the workplace than their white counterparts.
Health Services Committee, Governance Committee and Board:
Michael Brown, provost and executive vice president for academic affairs, spoke of the 2022 UC Accountability Report, which outlines goals to produce over 20,000 additional degrees by 2030, achieve a 90% graduation rate for underrepresented and first-generation students, add additional faculty by fall and have more than 40% of UC doctoral students coming from California public universities.
Brown said the UC's 2030 capacity plan is to add 17,055 California undergraduate and 6,000 graduate students by 2030 using methods such as summer and online instruction opportunities.
Chancellor Gene Block said UCLA is at maximum physical capacity but hopes and plans to grow the number of students using various strategies. Block also said UCLA is equally invested in developing a more culturally responsive environment to serve a diverse student body, with programs including the Academic Advancement Program, Black Bruin Resource Center and First To Go, a program for students whose parents or guardians have not completed a four-year United States degree program.
Block said UCLA is also looking into satellite campuses – which would consist of bringing a new, small campus to Los Angeles – and developing a program called "UCLA in LA" to provide students the opportunity to participate in organizations and projects in downtown LA for leadership experience and exposure.
Anne Foster, UC Health chief clinical officer, said the U.S. is in the middle of a large COVID-19 surge because of the virus subvariant BA.5. Foster said the UC plans to mandate COVID-19 testing, institute masking recommendations and provide isolation accommodations to infected students in the fall.