UCLA faculty launch research lab to address inequity, uplift Latina leaders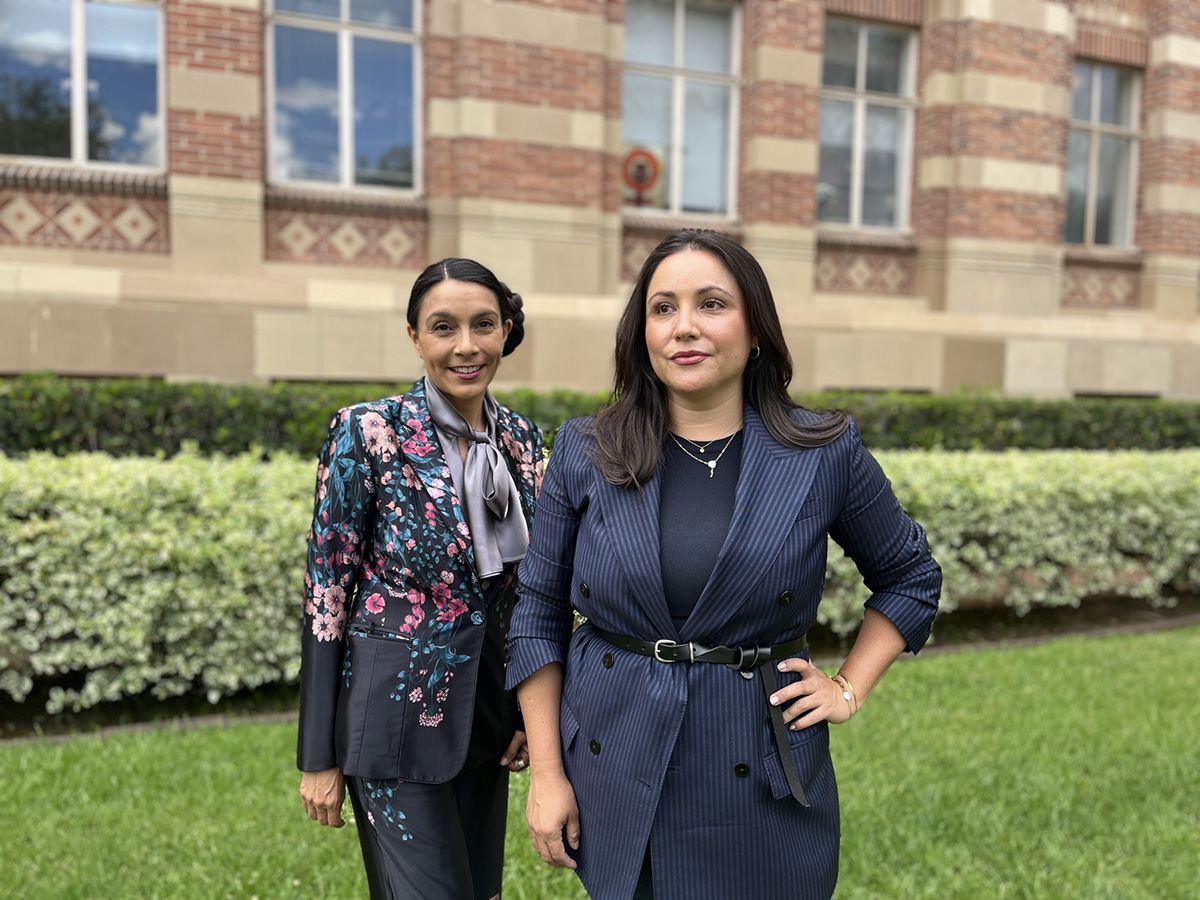 Veronica Terriquez (left) and Sonja Diaz (right) stand in front of a UCLA building. The pair co-founded the Latina Futures, 2050 Lab in hopes of linking research and policy to decrease inequities Latina women face, especially in the workforce. (Courtesy of Jessica Wolf)
This post was updated July 24 at 8:47 p.m.
The founders of the Latina Futures, 2050 Lab are planning to create a pipeline that connects research directly to policymakers in an attempt to tackle disparities and inequities that Latina women face.
With $15 million of funding provided through the California state budget signed by Gov. Gavin Newsom last month, the 2050 Lab strives to uplift Latina voices and create a multigenerational endeavor for a more equitable and diverse future, said Sonja Diaz, the founding director of the UCLA Latino Policy and Politics Institute and one of the co-founders of the 2050 Lab.
According to the work of key partners and researchers from both the UCLA Chicano Studies Research Center and the Latino Policy and Politics Institute, a number of scholars have led efforts to analyze ways Latinas influence different sectors through positions of leadership, Diaz said. She added that the lab's main mission is to amplify this kind of research while also working to create a partnership between UCLA and civil society.
"I hope to be able to leverage the resources of the University of California to address the underrepresentation of Latinos in positions of power … by supporting scholarly interventions and community partnerships that can improve the lives of all Americans," Diaz said.
Furthermore, Diaz said she finds it important that public policies represent the experiences of the diverse populations driving a country's growth. She added that Latinos are a core component of California's current and future workforce, but they are often invisible during public policy considerations and yet are heavily affected by social and economic inequality.
Latina women will likely represent up to 13% of the United States population and 11% of the labor force by 2050, according to the Latino Policy and Politics Institute. However, Diaz said Latina women experience widespread inequity, such as being pushed out of the workforce because of a lack of support and suffering from high rates of unemployment during the COVID-19 pandemic.
Furthermore, although there is less of a pay gap between women and men in California than in other states, Latinas in California still have the lowest rates of equal pay in all states, Diaz said. She added that this, among other issues, has motivated her to identify ways to integrate research with policy to imagine a more equitable future.
Veronica Terriquez, director of the Chicano Studies Research Center and co-founder of the 2050 Lab, said she and Diaz had discussed these institutional issues for Latinas for some time, but the lab did not launch until they acquired the opportunity to partner with state legislators.
Terriquez said they hope to apply a multifaceted approach that is solution-oriented while also recognizing the diversity within the Latino community.
"We're going to do a series of studies that really help us understand both the challenges the Latino populations are facing as well as opportunities to support and promote equity and social justice," Terriquez said.
Terriquez said she hopes the lab can address not only the harm caused by the pandemic, but also the larger systemic and historical problems that have contributed to gender, racial and immigration inequality in the United States. She added that she hopes the research conducted through the lens of academia can help the lab spur changes by connecting data to the government.
"We don't want the research to stay within the walls of academia," Terriquez said. "We want it to change institutions, to make them more inclusive so that Latinos are better represented and their labor rights are also respected."
According to data accumulated by the Latino Policy and Politics Institute, prior to the pandemic, the number of Latinas in the U.S. labor force was initially estimated to grow by approximately nine times the projected growth of that of white women. However, from March 2020 to March 2021, the number fell by 2.74%, making it the largest drop in any demographic group, according to the institute's data.
In addition to the loss imposed by the pandemic, Diaz said there has also been a regression of diverse leadership in American society, including by Latinas, who are often underrepresented in media, entertainment, law and other sectors.
Diaz said the lab is interested in exploring how Latinas can exert positive influences in a variety of fields through different leadership roles, including business and professional occupations such as being doctors and teachers. One of the researchers the lab will initially support is Yohualli Anaya, an assistant clinical professor at the David Geffen School of Medicine at UCLA who is conducting research on expanding the diversity of the physician workforce.
Anaya said the initial findings of her research show that 2.4% of doctors in the U.S. are Latina. She added that she hopes her partnership with the 2050 Lab will lead to increased representation of Latinas in the medical field.
"This is the main focus of our research," Anaya said. "We will also be … addressing and trying to ensure that Latinas are represented across the range of (the) healthcare workforce."
Diaz said the lab also aspires to create a multigenerational and cross-sectoral environment by increasing student engagement, so young voices may play a central role alongside other civil society leaders. She said they are working to host a national symposium next year to bring together Latina lawyers and scholars to facilitate how the U.S. Constitution impacts the futures of Latina women. They are also working with the Chicana/o Latina/o Law Review to publish the works of Latina scholars, she added.
The lab will work on developing student engagement and partnering with undergraduate and postgraduate students who will be able to get involved in the lab's archival duties and other policy-related issues, Terriquez said. Currently, the lab is still operating remotely as they try to find a physical location on campus grounds, Diaz added.
Terriquez said their goals also align with the lab's name, as they hope to see tangible change by the year 2050, which includes seeing more young women taking on positions of leadership.
"We're thinking about the Latinas Futures, 2050 Lab because we're thinking about the leadership that young women are going to hold in the future," Terriquez said. "And we want 2050 to look very different from what it looks like now."