California to vote on state constitutional amendment protecting abortion rights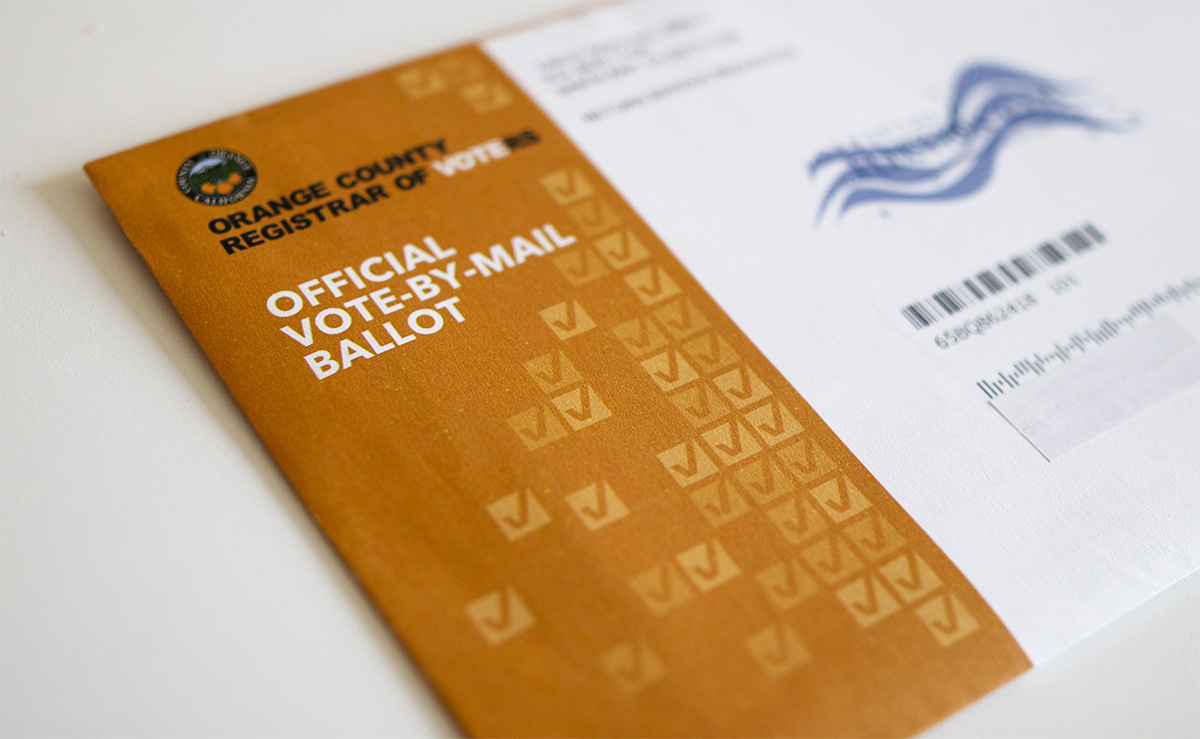 An Orange County vote-by-mail ballot for an election cycle sits on a table. As the midterms approach, California legislators plan to have an initiative making abortion access a state constitutional right on the ballot. (Esther Li/Daily Bruin staff)
This post was updated July 24 at 8:40 p.m.
California voters will see an abortion initiative on the November midterm ballot as activists and legislators push to protect access to abortion and contraception in the state.
Senate Constitutional Amendment 10, approved by Gov. Gavin Newsom on June 29, proposes an amendment to the California Constitution that will secure the fundamental right to choose or refuse an abortion and contraceptives. The initiative, which references the right to privacy already explicitly protected in the California Constitution, will serve as a long-term strengthening of protections, said Cathren Cohen, a scholar of law and policy with the UCLA Law Center on Reproductive Health, Law and Policy.
Even though abortion currently remains protected in California, this midterm ballot initiative would ensure the state legislature could not obstruct abortion access in the future, said Chelsea Jones, a political science doctoral student and senior policy fellow at the UCLA Voting Rights Project.
"This move is a way to ensure that the things that we expect from California are actually law," she said. "It's been California's reputation that has made it (constitutional abortion protection) not a necessity."
To amend the constitution, both chambers of the legislature must approve putting the proposition on the ballot – which has already occurred – and a simple majority of voters must vote in its favor, according to the California Legislative Information website.
Abortion access advocates have been preparing for an onslaught of restrictive bills since the Roe v. Wade decision in 1973, but especially in the past few years, said Betsy Butler, executive director of California Women's Law Center, an organization advocating for gender equality. With Supreme Court Justice Ruth Bader Ginsburg's passing in 2020, Butler said many activists have been preparing for the majority-anti-abortion court's updated decision on Roe v. Wade, which was overturned in June.
Xochitl Lopez-Ayala, a policy advocate coordinator for Access Reproductive Justice, an abortion access fund that aims to remove barriers to reproductive healthcare, said a coalition of reproductive rights policy groups called the California Future of Abortion Council provided a report and list of 45 policy recommendations to the California Legislature in December.
Cohen said the policy recommendations gave politicians suggestions for how California could strengthen laws to support reproductive healthcare and abortion access as a model for other states, such as the November ballot initiative and requiring private insurance companies to cover abortion costs.
As more states continue to enact abortion restrictions or bans, California may see anywhere between 8,000 and 16,100 additional out-of-state pregnant people seeking abortions, according to data from the UCLA Law Center on Reproductive Health, Law and Policy. The language of SCA 10 implies California will try to protect people from any state who are trying to receive abortion services by referencing individuals rather than Californians, Cohen added.
Jones also said it is especially important for advocacy efforts to include economic and healthcare equity across all groups, especially for Black pregnant people, who experience higher rates of issues or complications regarding reproductive health than their white and Latino counterparts.
She added that the overturning of Roe v. Wade further perpetuates generational inequalities by removing people's right to decide whether they will carry out a pregnancy, an issue Lopez-Ayala said often falls heavily on pregnant people from marginalized groups.
"For so long, many BIPOC people have not had a seat at the table and have stories and statements said for us instead of by us," Lopez-Ayala said.
The pregnant people most burdened by inaccessibility to reproductive healthcare will continue to be the most affected in states without abortion access, Butler said. For example, 13 states including Texas, North Dakota and Mississippi have abortion bans that were immediately enacted upon Roe v. Wade's overturning, according to the Guttmacher Institute.
"It's the women who don't have the resources or … don't have the time to take off from work, or they don't have the gas money," Butler said. "Or, or, or. There's so many or's."
Lopez-Ayala added that it is important to use inclusive language when advocating for abortion rights. There is a need to employ this language and work against fostering division in reproductive health activism, she said.
"You have a lot more younger folks who understand that queer people have abortions. Nonbinary people have abortions," she said. "They're in the same race."
With abortion on the November midterm ballots not only in California but also in other states – some with initiatives to restrict or ban abortion, such as in Kansas or Kentucky – Butler said it is imperative to vote at both the federal and state levels, but especially in local elections.
She added that voting at the judicial level is also vital because court cases further challenging abortion and other rights will first go through lower courts.
"Right now, what we have to do is stay hopeful," Jones said. "We have to continue to mobilize one another to find the places where we can make change, to protect each other as communities in areas where policy fails us."