UCLA nurses fight for better working conditions to preserve quality patient care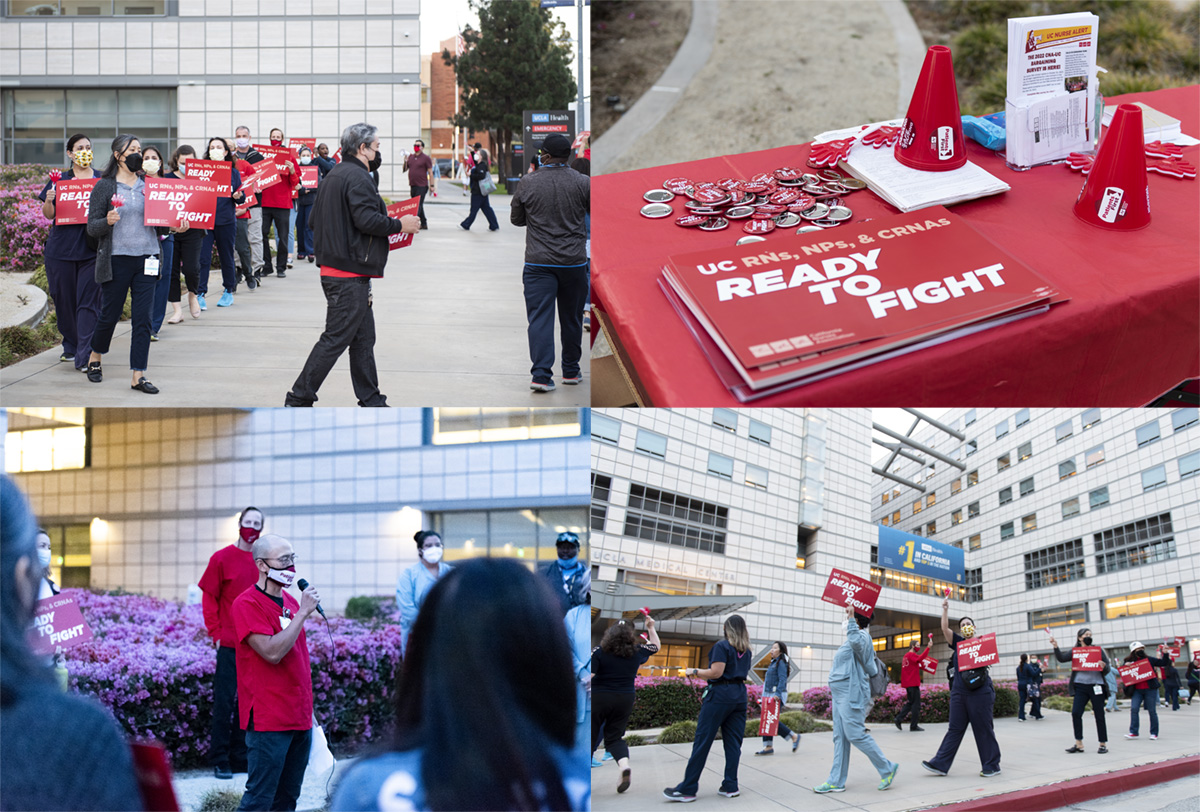 Nurses protest in front of the Ronald Reagan UCLA Medical Center. (Clockwise from top left: Bryan Palmero/Daily Bruin senior staff, Victoria Li/Daily Bruin senior staff)
This post was updated July 4 at 11:18 p.m.
Challenges brought on by the COVID-19 pandemic in the past year have forced UCLA Health nurses to advocate for improved working conditions – a process that some said is still ongoing.
During the pandemic, nurses at UCLA have faced a lack of adequate staffing, personal protective equipment and testing for asymptomatic individuals, said David Yamada, a UCLA registered nurse in the coronary care intensive care unit.
Many nurses left their positions and the profession as a whole over the past two years as a result of the stress of these issues, said Judith Anugom, a clinical lecturer at the UCLA School of Nursing.
However, many nurses also stepped up to take on extra shifts and make up for the shortage in staffing, said Yamada, who is also chief nurse representative for the California Nurses Association, a premiere labor organization of registered nurses with members in all 50 states.
In turn, nurses found ways to voice their complaints about lack of safety and difficult workload in the form of petitions, protests and meetings with management, he added.
Some created petitions for specific issues in the field for approval by management and organized a number of protests, such as one protesting unsafe working conditions in front of the Ronald Reagan UCLA Medical Center in July 2021.
[Related: UCLA nurses protest unsafe staffing in front of Ronald Reagan Medical Center]
"I think we've grown a few activists as a result of having to fight for more resources," Yamada said. "And I think that will be beneficial for nurses going forward."
Nurses have begun to see changes as a result of their activism through an increase in PPE and asymptomatic testing, Yamada said. He added that during the pandemic, nurses were also able to prevent UCLA Health from bypassing the law in California that limits the nurse-to-patient ratio.
According to National Nurses United, the largest nurse union in the United States, California is the only state with a mandated nurse-to-patient ratio. The exact ratio differs depending on the type of care, but the number of patients assigned to a nurse must not be exceeded, according to National Nurses United.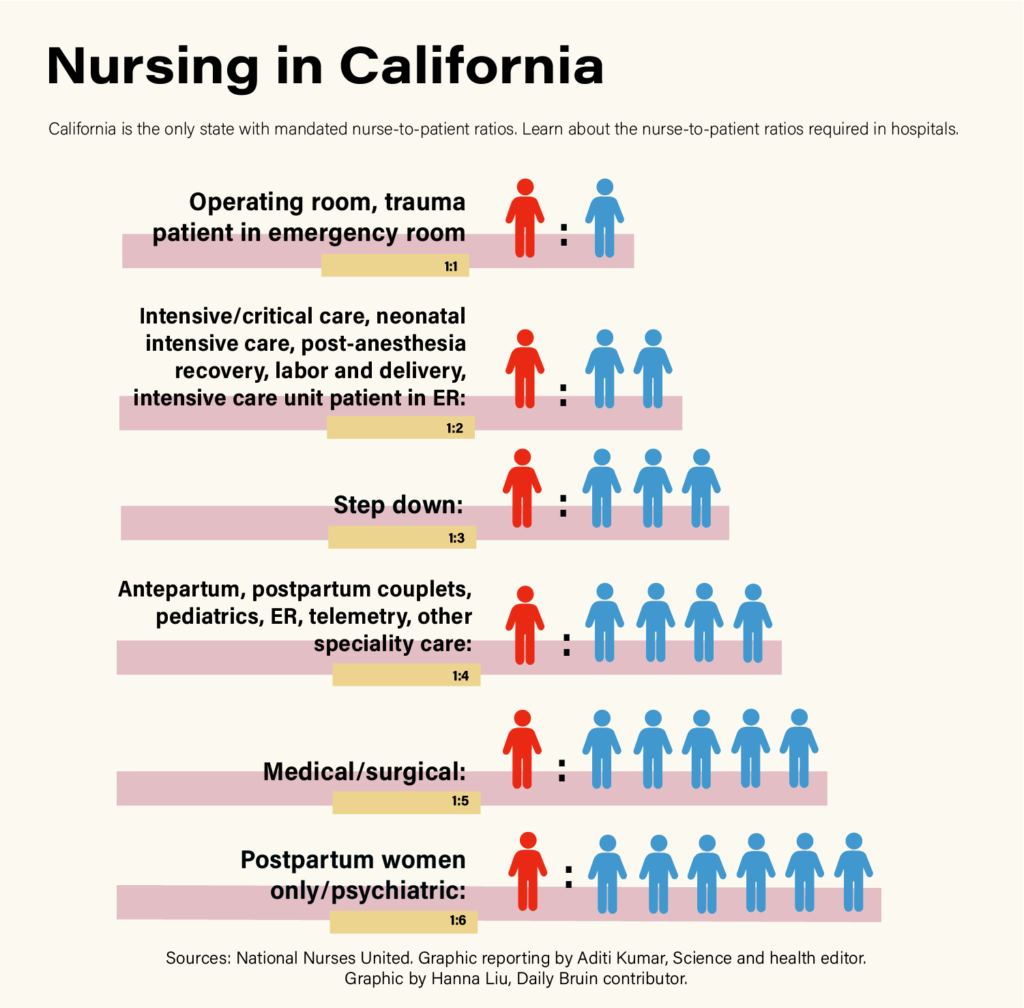 During the pandemic, however, Gov. Gavin Newsom allowed hospitals to apply for waivers disregarding the ratio law, Yamada said. California Nurses Association nurses banded together and set up a meeting with management in order to prevent UCLA Health from applying for this waiver, he said.
"Every step of the way, when there was some sort of a threat to patient care or safety, we would step in and kind of balance that," Yamada said.
According to UCLA Health's website, it launched a mentorship program to help support newer nurses in response to advocacy efforts.
"The past year has caused undeniable strain, and providing wellness resources to nurses remains a focus," UCLA Health said in an emailed statement.
However, despite efforts by leaders like Yamada, there are voices in the nursing field that remain unheard, Anugom said, adding that she would like for there to be a clearer process for nursing students to provide feedback to UCLA Health other than through quarterly evaluations and for UCLA Health to collect more data on students' stress levels and suggestions for improvement.
She added that if current and future nurses are not able to focus on self-care, they cannot provide quality care for patients.
"They (nursing students) all wish to have a place at school where they can express themselves and be heard, and they don't feel heard, unfortunately," Anugom said.
According to UCnet, the contract between the University of California and the California Nurses Association expires Oct. 31. During negotiations for the new contract, Yamada hopes to see protections such as adherence to the mandated nurse-to-patient ratio included in the contract to allow nurses to deliver optimal care.
"That would show a lot of respect and appreciation for the nurses that I feel like is well deserved," Yamada said.