UCLA nurses protest unsafe staffing in front of Ronald Reagan Medical Center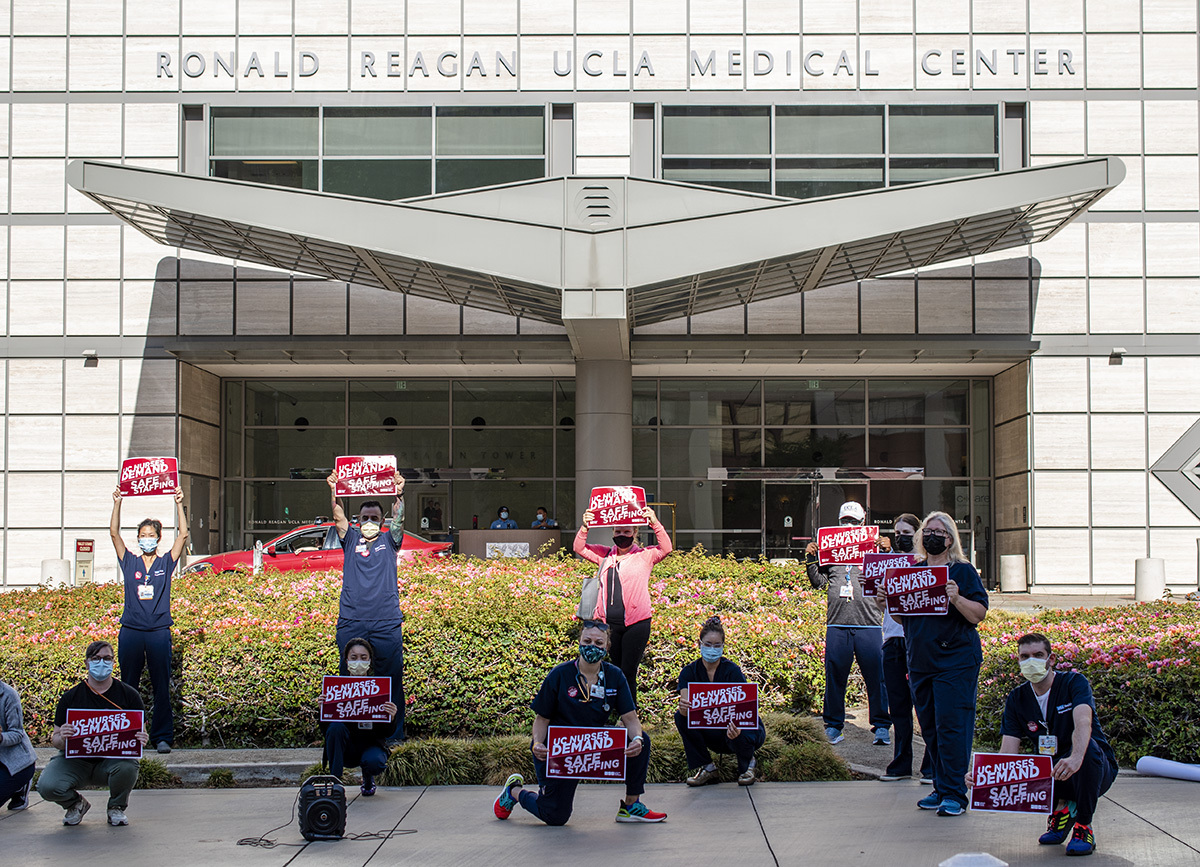 UCLA nurses protested against alleged UC mismanagement in front of the Ronald Reagan UCLA Medical Center on Wednesday morning. They called attention to concerns about staffing shortages and patient safety. (Chelsea Westman/Daily Bruin)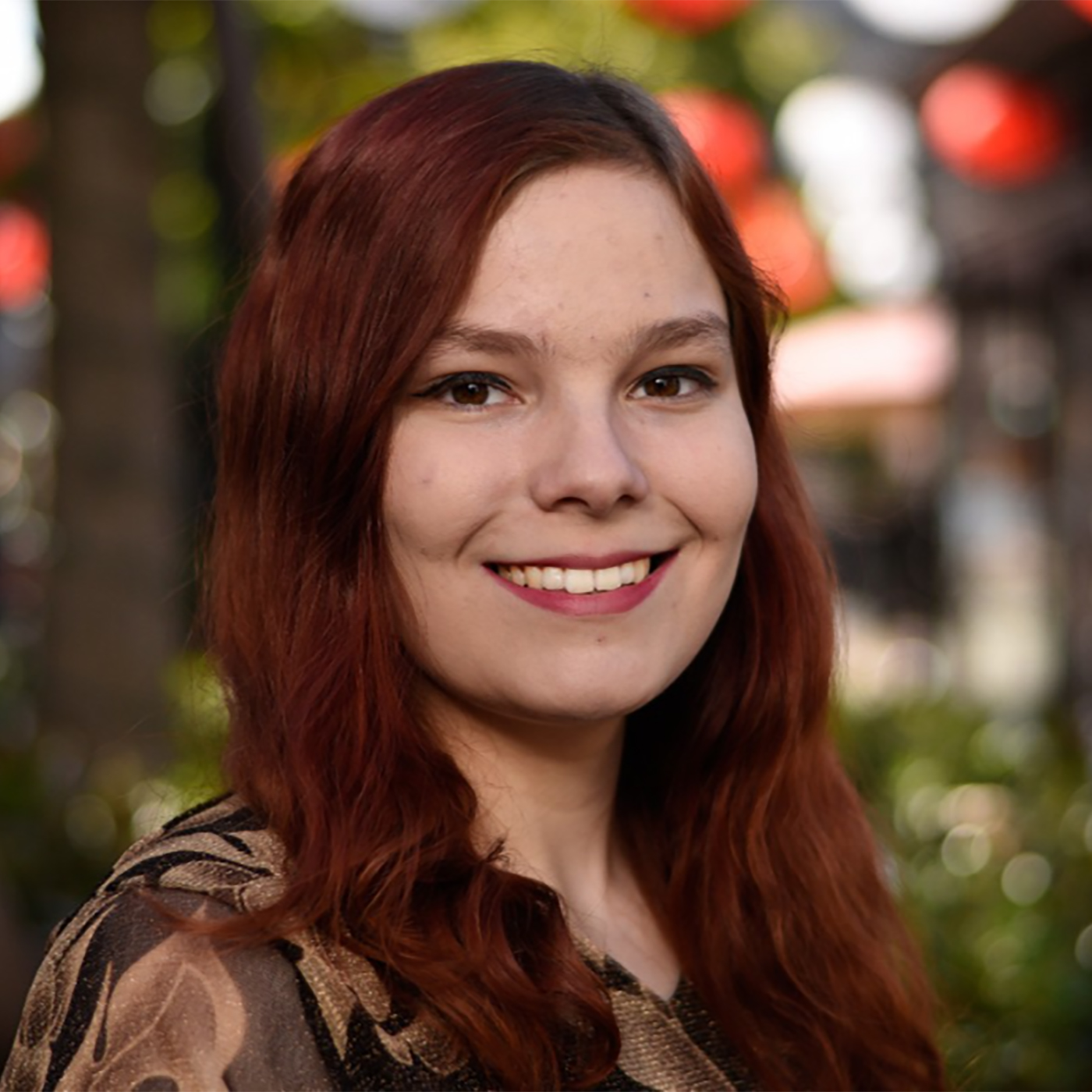 This post was updated July 25 at 8:23 p.m.
Dozens of UCLA nurses demonstrated in front of Ronald Reagan UCLA Medical Center on Wednesday morning, calling for safe staffing and better workplace protections.
Nurses gathered on the sidewalk of Westwood Boulevard in front of the medical center around 7:30 a.m. and marched back and forth until around 8:30 a.m.
They held signs that read "UC Nurses Demand Safe Staffing" and shouted "Hey, hey, ho ho! Unsafe staffing has got to go."
Around 8:30 a.m., the crowd gathered for a press conference led by David Yamada, a UCLA registered nurse and California Nurses Association member. Yamada called for attention toward elevated tensions over continuous staffing shortages.
"We are holding this press conference here today to appeal to the public for your health and improving safe patient care that is currently under threat due to a severe staffing crisis," Yamada said in his speech.
Afterward, the nurses brought their University of California-wide petition to UCLA administration around 9 a.m. The petition had received around 7,000 signatures from nurses across the UC system, calling for better working conditions. The nurses alleged that they have been disrespected, ignored and silenced by management amid ongoing labor talks.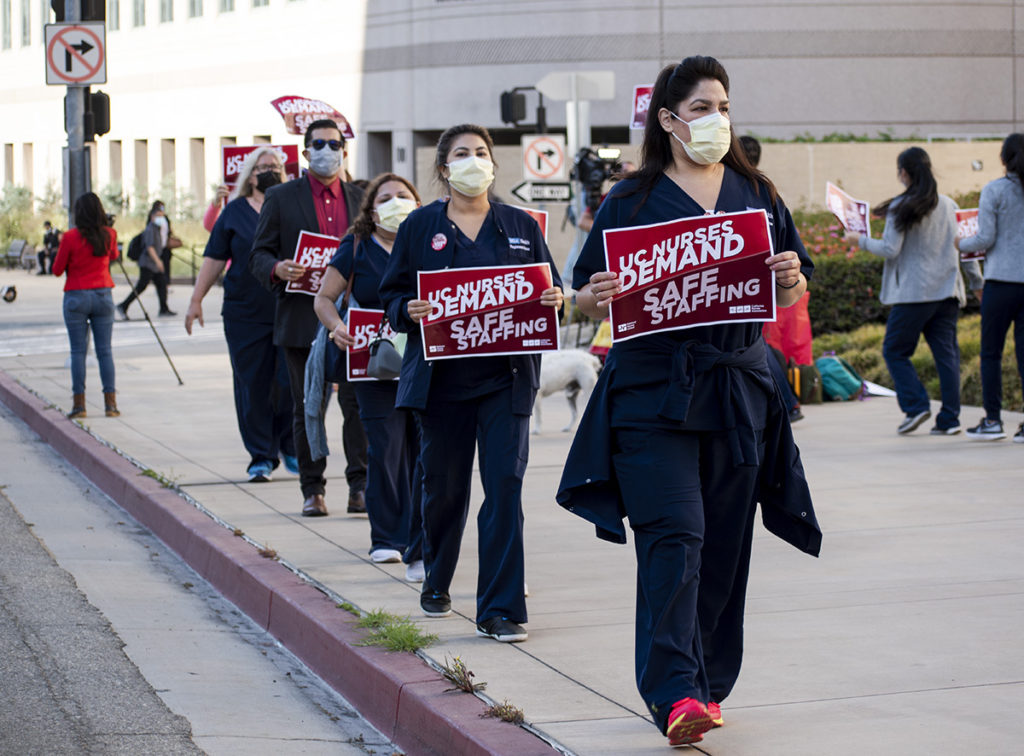 Wednesday's protest at UCLA was part of demonstrations including nurses from across the UC system, according to a joint press release from the CNA and National Nurses United sent Tuesday.
The UC systemwide protests were part of a national day of action among registered nurses in NNU, including several others in LA and Orange County, according to a subsequent joint press release sent Wednesday.
CNA represents more than 16,000 UC nurses and is an affiliate of NNU, a national union representing more than 175,000 nurses.
UCLA Health spokesperson Phil Hampton said in an emailed statement that the administration's priority is its patients', nurses' and staff's health. UCLA Health is compliant with state staffing requirements and is following public health guidelines, Hampton added.
Several nurses gave speeches at the event, demanding improvements in safe staffing policies from UCLA.
Melita Temple, a nurse representative in the neonatal intensive care unit, said her department has faced inadequate staffing, leading to over-exhaustion and forgoing breaks.
"There are nurses who are considering early retirement," Temple said. "That makes the whole inadequate staffing short, and if we're not replacing them, then … it puts the burden into the workers that are still there."
Long work hours and understaffing have caused increased callouts and burnout among the staff, said Benjamin Cioppa-Fong, an RN in the emergency department of the UCLA Santa Monica Medical Center.
"We are unable to even take a rest break for most harsh shifts," said Kathleen Brennan, a nurse in the labor and delivery unit. "Working in these conditions is not only unhealthy, but they are also unsafe for our patients."
Brennan also said high turnover in management, including a new CEO and chief financial officer, caused uncertainty prior to the COVID-19 pandemic. Brennan added she hopes to see management incorporate more input and prioritize support for nurses in the future.
"We also have an economic crisis that's happening at the same time so people need more emotional support, and with the restrictions of COVID, they have less support in the hospital," Brennan said. "We're just asking for safety – we're not asking for a raise, we're asking for safety for patients and respect."
"I want UC management to know that we are not going away until change is made," Cioppa-Fong said.
Contributing reports from Justin Jung, city and crime editor.