Joseph's Diagnosis: UCLA's move to Big Ten fails to truly consider student-athletes, fans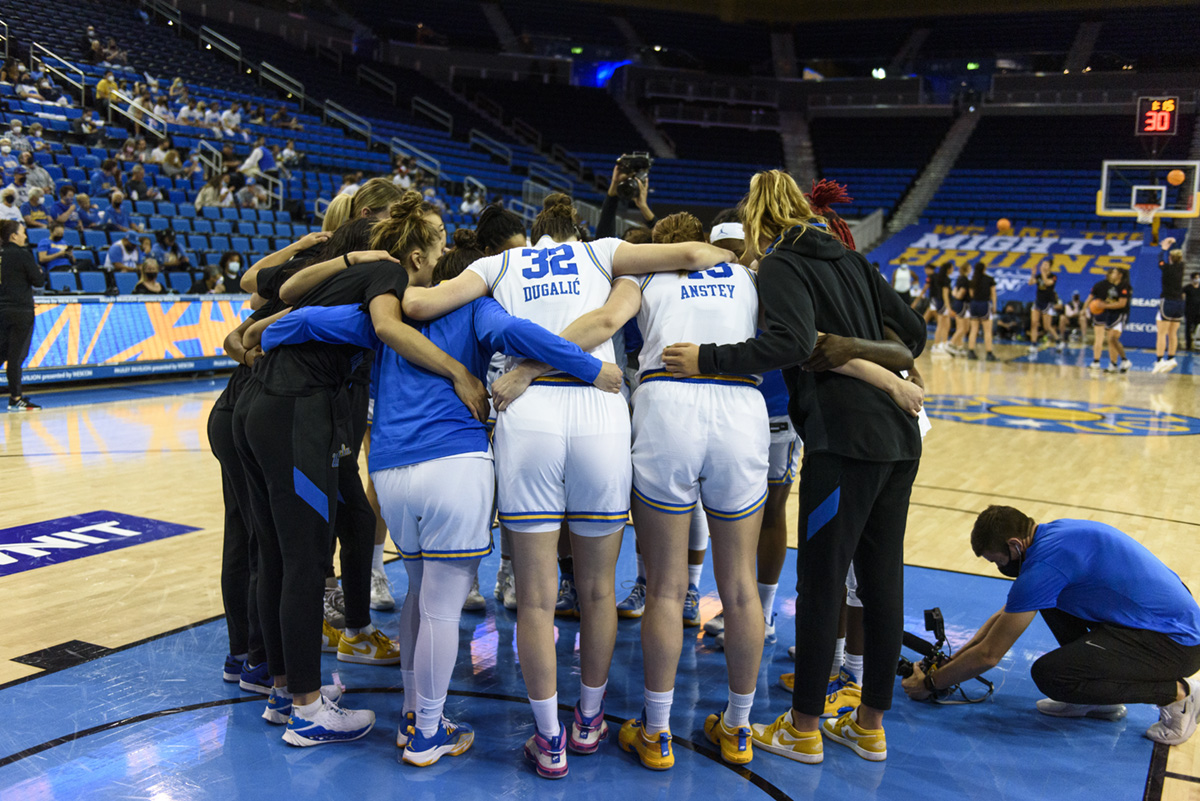 UCLA womens' basketball players huddle during a game. They are just one Bruin team that will now have to make cross-country trips for conference road games because of UCLA's move to the Big Ten. (Marc-Anthony Rosas/Daily Bruin)
"For the past century, decisions about UCLA Athletics have always been guided by what is best for our student-athletes, first and foremost, and our fans," said Chancellor Gene Block and athletic director Martin Jarmond in a public statement.
That was how the duo started their announcement regarding UCLA's decision to leave the Pac-12 and enter the Big Ten beginning with the 2024-2025 season.
But is this move really what's best for UCLA's student-athletes and fans?
Probably not.
Traveling is an exhaustive affair that deals with frustrating airport trips, multihour flights and time zone adjustments. UCLA has been fortunate that only four Pac-12 schools are outside of the Pacific time zone, and Arizona's noncompliance with daylight saving time means that – for at least some of the year – Utah and Colorado are the only areas with a time difference.
Currently, Washington represents the furthest Pac-12 school from UCLA at over 960 miles away. After the transition to the Big Ten, the nearest school aside from USC will be Nebraska – which is nearly 1,300 miles and two time zones away.
UCLA's new conference opponents only get further from there, stretching all the way out to Rutgers, Penn State and Maryland – which are all over 2,000 miles and three hours of time change away from Westwood.
What does that mean for the student-athletes? Well, within football, not much. A handful of conference road games around the weekend is not all that much of a change. But with sports like basketball, soccer, baseball, softball, tennis or track and field with longer seasons and inconsistent match days? So much travel could have disastrous repercussions for student-athletes.
Being jetted back and forth across the country for an entire season with only a reprieve of home games or trips to USC won't be easy. UCLA's student-athletes already work overtime to keep their minds sharp for class and keep their bodies prepared for gameday. Now, they'll have to adjust to a massively increased travel schedule on top of it.
UCLA Athletics' first obligation should always be to its student-athletes and their mental and physical well-being. It quickly becomes clear that this decision didn't factor that in at all.
Block and Jarmond's statement also emphasizes that this move was in the best interest of the fans.
The Bruin faithful are lucky that USC is also joining the Big Ten, so the crosstown rivalry can remain an important conference showdown. However, that doesn't mean that fans aren't still suffering. UCLA's matchups against California are highly anticipated, as the schools compete for dominance in the UC system, and games against Stanford draw big crowds because both schools have such storied athletics programs.
Now, Bruin fans are going to have to hope that they can make it at least halfway across the country if they want to attend an away conference matchup that isn't against USC. Sure, there are UCLA alumni all over the country, but local fans and current students are losing the chance to have conference games in-state.
Additionally, how are fans going to feel about the Bruins shifting themselves away from the Conference of Champions? UCLA is one of only three schools with over 100 national titles, but now it is separating from the legacy of the conference it helped found. Will the Big Ten become the new Conference of Champions with UCLA as one of the direct contributors? Unlikely.
So while UCLA's administration may say this choice is the right call for all those involved, it's difficult to determine the extent to which they considered the student-athletes and the fans.
Crosby is currently an assistant Sports editor on the baseball, men's water polo and women's water polo beats. He was previously a contributor on the baseball and women's golf beats.
Crosby is currently an assistant Sports editor on the baseball, men's water polo and women's water polo beats. He was previously a contributor on the baseball and women's golf beats.