UCLA dean Jayathi Murthy to become next president of Oregon State University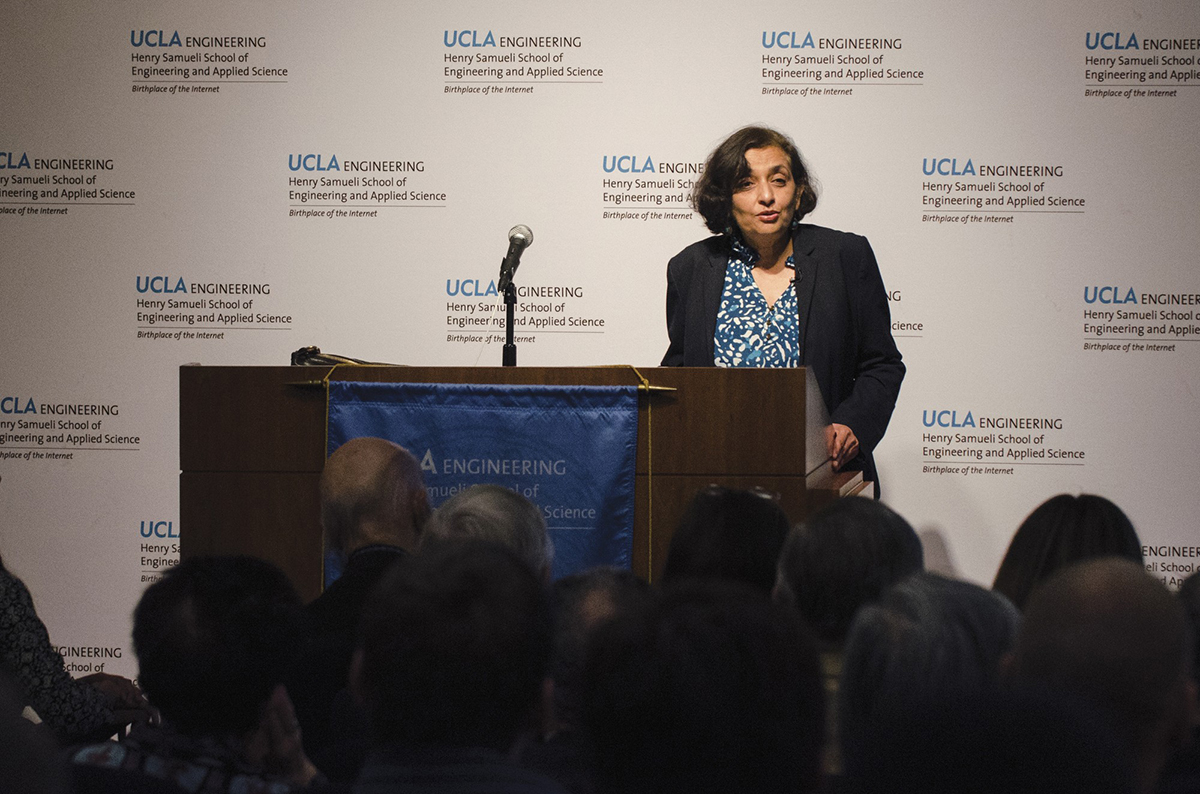 Jayathi Murthy speaks after being appointed as dean of the Henry Samueli School of Engineering and Applied Science. Murthy will be stepping down as dean in the summer. (Daily Bruin file photo)
This post was updated June 26 at 9:37 p.m.
UCLA administrators announced in a June 7 statement that the dean of the Henry Samueli School of Engineering and Applied Science will be stepping down from her position in the summer.
Michael Levine, the interim executive vice chancellor and provost, said in the announcement that Jayathi Murthy – the Ronald and Valerie Sugar Dean at the School of Engineering – will become the next president of Oregon State University following her departure.
Before joining UCLA as dean in 2016, Murthy was the chair of mechanical engineering at the University of Texas at Austin.
During her six-year tenure, Murthy established the Department of Computational Medicine with the David Geffen School of Medicine and a Master of Engineering program. She oversaw the construction of a makerspace in Boelter Hall and the finalization of the Engineering VI building, Levine said in the statement.
Levine added in the statement that as the first female dean of the school, Murthy increased accessibility to engineering through initiatives such as [email protected] – an organization to mentor and support women in engineering – and the Mentor Professor Program, which recruits faculty who have experience mentoring underserved students.
Murthy also increased investment in certain areas of the school's research, including sustainable urban systems, artificial intelligence, robotics and advanced manufacturing, and she expanded full-time faculty and student enrollment, according to Levine's announcement.
UCLA expects to share more information on the new leadership for the UCLA School of Engineering in the coming weeks, Levine added in the statement.
"Chancellor Block and I are deeply grateful for the mark Dean Murthy has left on UCLA Samueli, and we wish her the very best at the helm of another one of our nation's excellent public universities," he said in the statement.