Student advocates look to effect change amid UCLA's return to campus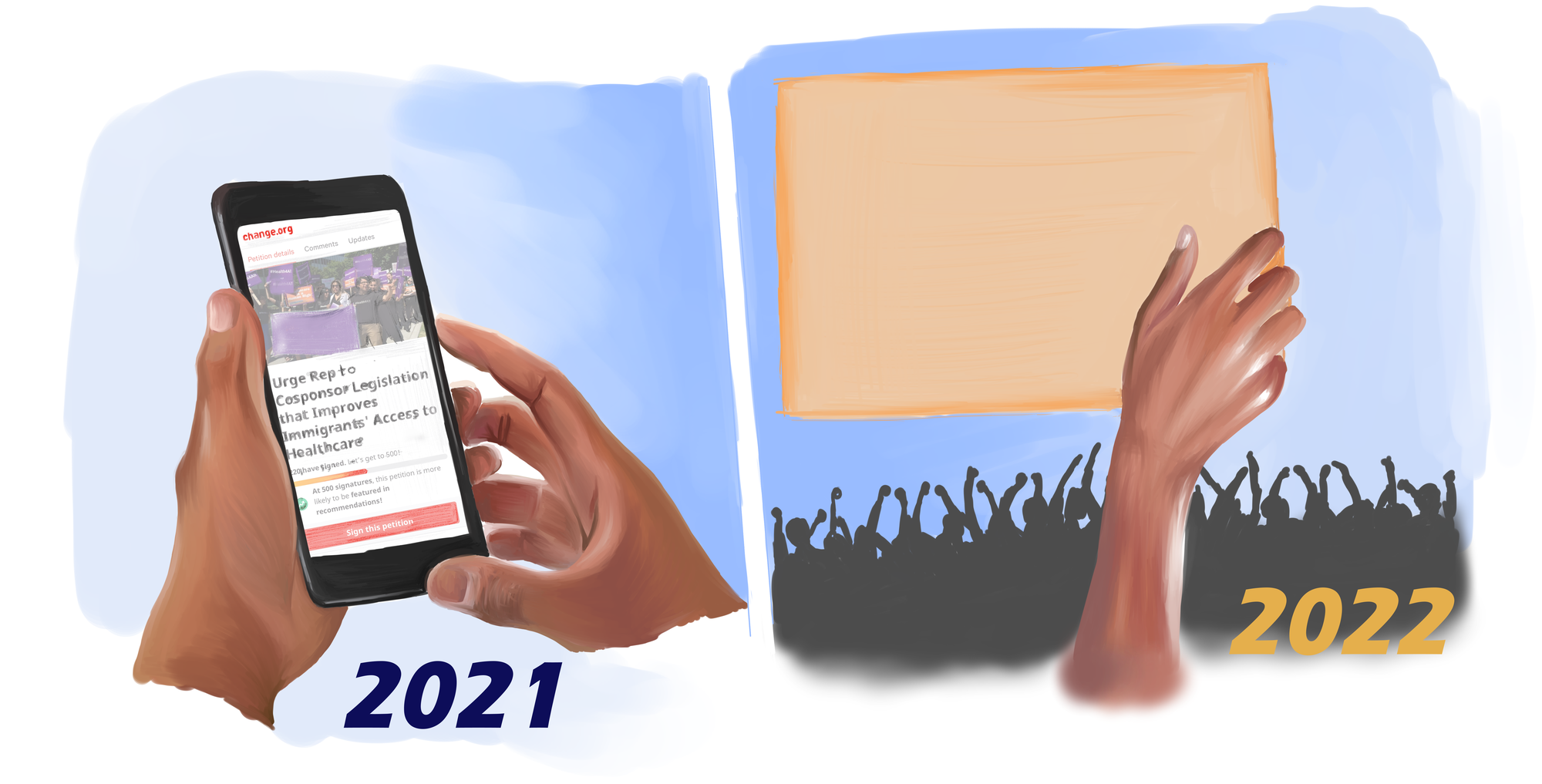 (Vaibhavi Patankar/Daily Bruin)
This post was updated June 5 at 1:37 p.m.
From the sit-in at Murphy Hall to abortion rights protests, UCLA students have come back in full force to create the change they want to see on campus.
Over the past year, many Bruins have made the difficult transition to being back in person – including student advocates on campus. With UCLA students starting to return to a new normal, student organizations have been able to host more advocacy events for the issues they are passionate about.
Sophia Siqueiros, a fourth-year political science student, and Rachel Alexander, a third-year art and gender studies student, are members of the Women's Empowerment Coalition, an organization that fights for gender equality. Siqueiros and Alexander both said they define advocacy as collaborating with people who share a common goal.
"Advocacy is about finding that intersection where your skills and passions overlaps with the power to create change," Alexander said.
After a recent Supreme Court draft decision leak that could potentially overturn Roe v. Wade – a 1973 case that established the right to abortion nationwide – Siqueiros said the construction of a women's center, which is one of the coalition's long-term advocacy goals, could act as a vehicle for reproductive justice. The coalition has met with student leaders on campus to add input about what the center would look like, she said.
Last year, people had a hard time being involved with advocacy simply because they were so tired of being on their devices all the time during the pandemic, said Kiana Erfanian, a fourth-year microbiology, immunology and molecular genetics student. As a member of the Bruin Consent Coalition, a group that supports survivors of sexual violence, Erfanian added that as events were canceled for health safety, the coalition's member retention rates began falling.
However, the return of in-person events this year has allowed the consent coalition to host more advocacy events – especially in the month of April, which is sexual assault awareness month, said Erfanian.
According to Erfanian, the coalition has hosted various events over the year, including Take Back the Night, which was an anti-sexual assault protest march around campus carrying candles; Denim Day, where students wrote sexual health slogans on jeans; and Clothesline, in which students hung up T-shirts decorated by sexual assault survivors in Dickson Court.
E3: Ecology, Economy, Equity – an organization that advocates for environmental justice – has been working on a zero-waste campaign on campus this year, said Narayan Gopinathan, a member of the organization and a doctoral student in environmental sustainability.
Gopinathan said that E3 is advocating to move away from single-use disposable items as well as campaigning to raise awareness about other environmental issues such as climate change.
Other clubs, however, have struggled with waning support this year as the issues they care about begin to lose the media spotlight.
Tanya Boghosian, a third-year psychobiology student, is the president of the Genocide Relief and Awareness Club, an organization that seeks retribution for, prevention of and awareness of ethnic religious genocides. She said the Genocide Relief and Awareness Club received an influx of new members who were motivated by current events when it was founded at the height of the Armenia-Azerbaijan conflict two years ago.
However, Boghosian said recruitment eventually began fizzling out once coverage of the war died down.
Ahmet Dikyurt, a fourth-year anthropology and psychology student and another member of the Genocide Relief and Awareness Club, said he thinks interest tends to dissolve once the topic is no longer a pop culture issue.
"Unfortunately, I think it slows down because, you know, the (Armenia-Azerbaijan) conflict was kind of resolved and people seem to lose interest – the same with the Black Lives Matter movement," Dikyurt said.
According to Boghosian and Dikyurt, the unfortunate reality seems to be that even though genocides are still occurring, advocacy no longer seems to stay on people's minds once the media's attention to an issue disappears.
Nevertheless, the Genocide Relief and Awareness Club has still organized various advocacy events over the school year, Boghosian said. Like other student organizations, they continued their previous use of social media to raise awareness while also hosting new in-person speaker events, he added.
Although most advocacy groups can agree that advocacy has changed greatly since the online events of last year, Erfanian said they recognize student interest is not linear.
Ultimately, Gopinathan said the past year has truly shown him the importance of a commitment to advocacy and activism.
"I've found that it is really important and impactful and worth it to use whatever tools you have available to you to try and make change in your community, whether at the local or national or global level," he said.