Cross-training allowed me to explore passions, step outside my comfort zone -30-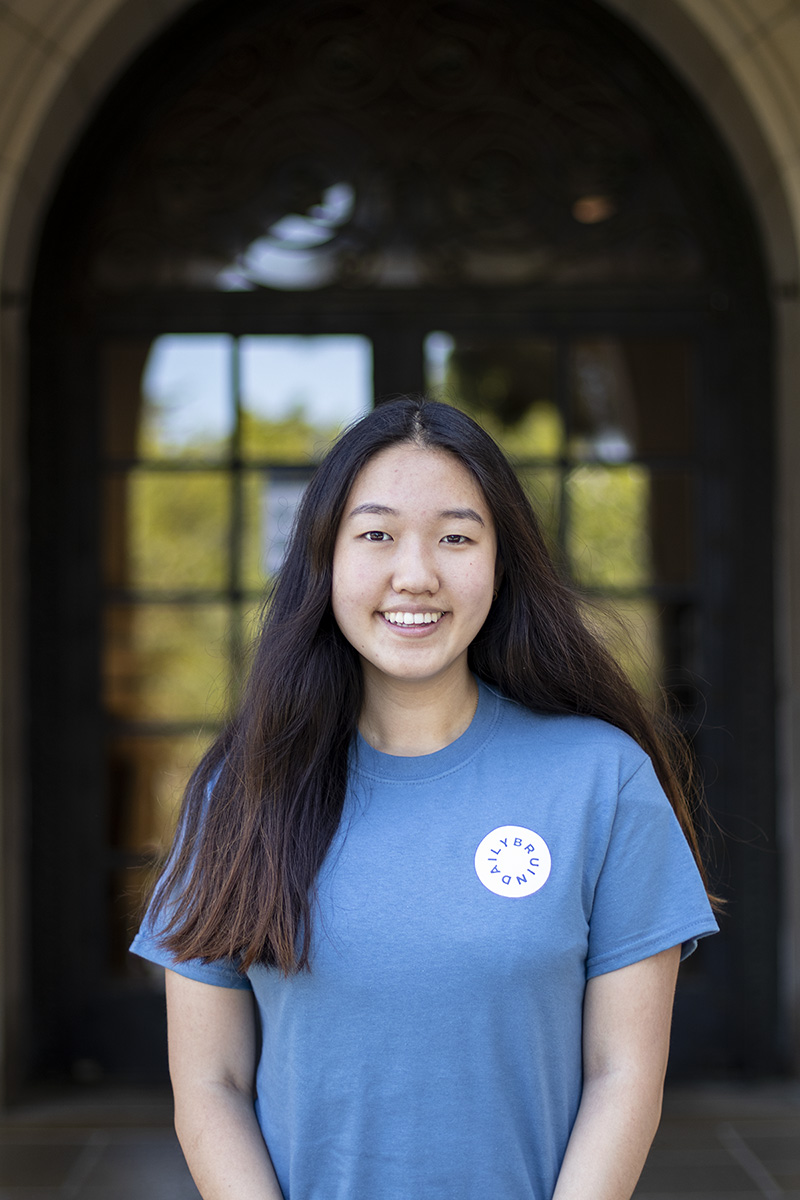 Lauren Kim stands for a portrait. (Megan Cai/Assistant Photo editor)
Writing was always one of my greatest passions.
I entered UCLA as an English major, thinking I would be able to hone my skills as a writer. Quickly discovering that English majors do a little too much literary analysis for my taste and that I really loved biology, I joined the ecology and evolutionary biology department. However, my love for writing did not stop, and when the professional writing minor was introduced, I did not even have to think twice before applying.
Given everything you just read, I am sure you are thinking that I joined the Daily Bruin to write for a section like News or Opinion, but I actually started at The Bruin as a Video contributor.
Filming and editing videos was a hobby of mine that I never truly utilized until college. Of course, I made videos for my friends and family, but I wanted to reach a broader audience. I had a few different campus jobs involving content creation, including The Bruin, and all of these experiences helped me go from being a self-taught amateur to a trained professional.
I started as a Video contributor, making a few videos and learning the style of Daily Bruin videography. Eventually, after publishing more and more videos, I became a Video staff member.
However, it was when I became a Video staff member that I realized how much I wanted to contribute to other sections of the Bruin. I was already cross-trained in The Quad, Arts, Photo and Sports at that point anyway. Aside from a few illustrations here and there and one swim and dive article, I did not contribute outside of Video, even though I genuinely wanted to. Something was holding me back, and it took me a while before figuring out that something was actually myself.
Having had other video-related jobs and positions, I felt like I built a lot of credibility before applying to become a Video contributor. I was selected by the Video producers. I was worthy.
The confidence I had when it came to my video filming and editing skills dissipated when I thought of how qualified I was to contribute to the sections I cross-trained for. Sure, I did a lot of photography as a kid. I got my first digital single-lens reflex camera in fifth grade, and I taught myself how to take photos and photoshop. Still, I was not sure if I was good enough to take pictures for the Daily Bruin.
The pandemic leveled the playing field. Because of quarantine restrictions, photoshoots were moved to virtual platforms such as FaceTime and Zoom, and no one was really familiar with how to take good photos virtually. This encouraged me to sign up for my first shoot because I figured it would be pretty hard to mess up the already low-quality photo I was going to take.
In-person photoshoots returned once quarantine was over. Instilled with more confidence after taking so many virtual photos, I decided to continue signing up for shoots. In fact, I even signed up for photographing various sporting events, something I typically do not photograph. My final assignment for the Photo section was photographing the men's volleyball Mountain Pacific Sports Federation semifinals, which was exhilarating. Did I get hit in the head by a ball? Yes, but it was totally worth it.
Speaking of men's volleyball, once quarantine ended and we returned to school, I decided to give sports writing another shot. As previously mentioned, I always loved writing, and I was a professional writing minor by that point anyway, so I felt like I was ready. Joining the men's volleyball beat, I met tons of amazing people, sat courtside at numerous volleyball games, increased my understanding of the game and finally wrote things for The Bruin.
Similarly to my experience with Photo, I ended Sports on a positive note, publishing a feature on diversity in men's volleyball.
Now that I have relayed a rough sketch of my entire timeline here at The Bruin, I want to end by expressing my gratitude for this paper.
I applied to the Daily Bruin half-heartedly. Honestly, I thought newspapers were being phased out, and I was not sure how serious a school newspaper could possibly be.
However, I was pleasantly surprised at the level of dedication everyone at The Bruin has. Everyone I have met at this paper has been passionate about their work and the well-being of the Bruin.
Of course, like anything, The Bruin has its flaws too. At times, it seems like a well-deserved break is needed amid the chaos of producing content daily. Unsurprisingly, there are cliques that form, gossip spreads faster than wildfire and burnout is real. Still, if I were to go back in time and relive my decision to join the Bruin, I would not stop myself.
The Bruin gave me a place to sharpen my skills, publish my work to share with others and meet great people. I am not going to lie and say that joining the Daily Bruin was the best thing that ever happened to me, but truthfully, it was a great experience that I will always cherish.
Kim was a Video contributor 2018-2020, Sports contributor 2020-2022, Photo contributor 2020-2022, Arts contributor 2020-2022, Illustrations contributor 2020-2022 and Video staff 2021-2022.