UCLA men's volleyball seeks to improve sport's diversity by empowering youth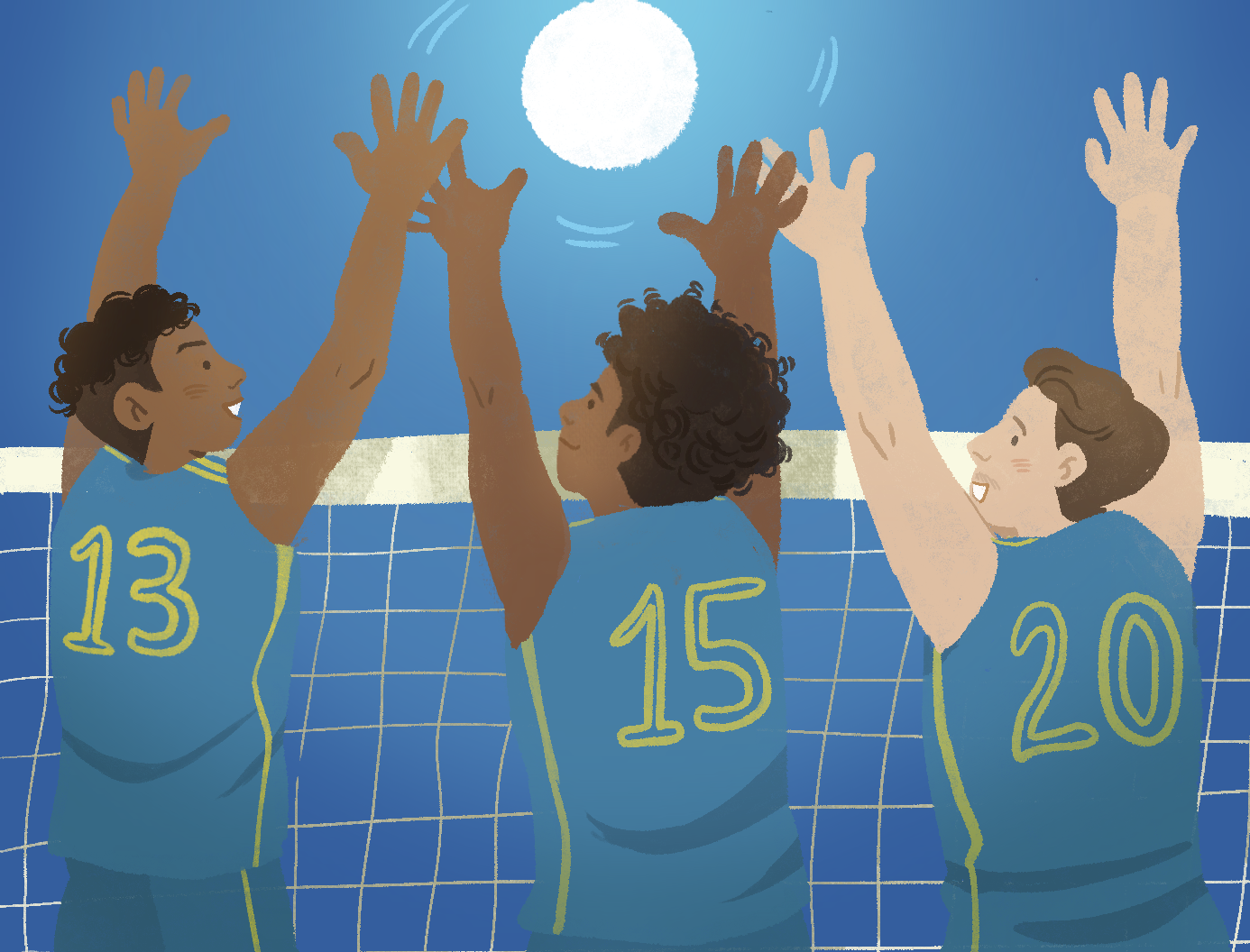 (Katelyn Dang/Illustrations director)
April 21, 2022 12:54 a.m.
Growing up in Bedford, Texas, Merrick McHenry noticed there weren't many people who looked like him on the court.
The UCLA men's volleyball middle blocker grew up in a predominantly white community, playing a predominantly white sport.
Now, the redshirt sophomore said he aspires to be a source of inspiration for Black people who have an interest in the sport.
"I think little kids being able to turn on their TV or go to different matches in Atlanta or wherever it might be and see guys that look like them, that's only going to inspire them to want to play," McHenry said.
According to the NCAA Demographics Database, white players composed over 60% of NCAA Division I and Division II men's volleyball players, whereas their Black counterparts represented less than 5% in 2021.
In an effort to grow the sport of volleyball, the Bruins visited the Atlanta area in March to host clinics for local youth and coaches.
McHenry said he made a lot of memories during his time in Georgia, but an encounter he had with a little boy named Jaden stood out.
"For him to be able to see someone who looks like him and know, 'Oh, guys who look like me do this sport.' … Just having those encounters and interactions was super special," McHenry said. "It was something that I wish I had growing up."
UCLA and Team USA coach John Speraw co-founded First Point Volleyball Foundation in 2016 with Wade Garard to improve diversity and inclusion in collegiate men's volleyball, but their mission broadened to expand the game at all levels.
One of the ways in which First Point aims to expose a broader audience to volleyball is through its Extending Our Reach summit. In it, volleyball experts meet to discuss the issues preventing children of color from playing volleyball.
Speraw said one way to resolve these problems is by finding a way to finance club opportunities for boys with families who cannot afford to financially support their decision to play the sport.
First Point also made a $600,000 donation, which, combined with a $400,000 donation from USA Volleyball, contributed to the $1 million grant that allowed the Southern Intercollegiate Athletic Conference – which consists of mostly historically Black colleges and universities – to add men's volleyball as its 14th sponsored sport in 2019.
"Really, it's just about giving back to the sport. It's (volleyball) given me everything," Speraw said. "I've been blessed, and I just want to do more for the next players that come behind me – for them to have the same chances I have."
The grant from First Point and USA Volleyball allowed six HBCU SIAC member institutions – Benedict, Central State, Fort Valley State, Kentucky State, Morehouse and Paine – to sponsor NCAA Division I and II men's volleyball programs and debut in the spring of 2021.
UCLA ended its week in Atlanta by facing off against two of the newly minted volleyball programs, Morehouse and Fort Valley State, for the first time in program history.
Middle blocker Daniel Matheney said playing against these teams was an enlightening experience. The redshirt junior said there is a lack of Black representation on the Southern California volleyball scene and that seeing Black opponents across the net was encouraging.
Matheney said the lack of diversity within the sport stems from a lack of youth exposure to it. McHenry added that the new SIAC teams might help expand the game of volleyball by exposing Black youth to the possibility of playing volleyball at a collegiate level.
"For me, being able to watch a sport my whole life and not really see that representation and being able to see it now, … it's really special and it's super cool," McHenry said. "Ultimately, it's just going to keep on growing the sport."
The NCAA Demographics Database shows that Black men comprise 44% and 39% of Division I, Division II and Division III basketball and football teams, respectively. In order for volleyball to reach more diverse players, McHenry said he wants to break the stereotype that Black men should play basketball or football by being a trailblazer in the sport.
The cost of equipment required to play volleyball may present another barrier, according to Matheney, preventing the sport from reaching a more diverse group of boys.
"There's a lot of things that are expensive within volleyball, like getting the poles, getting the right equipment, getting the right floors and everything," Matheney said. "If after-school programs are funded to expose more underprivileged kids to the sport, I'm sure that there'll be more diversity and inclusion within volleyball."
In addition to the cost of equipment and uniforms, club team fees can range in price from around $1,500 to as much as $10,000 per year depending on how elite the team is, according to USA Today. Speraw said collegiate coaches primarily recruit athletes by observing club volleyball tournaments, so boys from lower socioeconomic statuses are presented with another disadvantage.
UCLA had six Black players on its men's volleyball roster in 2020, setting an NCAA record.
The diversity of the program played a large role in Matheney's decision to come to Westwood.
"​​Just to know that I have at least two or three guys that share similar skin colors and traits and culture as me, … it meant everything in my decision (to choose UCLA)," Matheney said.
Men's volleyball is the fastest growing team sport in the United States for high school boys, according to a SIAC report, with teams growing 22% over the past five years and programs being created at 80 higher-level institutions over the past five years. Speraw said he expects to see more men of color playing higher levels of volleyball.
In the meantime, Speraw added that he hopes a diverse team can continue representing the blue and gold, and ultimately, the goal is to recruit the most talented athletes regardless of their race.
"I'm hopeful that … there will be more opportunities and more great athletes from our communities of color in the United States," Speraw said.