UCLA student Colin Curtis' Bussin Bread builds community 1 loaf at a time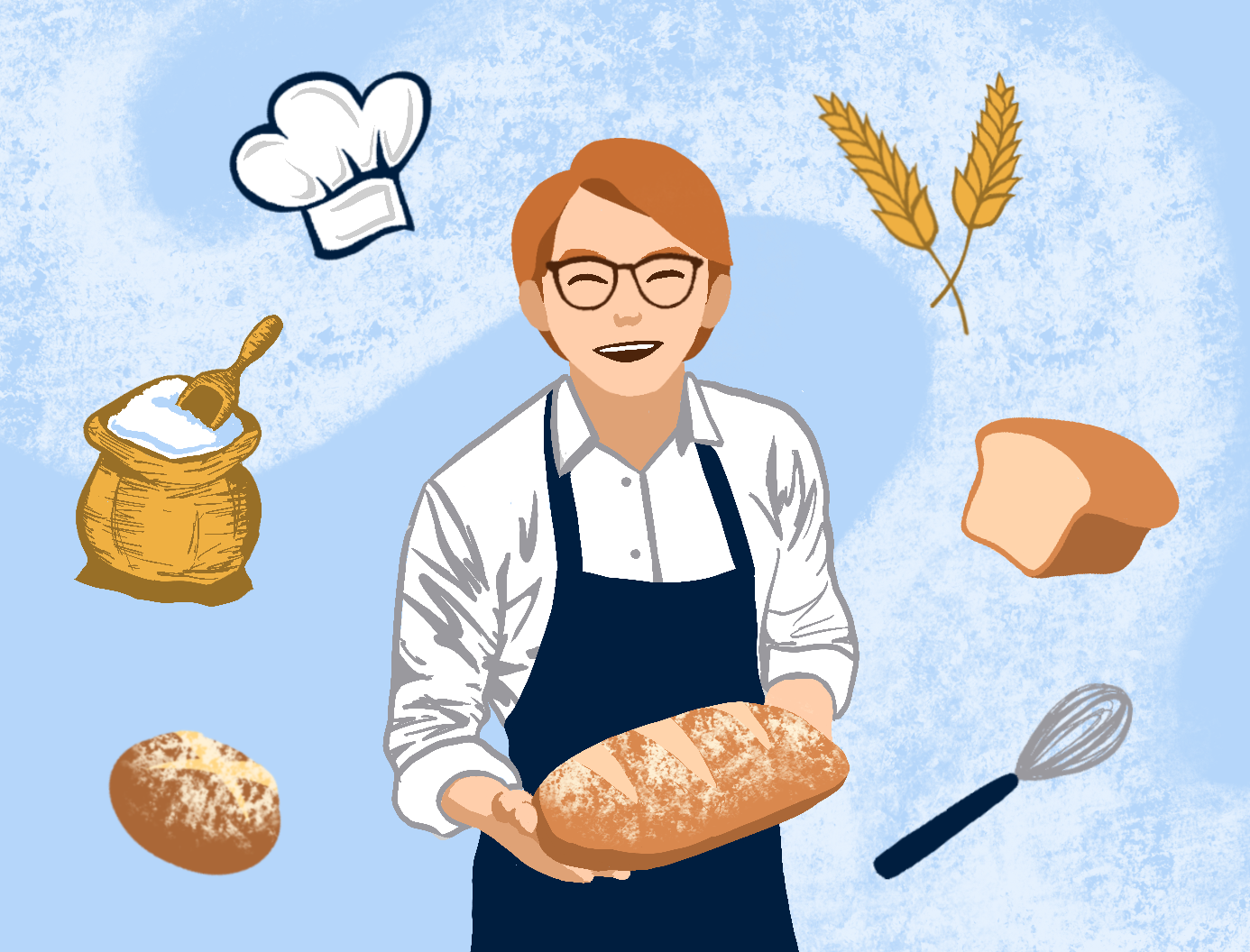 Colin Curtis is breaking bread in Westwood.
Originally baking as a hobby, the third-year mathematics of computation student said he spontaneously started a bread business called Bussin Bread after realizing there were few places in Westwood that served freshly baked bread. Curtis said that through a swipe-up feature on his Instagram story or a Google Form, he felt he could fill the void by selling bread to UCLA students, as there was no real market where bread with single-digit ingredients could be found.
"Even today, when you look at bread that is sold in a supermarket like Ralphs or Trader Joe's, … it still has a million things in it," Curtis said. "If you're going to get fresh bread, the only way to do that is to make it yourself or buy it from someone."
[Related: UCLA student channels passion for cooking into apartment pop-up restaurant]
Curtis said that at first, he baked with the sole intention of sharing his homemade sourdough with his friends and roommates, and he has since built his business off of that. Curtis added that he currently sells sourdough and rustic loaves but discontinued his Japanese milk bread because of the heavy workload required to make the bread. Multitasking during the 30-minute intervals between stretch-and-folds, he became more efficient through trial and error, leaving the sourdough starter to sit before he goes to class and allowing it to rise by the time he comes back, according to Curtis.
Even though breadmaking can be challenging at times, he said he feels relaxed while baking, as it brings him back to his childhood. Curtis said he learned to cook at a very young age, making a beef Wellington for Christmas dinner at 10 years old. While he said he may struggle to make a visually appealing PowerPoint slide or website layout, he is able to use his breadmaking hobby as a creative outlet, unplugging from his fast-paced life.
"You can only go at the speed of bread when you're making bread," Curtis said. "You can't speed it up, and it's really nice to be forced to slow down in our overly technologically complex world. You really have this opportunity to slow down, relax (and) think about everything."
Curtis said his joy for sharing food with others extends past baking bread, through ventures such as homemade pizza parties hosted at his apartment every week, dubbed "pizza Fridays." He said he did not expect to start a business for his bread but was encouraged to do so by his peers, third-year biochemistry student Sandy He and fourth-year statistics student Adhvaith Vijay.
As a regular patron of Curtis' pizza Fridays, He said she saw Curtis' baking expertise grow from making pizza in his own oven to running an operation to sell bread. Continuing the spirit of breaking bread with others, she said she buys Curtis' sourdough on a regular basis and shares the loaves with her chemistry fraternity. She said Curtis' bread reminds her of breakfasts at home where she would take a slice of bread in a zip-close bag and eat it during her break at school.
[Related: South LA Cafe provides community affordable produce, cultural hub]
Similarly, Vijay said the airy texture of Curtis' sourdough reminded him of a loaf he used to purchase at Costco, which prompted him to continue purchasing from Curtis' business. Originally unaware of Curtis' cooking abilities, Vijay said he and his friends were impressed by Curtis' baking skills. As Vijay and friends sampled Curtis' loaves over the quarter, the bread elicited a sense of community in his friend group, Vijay said.
"It's (Curtis's bread) really great for sharing," Vijay said. "I have three other roommates, (and) we all eat the bread together. It's a nice centerpiece for a meal or a Friday night. If you're just hanging out with a couple of guys and you want to just talk about things and have something to share together, it's a great item to share."
As his business grows, Curtis said he hopes to continue providing both his friends and other students at UCLA a sense of community through his bread. He said he will continue his bread business through the summer and aims to start a YouTube channel to share his love for food with a larger audience. In addition to combining his love of cooking and sharing his talents with his peers, Curtis said he cherishes bread for its deeply rooted cultural implications for almost every cuisine.
"If you're going to meet someone, you're breaking bread, and bread is so important to our society," Curtis said. "We don't even think about it. You're tapping into this old history of how people ate for thousands of years, which is really cool. I think it's really nice to be able to go full circle and share that (bread with) more people."