Editorial: Honoring the memory of those killed at Uvalde starts with gun control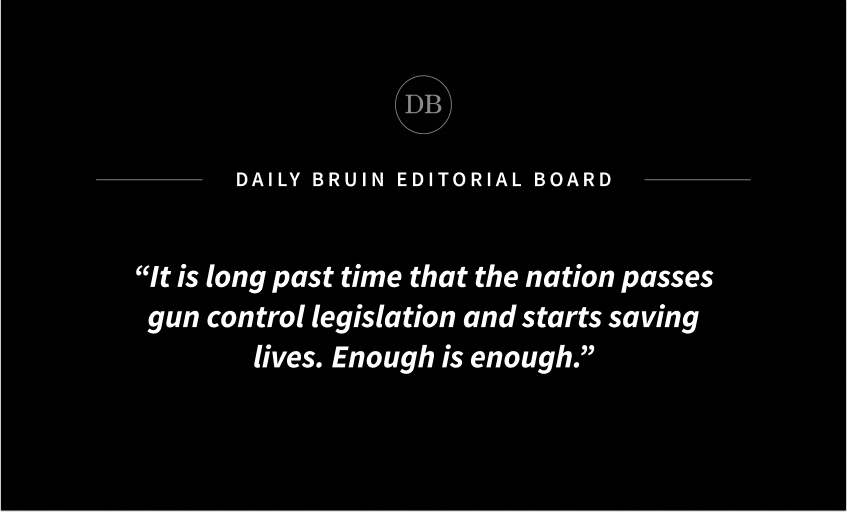 Editor's note: Editorials are intended to serve as the jumping-off point, not the conclusion, to discussion. As part of the Daily Bruin's commitment to its readers, the board hopes to present a responsible and clear analysis of relevant events and news items affecting the lives of those we serve, but our editorials are not representative of the Daily Bruin's views on issues as a whole. We encourage all readers to reach out to our board members and to respond to our editorials.
Day after day, year after year, parents send their children to school without knowing they will never return home.
On May 24, yet another mass shooting occurred, this time in Uvalde, Texas, at Robb Elementary School. One of the deadliest school shootings in American history, the gunman murdered 19 children – ranging from ages 8 to 11 – and two teachers, in addition to injuring several others.
Across the country, these devastating events continue to occur. The shooting in Uvalde follows a string of tragic shootings from just this month in Buffalo, New York; San Bernardino and Houston. UCLA itself experienced threats of a mass shooting in January, nearly six years after another shooting killed two individuals on campus.
Although we are only halfway through 2022, there have already been 229 mass shootings, according to the Gun Violence Archive. And in 2020, for the first time, guns became the leading cause of death among children and teenagers, according to the Centers for Disease Control and Prevention.
Yet government bodies continue to do nothing – and these tragic massacres have somehow turned into the new normal.
It is long past time that the nation passes gun control legislation and starts saving lives. Enough is enough.
There is no valid reason that an 18-year-old should be able to legally purchase a semi-automatic rifle without requiring an extensive background check. In fact, no average citizen should have access to military-style weapons designed to kill masses of people.
The nation is suffering from a deadly epidemic of gun violence while those in positions of power sit idly by and cling to the Second Amendment.
This is no longer about defending the right to bear arms. It has become a power tactic to uphold white supremacy. A CDC study found that firearm homicide rates are highest among marginalized communities – in particular, African American, American Indian and Latino communities.
It is disheartening that the majority of Americans support stricter gun laws yet nothing happens because of conservative leaders who oppose their implementation. Political ambitions should never be prioritized before the innocent lives that continue to be senselessly lost to gun violence. The blood is on their hands.
As Americans, we must ask ourselves what we value more: human lives or guns?
One life should be worth more than all the guns in the world.
The United States is infamous for its mass shootings from a global perspective. Other nations have exponentially lower rates of gun violence because of stricter gun laws that prevent these tragic massacres from ever happening in the first place.
In 1987, a British gunman killed 16 people, and in response, the country banned similar semi-automatic weapons. Today, Britain has one of the lowest gun death rates in the world.
Following a massacre in 1996, Australia instated mandatory gun buybacks. The frequency of mass shootings went from once every 18 months to only one in the 26 years since.
After a 1989 mass shooting, Canada too passed more stringent gun laws. Germany, New Zealand and Norway have as well in the past two decades.
Compared to other developed nations, the U.S. has one of the highest firearm death rates, according to the Pew Research Center. In 2016, the gun death rate in the U.S. was 10.6 per 100,000 people, while France (2.7 per 100,000), Canada (2.1), Australia (1.0), Germany (0.9) and Spain (0.6) all had significantly lower gun death rates.
Out of 195 countries and territories in the study, the U.S. ranked 20th in firearm fatality rate and second in total firearm deaths that year.
We are a country that is abnormally terrible at protecting the lives of our people.
Gun violence is a threat to national security, and it must be addressed with urgency. There shouldn't be a political debate anymore. It's a human rights issue. No human should have to endure the trauma that the children of Uvalde and other shooting victims have experienced.
Some may argue that arming teachers and having armed guards in schools are the solutions. However, not only is there no evidence that increasing guns in schools prevents shootings from occurring, but guns are the antithesis of safety. Schools should not be treated like war zones.
Others say that the solution to this challenge is an increased focus on the problem of mental health. Considering the challenges of the pandemic, this is an important goal, but it is not enough alone. Efforts to improve mental health must be done in collaboration with – not instead of – changes to gun policies.
Obtaining an object that can murder masses of people instantly should not be easy, and often, it should not even be an option at all.
Before more lives are lost, gun control legislation must be passed now.