The Quad: Memorial Day serves as occasion to honor veterans, advocate for improved support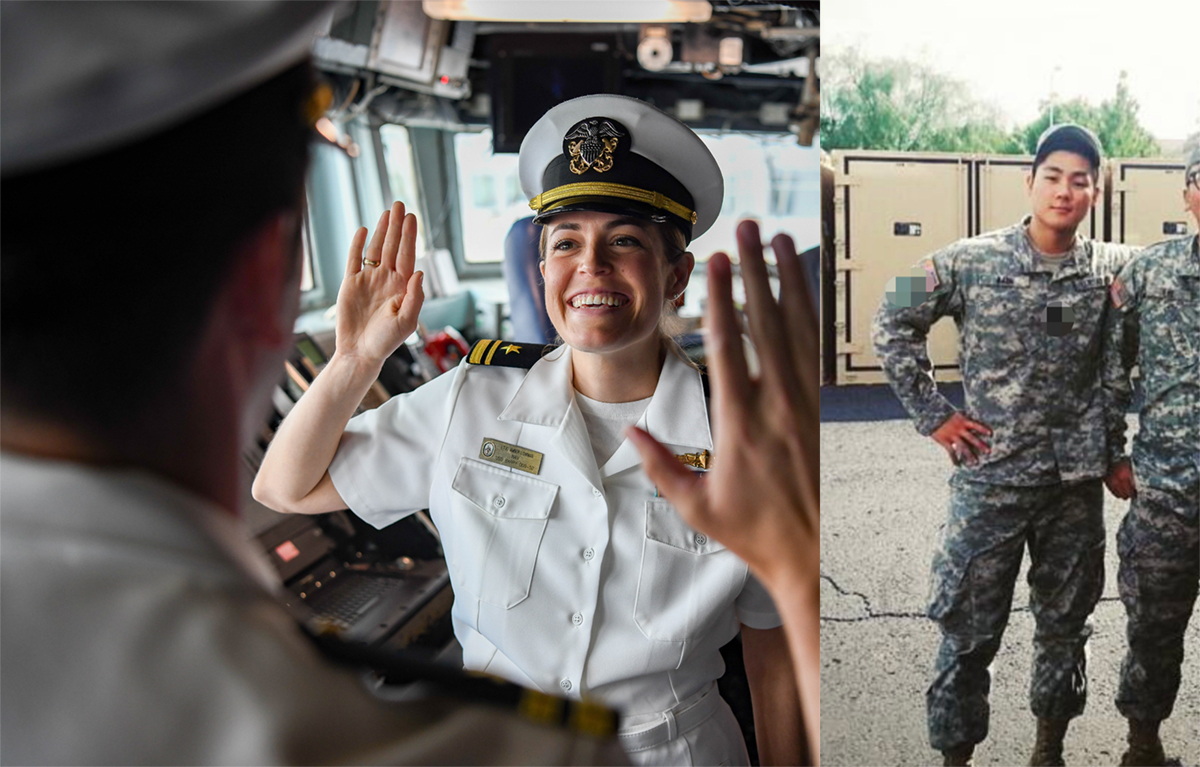 Amber Bullen (left) and Daniel Baek (right) reflect on their experiences in the military. The Quad hears from veteran students about their time at UCLA and beyond. (From left to right: Courtesy of William Scali, Courtesy of Isak Kim)
Memorial Day is celebrated the last Monday of every May to recognize veterans, including those within the Bruin community, who sacrificed their lives in the United States military.
Alfred Osborne, a global economics, management and entrepreneurship professor, said Memorial Day is a time to remember the sacrifices veterans have made for their country.
"I think the memory of those who came before us and defended America's soul really and its freedom by taking to arms elsewhere, and having given the ultimate sacrifice deserves at least the memory of the citizens who benefit from their courage and belief in what our society stands for," Osborne said.
According to the U.S. Department of Defense, 5,449 active duty military members have died in combat since 2001.
However, these numbers have not steered some Bruins away from serving in the military.
Master of Business Administration student Amber Bullen is a surface warfare officer in the Navy and has served for seven years. Bullen said her experiences in the Navy developed her leadership skills and prepared her for a successful career outside the military.
"My first ship I was associated on was the U.S.S. Chung-Hoon … I was the assistant chief engineer, so second in charge of the entire engineering department," Bullen said. "My second job was on U.S.S. Barry, where … I was solely responsible for navigation of the entire ship."
MBA student Dustin Gratto said he visited 23 countries while serving in the Navy. Currently, Gratto is in the Naval Surface Force, U.S. Pacific Fleet as an operations officer in San Diego.
"I joined because I wanted to serve my country and I wanted to do something a little different after I graduated from undergrad," Gratto said. "And I chose the Navy because I have relatives that are in the Air Force, in the Army, and I wanted to be different from them."
Additionally, student organizations on campus have provided a platform for some veteran Bruins to build a community.
The Association of Veterans at Anderson is a club at UCLA for those who have served in the military and are pursuing degrees in business at the Anderson School of Management.
"One of the reasons the association here is important is because it's able to recreate a home if you will, where those who served are able to talk to others who understand what they've been through, even as they pursue their business degrees," Osborne said.
MBA student and Vice President of the Association of Veterans at Anderson Daniel Baek said the association supports veteran students and prospective students through career-building events, opportunities and programs for its members.
"We also have veteran students (help) with networking and career-related events. We go through coffee chats and emails, phone calls, and help prospective students with admission questions and give them some advice," Baek said.
While there are academic and mental health resources to support veterans at UCLA, including the Veteran Family Wellbeing Center and the Veteran Resource Center, veteran homelessness and suicide rates still remain high.
According to the U.S. Department of Housing and Urban Development, 19,750 veterans were considered sheltered homeless in safe havens, emergency shelters and transitional housing programs in 2021.
Social welfare professor Mark Kaplan said research studies he conducted showed that people in the military were at higher risk of suicide than the general population.
"Men who had served in (the) military were many times more likely to die by suicide than their counterparts," Kaplan said. "What we found (out) in a follow-up study was that women who had served in (the) military were also more vulnerable to dying by suicide, compared to women who had never served in (the) military."
This Memorial Day can be a time to remember, honor, help and thank all those who served our country. Nonetheless, there are still large areas for improvement.
Law professor Gary Blasi said the high levels of veteran homelessness demonstrate how state and local governments have failed to provide adequate support to our veterans.
"If we ask people to put their lives on the line and, in return, we told them that we're going to help take care of their health and their well-being when they get back, then the least we can do is ensure that they're not homeless and living on the street," Blasi said.