FAST at UCLA features diversity of student designers in catwalk comeback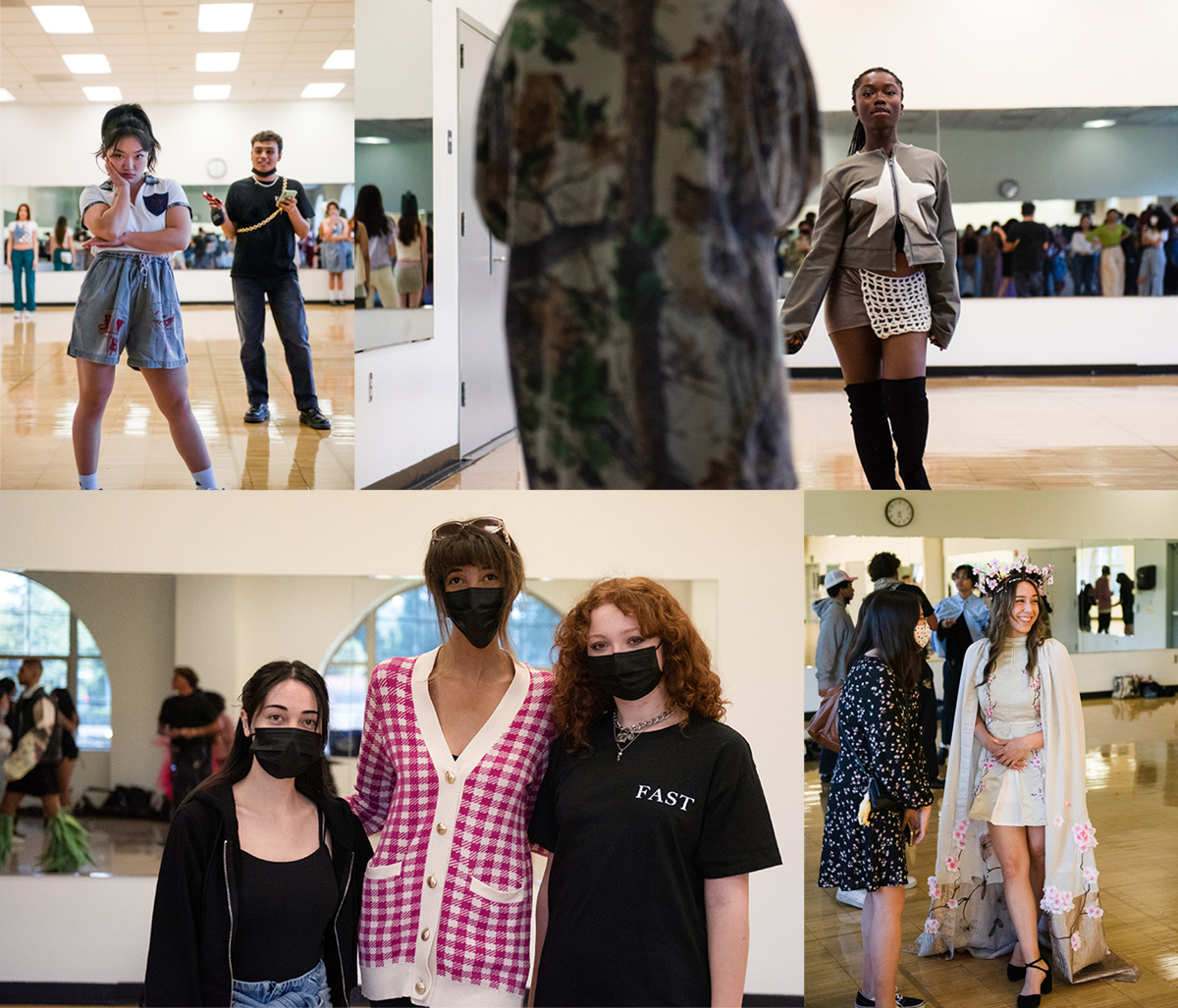 Student designers and models from Fashion and Student Trends at UCLA gather at their practice runway. With inspirations ranging from foliage in the botanical gardens to coming-of-age films, the organization showcased 21 collections at its first in-person show since 2019. (Jefferson Alade/Daily Bruin)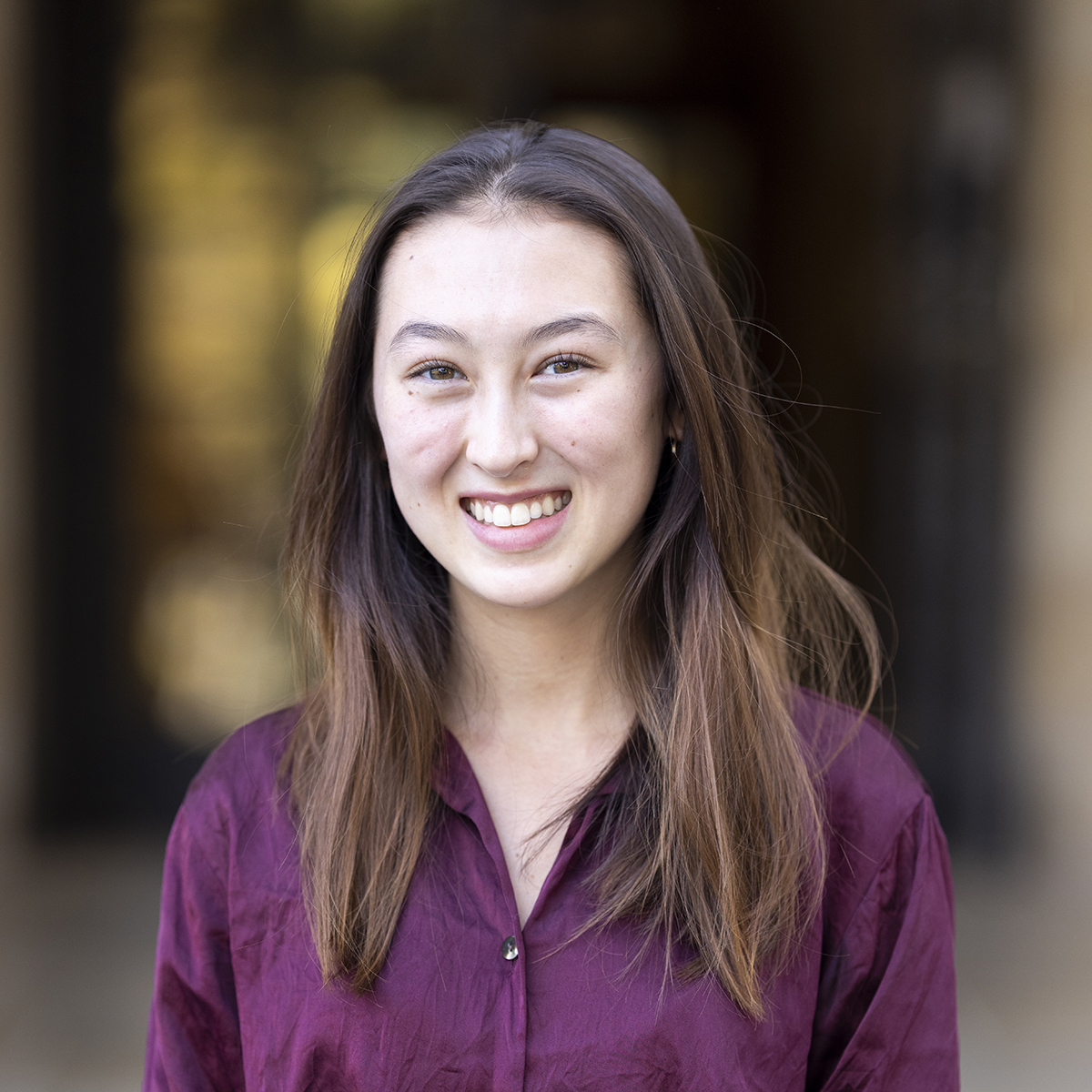 This post was updated May 30 at 8:20 p.m.
At Fashion and Student Trends at UCLA's annual spring runway show Friday night, president and fourth-year psychobiology student Meghan He and vice president and fourth-year linguistics and French and political science student Hector Esparza kicked off the runway with an enthusiastic strut. Looking around the Pauley Pavilion venue, Esparza first thanked the members of FAST at UCLA and then the audience for showing support for its first in-person show since 2019. He echoed these sentiments as she urged the audience to enjoy the show that has been three years in the making and to celebrate the multitude of ways that beauty can manifest itself.
"Tonight is our celebration of the diversity of bodies, identities and expression here on campus," He said. "We invite you to join us in exploring the intersections of fashion and the stories sewn into tonight's collections."
The show opened with fourth-year psychology student Ishmael Jasmin's streetwear-inspired collection, as models walked down the runway in rustic multitextured garments to Kanye West's "Christian Dior Denim Flow." Featuring a combination of crocheted shawls, headscarves and hoodies, each look from his brand Anguish LA possessed a jaded swagger, mirrored in their models' physicalities. Jasmin's consistent use of earth-toned solids in his pieces allowed subtle accents – such as nostalgic bohemian-inspired patterns and bejeweled crosses – to shine.
Following these layered looks was first-year pre-business economics student Ethan Cortez's distressed business casual line, which expressed a similar stereotypical sense of masculinity and militarism. With recurring motifs of cropped textured knits, unhemmed edges and reworked button-ups, his label Part-Time Plastic Company turned the idea of the crisp, clean and modern 9 to 5 on its head.
As a stark contrast to the show's streetwear styles, second-year environmental studies and sociology student Nancy Nan's exclusively denim line "The Denim Blues" demonstrated the versatility of the notoriously hard-to-sew fabric. Embodying an early 2000s sensibility, models confidently strode down the catwalk to Britney Spears' "Gimme More" in reworked micro miniskirts. Nan also showcased the fabric's capacity to channel both sultry and sweet energies, with a wide array of pieces ranging from fitted corsets to Southern belle-inspired crop tops.
"With a lot of the early 2000s trends coming in now, I really want to participate in the trends … that I didn't have a chance to when I was younger," Nan said. "(Trends) I saw on the media and was like, 'Wow, that's what cool people wear.'"
Taking it back several decades, designer and fourth-year English student Georgie McKeon's collection "Sweetheart House" drew from inspirations of Americana and domesticity, complete with hand-sewn bonnets and apron-inspired silhouettes. The theme of home extended to the logo of the collection – a sketch of a house segmented in four – reappearing on the back pockets of jeans and the front of T-shirts. Many of the pieces were also layered with a repeating pattern of small metal red and white plates, which emulated a tile pattern one might see adorning a kitchen floor.
Directly following this collection was third-year psychology student Caroline Hersman's line "Awakening," which reimagined fictional villains as modern outfits with influences of queer culture. Audience member and first-year psychology student Sohela Bedi said Hersman's collection particularly resonated with her since it felt cohesive as a singular storyline. Specifically, one piece that spoke to her was a look incorporating an open book attached to the model's chest, since the sentiment of emotionally baring oneself to the world fits her definition of awakening, she said.
"I feel like you can understand what the designer is trying to tell you about being an open book and how that relates to the overall idea of awakening," Bedi said. "That line just overall really sent the message very clearly to the audience, and that's what impressed me the most."
After a brief intermission, the runway opened again with a line by Recycled Karma, a Los Angeles-based, vintage-inspired brand and one of the sponsors of the FAST at UCLA runway show this year. Backed by "Wicked Ones" by DOROTHY, the models strutted down the runway in varying combinations of fringed leather and distressed denim, both of which were often bedazzled with brass studs. Walking with a playful intensity, each model took a moment at the end of their walk to strike a pose by flashing devils horns, miming air guitar or flipping their hair.
Diverging from this regalia was second-year art and design media arts student Miglė Railaitė's playful pastel line, which was a physical manifestation of a young girl's dream closet. Railaitė's polka-dotted pants, lace-trimmed skirts and mythic taupe gowns evoked a sense of childlike wonder – adhering to a delicate fuschia color scheme. As models gracefully walked down the runway in a variety of traditionally feminine pieces, their struts harkened back to childhood games of dress-up.
As the night came to a close, the organization gave each member of their executive board a moment in the spotlight by introducing them all individually as they walked the runway. At the end, the board rallied the audience to applaud and embraced each other as they posed for photos. The community nature of FAST at UCLA is a sentiment echoed by Railaitė, who said fashion is a means of connection alongside self-expression. At UCLA, she said the club is a place where she has been able to find a creative and collaborative environment composed of students from all parts of campus.
"Fashion isn't anyone's major here," Railaitė said. "It's amazing to see how people have so many talents in different fields. … They create these amazing works, and everyone has a different self-expression."
Finn is a senior staff writer for Arts & Entertainment and PRIME. She was previously the Lifestyle editor from 2021-2022, an Arts reporter from 2020-2021 and a member of PRIME's first intern class from 2019-2020. She is a fourth-year neuroscience and public health student from San Francisco, California.
Finn is a senior staff writer for Arts & Entertainment and PRIME. She was previously the Lifestyle editor from 2021-2022, an Arts reporter from 2020-2021 and a member of PRIME's first intern class from 2019-2020. She is a fourth-year neuroscience and public health student from San Francisco, California.