Editorial: UCLA must mandate mask-wearing to protect vulnerable community members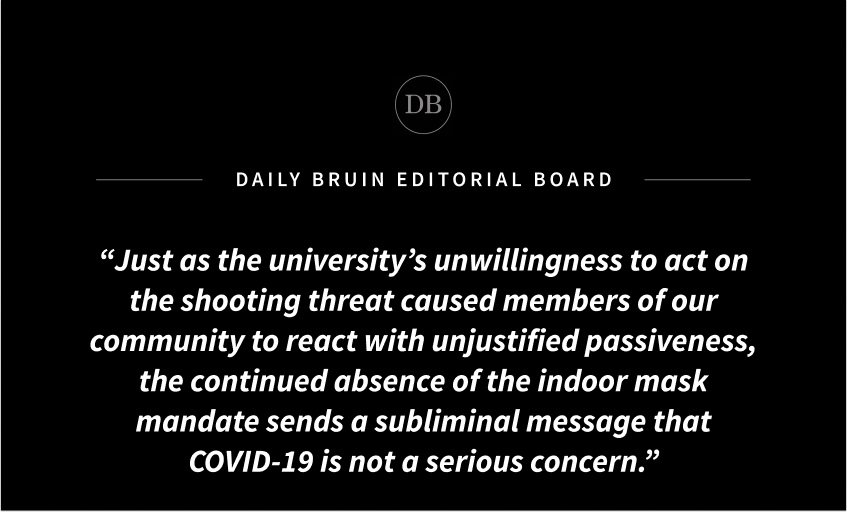 This post was updated May 25 at 11:51 p.m.
Editor's note: Editorials are intended to serve as the jumping-off point, not the conclusion, to discussion. As part of the Daily Bruin's commitment to its readers, the board hopes to present a responsible and clear analysis of relevant events and news items affecting the lives of those we serve, but our editorials are not representative of the Daily Bruin's views on issues as a whole. We encourage all readers to reach out to our board members and to respond to our editorials.
For many, life feels like it is returning to normal.
Stores and venues are dropping and reopening mask mandates under the guidance of county and state governments. UCLA has shifted most classes in person during spring quarter and is scheduled to hold graduation ceremonies in person as well.
This may make it seem as though we are out of the woods, but the numbers tell a different story.
The Los Angeles County Department of Public Health recorded more than 4,700 COVID-19 cases and nine deaths within the county Thursday alone. At UCLA, the rate of positive tests steadily increased from 1.1% in mid-April to 2.6% in mid-May, putting it on par with the tail end of the January omicron variant surge. Meanwhile, hundreds of students and dozens of faculty and staff test positive each week, according to UCLA's COVID-19 case tracker.
Unfortunately, the administration's response has been inadequate. UCLA has only sent emails to address the threat, with the most recent in early May strongly urging indoor mask-wearing as well as requiring testing twice a week for students living on the Hill.
For vulnerable members of our community and their loved ones, merely urging students and faculty to take basic measures to safeguard against COVID-19 transmission is a slap in the face. It's an all-out dismissal of students' welfare by our university.
While immunocompromised Bruins are left to weigh the risks of attending classes with maskless peers against their health and safety, their instructors are forced to decide whether they will step in to create their own masking policies – a call they may not be qualified to make or capable of implementing.
The current state of affairs is unacceptable. As COVID-19 rapidly spreads in the UCLA community and the Academic Senate refuses to implement universitywide remote learning options, administrators must require everyone to wear well-fitting masks when indoors until the situation improves.
This means reinstating an indoor mask mandate.
While our university's faculty are experts in their own fields, not all of them have the requisite background to make decisions about risks to the health and safety of their students.
In fact, no one person can possibly handle the entirety of such an immense burden. UCLA's administration should know this well – after all, they have been relying on the personnel-laden COVID-19 Response and Recovery Task Force for the same purpose.
And if recent events have taught us anything, it's that the judgment of individual faculty members is fallible. In the immediate aftermath of the mass shooting threat by a former UCLA lecturer, some faculty pressured their students to attend class the following day in the same building as the department being targeted.
It wasn't until hours later when UCLA finally stepped in and mandated remote instruction that those students could once again feel safe in their learning environment.
This time, weeks – not hours – have passed without redress. Students haven't been left in suspense as to whether they will have to decide to attend a class that might harm them – they've already had to, over and over again.
Just as the university's unwillingness to act on the shooting threat caused members of our community to react with unjustified passivity, the continued absence of the indoor mask mandate sends a subliminal message that COVID-19 is not a serious concern.
Even for faculty who know better, telling their students to put on a mask without the backing of a higher authority could be incredibly uncomfortable – not only in terms of social awkwardness but also because many nontenured faculty rely in part on positive student evaluations in order to keep their jobs.
Our instructors are being asked to weigh their job security against classroom safety. It's a tremendous task that shouldn't be theirs in the first place.
The responsibility to safeguard the well-being of the Bruin community – each and every student and employee – belongs to administrators.
It's past time they stop sidestepping it.