FAST 2022: Zab Penaloza seeks to uplift others with hyperfeminine, sustainable clothing line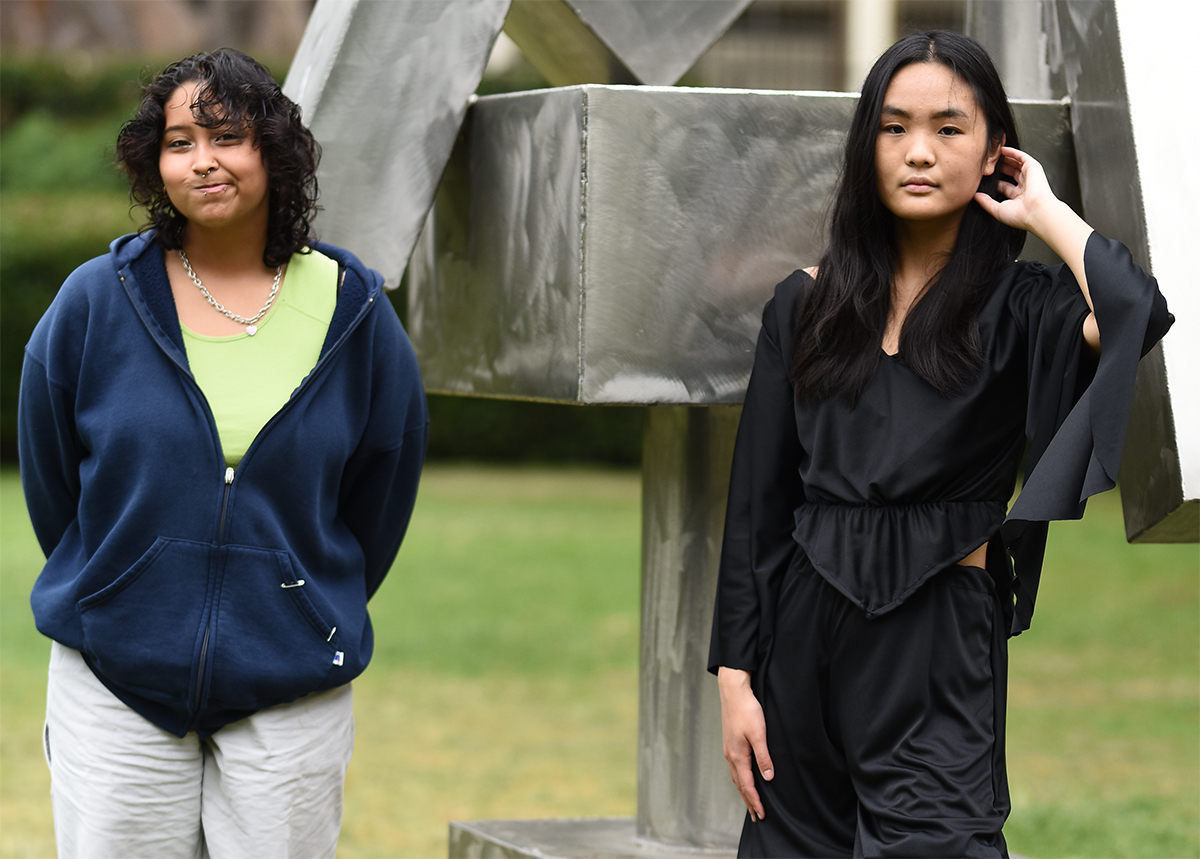 Second-year architectural studies student Zab Penaloza (left) stands next to third-year biochemistry student Emily Lu (right). Penaloza said their collection for the Fashion and Student Trends at UCLA spring runway will showcase sustainably made pieces with hyperfeminine silhouettes. (Ariana Fadel/Daily Bruin staff)
This post was updated May 25 at 10:21 p.m.
Asymmetry meets hyperfemininity in Zab Penaloza's new line.
Driven by the lack of affordable clothing pieces that balance sensuality with geometry, second-year architectural studies student Zab Penaloza said they opted to make them themself, debuting the collection at this year's Fashion and Student Trends at UCLA spring runway show Friday. As an intersection of Penaloza's queer identity, architectural studies and sustainable spirit, their line aims to empower those from all backgrounds, encouraging individuals to be more vulnerable and intimate with others, they said.
"I really like math and asymmetry," Penaloza said. "Something about things being symmetrical and asymmetrical … was always at the back of my mind, so I wanted to include that in my basis. But also as a nonbinary person, I wanted to touch on that and combine them (these two identities) in a sense."
Penaloza said when they are conceptualizing their work, a lot of their initial designs come to them in a series of fleeting dreams containing images of runway-ready pieces. After discovering these initial ideas for their pieces, however, Penaloza had the idea to tie their collection together through this overarching theme of vulnerability. Staying true to this message, Penaloza designed subsequent pieces beyond their dreams by questioning how to visually represent the show's central theme.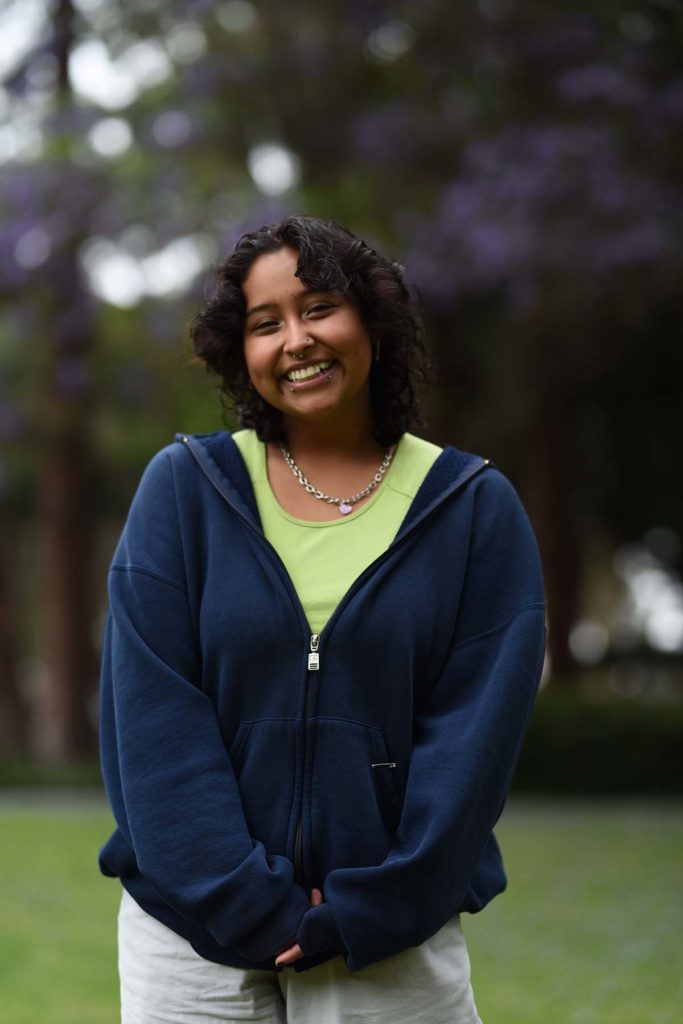 [Related: Coterie Couture: Metrosexuality challenges mainstream male fashion with ties to femininity]
Using a plethora of thrift-sourced fabrics such as yarn and mesh, Penaloza said they hope to emulate the idea of intimacy through the transparency of the fabrics they're piecing together. As the models walk down the runway, each one will be wearing slightly less clothing than the model before them – tying into this overarching theme of vulnerability, Penaloza said.
Third-year biochemistry student Emily Lu said the outfit she is modeling for the show is composed of a black cutout bodysuit on top with balloon pants layered on the bottom. Emphasizing a traditionally feminine hourglass figure, this ensemble taps into Penaloza's overall vision of creating a sense of hyperfemininity in their line, she said. This contrast was also something Lu said Penaloza was looking for in models for their collection – people who could play with creating exaggerations of traditionally masculine and feminine hallmarks of fashion.
After making it through the model selection process, however, Lu said Penaloza made a point to discuss doing different poses at the end of the runway with their models, collaborating to craft a unified vision for the line. Penaloza also shared a curated Spotify playlist with the models that features a series of somber songs from artists such as The Smiths and Phoebe Bridgers, to which Lu said she has begun to practice her walk to.
"They (the songs) are a little slower and more intimate, which fits the theme of vulnerability," Lu said. "When I'm walking, it'll probably be at a slower pace. … Our (the models') motions will probably be a little more fluid."
Aside from having these conversations, Penaloza also went to great lengths to ensure their models felt empowered, second-year sociology student Mare Villagrana said. Other designers in the mainstream fashion industry tend to have a certain image they're looking for, and if a model doesn't fit that look, brands won't give models a callback, they said. But Penaloza resists that practice, Villagrana said, embracing models' differences and individuality in their design process.
"That (focus on inclusivity) is a really big strength because not a lot of people have that mindset," Villagrana said. "They (designers) are like, 'This is my time to shine, I'm the designer, and I'm going to make it this way,' but they're not like that at all. There is nothing wrong with people who think like that, … but to take an extra step of making everyone feel comfortable and happy representing your clothes is amazing."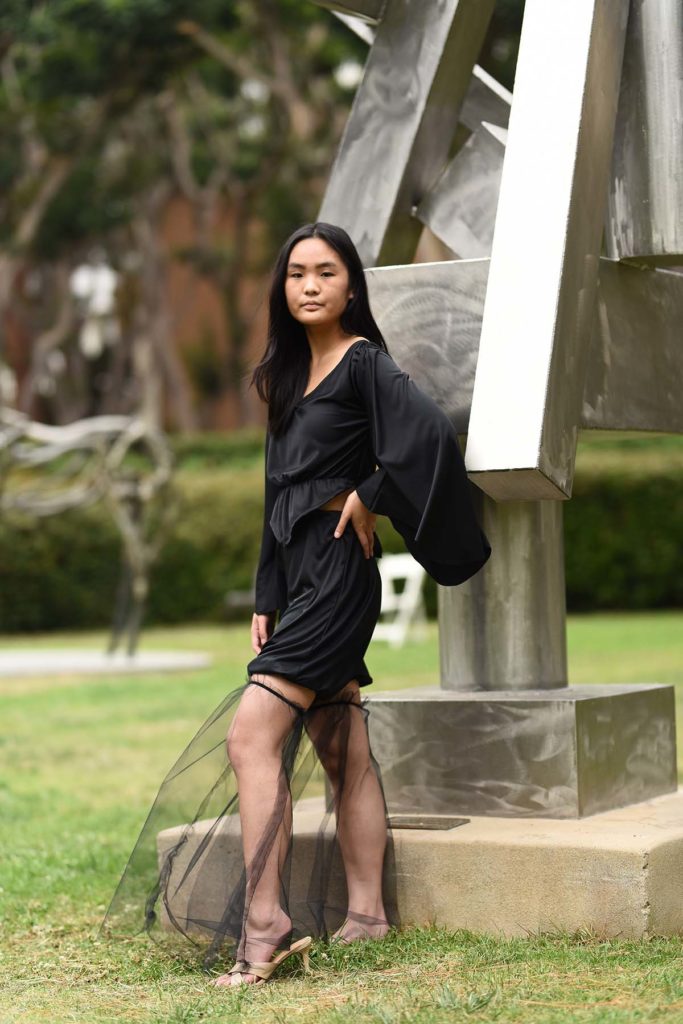 [Related: UCLA student embraces activism, community with sustainably sourced crewnecks]
Penaloza creates to both uplift their models and inspire the greater queer community to be vulnerable, which Villagrana said translates into the fashion. Because Penaloza has personally experienced relationship struggles because of their identity, Villagrana said they built their designs around exploring these ideas.
"It's very hard to navigate that (queerness) in such a heteronormative world," Villagrana said. "You may have people look at you weird or treat you differently based on your identity, so this was a very open outlet for them (Penaloza) to represent not only their fashion line but also their identity."
For Penaloza, fashion is a statement. While the story they aim to communicate is rooted in a personal connection to queer relationship-building, it also applies to relationships of all different kinds – romantic and platonic – they said. It takes consistent vulnerability to put oneself in these situations and express oneself in a genuine and authentic way, Penaloza said, but they hope the line empowers people to step outside of their comfort zones and put themselves out there.
"I really hope people take away the message that it's okay to be intimate with others," Penaloza said. "It's okay to want to explore that awkwardness, fear and hesitance to be intimate because in the end, it (vulnerability) helps you grow as a person."