FAST 2022: Gabe Discipulo aims to break away from rigidity with rebellious clothing designs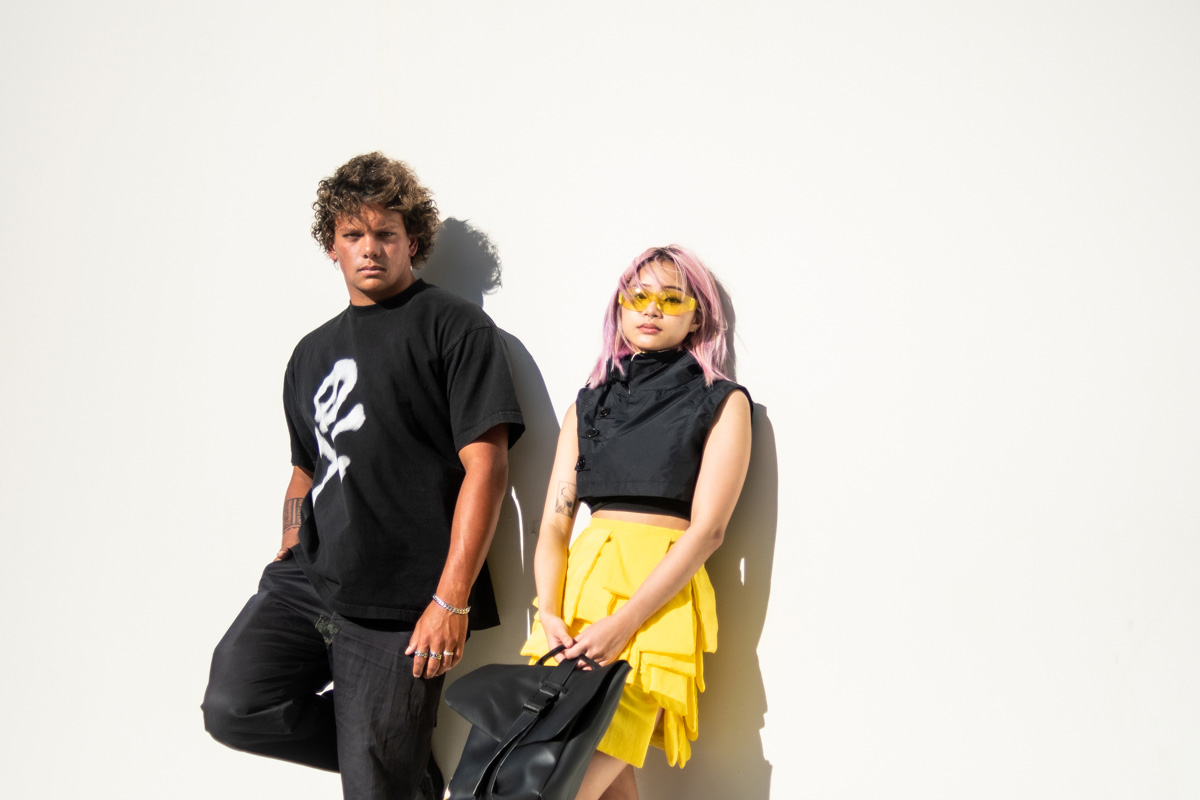 Third-year sociology student Gabe Discipulo (left) and third-year Japanese language and culture student Angel Araki (right) lean against a white background. Discipulo, who showed his designs for the first time at the Fashion and Student Trends at UCLA runway, said he was inspired by spontaneity and defiance. (Lauren Man/Daily Bruin senior staff)
This post was updated May 25 at 10:26 p.m.
Gabe Discipulo seeks to make a spontaneous splash on the Fashion and Student Trends at UCLA runway.
The third-year sociology student and student-athlete is showcasing his designs for the first time Friday at the Fashion and Student Trends spring runway show. Discipulo said his clothing line symbolizes a whimsical and rebellious feeling, breaking the day-to-day routine many college students experience. Drawing inspiration from formal wear and uniforms, Discipulo said he wanted to transform those styles from a structured form into a more natural one to illustrate the breakaway from fixed expectations.
"I wanted to celebrate that sometimes there can be moments where you're spontaneous or things can happen that you didn't plan for," Discipulo said. "And that those moments can be equally as beautiful and as important as the stuff that we're so used to."
Discipulo said his time playing on the men's water polo team inspired his idea to center his clothing around spontaneity. As a student-athlete, he said he worked around a tight schedule in which discipline was important to his athletic success. Yearning to sometimes break away from the rigid agenda he conformed to every day, the artist inside him wanted to try something different, Discipulo said.
[Related: Student expands new apparel, accessory brand one stitch at a time]
That difference came in the structure-breaking fashion pieces Discipulo designed for FAST. He said he created a backpack intended to express impulsiveness through its contrast with a more monotone coat. The military-inspired coat symbolizes rigid structure, while the backpack with grass-like spikes represents the breaking of routine, Discipulo said. Through the sculptural spikes, he was able to add natural energy to an otherwise monotonous garment, Discipulo said.
To embody the feel of his clothing, Discipulo selected third-year Japanese language and culture student Angel Araki to model his new line. Discipulo said he needed a model who was assertive and confident in order to match the rebellious nature of the clothes. Araki's modeling style and the way she presented herself meshed well with his clothing line, Discipulo said.
Similar to Discipulo, Araki said this is her first year in FAST and feels both excitement and anticipation for her runway debut. She said her modeling style harmonized with Discipulo's designs, as her daily wear embodies a similar assertive aura. Using her regular journey to class as practice for the runway, she has become conscious of her walking style, she said.
"I feel like that (my modeling style) influences the way I walk," Araki said. "It's very sort of edgy. I have a lot of piercings, tattoos, jewelry and things like that. When I walk, I kind of try to incorporate my personal style."
In addition to Araki's modeling style, Discipulo also said he needed to choose fitting music to accompany his pieces. To match his clothing's free-spirited vibe, he chose the song "Silkworm" by Giant Swan because of its fast tempo that allows for confident movementon the runway, he said. The song includes industrial sounds that add texture, bringing the pieces to life, Discipulo said.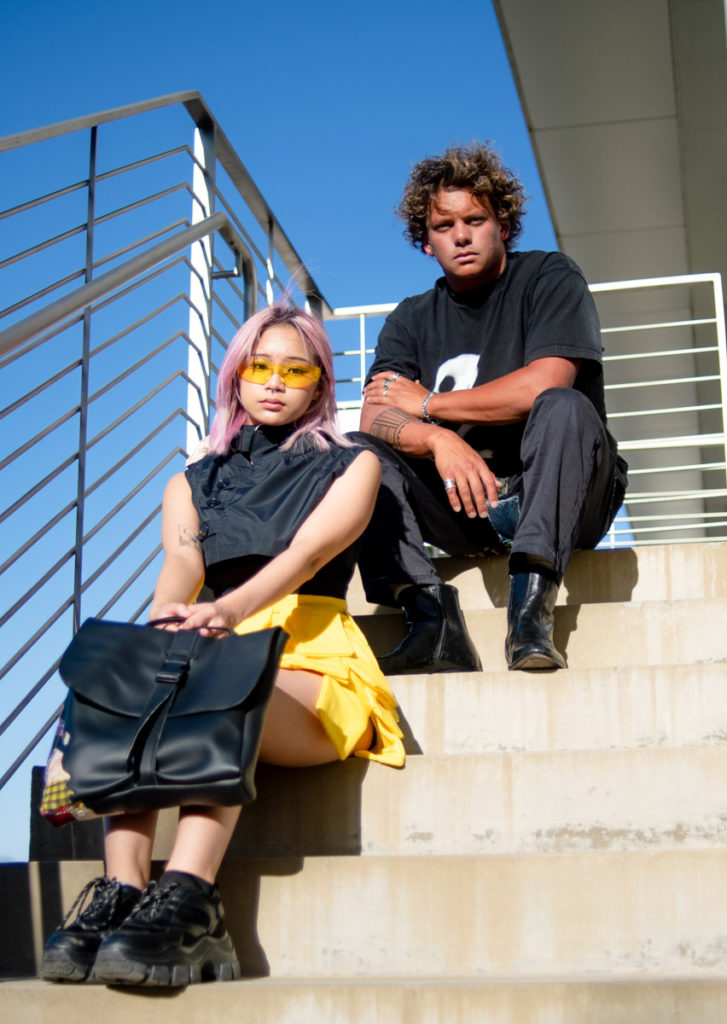 [Related: Coterie Couture: Lolita fashion combines European elements with Japanese flair]
Looking at his past pieces, Discipulo's impromptu textured style did not entirely begin with his FAST line, high school peer Quentin Shaeffer said. Having modeled Discipulo's original clothing from his brand SEASWINE, Shaeffer said Discipulo designed his early pieces by recycling and repurposing thrifted clothes. Whether it was cutting individual letters out from five different shirts to spell a word or using Pokémon plushies to make backpacks, Discipulo has been producing eclectic clothing lines since the start of his designing career, Shaeffer said. However, Shaeffer said Discipulo has since rebranded from SEASWINE to LIFEWORLD.
In addition to hoping to join FAST again, Discipulo said he plans on continuing to design his rebellious clothes through LIFEWORLD. Inspired by the social theory, lifeworld, he said LIFEWORLD aims to use more human materials to explore the conflict between one's cultural background and systems of money, power and bureaucracy. Discipulo said he plans to drop a new LIFEWORLD collection containing both menswear and womenswear after the fashion show concludes.
"I like how interactive of an art form it (designing clothes) is because it's taking something that's essential in our day-to-day life and making it something that people can really enjoy," Discipulo said. "It makes people feel a certain way, feel a certain confidence or attitude when they wear certain clothing. It's beautiful that we can create those moments and those feelings through art and through clothing."