FAST 2022: Ashley Chen experiments with fluidity of style in zodiac sign designs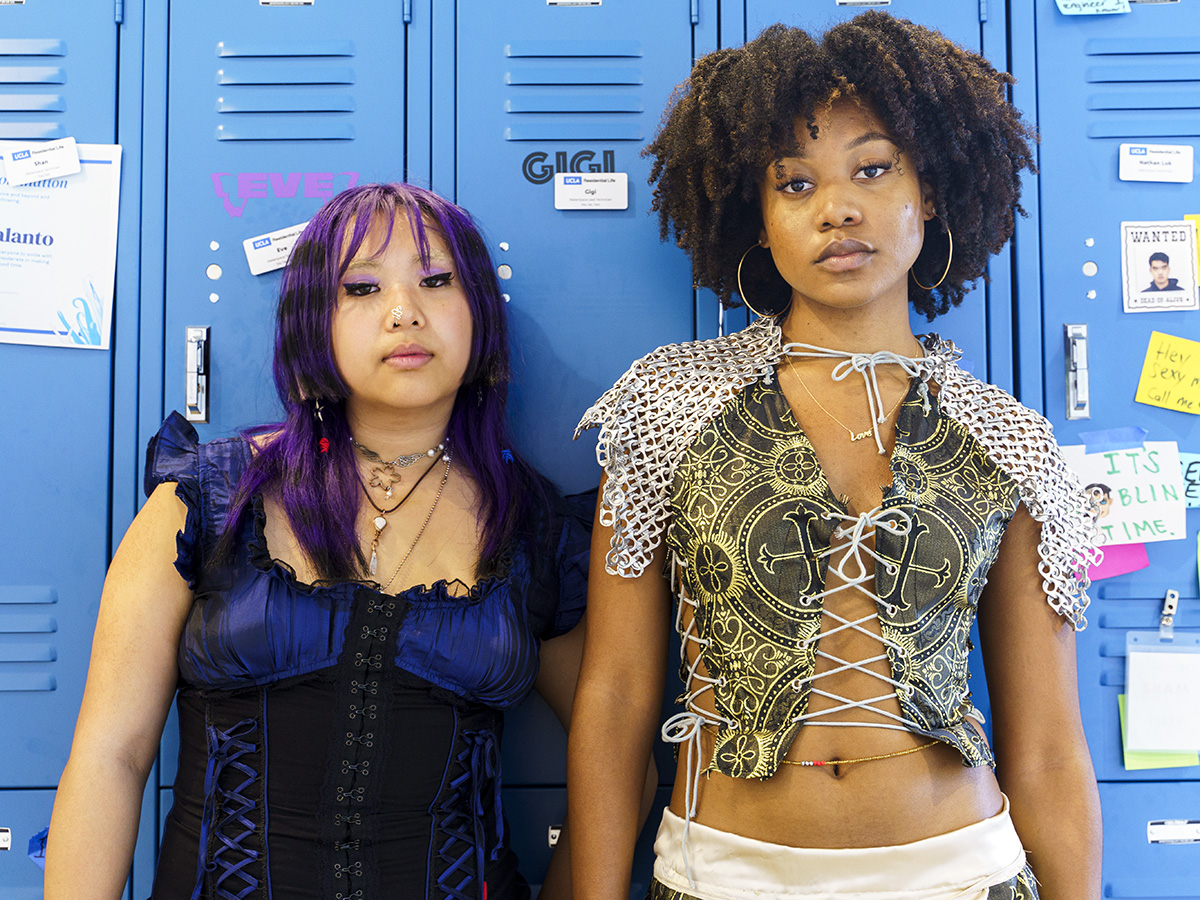 Second-year economics and philosophy student Ashley Chen (left) and third-year psychology student Leah Williams-Mohammed (right) pose against blue lockers, wearing Chen's designs. Chen's collection for the Fashion and Student Trends at UCLA spring runway show is based on the zodiac signs, which she said she enjoys because of their universal nature. (Nina Morasky/Daily Bruin)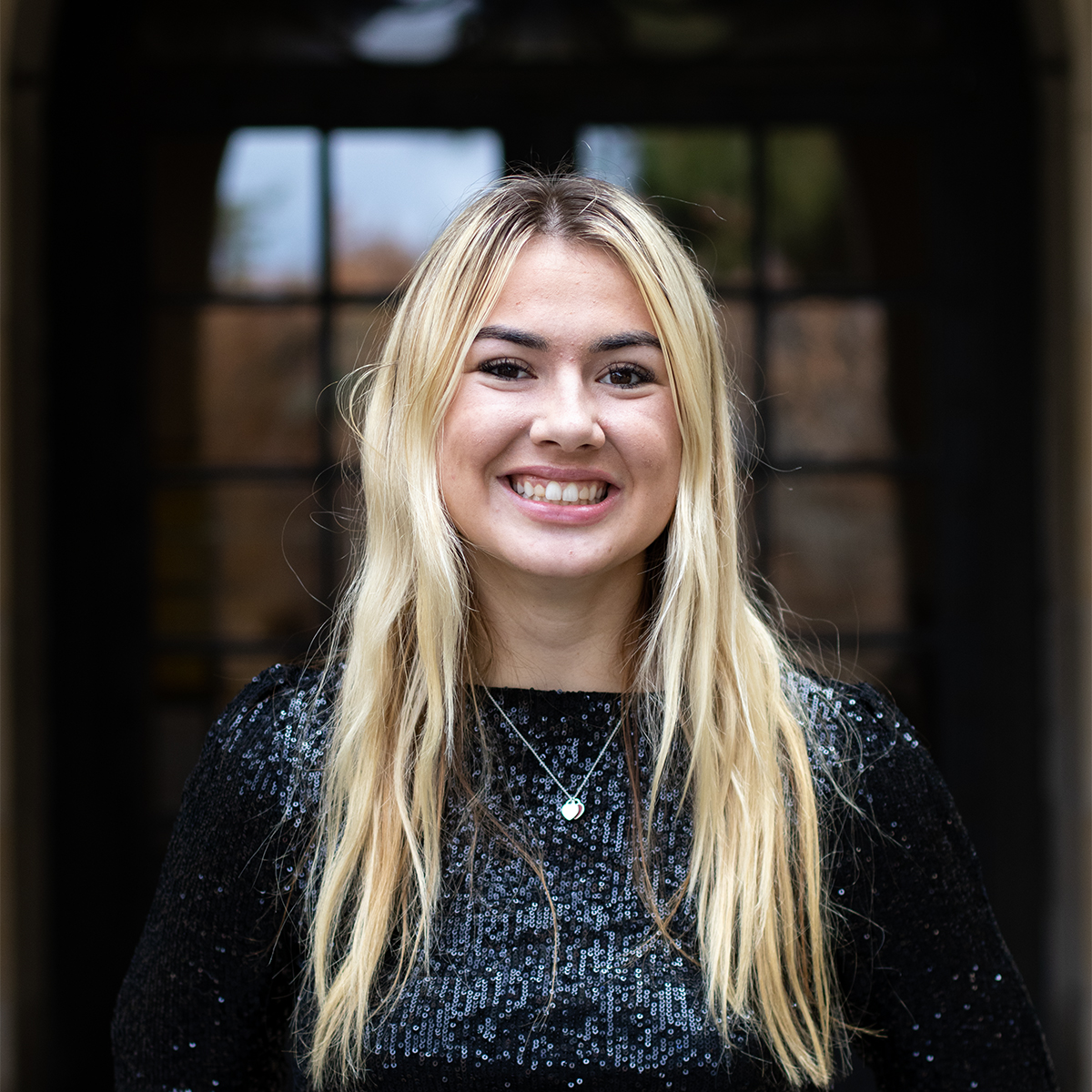 This post was updated May 25 at 10:19 p.m..
Ashley Chen is putting the sign in design.
The second-year economics and philosophy student will debut several original designs focused on the zodiac signs of the Western astrological calendar during Fashion and Student Trends at UCLA's annual runway show. For her six designs, Chen said each piece takes inspiration from different signs, specifically Aquarius, Aries, Cancer, Gemini, Leo and Virgo. After first becoming fascinated with the signs in the eighth grade, Chen said their universal nature led her to make them the center of her collection.
"They're just a really fun way to connect with people because everyone has a birthday, so everyone has a zodiac sign," Chen said. "I get to tell a little bit of what they are and what it means to be their zodiac sign even if they (friends) don't believe it, and they always find it really interesting to learn more about what they are."
Chen said she first began developing her own creations during quarantine through embellishing thrifted pieces as well as creating and selling jewelry on Depop. Despite previous experiences with clothing design, Chen said being a part of FAST is her first experience with using her sketches to create a collection from scratch.
[Related: Coterie Couture: Cultural resurgence of psychedelia encourages optimism through fashion]
While her designs include some influence from the natural elements of each zodiac sign, Chen said her creations mainly focus on her personal interpretations of each sign's personality and aura. Second-year economics student and Chen's boyfriend Connor Lantz said he has witnessed Chen develop concepts through spontaneous encounters with pieces of nontraditional fashion that excite her and often compliments the styles of strangers. Finding inspiration in personal experiences as well, Chen said the style and personality she associated with each design were influenced by the specific signs of individuals in her life.
Through utilizing what she views as the essential traits of each sign as a starting point, Chen said she was able to envision the color, style and materials for each piece. Approaching the creative process with a flexible nature, Chen said she kept her sketchbook on hand to reconstruct designs when she experienced new inspiration. In turning her sketches into tangible pieces, Chen said sustainability is a conscious focus, employing nontraditional materials as well as reusing and thrifting fabrics whenever possible.
"I try to incorporate a bunch of different materials into my works," Chen said. "For example, with each piece, I try to incorporate some weird material like feathers or soda tabs or pearls or something and make that more stand out as a piece."
To match the intended mood of each sign and reflect Chen's wide-ranging personal style, she said the collection is not confined to one genre of fashion as it shifts between ethereal and assertive pieces. With their bold and vibrant palette, Chen said the style of her pieces mirrors the nature of video game characters. Despite each garment's differing elements, Chen said she often began designs with a structured element, such as a bodysuit or corset, then added contrast through textured external aspects such as the black and red feathers that compose her Aries design.
Combining flowing and rigid elements, Chen said her design for the sign of Leo includes a chain-mailed element composed of soda tabs as well as smoother satin elements that follow a gold and black color scheme. Inspired by the boldness associated with Leos, Chen said she found her vision in the concept of a warrior, hoping to reflect this through her design and its model.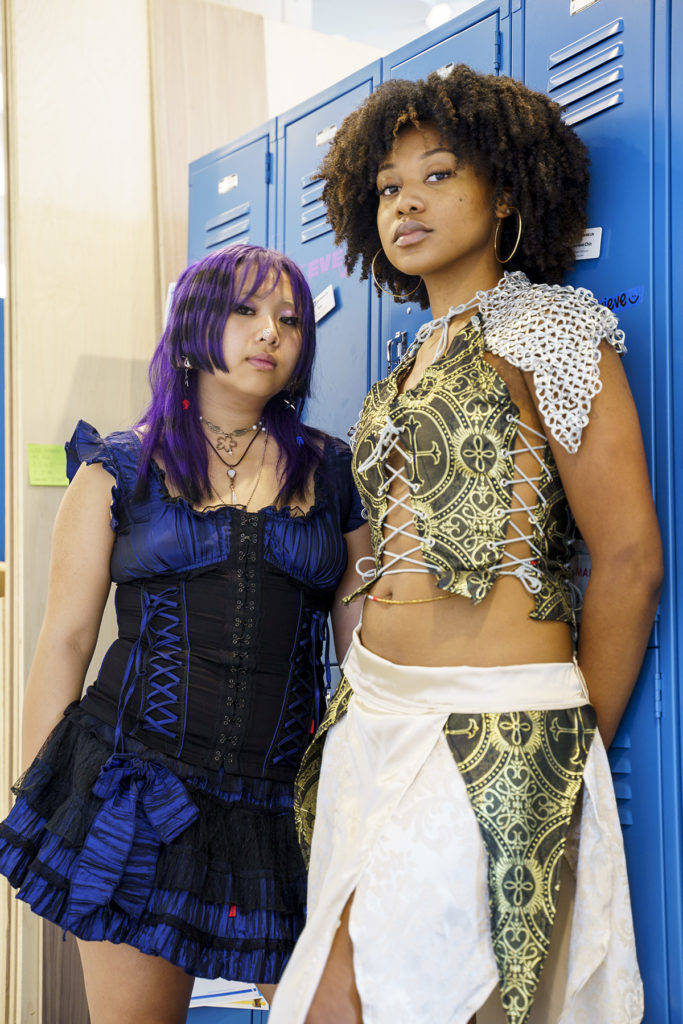 [Related: Hand-embroidered crewnecks help student find community on TikTok]
Leah Williams-Mohammed, a third-year psychology student, will model the Leo design, which is also her own zodiac sign, a fact unbeknownst to Chen when she initially chose Williams-Mohammed to model the specific piece. In showcasing the Leo design, Williams-Mohammed said she was particularly excited by the bold and intricate nature of the piece.
"It is really different, and it's bold, and it's exactly what I wanted to do as far as experimenting with fashion," Williams-Mohammed said.
Through the creation process, Chen said her design skill set has developed rapidly, allowing her to find fulfillment in transforming her sketches into tangible garments. While she said her designs likely transcend the potential for everyday wear depending on the boundaries of one's fashion taste, the collection reflects the fluid nature of Chen's personal style.
"I just like expanding, experimenting myself," Chen said. "I can't stick with one (style) all the time."
Paxton is the 2022-2023 music | fine arts editor. She was previously an Arts contributor from 2021-2022. She is also a third-year psychobiology student from Morgan Hill, California.
Paxton is the 2022-2023 music | fine arts editor. She was previously an Arts contributor from 2021-2022. She is also a third-year psychobiology student from Morgan Hill, California.