FAST 2022: Student designer duo to showcase bold, bedazzled formalwear in runway show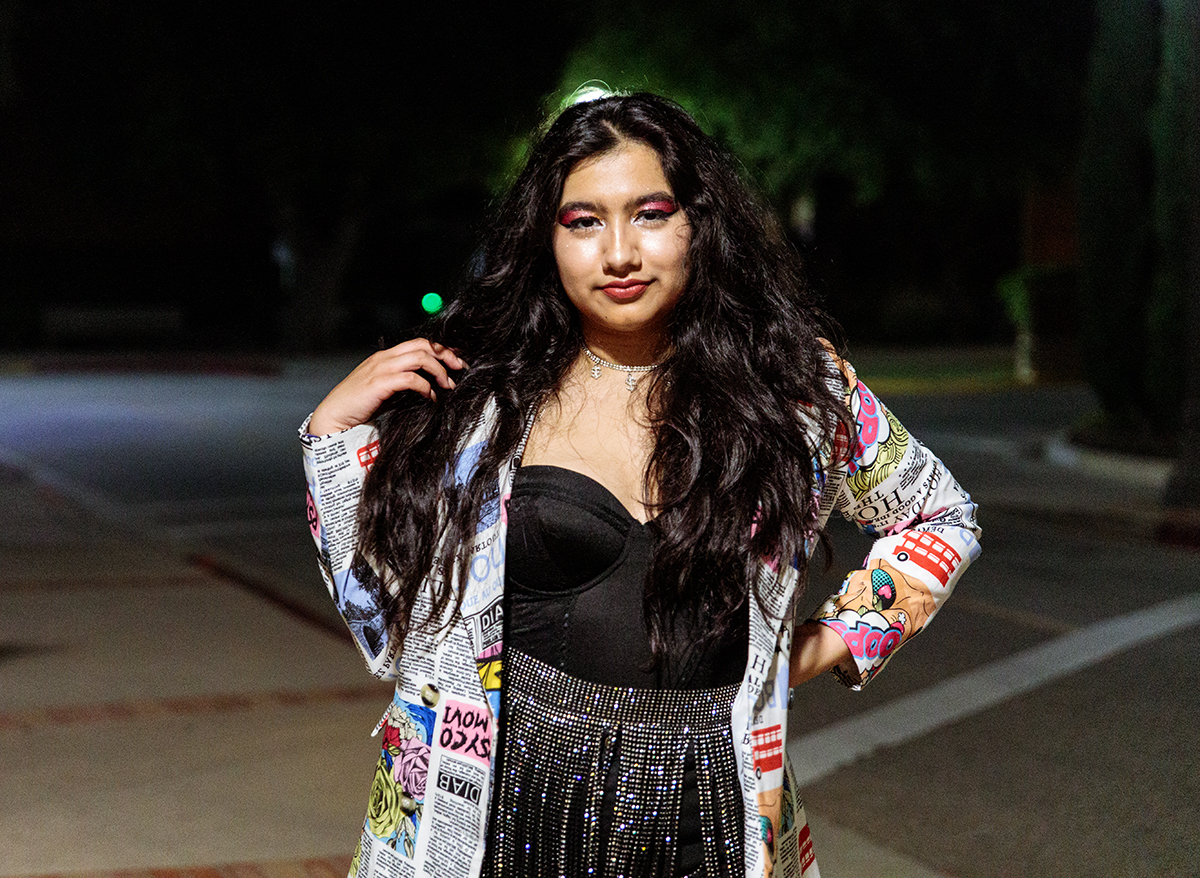 First-year undeclared student Gersha Jagwani poses in a sequined skirt and bright blazer. Jagwani, who collaborated with third-year psychology student Shasta Bowens for their first Fashion and Student Trends at UCLA spring runway show, said they focused on a dark palette and edgy designs for their formalwear collection. (Ashley Kenney/Photo editor)
Gersha Jagwani and Shasta Bowens are rebelling against the status quo.
Designers Jagwani, a first-year undeclared student, and Bowens, a third-year psychology student, are entering their first Fashion and Student Trends at UCLA fashion show together Friday with their line, "Rebelle." The collection combines their own individual styles into one line to create six formalwear looks in total, with three outfits from each designer. Bowens said their designs intend to inspire self-assurance among those who wear them, using FAST as an outlet to design pieces and bring them to life.
"You have to have a certain amount of confidence you exude within these designs to make you feel like you're wearing the design and the design isn't wearing you," Bowens said. "It's helping people find their confidence by putting on clothes that they wouldn't wear in an everyday setting."
While the two are creating the line as a duo, Jagwani said they each incorporate their own original styles. Jagwani's pieces are more extravagant, she said, featuring black items with holes or bedazzled pieces with sparkles. In contrast to Jagwani's more structured designs, Bowens said her style consists of flowy, classic bohemian and elegant looks with elements of edginess. Their styles connect as they blend unconventional features into their formalwear, as well as through the use of neutrals or black with pops of color, Bowens said.
[Related: Coterie Couture: Rave fashion embraces individualism through bold, eclectic styles]
The pair's designs are inspired by other designers such as Donatella Versace, Iris Van Herpen and Alexander Wang, incorporating experimental styles into the clothing and a darker color palette to mix traditionally feminine and masculine aspects of fashion, Jagwani said. As Bowens incorporates her personal style with Jagwani's, "Rebelle" combines their two personalities into one, Bowens said.
"We tend to take inspiration from her (Jagwani's) love for cutouts or mixing the soft with the harder side of fashion," Bowens said. "It all came together, so most of our collection is a darker color palette."
While their pieces are fancier and more formal, other designers' collections feature more streetwear statement pieces, Bowens said. Jagwani said "Rebelle" is intended to be more extravagant than wearable or convenient. In addition to dark colors, their formalwear also features metallics, she said.
Among the pieces Jagwani designed, she said her favorite is a black dress that features the skirt as a cage with holes, as it is the first one she made. The piece captures the edgy essence of the whole line, she said, including underscoring extravagance. Her other two pieces include a bedazzled top with a high-low black skirt that lights up with LED lights as well as a jumpsuit with chains, small cutouts and glitter, she said.
"I just want to make something crazy," Jagwani said. "If you had to sum it up, I just want crazy."
With regard to Bowens' pieces, the designer said they show both the edge and softness that make up her style. One features a red dress with a leather bodice, and another consists of a silver floor-length dress that is metallic but has movement. Her third piece is a black bodice dress with a high-low skirt, which model and fourth-year biochemistry student Alyssa Santos will be wearing, Bowens said.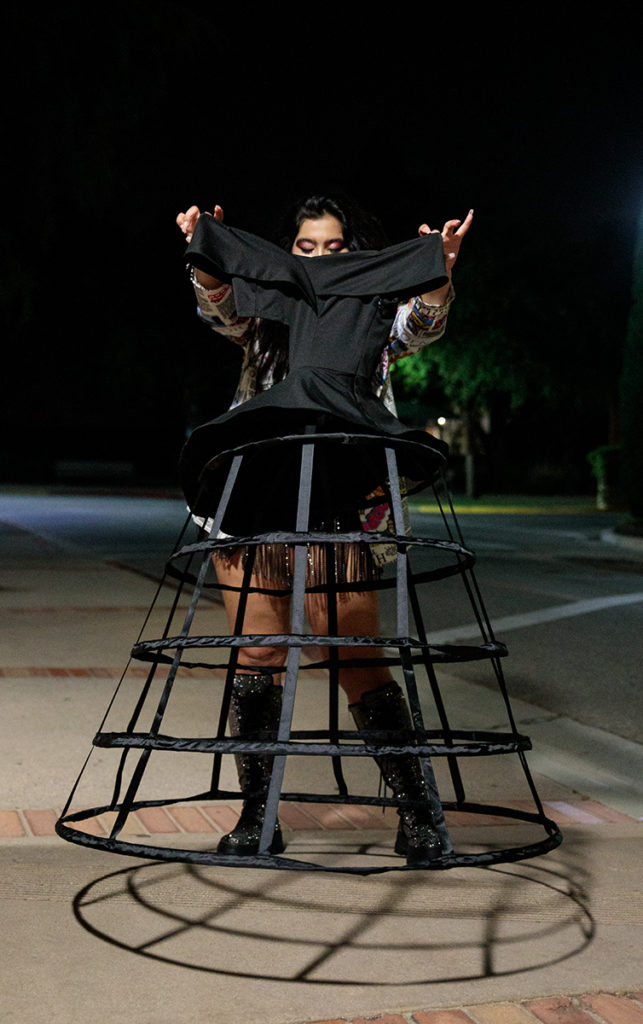 [Related: Student spreads joy making crocheted hats for close-knit friends, family]
Having first entered the modeling industry in 2018, Santos said FAST gives her an outlet to employ her knowledge and experience in fashion and modeling. Modeling has taught her how to feel more comfortable in her own skin, she said, and that most of her doubts were due to societal standards. Through FAST, she and the other models also learn from each other, she said, and the designers discuss with her what they are looking for in bringing their clothes to the runway.
In addition to creating clothes that inspire confidence, the duo has also selected bold and empowering music for the models to walk to, Jagwani said. Their music choices feature Lady Gaga, Doja Cat, The Pussycat Dolls and Cardi B, communicating an energy of independence that matches the clothes, she said.
Ultimately, Bowens said she hopes the show is memorable, from the way the models engage with the garments to how each piece fits, moves and reflects the lighting. Jagwani said she hopes the audience will witness the line and understand its message of being unapologetic and bold.
"(Fashion is) a creative outlet," Jagwani said. "It's how people express themselves. When I'm creating or designing my own stuff, I could do whatever I want. I could put as many holes and distress as I want to. I could make it as bedazzled as I want. … Who's going to stop me?"