FAST 2022: Sabrina Costa draws design inspiration from past in runway collection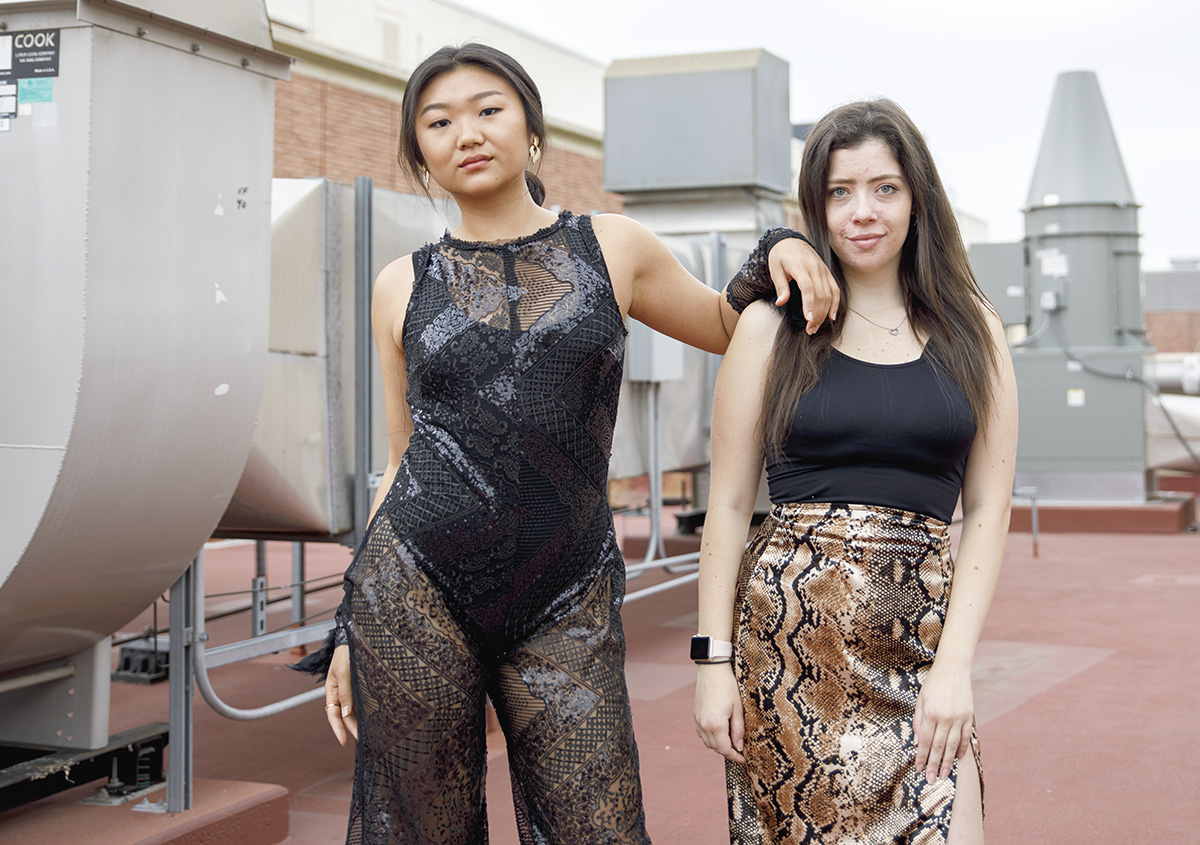 Fourth-year psychobiology student Meghan He (left) and fourth-year biology student Sabrina Costa (left) stand together wearing Costa's designs for the Fashion and Student Trends at UCLA spring runway show. Costa said her designs were inspired by the Met Gala and historical looks that remain timeless. (Ashley Kenney/Photo editor)
From Marilyn Monroe to Audrey Hepburn, Sabrina Costa's latest collection is conjuring the spirits of greats.
The fourth-year biology student will debut her newest pieces at Fashion and Student Trends at UCLA's annual runway show May 27. Costa said her passion for fashion started at a young age as sewing served as her main creative outlet throughout most of high school. Costa said she stumbled upon FAST during the Enormous Activities Fair and has been a member of the club for the four years since, finding fulfillment in learning more about the modeling and design process.
"I enjoy seeing my designs on the models and seeing it all come together," Costa said. "Just looking at it on a hanger it's hard to envision everything, but when you see somebody actually wearing it and it actually working, … that's the best part of it."
Taking inspiration from the 2021 Met Gala, Costa said she pulled elements from many iconic pieces over the years – going as far back as the '60s and '70s – combining them in transformative and distinctive ways. Costa said she was particularly drawn to female figureheads such as Cher, Marilyn Monroe and Audrey Hepburn, who consistently defined and redefined fashion trends with their bold outfit choices for events such as the Oscars or the Met Gala.
[Related: Q&A: Carolina Armenta discusses LA Fashion Week debut with brand Femgraphy]
Costa said this is not the first time she has been inspired by the Met Gala. In her first collection for FAST, Costa took after the 2018 Met Gala, but she wanted to tackle the show again this year with newfound knowledge and expertise, she said. As a result of her experiences at FAST, Costa said she believes she has become a more adept designer, taking more risks with her material choices and outfits.
"During freshman year, I had never actually designed before," Costa said. "I was used to sticking to making something (from) sewing patterns. It's kind of like a pre-made pattern that you cut out and you make whatever is on the picture. … (At FAST, seeing the way other people design) transformed my abilities to design and gave me more of a vision for what I wanted my pieces to look like."
Vivian Wong, a fourth-year economics student, roomed with Costa as a freshman and sophomore. Speaking on her freshman year memories, Wong said she recalls moments in which Costa would have to haul a heavy sewing machine from the club, work on her fabrics for a couple of hours, and then return it quickly because of the limited supply of machines. Wong said she's observed Costa's work become more intricate over time, speaking on a set of hand-sewn gloves that Costa showed her from her upcoming collection.
To model her pieces, Costa will be collaborating with her friend Meghan He, who Costa has known since her freshman year. Now serving as modeling director and president, the fourth-year psychobiology student has also been in FAST for all four years of her college career and said she wants to pay her experiences forward to other members.
"FAST is really such a supportive group of people that are all artistically inclined and have similar passions," He said. "Now, as president, I really want to make sure that this space offers (that) for all future students and current models. It's just a space to feel as comfortable and confident and as happy as you possibly can in your own skin."
While the broader fashion industry has a tendency to depersonalize its models, He said she hopes to emphasize the collaborative relationship that's necessary between the model and the designer. She said she views her and Costa's work as a form of cooperative storytelling, as opposed to the designers often telling their stories with the model having little to no say. In this manner, He said she and Costa see each other as co-authors of a shared story, one they both are invested in telling.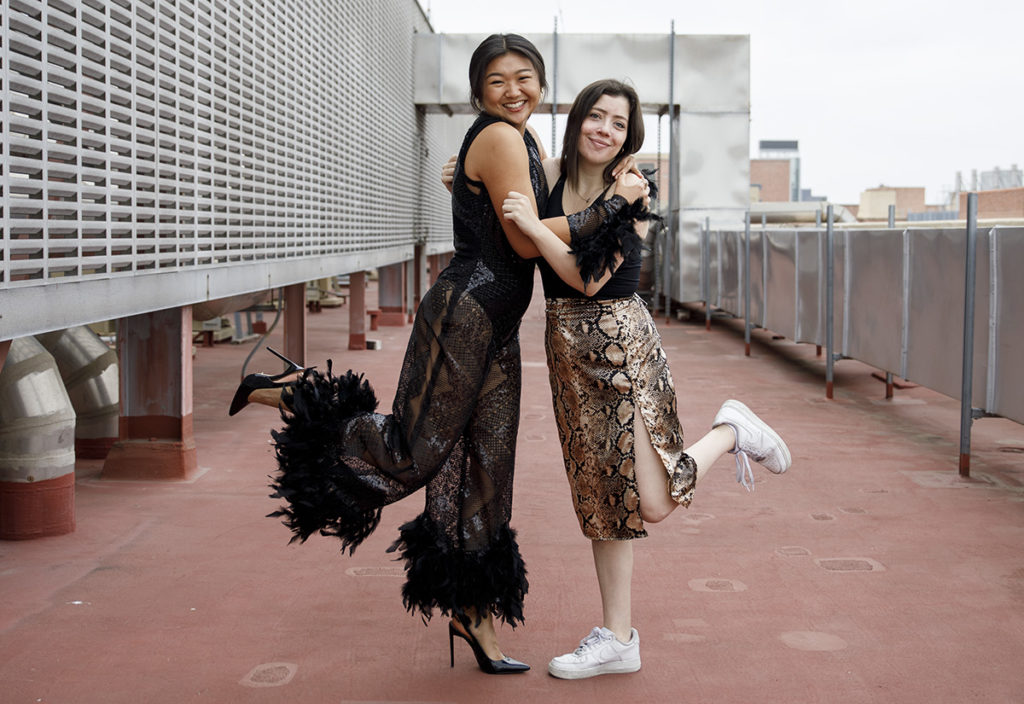 [Related: LA Fashion Week 2022: MM Milano mimics metamorphosis with moth-inspired designs]
He and Costa have been good friends since freshman year since they both worked together on Costa's first Met Gala collection, so their collaboration now brings both their journeys full circle, He said. From her perspective, He said Costa has grown more courageous as a designer over time, and her pieces have become increasingly striking and audacious. He said Costa's collection this year is her biggest yet, both metaphorically and literally.
"As her skills have developed and as her creativity continues, her work has become bolder," He said. "It's a lot bigger and physically larger – the gowns and garments are full skirts. A lot of her pieces have really grown in volume since some of the simpler and easier-to-design ones from freshman year."
When speaking about what viewers should take from her collection, Costa said she hopes people can learn to appreciate the extent to which current fashion trends have been shaped by landmark figures and movements of the past. By pulling from influences that far predate her lifetime and still managing to update them to a modern context, Costa said she aims to convey that some trends never outstay their welcome.
"My collection shows that pieces in the past are timeless and that they can still work today, " Costa said. "I like picking pieces from Marilyn Monroe from the '40s, and then Audrey Hepburn and Cher from the '70s and '80s and seeing how those pieces can still translate today. It's one of the biggest messages that I want to relay."