FAST 2022: Old fashion trends turn sustainable in student-made clothing line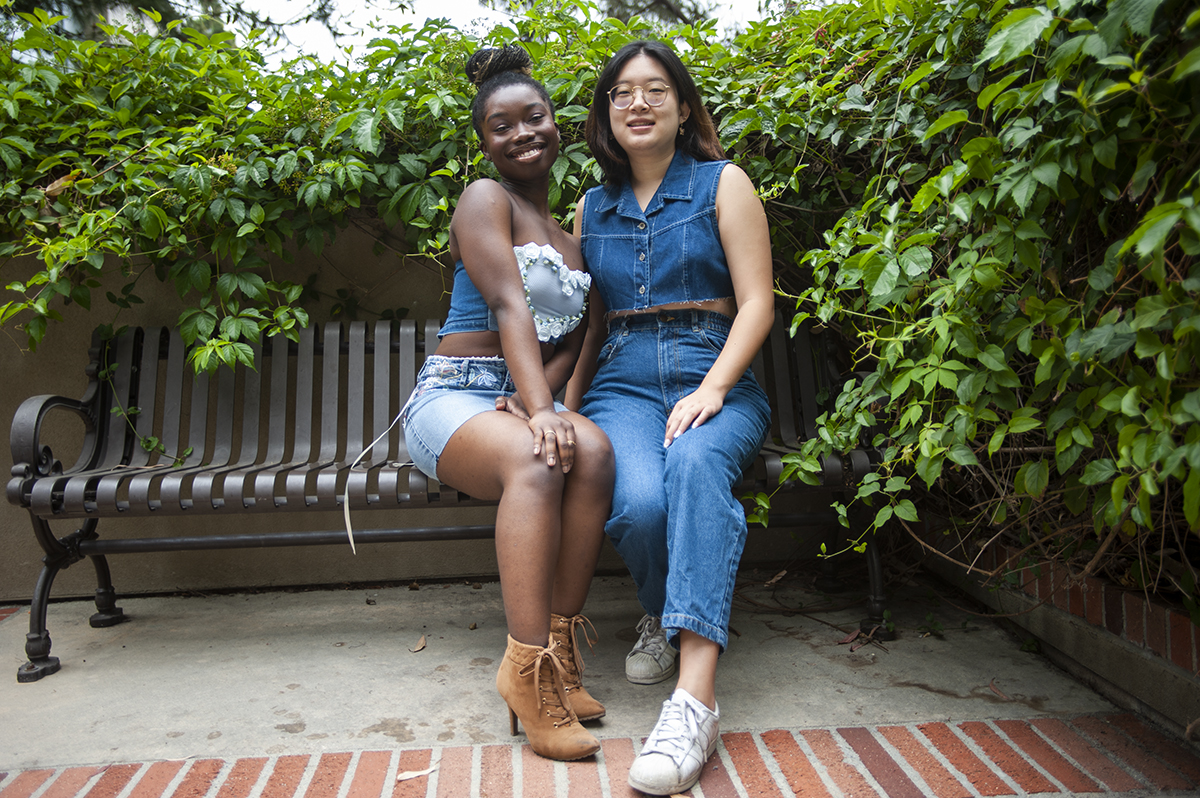 Third-year sociology student Christabel Odoi (left) and second-year geography/environmental studies student Nancy Nan (right) pose on a bench in denim ensembles from Nan's sustainable fashion line for the Fashion and Student Trends at UCLA spring runway show. In giving recycled fabrics a new life, Nan said she recognizes the fashion industry is a big source of pollution and believes its future depends on environmentally friendly practices. (Chelsea Westman/Daily Bruin staff)
Nancy Nan is revamping fashion trends from her childhood.
The second-year geography/environmental studies student and designer for the upcoming Fashion and Student Trends at UCLA runway show is incorporating early 2000s trends into her sustainable fashion line. While she has been designing since high school, Nan said the show is the first time her original pieces will be presented on a runway. In terms of the collection, Nan said she is excited to showcase her personal flair through clothing while demonstrating the potential of sustainable fashion.
"Usually I just make something and it stays in my closet," Nan said. "It's crazy that it (my line) is going to be shown to hundreds of people. … I'm excited to leave them (the audience) with what sustainability could be."
Nan said she began exploring fashion design in high school, finding it a powerful way to express herself as she grew up. Her forthcoming collection will feature pieces made from her childhood denim jeans and thrifted fabrics, Nan said, as a way of presenting various sustainable practices. In addition to representing early 2000s trends, Nan said using denim in her line allowed her to put a more overtly feminine spin on a hardy, industrial fabric.
[Related: UCLA student crafts knitting business as way of giving back to community]
By using recycled fabrics, Nan said she wants to explore sustainable fashion because she believes the future of the fashion industry depends on environmentally conscious practices. With the fashion industry being one of the planet's biggest polluters, pursuing innovation in sustainability is a way to reduce the industry's waste while still producing enjoyable clothing, Nan said. One of Nan's models for this year's line, second-year physiological science student Ranen Chang, said sustainability is a large part of what motivates student designers such as Nan.
"High fashion and fast fashion have always been a rabbit hole toward destruction," Chang said. "Sustainability is so important … with our generation, because if there's no effort trying to turn back that tide … (we will) hit the very bottom of the pit."
In terms of the Y2K aesthetic of her line, Nan said the nostalgia-based resurgence of early 2000s trends in the fashion industry today is a sector of fashion she wanted to explore. Nan said her line is a chance to experiment with the trends she saw modeled by celebrities while she was growing up. To highlight the era on the FAST runway, her models will walk to music from popular 2000s artists such Britney Spears, Nan said.
While Nan is reflecting on Y2K trends and focusing on significant themes of sustainability with this year's line, Nan said she has to remind herself that fashion should be fun. She said she enjoyed creating clothes that fostered joy and confidence, especially during the pandemic, such as when she designed large, flowing, princess-style dresses as a festive way of expressing her femininity.
"People needed a reprieve from the sadness that the pandemic brought," Nan said. "I like that type of fashion where it's not exactly practical, but practical enough that you can wear it on a nice day out or just in your home alone and pretend that everything's okay."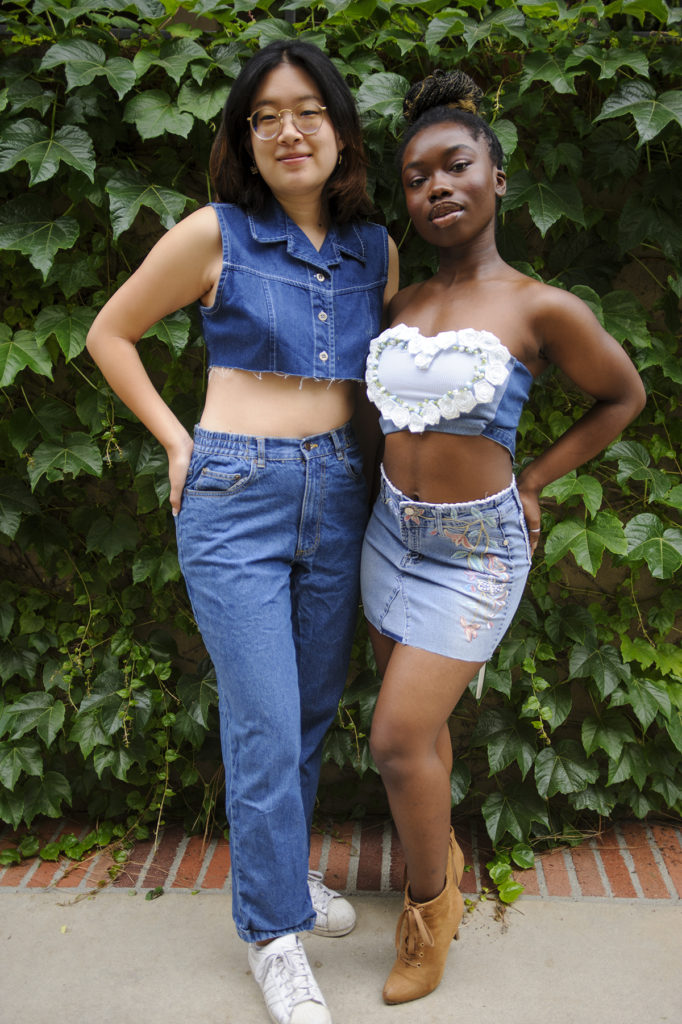 [Related: UCLA student crochets for a cause by donating business profits to charities]
In terms of the Y2K collection, another model for Nan's line, third-year sociology student Christabel Odoi, said she was excited to work with Nan's designs since they incorporate cropped and bodycon pieces that Odoi enjoys wearing in her everyday style. Odoi said Nan's star-studded cropped jacket and miniskirt combo, typical of early 2000s fashion, is particularly fun to wear.
On a larger scale, the fashion industry can present exclusive restrictions on who can model certain designs, Nan said. However, FAST's practice of having designers make pieces based on models' specifications is more inclusive, she said, as opposed to searching for models who fit pre-designed clothing. As a model, Odoi said she feels celebrated for who she is on the runway.
"(FAST) doesn't subscribe to that notion of porcelain, Eurocentric, super skinny, mostly white beauty features that have been shown to us as women over these decades," Odoi said.
By designing within FAST's environment, Nan has been inspired by her fellow designers and reminded that fashion can be innovative and fun, she said. As a designer new to runway shows, Nan said she is excited for the audience to not only enjoy the nostalgia of the early 2000s but to also learn about the possibilities of sustainable clothing. After witnessing her collection, Nan said she hopes her designs will inspire others to take a look in their own closets.
"'A lot of my clothes are made out of jeans, like (I want the audience to think), 'I have jeans at home that I don't want to wear – can I make this too?'" Nan said. "I'd like to start a conversation like, 'Hey, if she can do this, then I can too.'"