Painted Ladies, Outspoken light up Spring Sing with Best Overall Performance win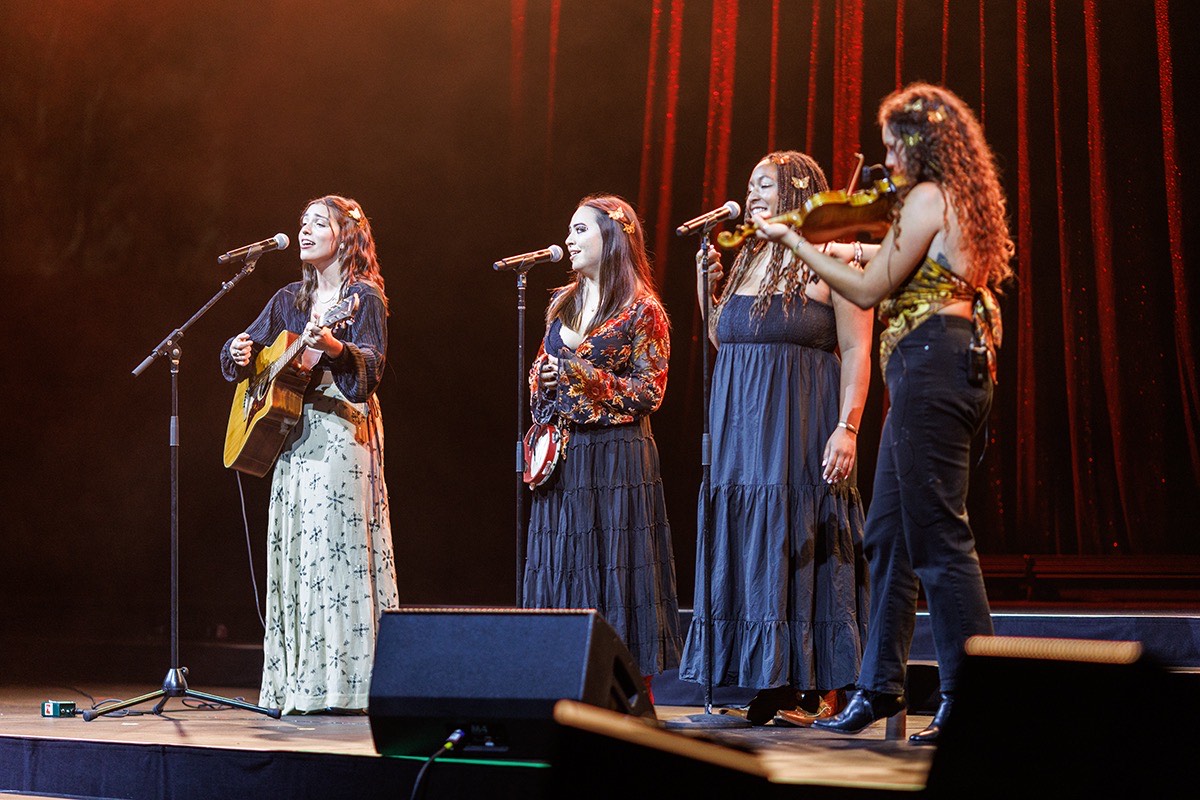 (From left to right) Dressed in black, Painted Ladies members and fourth-year students Sophie Shapiro, Amy Lyn Williams, Jeilani Rhone-Collins and Addison Wingate sing with their instruments in hand. The band was awarded the Bruin's Choice Award and tied with interdisciplinary group Outspoken for Best Overall Performance. (Anika Chakrabarti/Assistant Photo editor)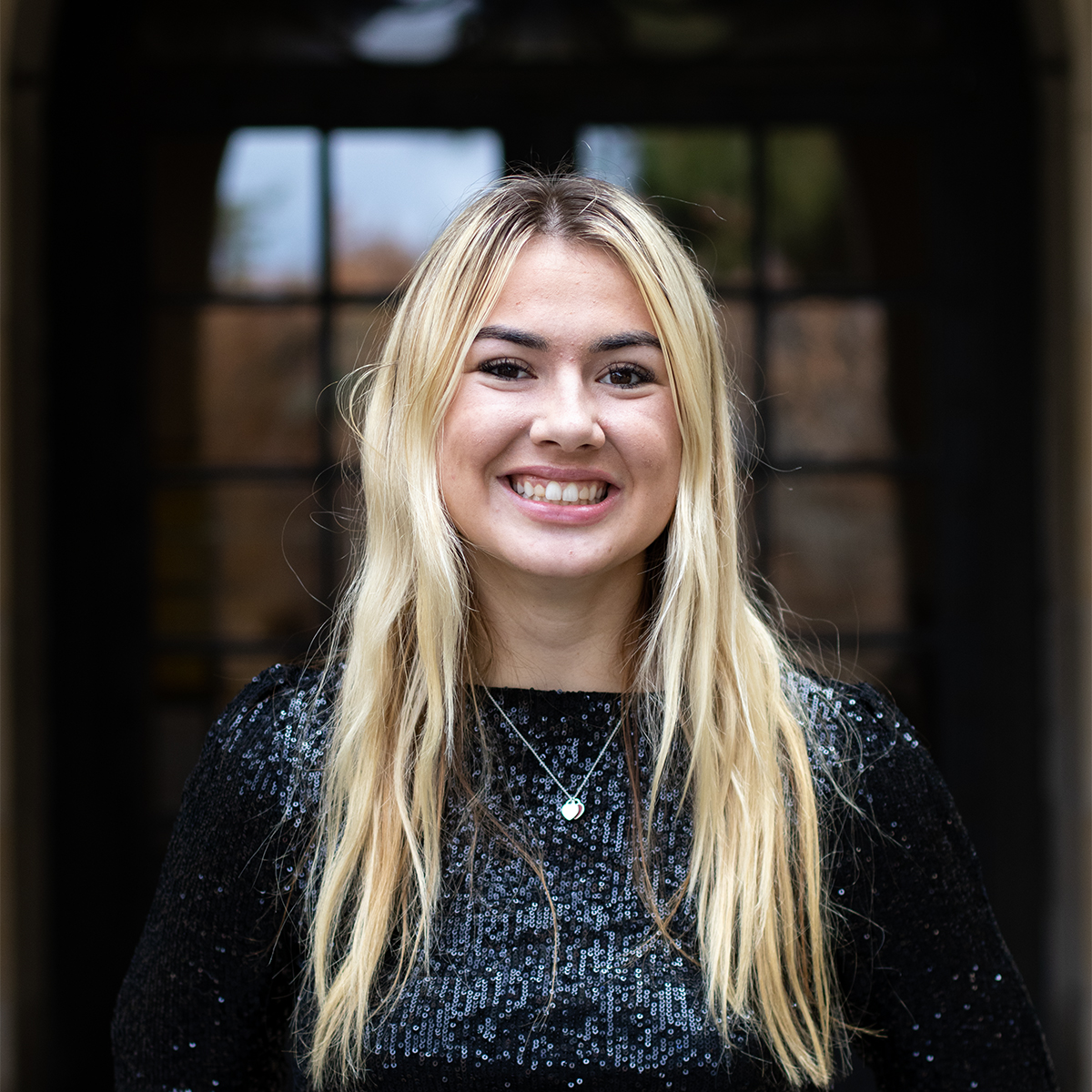 This post was updated May 22 at 9:15 p.m.
Spring Sing has soared once again.
On Friday, Spring Sing brought joy and harmony to an eager crowd at the Los Angeles Tennis Center. With 16 acts composed of solo, duo and group performances, the event returned to an in-person format for the first time since 2019. Fourth-year environmental science student and Spring Sing executive director Ava Blanchette said Spring Sing provides a special opportunity to showcase the talent of student creatives to the UCLA community.
"The UCLA experience is far more than just academics and sports," Blanchette said. "There are some really, really powerful and strong creative personalities here on campus. This is, of course, a good place to see them centralized, but they're performing all the time, so go see them."
The event began with a recorded land acknowledgment from members of the American Indian Student Association, who later took the stage. Following the acknowledgment was the event's exhibition performance, which featured an energetic ASL routine to Lady Gaga's "Hold My Hand" by social science graduate student Bo Kaplan. Prior to his act, Kaplan spoke about the diversity of experiences in the Deaf community, citing music as a communal, universal experience.
"It (music) doesn't just apply to some people – it applies to every single person in some way, shape or form," Kaplan said. "Music itself has the power to carry a message. There is dance, signing, lyrics. All of it is part and parcel of this experience."
Greeted by applause from the Spring Sing audience, this year's celebrity judging panel included Chancellor Gene Block, "Phineas and Ferb" voice actor Vincent Martella, alumnus and "Bel-Air" actor Olly Sholotan and "The Unofficial Bridgerton Musical" co-creator Abigail Barlow. Additionally, the panel featured "So You Think You Can Dance" co-creator Nigel Lythgoe, "Parks and Recreation" actor Jim O'Heir, and former BROCKHAMPTON members Dom McLennon and Merlyn Wood.
After the judging panel was established, crowd members lit up the tennis center with swaying flashlights as fourth-year theater student Izzy Escobar belted from her keyboard, and indie-folk band Sophia Bacino & Friends spun a tale of love and moving on. In addition to more vulnerable pieces, act one featured dynamic performances, including a hip-hop arrangement by dance team ACA All Day, which shifted between fast-paced and slower styles.
Also featured in act one was dance group Icarus Contemporary. Set to a medley of songs from artists such as Glass Animals and Florence + the Machine, its members' lyrical performance revolved around a white ladder and an outfit color change as they flipped their white outfits into flowing red ensembles. Standing in blue and gold charros, Mariachi de Uclatlán ended act one with a vibrant performance including vocals and lively instrumentals.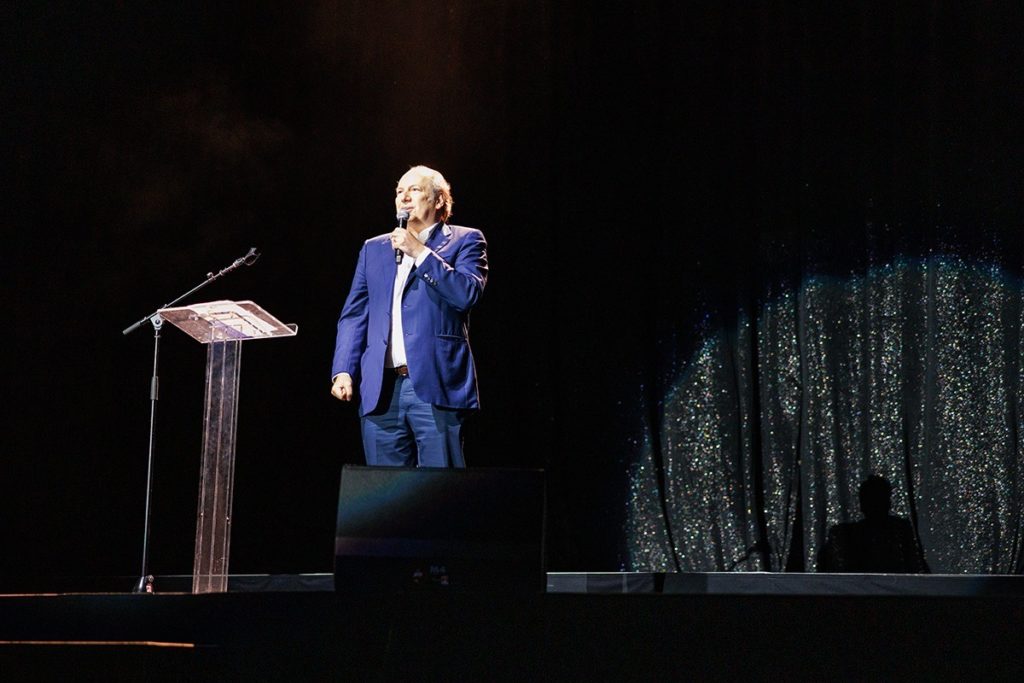 Prior to the intermission, musician and composer Hans Zimmer was awarded this year's George and Ira Gershwin Award for Lifetime Musical Achievement, which honors a musician's career achievements. Following a video presentation of a recording session for the score of "Dune," Zimmer discussed the challenges faced by his orchestra members from Ukraine, honing in on music's ability to bring unity and joy.
"We are playful, and even if you don't play music, make your life about being playful," Zimmer said. "What I saw here tonight is so phenomenal, is so imaginative, is so brilliant, is so original, is so what the world needs."
In between performances, Spring Sing's Company served as the hosts of the evening, offering musical numbers and humorous sketches. In addition to making light of key aspects of the Bruin experience such as class etiquette, Starship robots and long lines for basketball games, Company's musical parody of "Cell Block Tango" from "Chicago," centered around roommate disagreements, was awarded as the best of the various skits.
As for the performances of act two, South Asian a cappella group Naya Zamaana utilized the full stage in its dynamic routines alongside vocal arrangements, while duos such as Zeinah played on the right side of the stage with stripped-down performances. Taking a similar position on the stage, soloist and fourth-year theater student Carly Wood performed an emotional ballad inspired by the death of a stranger's mother.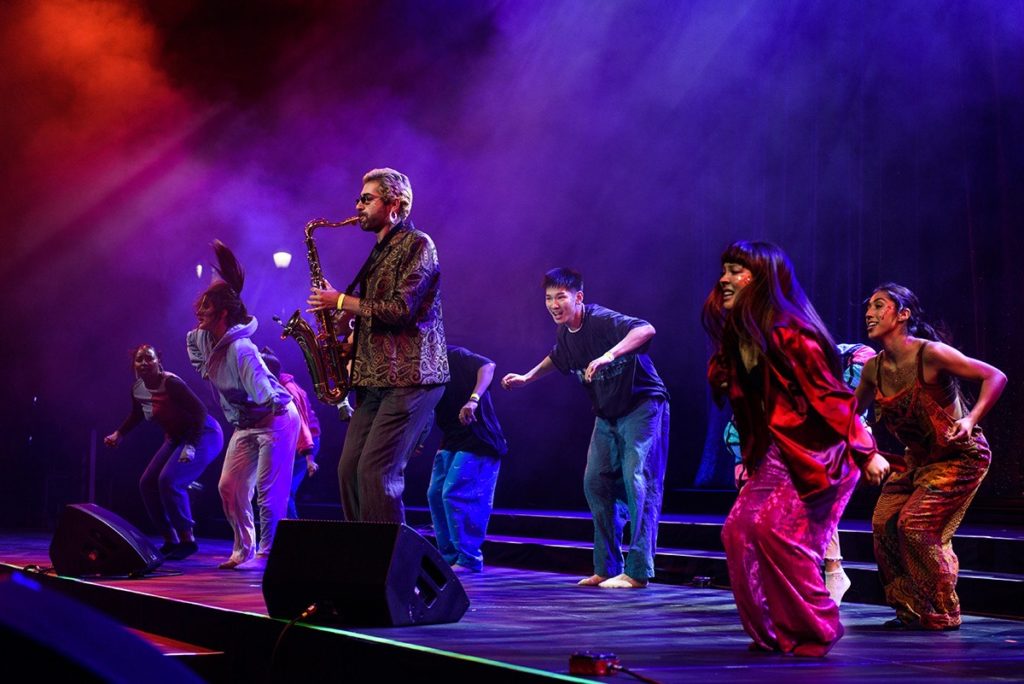 Rounding out the second act with joy-filled musical performances, groups Lot 3 and the 10-member jazz ensemble Silva provided passionate vocals and unified musical backing. Strings, brass, keys and beats characterized jazz band Silva's original song "We Can Dance," with fourth-year global jazz studies student and lead vocalist Emily Silva dancing and singing across the stage. After a folk-infused performance from band Painted Ladies, group act Outspoken concluded the performances with a jazzy pace as they merged dance, saxophone, song and spoken word.
Crowned the winners of the night for both the Bruin Choice Award and tied for the best overall performance award with Outspoken, Painted Ladies delivered harmonized vocals, fiddle, guitar and tambourine for their heartbreaker anthem "Birmingham Again." With gold butterflies glittering in their hair and playing various strings, the quartet shared the tunes of Appalachia with Westwood.
As the crowd cleared, the Painted Ladies flew off into the night.
Paxton is the 2022-2023 music | fine arts editor. She was previously an Arts contributor from 2021-2022. She is also a third-year psychobiology student from Morgan Hill, California.
Paxton is the 2022-2023 music | fine arts editor. She was previously an Arts contributor from 2021-2022. She is also a third-year psychobiology student from Morgan Hill, California.