Spring Sing 2022: Zeinah explores escapism in intimate original song with vocalist Kailynn Wright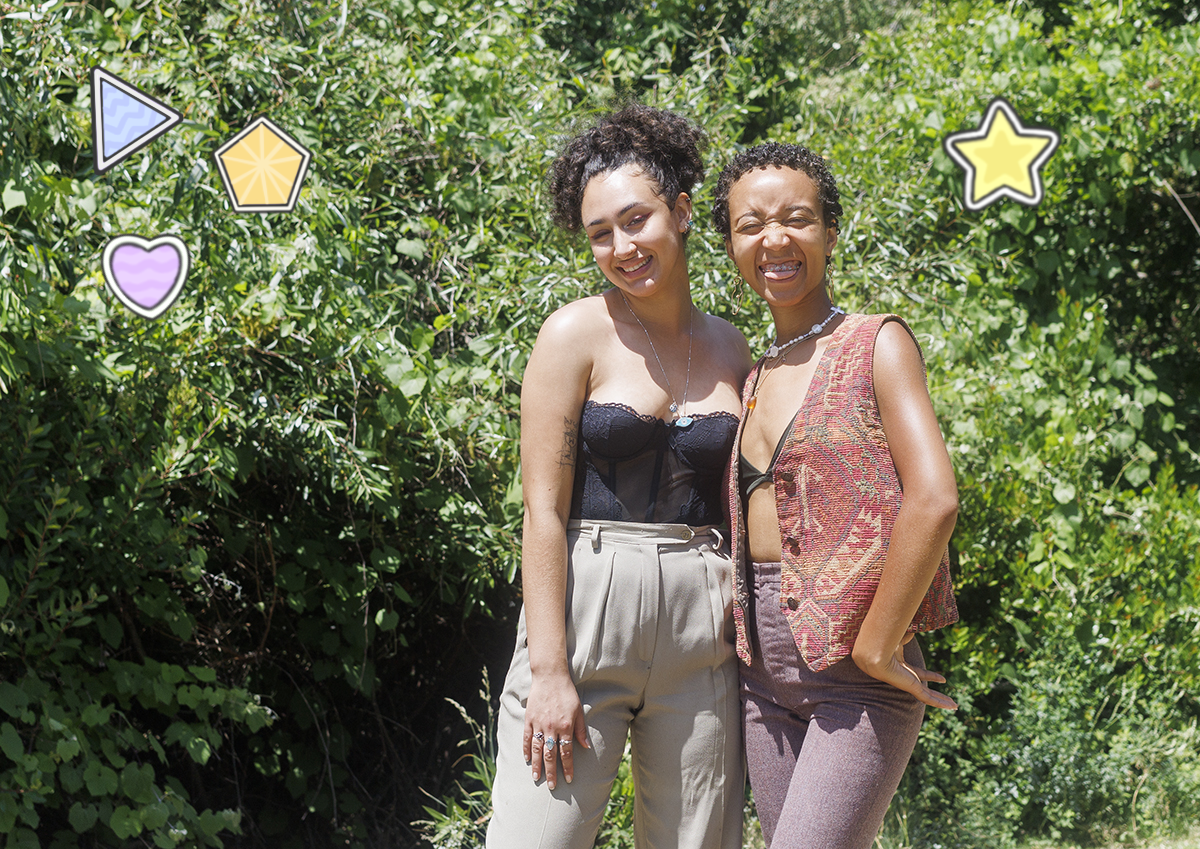 Fourth-year art student Quinlan Lewis-Mussa (left) stands with fellow performer fourth-year African American studies student Kailynn Wright (right). Lewis-Mussa, who creates music under the name Zeinah, will take the Spring Sing stage to perform her track "Leaving" alongside friend and backup vocalist Wright. (Photo by Finn Chitwood/Daily Bruin. Photo illustration by Ashley Shue-Lih Ko/Daily Bruin staff)
This post was updated May 19 at 12:17 p.m.
Reality can be exhausting, and Zeinah is escaping to another world.
Fourth-year art student Quinlan Lewis-Mussa, also known by her stage moniker Zeinah, will be debuting at Spring Sing with an original song. As a singer and songwriter who self-releases music online, Zeinah said she found her footing with performance opportunities at various venues, including the Cultural Affairs Commission's Kerckhoff concert and the Afrikan Diaspora LLC's Black History Extravaganza in 2019. As the name Zeinah is her middle name, she said the musical identity she has been developing since the beginning of her college years is rooted in transparency and an aspiration to present the truest version of herself.
"I wanted whatever stage persona that I had to not be so separated from myself even if there was going to be some kind of marked line," Zeinah said. "I'm into authenticity, and I definitely would never want to try to change who I am or what I'm doing just to be palatable."
After releasing her first EP, "I Should Know Better," in November, Zeinah said she is eager to finally share a track from the collection of music with a large live audience. The song "Leaving" explores the theme of escapism and the avoidance of harsh realities, she said. Written in a time in which she personally felt trapped in friendships and social relationships, the song was conceived as a form of emotional release on the back stairwell of Rieber Hall, a place of refuge in which she would play guitar alone for hours, she said.
"Stuff is really tough and intense right now politically, socially," Zeinah said. "There's a lot of strife and tension, not a lot of ease. I'm a pretty sensitive, emotional person, so it's easy for me to get overwhelmed, and I've always had a desire to jump into another world, be it through books, movies, music."
[Related: Student Allie Schulz finds voice with self-produced EP 'Flash Fiction']
Because of its relatability, a favorite line of Zeinah's from "Leaving" is, "But your head's a little loud, life is so much cushier when you're floating on a cloud," she said. The lyric is meant to convey the wishful thinking of those who seek to retreat from all the intense responsibilities of everyday life, a sentiment she said will hopefully be widely understood by her audience. In order to bring focus to the soulful quality of the vocals, Zeinah said her performance will be raw and acoustic to match the stripped-down song.
Freelance musician Leela Paymai said she assisted in producing Zeinah's debut indie-style EP by mixing and mastering her tracks. After reviewing Zeinah's demos, she said she utilized her knowledge of audio interface to add in drum lines and bass vibrations. While the rest of her EP was produced with the help of collaborators such as Paymai, Zeinah said the Spring Sing track is particularly close to her heart because it is the only one constructed with no outside interference. She said that with a limited crew on stage, the track is also logistically the easiest for her to perform.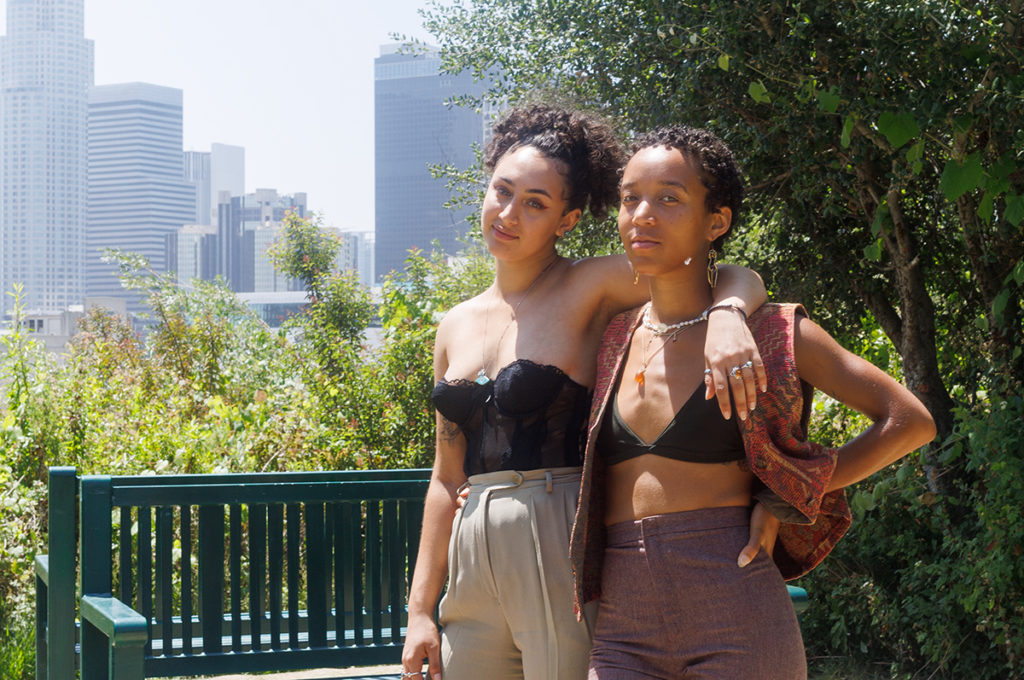 Although Zeinah usually performs as a solo act, fourth-year African American studies student Kailynn Wright said she will be joining the set as a backup vocalist. With a history of friendship and past performance collaborations strengthening their bond, Wright said she feels fortunate to have been familiar with the song since its conception and is privy to all the details of its backstory.
"When we sing together, it's just super comfortable and it feels like we're just in a room by ourselves doing it like we used to," Wright said. "I hope that that emits out of the performance to everyone else- that they feel comfortable and vulnerable too."
Influenced by her preferred genre of alternative R&B, Zeinah said she is heavily inspired by the vocal stylings of musician Summer Walker. She said she gravitates toward the grainy, authentic quality of the artist's earlier work that she finds akin to her own acoustic guitar compositions. Describing Zeinah's music as heart-churning and romantic, Wright said she intends to utilize her position as a backup vocalist to echo the intimate ambiance she hears in her songs.
"I'll describe the feeling like laying on the grass in a park, and this is a song that's playing, and you're eating ice cream, and maybe you just broke up with someone, but also maybe you just fell in love with someone," Wright said.
[Related: UCLA student reflects, heals through debut EP 'Looking Glass']
Beyond preparing for her Spring Sing performance, Zeinah said she is planning on prioritizing her music career after graduation. She said in order to become more self-sufficient, she is expanding her capabilities as an artist by learning the technical aspects of producing music. By digging into her personal experiences and emotions and broadening their scope in the form of songs, Zeinah said she hopes to continue to bring a sense of comfort and reassurance to her listeners.
"Vulnerability is a big deal for me and gauging the quality of my work in art and music," Zeinah said. "If I feel scared to show people this, then that's how I know that I feel I've made something good."