Spring Sing 2022: Student indie band Sophia Bacino & Friends explores personal growth in debut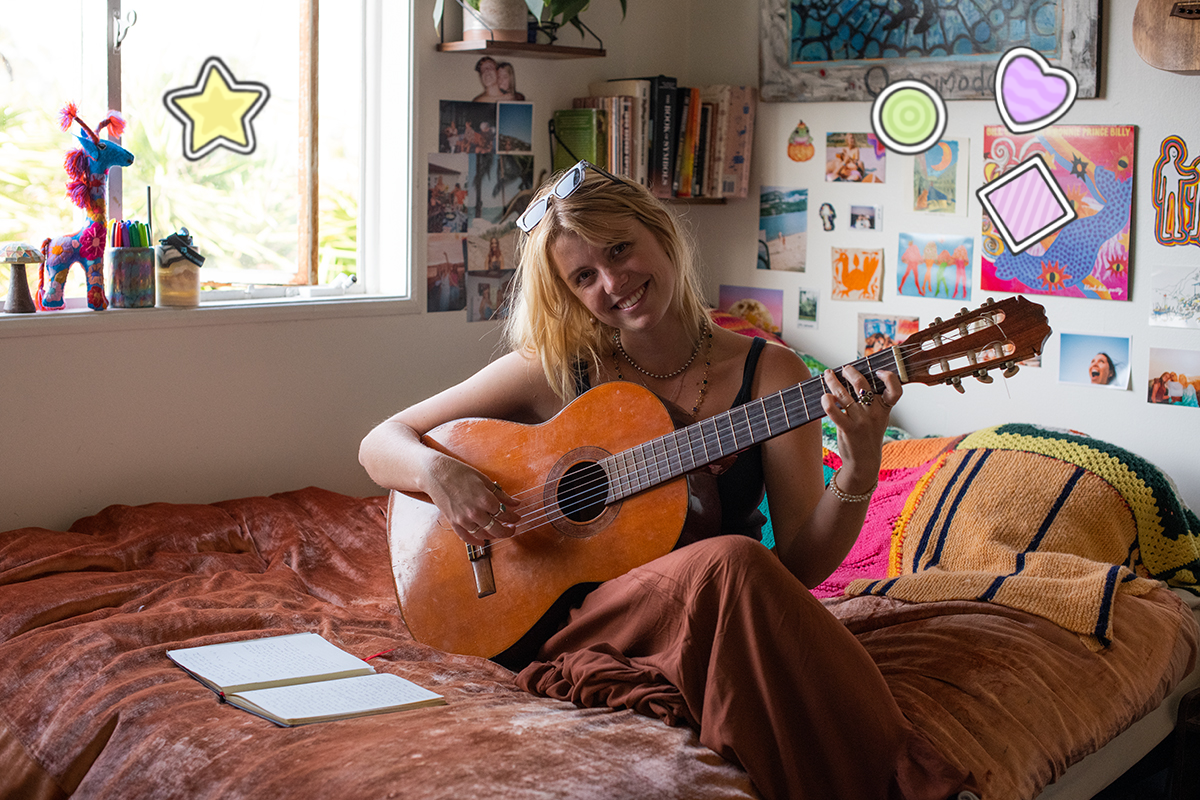 With guitar in hand, second-year ethnomusicology student Sophia Bacino sits on a bed surrounded by colorful photos and prints. Alongside her three bandmates, Bacino will offer a hopeful outlook on heartbreak at Spring Sing, performing her original song, "My Old Self Could Love You." (Photo by Sakshi Joglekar/Assistant Photo editor. Photo illustration by Ashley Shue-Lih Ko/Daily Bruin staff)
Correction: The original version of this article incorrectly stated Oliver van Moon is a fourth-year physics student. In fact, van Moon is an alumnus.
This post was updated May 19 at 11:30 a.m.
Sophia Bacino and her friends believe good music can heal heartache.
At Spring Sing, the newly formed indie band Sophia Bacino & Friends will perform Bacino's original song, "My Old Self Could Love You," the third-year ethnomusicology student said. Her bandmates include classmates at the Herb Alpert School of Music whose performance styles capture the song's core themes of growth and recovery, Bacino said. Though the group was formed specifically for Spring Sing, Bacino said this show is only the start for both the band and her independent musical career.
"The first time we played the song together, it was quite magical," Bacino said. "We have this awesome foundation together. … It's a very sweet little silent language that we all use on stage."
[Related: Indie band Small Crush reflects on national tour with HUNNY and Carpool Tunnel]
The inspiration for the piece came to her while she was studying abroad in Italy in the fall, Bacino said. Having recently come out of a relationship, Bacino said her time abroad felt like a transitory state of change and reflection. She said while she wrote multiple songs about her experiences, "My Old Self Could Love You" stands apart due to its more positive spin on a breakup. This piece, she said, grapples with what it means to outgrow a loved one while retaining self-pride and self-love in the face of heartache.
After deciding she wanted to perform at Spring Sing, Bacino said the process to form her group came together relatively easily. She said she was already close friends with guitarist Lola Rice, a fourth-year music history and industry and political science student, who then introduced her to drummer Artie Fitch, a third-year global jazz student. Reflecting on his time with the band, Fitch said all the group members immediately had strong musical chemistry.
"I think everybody in the band enjoys the way we all play together," Fitch said. "It's mostly just trying to cater towards the melody and play for the song."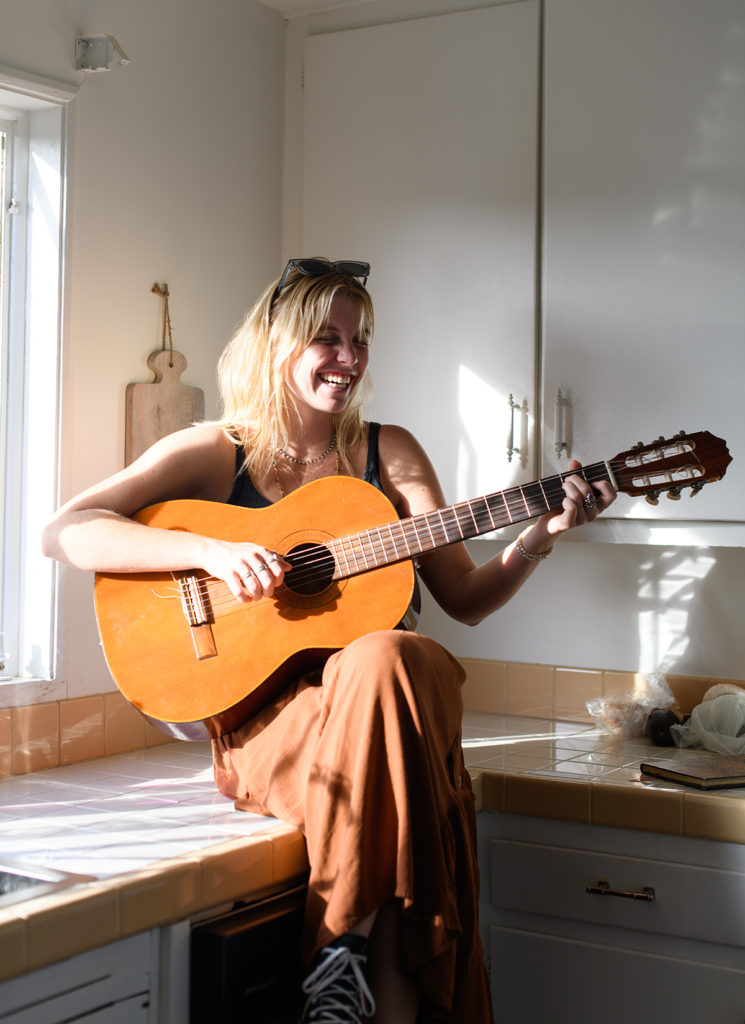 As they prepare for the show, Bacino said there is more to consider than simply band compatibility. Sonically, Bacino said "My Old Self Could Love You" does not fit neatly into one musical category and instead functions as a cross between indie pop, acoustic and some essence of old country. Bacino said she looks up to Norah Jones and Joni Mitchell as sources of creative and musical inspiration, but she ultimately has worked to create her own twangy, soulful sound.
Reflecting on her performance goals, Bacino said building connection and community is at the heart of her original piece. She said she wants the song to hold a homey spirit so that the audience feels like they have stumbled into the living room of Sophia Bacino & Friends. To achieve this atmosphere, Bacino said she plans to have warm lighting on stage and a cozy group wardrobe of cowboy boots and flowy skirts. Most of all, Bacino said she wants the emotional core of her piece to carry through and resonate deeply with the audience.
"I hope that everyone walks away being like, 'That felt really real,'" Bacino said. "It's a song so close to me and to my experience, but it's a song that I believe will touch a lot of people."
[Related: UCLA student translates college experience, theater education to music career]
Though Spring Sing is the first collaboration between Sophia Bacino & Friends, Bacino said it will not be the last. For instance, following frustrating experiences as women in the male-dominated music industry, Rice said she and Bacino are in the process of forming a woman-run studio called Playdate Studios that can serve as a safe space for fellow female artists. Rice said Playdate Studios aims to do just that and is now in the early stages of development.
"It's really, really hard to find studio spaces that are run by women," Rice said. "And then we were like, 'Why don't we just do that ourselves?'"
As she prepares to launch Playdate Studios and perform at Spring Sing, Bacino said she is also getting ready to drop her own music on Spotify. She said her musical releases will coincide with the Spring Sing performance as to better reach new fans. The bass player for Sophia Bacino & Friends, alumnus Oliver van Moon, will be featured on one of her tracks, Bacino said, and she hopes to collaborate with the rest of her Spring Sing bandmates in a similar capacity one day soon.
"We haven't been playing together long, but I assume this is the beginning of a really great band relationship together," Bacino said.