Spring Sing 2022: Silva celebrates joy of reuniting after pandemic in live performance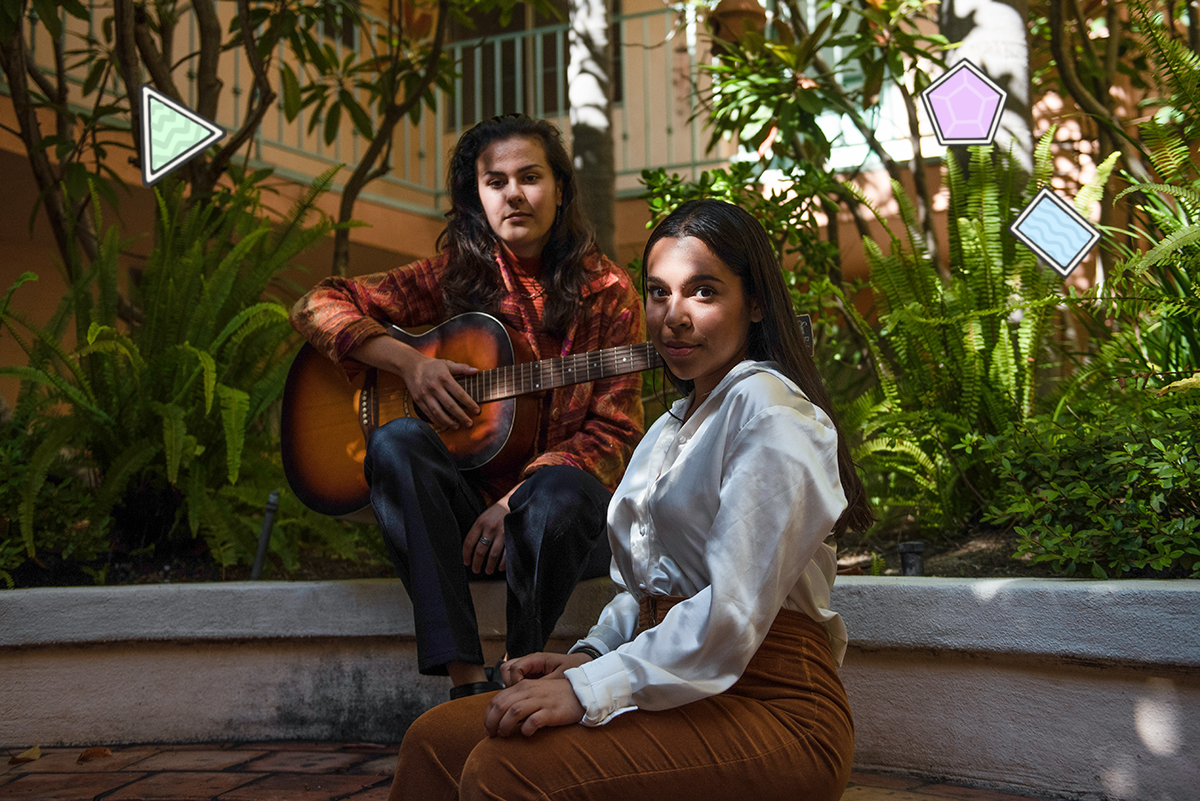 Fourth-year global jazz studies student Emily Silva (right) sits surrounded by greenery, and third-year global jazz studies student Anna Bettendorf (left) sits behind with guitar in hand. Both will perform as part of 10-member jazz ensemble Silva at this year's Spring Sing. (Jefferson Alade/Daily Bruin. Photo illustration by Ashley Shue-Lih Ko/Daily Bruin staff)
This post was updated May 19 at 12:55 a.m.
Silva is ready to sing and dance its way back to Spring Sing.
With 10 musicians and performers, the jazz band is led by fourth-year global jazz studies student Emily Silva, who is the group's namesake and vocalist. She said the group's performance for this year's show is inspired by the joy of being together and present after a period of time that has been challenging for many. Influenced by various artists such as Michael Jackson, Luther Vandross and Silk Sonic, Silva said the melody and message for the band's new original song "We Can Dance" came to her during a trip to New York City over the summer.
"Whenever I travel, I become really inspired by the people," Silva said. "It's beautiful to be somewhere and experience new things."
As soon as Silva came up with the melody, she said she recorded a voice memo and sent it to the band's keyboardist, third-year global jazz studies student Anna Bettendorf. Though Silva and Bettendorf have previously written songs together, Bettendorf said the development of "We Can Dance" was distinctly smooth because they were able to build the song off of one short melody as opposed to workshopping a chord progression or a longer tune. When they finished composing, they sent the track to fourth-year global jazz studies student and the band's drummer and producer Liam Wallace, who said he spent his winter break adding horn lines and an organ part to make the song.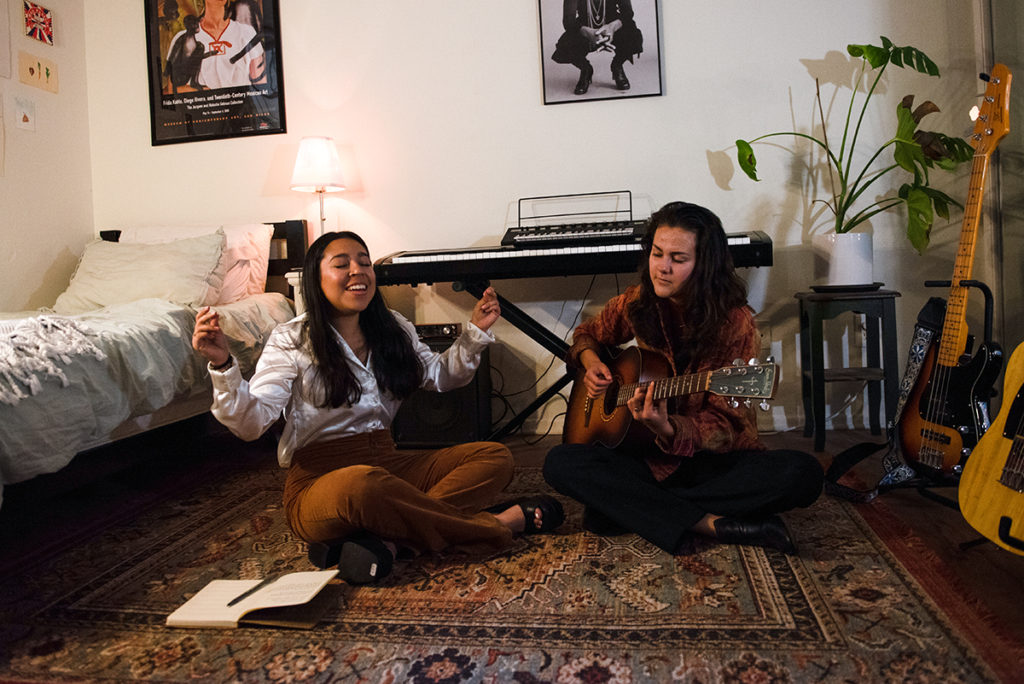 [Related: Student jazz band 'Silva' hopes to bring joy amid pandemic blues]
In its past two Spring Sing performances, the group's sound was strongly influenced by Latin jazz, Silva said, but this year's song leans toward funk-pop with R&B influences. Saxophonist and third-year global jazz studies student Alex Taylor said he enjoys playing in Silva because it gives him the refreshing opportunity to play in a more energetic group with diverse genres, compared to the more narrow ensembles typical of musical academia. Because many of the band's members are in the global jazz studies program at the Herb Alpert School of Music, Bettendorf said Silva's musicians are particularly versatile in their ability to play a variety of musical genres.
"We've been doing the Latin (genre) for the past two years and wanted to go a different direction this year," Wallace said. "Given the fact that we're all lovers of music, … we really enjoy seeing where it can take us and what it is calling us to do."
Although the group is a few members smaller than it was last year, with 10 performers compared to 15, Silva said this has not diminished the group's enjoyment for performance. Wallace said while the band is fun and energetic, they are successful because they take rehearsals seriously and are able to practice effectively, striking a productive balance between work and play, a theme that is also present in "We Can Dance."
[Related: Grammys 2022: UCLA faculty member strikes emotional chord in Grammy-nominated tribute album]
Performing at a fully live Spring Sing has been a long time coming for Silva's many members. Though this is the group's third time at the competition, Bettendorf said she has been yearning for a live show, since the previous two performances were prerecorded and premiered virtually. With the presence of a live audience, Wallace said he anticipates the crowd's energy will bolster and strengthen the band's performance on stage. In particular, Taylor said he is looking forward to being in a communal space with fellow artists where they can express their emotions through music.
For Silva herself, this final performance is a representation of her growth as a musician and individual. Spring Sing has helped Silva become more competent as a performer and aware of what she wants to say as an artist, she said, and the event has brought her community throughout the years. She said she hopes the audience will feel that same emotion of jubilation and be inspired to spread positivity to others when they see Silva take the stage.
"If we don't fill ourselves with the love and joy that we need in order to survive this world, how can we give it to anyone?" Silva said. "I just want people to feel fully alive."