Spring Sing 2022: Painted Ladies redefines folk music tropes with sultry lyrics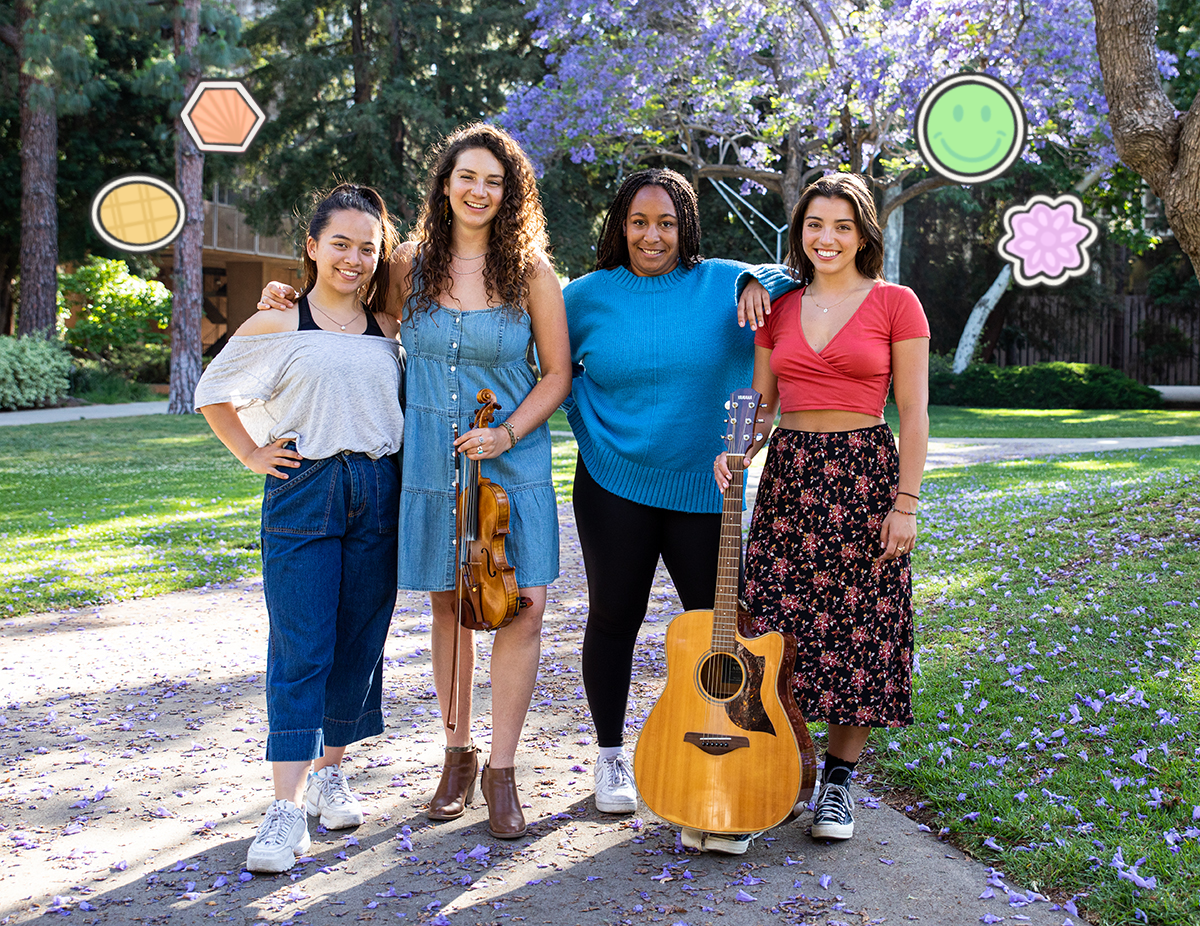 (From left to right) Fourth-year students Amy Lyn Williams, Addison Wingate, Jeilani Rhone-Collins and Sophie Shapiro stand side by side as Wingate holds her fiddle and Shapiro holds her guitar. The folk band will perform their original song "Birmingham Again" at Spring Sing. (Photo by Ashley Kenney/Photo editor. Photo illustration by Ashley Shue-Lih Ko/Daily Bruin staff)
This post was updated May 19 at 12:52 p.m.
Appalachian tunes are making their way to Westwood.
Performing their song "Birmingham Again" in this year's Spring Sing, the girl group Painted Ladies is blending Appalachian folk music with sultry lyrics. Written by fourth-year public affairs and Spanish language and culture student Addison Wingate, the song challenges the two-dimensional portrayals of women in folk music through the story of a young heartbreaker. In the folk music genre, Wingate said women are either written as delicate and fragile or cruel manstealers, and "Birmingham Again" instead paints the main character as multidimensional.
"(The song gives) backstory to this character that is really so much more than the two tropes that are seen in traditional folk music," Wingate said.
In her song, Wingate created a narrative about a complex young woman with a dark past who defies these contrasting ideals of weak or cold femininity. "Birmingham Again" begins with the main character apologizing for being a heartbreaker, Wingate said, then dives into an explanation of what led her to be coldhearted. The song then tells the story of the woman's past, she said. With its suggestive lyrics, Wingate said she wanted "Birmingham Again" to elicit a sultry, sticky feeling.
Wingate's musical background has origins older than Spring Sing, as she has been writing songs for as long as she could remember, she said. However, she started taking songwriting seriously and sharing her songs as a college student. Wingate usually writes songs for herself to perform while playing guitar, including "Birmingham Again," but she said the song developed into a full-fledged four-part composition when her friends became involved. After playing the song for her friend, fourth-year theater student Sophie Shapiro, over winter break, Wingate said Shapiro brought up the idea of starting a band so they could perform Wingate's song together at Spring Sing.
[Related: UCLA music students gain traction virtually through TikTok musical covers]
For Shapiro, starting a band had always been a personal goal, and the name Painted Ladies had long been on her list of band name ideas. During Shapiro's freshman year, she said a migration of painted lady butterflies swept through UCLA – the same species of butterfly that Wingate has tattooed on her ribcage. Because of this coincidence, the eponymous butterflies served as inspiration for the name, she said.
"It was little things here and there," Shapiro said. "It (Painted Ladies) carried some meaning, even though it was randomly chosen."
To assemble Painted Ladies, Shapiro said she recruited her other friends: fourth-year theater students Jeilani Rhone-Collins and Amy Lyn Williams. After the duo realized they enjoyed singing "Birmingham Again" together, Shapiro said Rhone-Collins and Williams joined the band as friends who also liked performing and could musically complement the pair. Shapiro, who has a guitar part in the song, comprises the three-part harmony with Rhone-Collins and Williams while Wingate plays the fiddle, Shapiro said.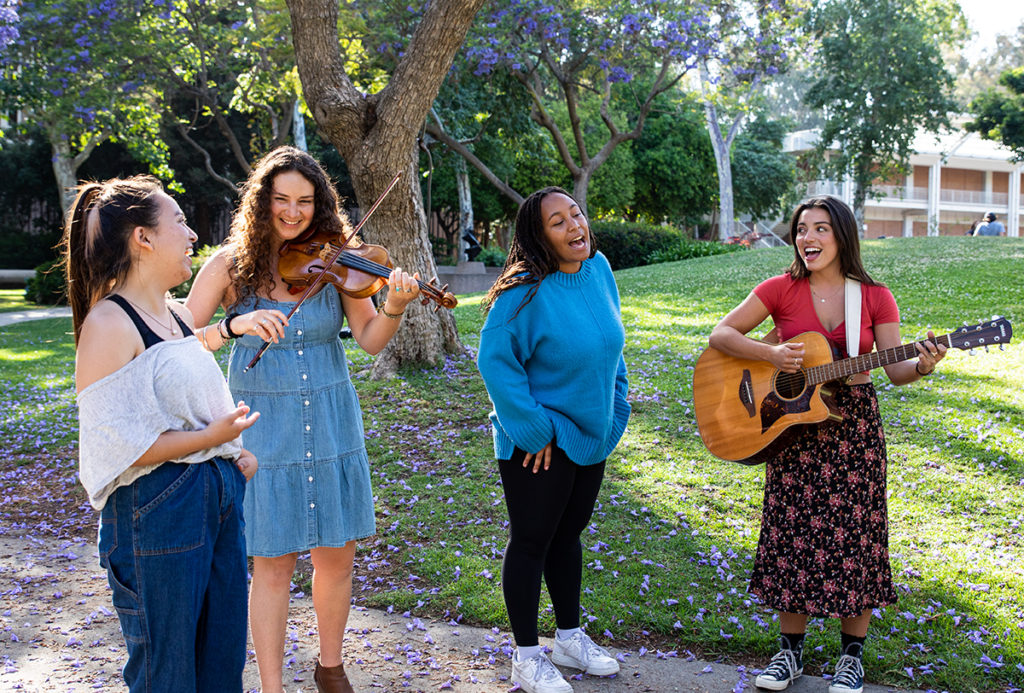 To prepare for their performance, Wingate said the band members put together a shared Spotify playlist with musicians they were inspired by, such as The Highwomen and Pistol Annies. Shapiro contributed to choreographing their stage performance, Wingate said, and they drew inspiration from Stevie Nicks for their outfits. Through their costumes and stage presence, Wingate said they aim to channel an eclectic mix of rock, folk and country influences.
While the band draws inspiration from folk-rock for their sound, Shapiro said they add in elements of Appalachian instrumentals from the fiddle. In "Birmingham Again," she said they wanted to create a contrast of soft folk melodies with hard-hitting lyrics. In some parts, the lyrics are flirty, she said, but others expose a darker reality for the song's main character, such as how her father abandoned her family.
"It (the song) feels more like a role or persona that I'm taking on than something that I relate to directly," Shapiro said. "But I have a lot of fun with that."
[Related: Grammys 2022: Grammy-nominated alumnus creates Brazilian-inspired album with focus on motherhood]
As part of Painted Ladies, Rhone-Collins said she enjoyed working with the rest of the band to create the song from the ground up. She said her major and musical theater experience often require her to simply learn a part from sheet music. But with the band, she contributes to the harmonies and helped with the song's composition to ensure everyone's parts flow together, she said.
By telling the story of a female heartbreaker as an all-female folk-rock band, Rhone-Collins said Painted Ladies are pushing the boundaries of what folk can be. It is uncommon to see girl groups in the genre, she said, but she hopes the audience recognizes their effort in producing the song and performing it. On a smaller scale, performing in Spring Sing as part of the Painted Ladies has allowed Wingate's love for music to resurface, she said, reminding her there is more to life than school and work.
"I am in awe that something that I thought of as a pipe dream freshman year … totally came to fruition this year," Wingate said.