Spring Sing 2022: Naya Zamaana to perform original mashup with Western, South Asian elements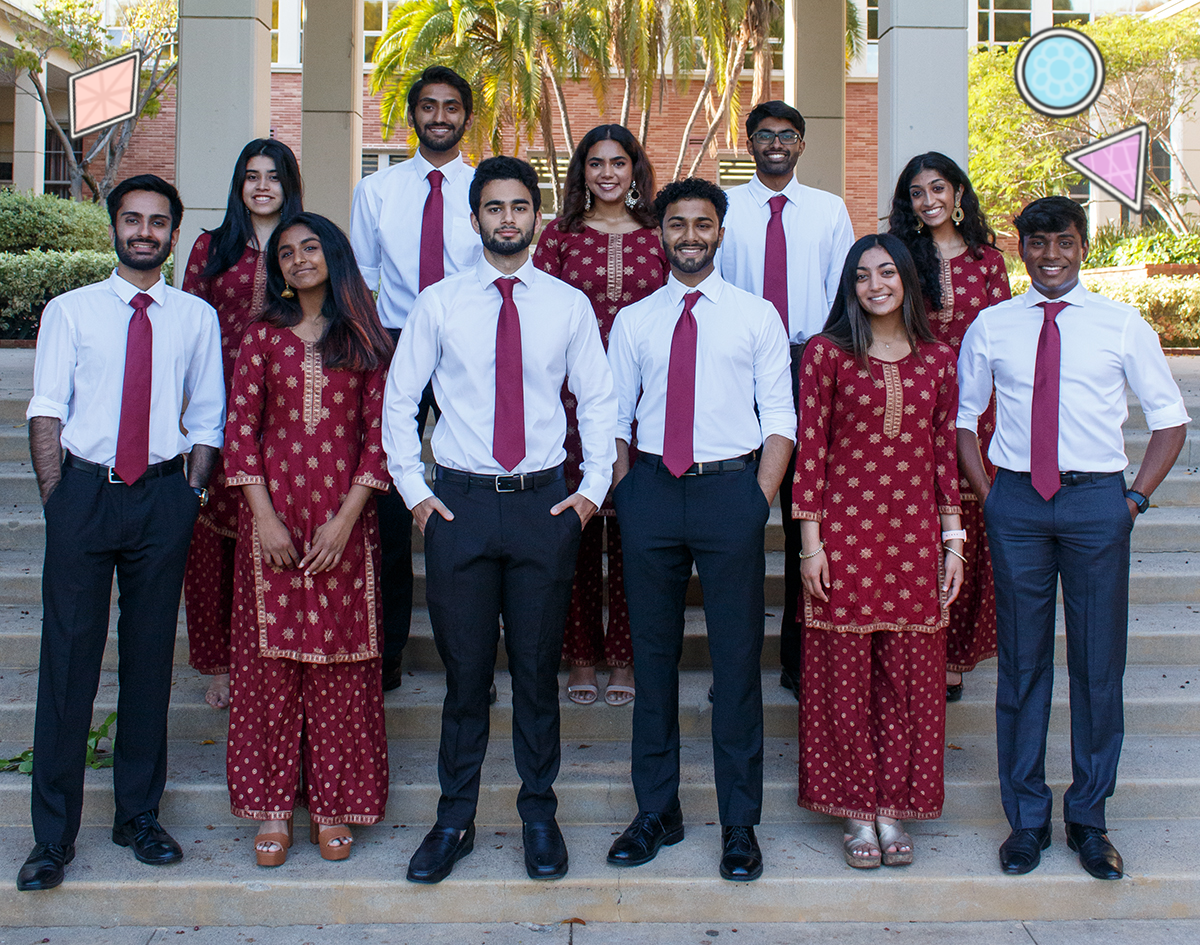 Members of South Asian a cappella group Naya Zamaana stand side by side in two rows. For its Spring Sing performance, Naya Zamaana will combine Western and South Asian musical elements in its blend of Beyoncé's "Be Alive" and Pritam's "Bulleya." (Megan Cai/Daily Bruin. Photo illustration by Ashley Shue-Lih Ko/Daily Bruin staff)
This post was updated May 19 at 12:50 a.m.
Naya Zamaana is singing in cultural harmony.
UCLA's South Asian a cappella team is blending Western and South Asian music at this year's Spring Sing. The group will perform a mashup of Beyoncé's "Be Alive" and Pritam's "Bulleya," from the Bollywood film "Ae Dil Hai Mushkil." Team choreographer and third-year computer science student Shrea Chari said the group hopes to offer meaningful South Asian representation with its performance while drawing from the themes of family and unity found in Beyoncé's song.
"What's special to us about this year's performance is that we really tied in our identities as South Asian students," Chari said. "'Be Alive' was created to uplift a minority group and let them lean into their power."
Rooted in UCLA's cultural diversity, Naya Zamaana, which translates to "the new era," was created in 2006 by students as a way to highlight the talent of the South Asian community, Chari said. Third-year business economics student and music director Vijay Tadepalli said the group regularly arranges mashups of Western and South Asian songs for performances in the Association of South-Asian A Cappella competition circuit, as well as in small concerts for the UCLA community. In preparing for its performance at Spring Sing, Tadepalli said the team emphasized inventive musical arrangement.
[Related: UCLA South Asian a cappella group Naya Zamaana hosts interstate competition]
In addition to the two fused songs, Tadepalli said the piece will contain original interludes in classical Hindustani and Carnatic styles. While Tadepalli said "Be Alive" and "Bulleya" represent contemporary pop music with broader appeal, he added that the traditional vocal interludes help the team members express a different aspect of their South Asian heritage.
The fusion of musical styles requires innovation from the team's music directors, Tadepalli said. While Bollywood pop songs blend more smoothly with Western chords, Tadepalli said the inclusion of classical Hindustani and Carnatic interludes in the upcoming performance required a resourceful restructuring of Indian music scales. By creating "chords" out of sargam, the classical Indian scale of vocalized octave notes, the arrangement more easily flows between the different styles, Tadepalli said.
"Western songs are a lot more driven by chords, … and Carnatic songs are driven a lot more by the vocals," Tadepalli said. "It's a Western-sounding background, but they're (the a cappella team is) singing Indian words and Indian sargam."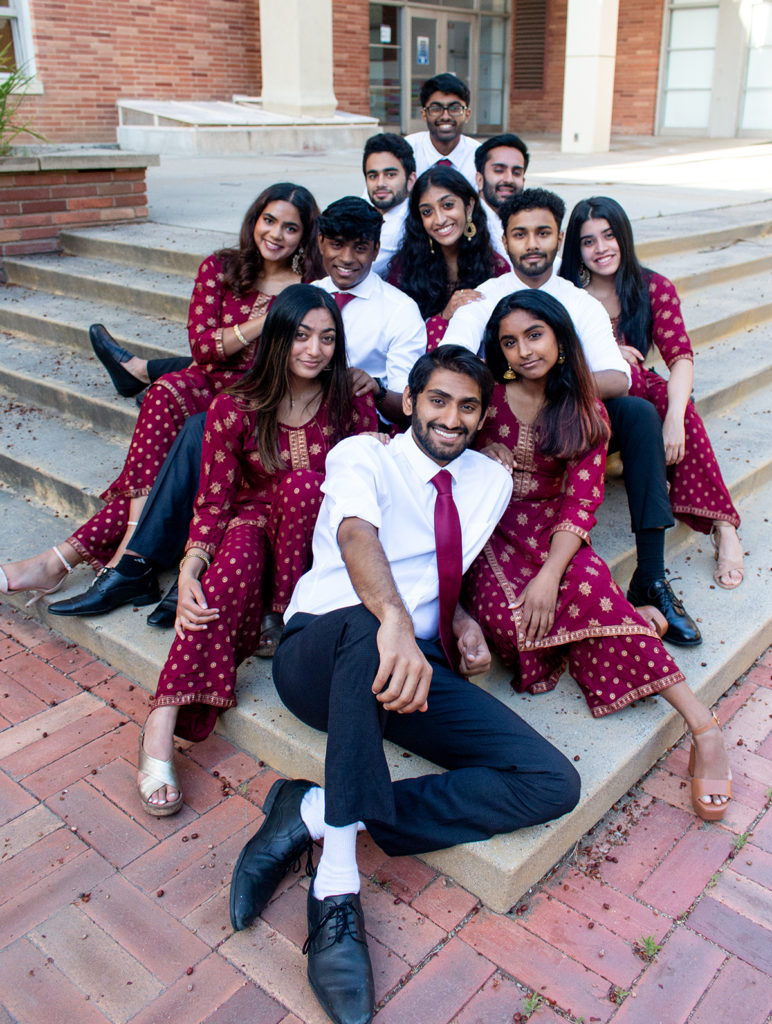 The notion of cultural harmony extends to the group's choreography, Chari said. The performance will feature movements standard of traditional a cappella, which emphasize strong moments of music and signify the team's sense of unity. Chari said these movements will blend with choreography that showcases elements of Indian dance in line with the more complex rhythmic sections of the classical music interludes.
In terms of the team's forthcoming performance, fourth-year computer science student and bass vocalist Vivek Fernandez said he was excited by the broad platform of Spring Sing. Since many of the group's performances along the ASA A Cappella competition circuit are for South Asian audiences , Fernandez said he wants to showcase an inventive musical aspect of South Asian culture to the entire UCLA community. Chari added that the team's mashup arrangements reflect its desire to bridge cultural identities.
"We have this identity as an American, and we also have this identity as South Asian," Chari said. "(Mashups) represent that blend in our ability to do both things at the same time."
Along with embracing their South Asian identities, the team and their aesthetic choices are also driven by providing meaningful representation, Chari said. She added that the costumes for this year's performance will feature traditional Indian jewelry, blouses, sharara suits, chunnis and tikas. Clothing choices are another way of spotlighting South Asian culture on the Spring Sing stage, Chari said.
[Related: Indian Student Union to bring Garba night to Wilson Plaza for fall celebrations]
Beyond the elevation of underrepresented voices in the UCLA community, Fernandez said Naya Zamaana has been working to increase representation of diverse voices within the South Asian community itself. Fernandez said while in previous years the team has generally tapped into the mainstream of Bollywood pop, it has made a greater effort to explore South Indian and classical Indian genres. Chari said the performance of Tamil songs, as well as the pure Carnatic arrangements featured in this year's performance, is meaningful for representing the South Indian members of the team.
While Naya Zamaana's music resonates with South Asian listeners, its niche repertoire makes it difficult for the team to gain as much recognition as mainstream a cappella teams, Tadepalli said. Therefore, he said he hopes this year's performance at Spring Sing will help address that imbalance through increased exposure. In representing a minority community on campus, the team considers any chance to celebrate South Asian culture as a win, Chari said.
"We just want to provide people as much representation as possible … since this is on the whole UCLA stage," Chari said. "We don't often get this opportunity."