Spring Sing 2022: Dance team ACA All Day to feature versatile styles with layered routine
Members of ACA All Day practice their routine with arms outstretched in front of Kaufman Hall. The competitive dance team will combine various styles when they take to the Spring Sing stage. (Photo by Sandra Ocampo/Daily Bruin.)
This post was updated May 19 at 12:41 p.m.
ACA All Day is showcasing its versatility through more than just its moves.
Founded in 1993, the competitive dance team is back to perform on the Spring Sing stage Friday. Its set consists of five different forms of dance, introducing styles such as whacking and house to its repertoire while keeping with traditional isolation movements. Having been on the team for three years, fourth-year molecular, cell and developmental biology student Brandon Tran said ACA All Day was excited to perform for Spring Sing two years ago but was not able to do so because of the COVID-19 pandemic.
"Spring Sing is one of the only competitions that we have for the UCLA community because most of our dance competitions and events are outside of UCLA," Tran said. "We really want to push our best artistry out for the UCLA community."
In April, Tran said the group competed in the annual All-Cal Hip Hop Dance Competition and will be presenting the same set for Spring Sing. Because of the tight turnaround for both events, fourth-year psychobiology student Yunah Lim said the team did not have enough time to create an entirely new routine. However, for the audience Spring Sing will bring in, she said the piece is still fitting to perform given its high amounts of energy.
With five distinct styles, the set starts with femme, Vogue-like whacking and transitions to classic hip-hop, said first-year neuroscience student Emily Nguyen. From there, the dancers move on to isolation of their body parts and then to a clubbing dance style known as house. They end with a predominantly male-performed sensual number until the entire team returns to the stage for the final pose. Nguyen said the choreographers tried to incorporate the foundations of each dance form as best they could while adapting it to their own flair.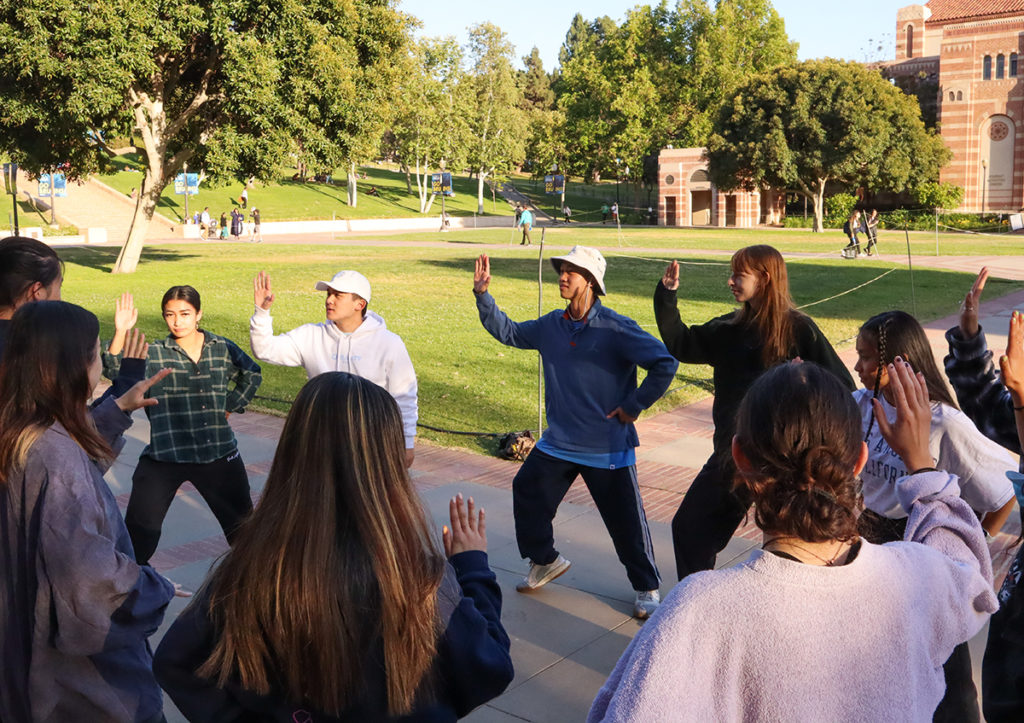 [Related: Hip-Hop in Motion]
As a hard-hitting style, whacking is very expressive and dramatic, which Nguyen said she and the other members have to play to with fierce and powerful facials and sharp lines – all set to the song most resembling pop in their competition mix, Azealia Banks' "212." In contrast, Lim said the hip-hop combination has a more laid-back feel as they dance to the rap part of the track. Nguyen said the suggestive finale reflects the 2000s R&B genre with its upbeat layering.
Nguyen said house features heavy footwork and requires a great deal of movement across the stage, making for a more visual scene. Because the lucid, soulful style originated in clubs as a social dance, she said the dancers heavily interact with the crowd during this segment. This dance form is one of the reasons why their Spring Sing performance is different from their other sets, Lim said, since their formations were structured so they project to the sides of the stage as is consistent with dancing to a clubbing audience.
"That's something that, as a dancer, I've never experienced before regarding formations," Lim said. "Turning everyone to look outward at different angles was really unique and really fun. It definitely created a different vibe while we were performing, too."
[Related: UCLA student ties dance to academic journey for Fowler Out Loud performance]
Nguyen said isolation is unlike the others in the set because there is a breath in the movement every few counts where the dancers show a release of tension after they hit a move. Since it is meant to appear effortless, the group wants to look calm by not moving their faces while still isolating the rest of their bodies, she said. Out of all their choreography, she said they continue to perform isolations as an homage to the classic ACA All Day style characterized by past teams in the mid-2010s.
Paired with black pants, shoes and long sleeves worn underneath, their maroon-colored jerseys featuring each member's name and the year the group was founded also pay tribute to the ACA All Day legacy. She said the team also signals the ACA All Day hand sign multiple times throughout the performance to establish themselves as a group. While these visual details help unify the team among the other Spring Sing contestants, Lim said reflecting the individuality of each dancer in the various performance styles speaks to ACA All Day's collective identity.
"By incorporating so many different styles, in general, it really gives us the opportunity to highlight each member's individual strength," Lim said. "That's really great because everyone does bring such unique and different styles and strengths to the table."