UC community speaks on implications of AAPI label for Pacific Islander communities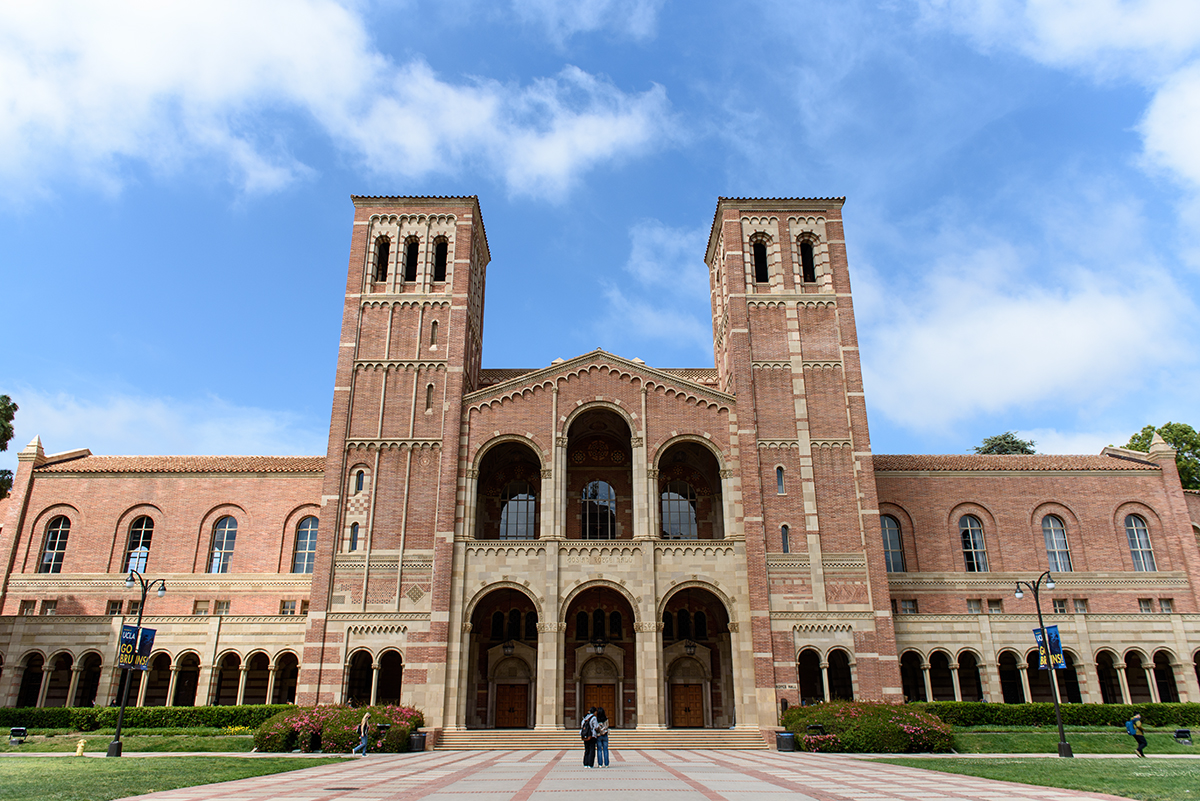 Royce Hall, one of the central buildings of UCLA's campus, is pictured. Students and faculty brought up their frustrations with the lack of emphasis on Pacific Islander communities' separate education needs. (Sakshi Joglekar/Assistant Photo editor)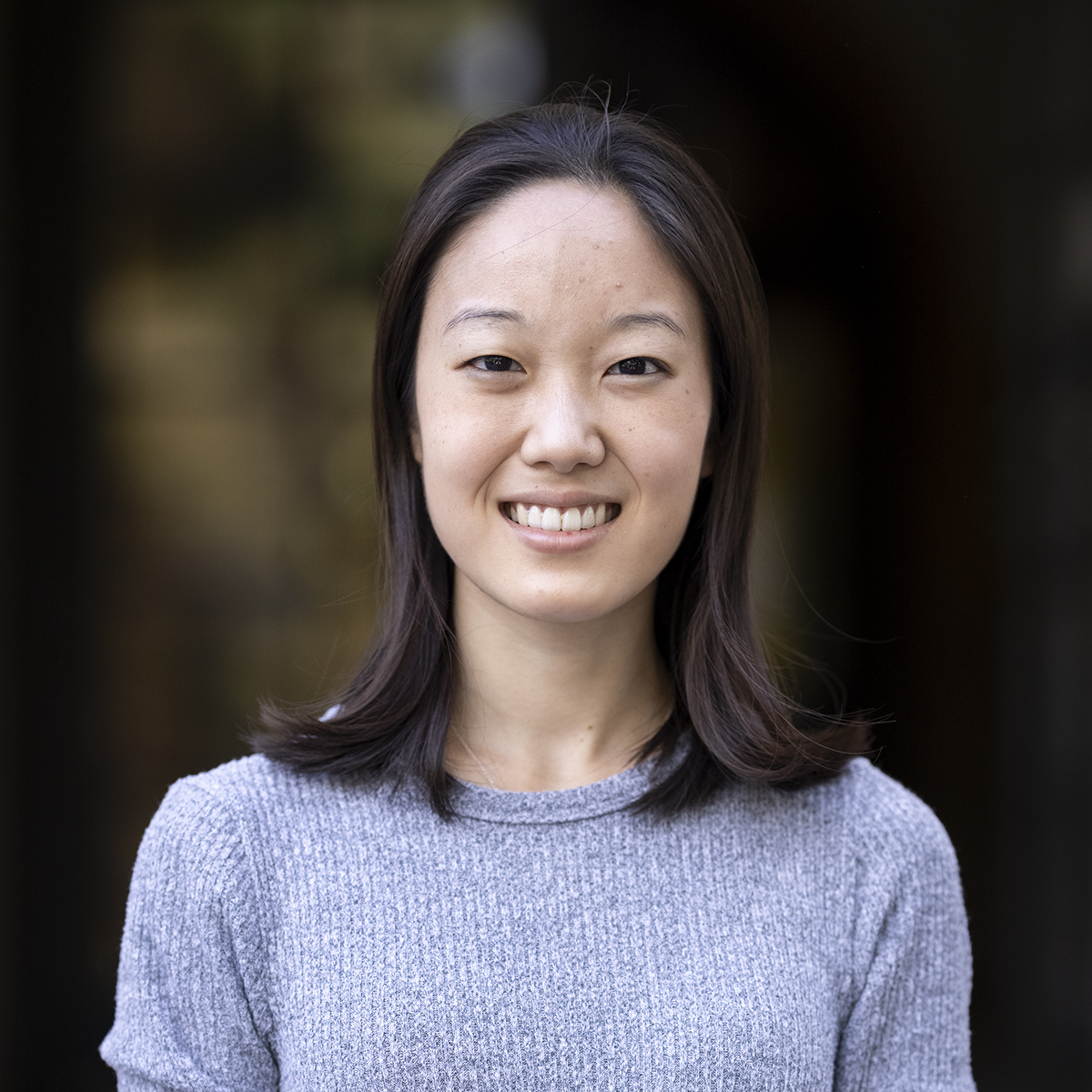 Correction: The original version of this article misquoted Tavae Samuelu as saying the AAPI label currently encompasses more than 15 ethnic groups. In fact, it encompasses more than 50.
This post was updated May 17 at 8:23 p.m.
The broadness of the Asian American and Pacific Islander label conceals the unique struggles and needs of students navigating higher education – including those in the University of California system – students and faculty said.
According to a recent report from the Center for American Progress, a nonpartisan policy research organization, the term AAPI tends to portray Asian American and Pacific Islander communities as a monolith, resulting in inadequate educational policies that fail to recognize the distinct challenges each group faces.
The AAPI label has grown from encompassing around 1.6 million people at the time of its development to more than 23 million people, 50 ethnic groups and 200 different languages, said Tavae Samuelu, the executive director of Empowering Pacific Islander Communities, a Los Angeles-based organization focused on supporting and advocating for Native Hawaiians and Pacific Islanders.
AAPI individuals have previously used the label to collectively organize and advocate for one another, said Demeturie Toso-Lafaele Gogue, a doctoral student in higher education and organizational change. However, campus organizations and other groups using the AAPI label tend to overlook the needs and interests of Pacific Islander communities, he said.
Gogue added that aggregated data on AAPI college attendance rates can lead people to believe Pacific Islander individuals are overrepresented at the UC. Because of these false assumptions, universities fail to provide adequate support to these students, Gogue said. As a result, Pacific Islander students may lack a sense of belonging on campus, he added.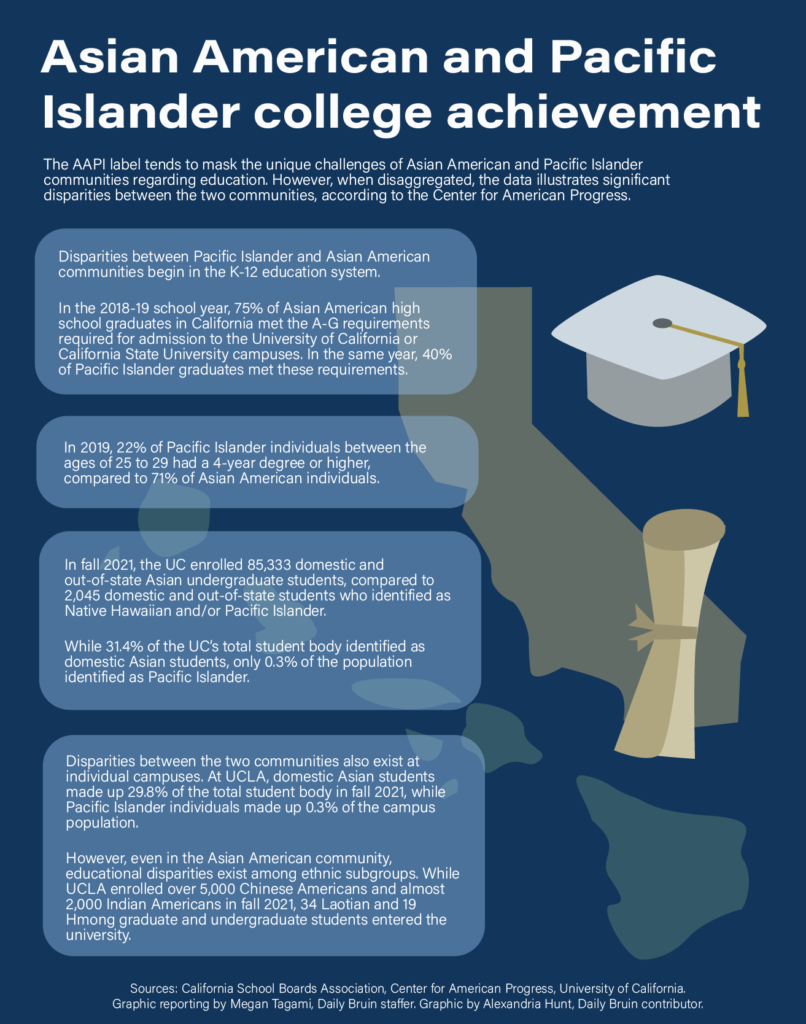 According to the UC website, the University enrolled a total of 98,645 domestic Asian students in fall 2021. However, only 2,387 Native Hawaiian and Pacific Islander domestic students were enrolled across the 10 campuses the same year.
Riley Taitingfong, a postdoctoral student at UC San Diego's school of public health, said people tend to see islands in the Pacific as distant places, resulting in little awareness about the Pacific Islander community. Taitingfong added that her coursework has rarely included the work of Pacific Islander scholars and she had not met a Chamoru professor until graduate school.
"I've just experienced that people don't know who we are as Pacific Islanders and who we are as Chamorus," Taitingfong said. "There's this real popular kind of rhetorical and material treatment of islands in the Pacific as very far away and very tiny and insignificant."
The AAPI label can also pose challenges for creating targeted policies. In particular, data aggregation can present itself as a problem in higher education because it tends to water down the needs and difficulties of specific communities, said Mitchell Chang, a professor of education. Chang added that some universities tend to include Asian American, Pacific Islander and international Asian students under the racial category of Asian, even though these groups may have significantly different financial means.
Since the 2007 Count Me In campaign, during which undergraduate students pushed for greater data disaggregation at the UC, the University has collected its data by ethnic subgroup for Asian American and Pacific Islander students. However, Robert Teranishi, a professor of education, said campus administrators are not always aware of the disaggregated data and do not know how the data can be used to inform policies.
"Aggregated data (is) kind of a barrier to policy and program development with regards to the AAPI community," said Teranishi, who is also the Morgan and Helen Chu Endowed Chair in Asian American Studies. "If you don't know where there's needs, then it's hard to address from the standpoint of a college."
Gogue said disaggregated data reflects that Pacific Islanders make up only a small proportion of UC campuses and that students from other Asian American subgroups, such as those who are Cambodian or Laotian, are also in need of greater support and representation.
Jessica Yin, a policy analyst for the Center for American Progress and a co-author of the report, said Asian Americans and Pacific Islanders face distinct stereotypes in higher education that can affect students' ability to succeed. For example, because of the model minority myth – which portrays Asian Americans as a monolithic group comprised of high-achieving, successful learners – teachers may assume their Asian American students require less support in accessing higher education and may not conduct extensive outreach to immigrant students to help them navigate the college application process, Yin said.
At the same time, Pacific Islander parents who are unfamiliar with the United States' school system may be unsure of how to become involved in their children's education, Yin said. However, teachers may assume their Pacific Islander students' families do not care about higher education and steer these students away from four-year college programs and toward two-year degrees, Yin added.
Stereotypes reducing Pacific Islanders to good athletes or bound for the military put greater pressure on current Pacific Islander college students to challenge wrongful assumptions and pave the way for younger generations, said Karlinna Sanchez, a fourth-year public affairs student who grew up in Samoa.
"Those stereotypes really stigmatize our community and perpetuate this thing of, 'Oh, we're just not going to go because we get kind of lost in the sauce because there's no community,'" Sanchez said. "Whereas if we were to be separated from that (AAPI) label, then the administrators would have to take up a hard long look at the fact that they're not admitting any PI folks into schools."
Organizations such as UCLA's Pacific Islands' Student Association and Pacific Islander Education and Retention program work with high school students to try to increase UCLA's Pacific Islander student population, Sanchez said. However, because relatively few Pacific Islander students attend UCLA, organization members face pressure in trying to grow the community, Sanchez added.
"They're doing all the work to stay in school and be students, but then they're also worried about the future generation," Sanchez said. "That should be the administration's job."
In order to provide Pacific Islander students valuable opportunities to learn more about themselves in higher education settings, universities should hire more Pacific Islander professors while also developing new Pacific studies programs, Gogue said.
Taitingfong said she would like to see more courses incorporating the history of Pacific Islander individuals and the work of Pacific Islander scholars into their curricula. She said she would also like to have more classes teaching Pacific languages so students like herself can have the opportunity to learn their indigenous language.
In order to recognize and address the importance of Pacific Islander representation in higher education, communities must consider the implications of the AAPI label, Taitingfong said.
"I see important opportunities for solidarity and coalition-building with a term like AAPI," she said. "And at the same time, … because it's just lumping such massive, heterogeneous regions of the world with diverse peoples and cultures, that's going to have consequences, no matter how you slice it."
Tagami is a features and national news and higher education staff reporter, as well as a staff writer for PRIME. She is a third-year student at UCLA majoring in political science and public affairs and minoring in education studies.
Tagami is a features and national news and higher education staff reporter, as well as a staff writer for PRIME. She is a third-year student at UCLA majoring in political science and public affairs and minoring in education studies.