Federal budget proposal would increase Pell Grant maximum, cut federal deficit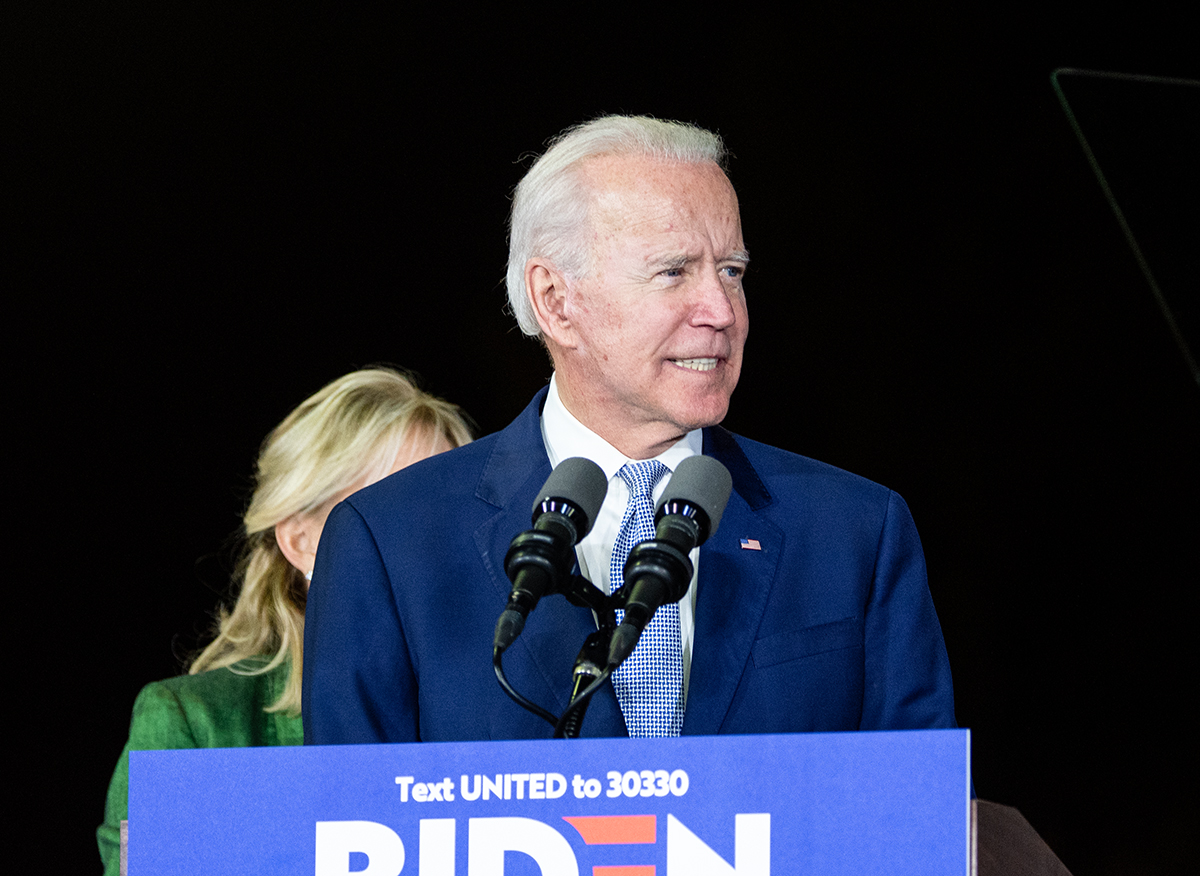 Joe Biden speaks during the 2020 presidential election. Biden proposed increases to the Pell Grant in the most recent federal budget proposal. (Alex Driscoll/Daily Bruin staff)
President Joe Biden's budget proposal for the 2023 fiscal year will expand access to higher education with an increase in the Pell Grant, UCLA professors said.
The proposed budget, introduced on March 28, will include more spending for higher education – including an increase in the maximum Pell Grant – and a plan to decrease the federal deficit by $1 trillion, according to a White House press release from Biden.
The Pell Grant is a form of financial aid that is awarded by the United States Department of Education to help low-income students with tuition fees, housing, textbooks and other higher education expenses, according to U.S. News.
In a statement in response to Biden's federal budget proposal, Secretary of Education Miguel Cardona said the budget expresses the Biden administration's belief in the importance of the education, success and well-being of the nation's students.
Biden promised an increase in the Pell Grant during his State of the Union address, and the budget proposes a $2,175 increase in the Pell Grant maximum for the 2023-2024 award year, which would bring the maximum to $8,670. The Biden administration also plans to double the size of the Pell Grant by 2029, according to the budget proposal.
Emily Penner, an assistant professor of education at UC Irvine, said many students in California and other states are currently working multiple jobs to afford an education while supporting family members at the same time. This places high expectations on students to manage the financial pressure and academic rigor of their education, she said.
Penner said the increased Pell Grant will have exponential effects and will help not only low-income students, but also their siblings, cousins and other individuals in their networks by giving them opportunities that open doors for their futures.
"Those are exactly the kinds of students that we want at our campuses and to come in our doors and to have the chance to get the most out of their college experience so they can launch successfully," Penner said.
Ozan Jaquette, an assistant professor of education, said there should be a larger increase in the Pell Grant maximum to match the rising tuition rates in the country.
"When you increase grant funding, … that's also a mechanism to ensure that universities have the money to provide the education," Jaquette said.
Jaquette said grant aid is more beneficial than tuition-free college, as it benefits both the university and its students. Tuition-free college could lead to a lower quality of education and lower enrollment, as universities would no longer be profiting off of tuition, he added.
Biden's budget does not mention student loan forgiveness or the free community college plan from his Build Back Better bill, according to CNBC.
Jaquette said Biden most likely did not mention a free college program in his proposal because it would make the proposal difficult to pass in Congress. He also said that free college may alienate conservative voters, which could be a consideration for reelection.
"(Increasing) the amount of scholarship aid we give to low- and middle-income families has appeal to everyone, and it's not something that … gives ammunition to Republican talking points as much as free college," Jaquette said.
Student loan forgiveness is also a point of contention among political parties and within the White House itself, Jaquette said. There is mixed support for debt forgiveness because many believe this will increase inflation in the economy – however, there is widespread support for increasing the Pell Grant, he said.
Edward Leamer, a professor emeritus at the UCLA Anderson School of Management, said that if Biden forgives student debt, then taxpayers will have to pay for the debt. The solution does not start with forgiving debt, but instead starts with reimagining tuition fees, he said.
The budget proposal will shrink the federal deficit by more than $1 trillion over the next year. Biden plans to do this by imposing more taxes on the wealthy and corporations, according to a statement made by Biden on the budget.
Leamer said trying to shrink the deficit is a step in the right direction, but added that the deficit will only widen with time because of government funds being directed toward social services programs like Medicare and Social Security. These programs are not included in the current federal deficit accounting, and they amount to around $100 trillion, Leamer said.
Penner said that, overall, it seems as if the Biden administration focused on a few things in terms of funding for education to improve the chances of Congress approving the budget proposal.
"A variety of things was not working out well for getting it approved last time around, so maybe this time a few more targeted things with a slightly broader appeal was politically more feasible," Penner said.