Q&A: Lead actors of 'Along For The Ride' discuss character development and chemistry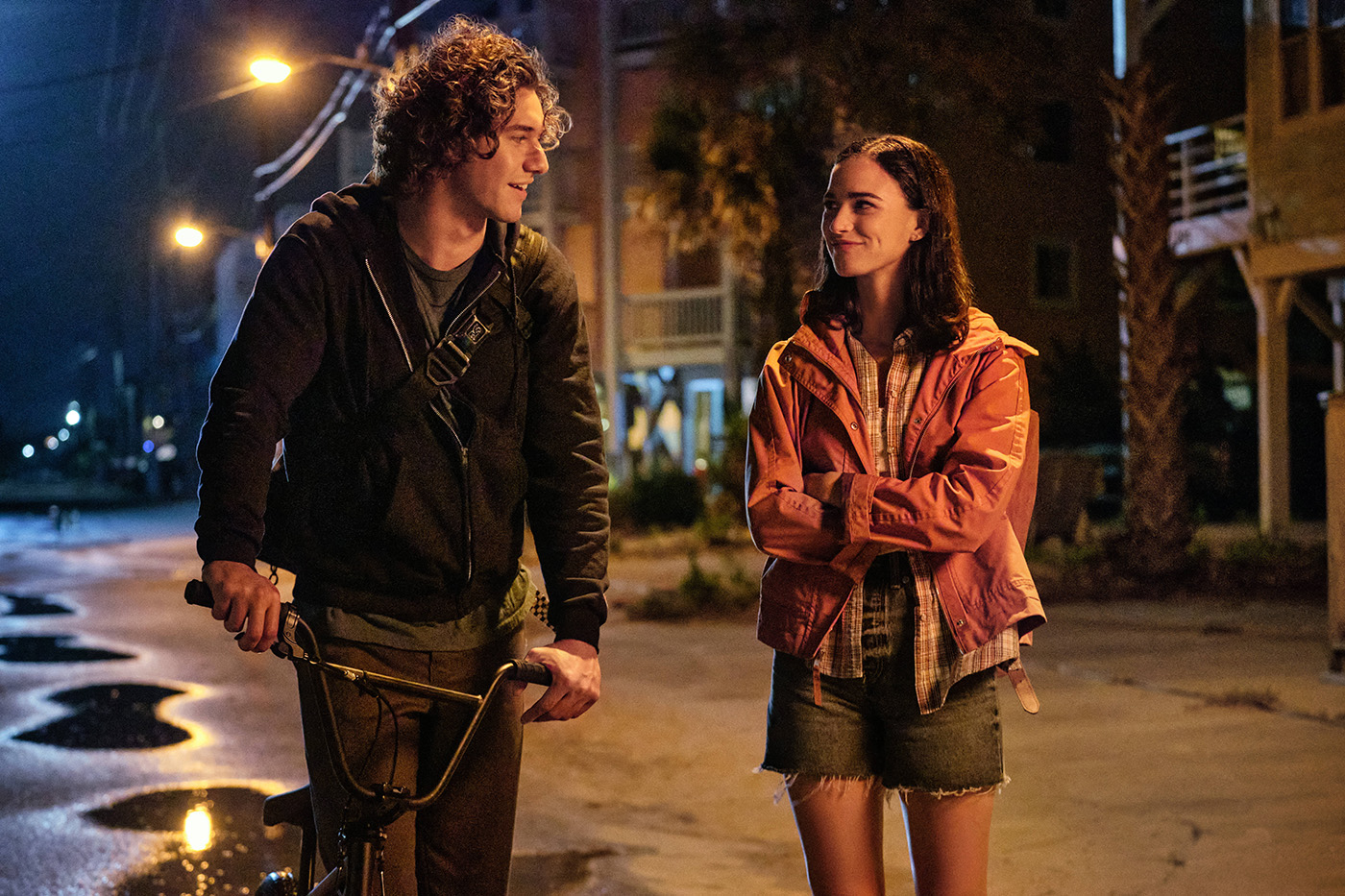 Belmont Cameli (left) and Emma Pasarow (right) play Eli and Auden in Netflix's "Along For The Ride. (Emily V. Aragones/Netflix)
"Along For The Ride"
Directed by Sofia Alvarez
Netflix
May 6
Sarah Dessen is teaching Netflix viewers to carpe diem.
Releasing Friday, Dessen's novel-turned-film "Along For The Ride" follows recent high school graduate Auden (Emma Pasarow), who visits her father in the small beach town of Colby where she meets Eli (Belmont Cameli), a bike store owner who shares her struggle to cope with the past. However, their personal struggles begin to fade as they show each other how to enjoy the simplicities in life. In a virtual roundtable hosted by Netflix, Pasarow and Cameli spoke with the Daily Bruin's Allyson Weissman and other college journalists to discuss how they portrayed their character's growth and Dessen's eminent themes.
[Related: Q&A: Cast, crew of 'Metal Lords' discuss adolescent representation in film]
This interview has been edited for length and clarity.
Daily Bruin: Did you read the book before auditioning or filming, and were you able to discuss character development with Dessen?
Belmont Cameli: I hadn't read the book until I got the part. My use of the book was really research on the world of Colby. There are aspects of the novel that just simply don't make it into the movie because of the way you have to translate formats – so the character of Eli is at the heart the same, but there are aspects of him that are a little different.
We did get to talk to Sarah Dessen quite a bit about (the) character, but not until we had mostly formed these characters and had been performing for a while. She came to set halfway through the production and we got to have those conversations with her. She was so excited to be on set and overwhelmed, and we all felt the same way about her because she is the author of this universe.
DB: Both of your characters endure personal journeys of change and step out of their comfort zones. What can audiences learn and take away from each of your character's journeys?
BC: He (Eli's journey) is a journey of rediscovery. There's a part of himself that he identifies with massively, (but) it's kind of on pause. A lot of people can relate to that. I feel if you have something happen to you that is traumatic in nature, you look to the future. For him, it manifests in insomnia and pulling away from the things that he loves. But for a lot of people, it manifests in different ways.
These are heavier themes that you don't usually see in young adult movies, which we were really happy to explore. Hopefully, audiences can put themselves in their shoes and see that leaning on the relationships you have in your life, whether romantic or platonic or familial, is the way that you will grow.
Emma Pasarow: In a world where excellence is the most important thing – seemingly the most important – it's really scary to take risks, and it's really scary to put yourself out there and go into new environments. Auden's journey, Eli's journey – the journey they take together – it's sort of like giving yourself (themselves) permission to try things. Permission to evolve, permission to fail – things that I'm currently still working on. It's all about getting comfortable sitting in the uncomfortable.
[Related: Film review: 'Moonshot' follows star-crossed lovers in charming yet predictable rom-com]
The Seahawk: How did you go about nailing the chemistry?
BC: Emma is equally sarcastic as I am and so we had a lot of fun together. When we first got together in North Carolina, we were out at dinner and she started (complaining that I) put too much ketchup on my plate and I was like 'We're gonna be really good friends.' Having that chemistry off-screen is super valuable for having it on screen.
EP: We were so fortunate to get along so well, because not only does that obviously help the story in the movie, but because this was a big scary new experience where impostor syndrome was constantly in my head. It was so nice to have a support system both on-screen and off-screen and so we really relied on each other. Also, because of what happens in it (the movie) with a quest doing new experiences, we literally did all these things together and that's very bonding. To go night swimming at 4:00 a.m. in freezing water together, we can't really go back from that.