Alumnus uses social media skills to showcase lifestyle, curate brand image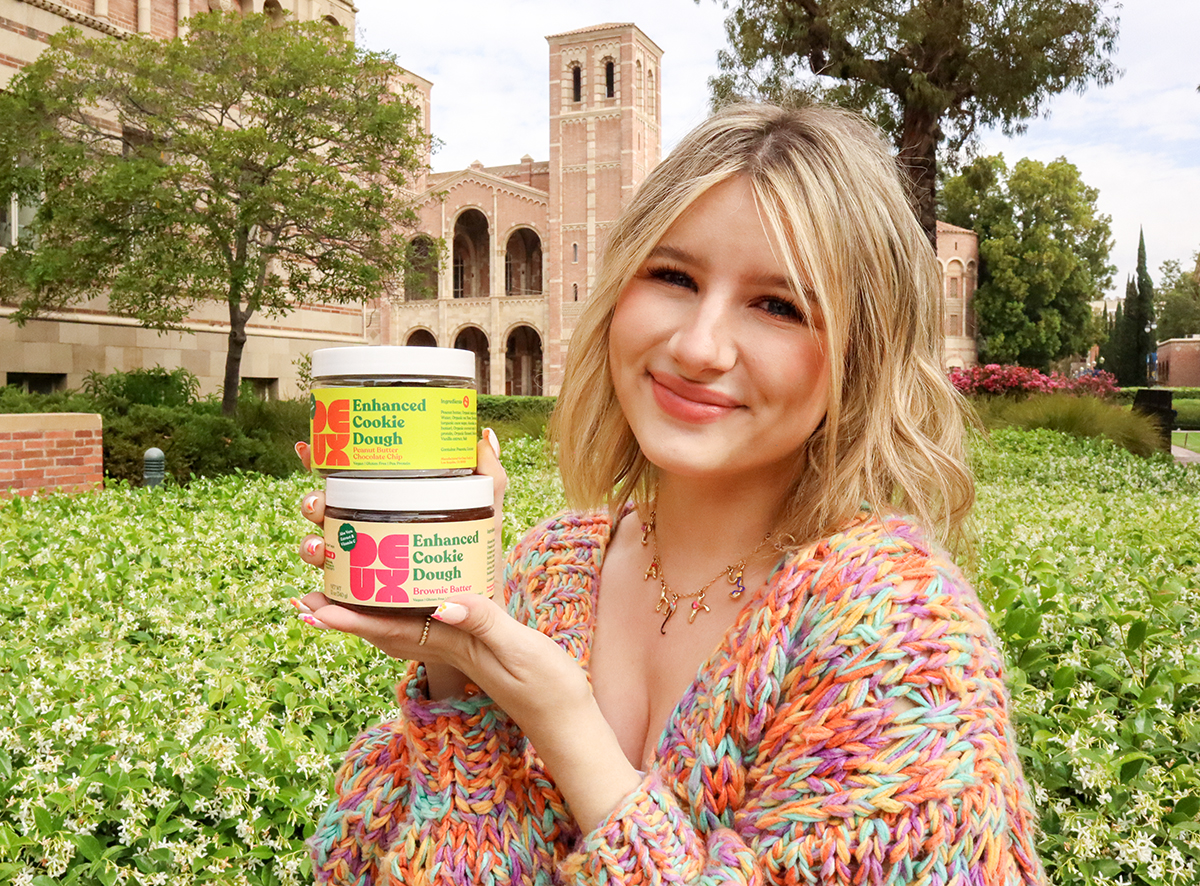 Alumnus Camryn Frederickson holds up two containers of Deux cookie dough. As the first employee for the cookie dough company and the current social media and marketing manager, Frederickson said she has been able to infuse a bit of her personality into the brand and watch it grow with her. (Sandra Ocampo/Daily Bruin)
Camryn Frederickson is making her dough and eating it too.
Beyond promoting healthy physical and mental practices on her personal Instagram page, the alumnus said she also acts as the social media and marketing manager of the cookie dough company Deux. From curating fun and colorful lifestyle posts on her feed to managing Deux's online presence, Frederickson said the most rewarding aspect of her platform is the meaningful connections it allows her to make.
"I've created a lot of relationships with people through social media that I would have never met in any other way," Frederickson said. "Those relationships become super fulfilling because it's the kind of real human relationship and not just people you see on the internet."
Although Frederickson has since grown her account, she said she attributes the start of her platform to her cat, Cowboy. She gained a following on Instagram after posting a series of TikToks detailing her rescue of an hour-old kitten, in which she said she spent weeks bottle feeding and training him. Frederickson said she continually showcases Cowboy on her personal page, as she recognizes her and her followers' shared love for him.
[Related: Bruin utilizes platform to inspire accessible, holistic approach to healthy living]
In addition to documenting Cowboy's journey, she said she appreciates how social media allows her to share the creative aspects of her life to a larger audience, whether it be the meals she cooks, the interior design of her apartment or a painting she is working on. Frederickson said she experiments with various filming and editing techniques, and that she enjoys recording the stages behind each post to artistically present the final product, such as filming the pasta pouring into the water when she shares a pasta dish. Along with exploring her creative outlets, Frederickson said the platform provides her with an audience that is excited to experience her self-care regimen.
"In the things I share there are hidden messages and clues to how I live my life." Frederickson said. "Whether it's me going on a walk or cooking a healthy meal, there's an overall sense of wellness that I really value. … I like to have that space for myself to be healthy and happy, and I like to share those times in my life."
Aside from running her own personal accounts, Frederickson said she was brought on as the first employee and social media manager of Deux in 2020. Deux is a raw cookie dough company, and its products include supplements such as aloe vera and vitamin C, which she said generates collagen production and leads to healthier skin. She said Deux prides itself on its desserts' ability to be eaten raw or baked, as well as the desserts' vegan and gluten-free ingredients.
In the beginning stages of the company, Sabeena Ladha, founder of Deux, said she recruited Frederickson as her first employee because of her interest in design and social media, as well as for the customer service skills she demonstrated when they previously worked together at another company. Ladha said she wanted an employee who could be taught to be multifaceted, whether with graphic design or social strategizing.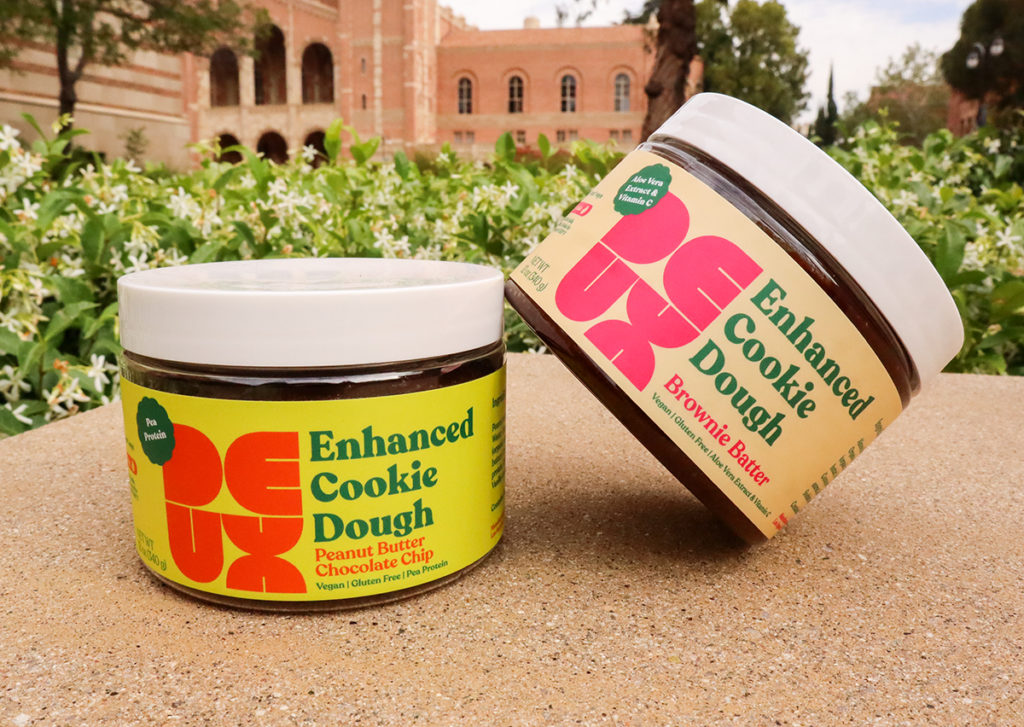 As Deux's social media and marketing manager, Frederickson said she manages the company's online accounts, designs its graphic images and strategizes what content to post. Creating a personality for the brand is one of the most important elements for successful customer outreach, she said. Apart from integrating her own vibrant traits into Deux's branding, she said she also ensures it online presence reflects its customer base. Deux is female founded and a large majority of the consumers are women, so it is imperative the brand projects femininity with its unfiltered posts, she said.
"We (the team) say the brand is hyperfeminine, young, fun (and) has no filter. We say whatever we want." Frederickson said. "(Deux) stands for what we (the team) believe in. … We get a little raunchy sometimes."
[Related: Student-hosted "The Brain Food Podcast" encourages people to listen to their gut]
Along with its feminine image, Deux's branding intends to appeal to younger generations with its trendy aesthetic but also to older generations with its nostalgic flavors, Kristen de Guzman, Frederickson's friend and customer of Deux, said. Apart from promoting themselves as a feminine zillenial brand, de Guzman said the functionality of the company's products is what sets them apart from other cookie dough brands. Deux's desserts contain different vitamins and supplements, and for her, this takes the guilt out of eating a dessert and promotes healthy practices while satisfying her sweet tooth, she said.
Moving forward, Frederickson said she hopes Deux will extend its products to large retailers and diversify its offerings and flavors. In creating Deux's branding, she said she has worked closely with the business and weaved her own youthful personality into its image. With her attachment to the company, she said she hopes to continually expand her skill sets under it and anticipates a long future with Deux.
"I feed off of Deux, and Deux feeds off of me," Frederickson said. "It's become such a big part of my identity, which has been really cool to see and watch something grow along with you."