Stagecoach 2022: Festival closes with genre-bending performances from Yola, Diplo and more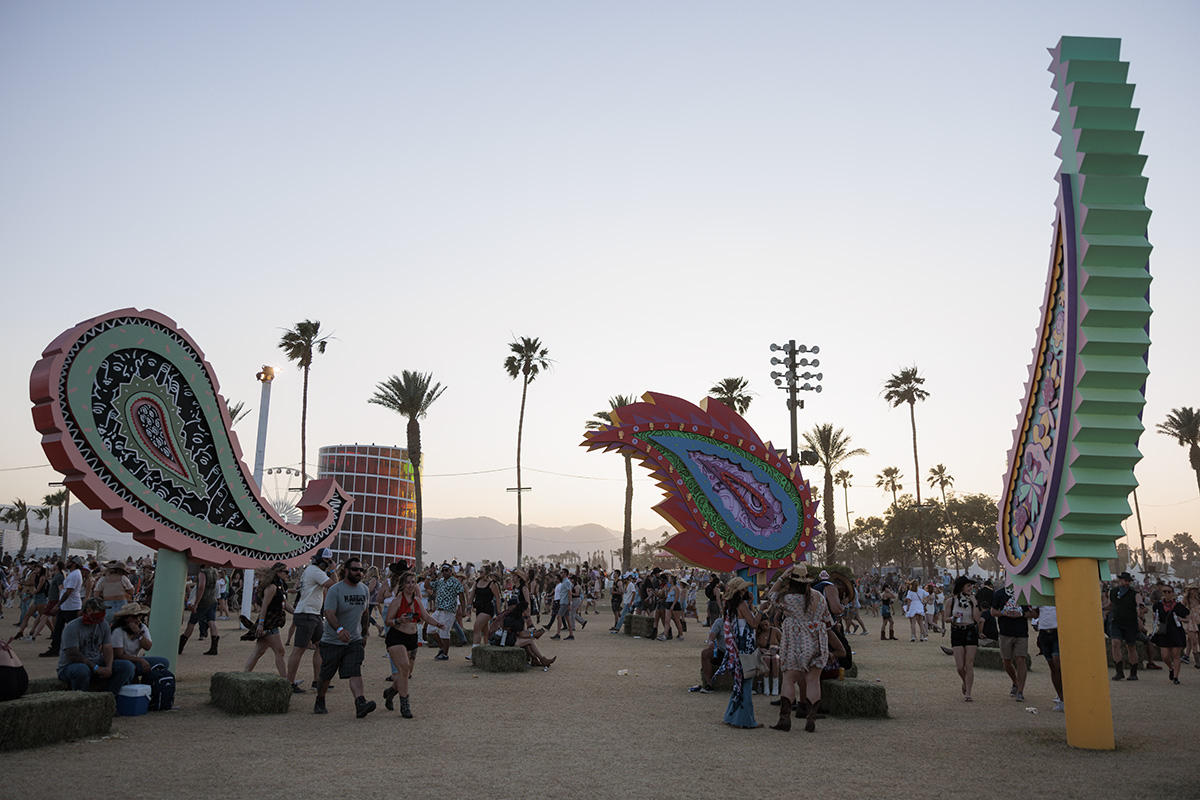 Festivalgoers surround Sofia Enriquez's Mismo, which consists of large paisley sculptures dotting the desert landscape. The final day of Stagecoach Festival concluded with a late-night performance from DJ Diplo. (Anya Yakimenko/Daily Bruin)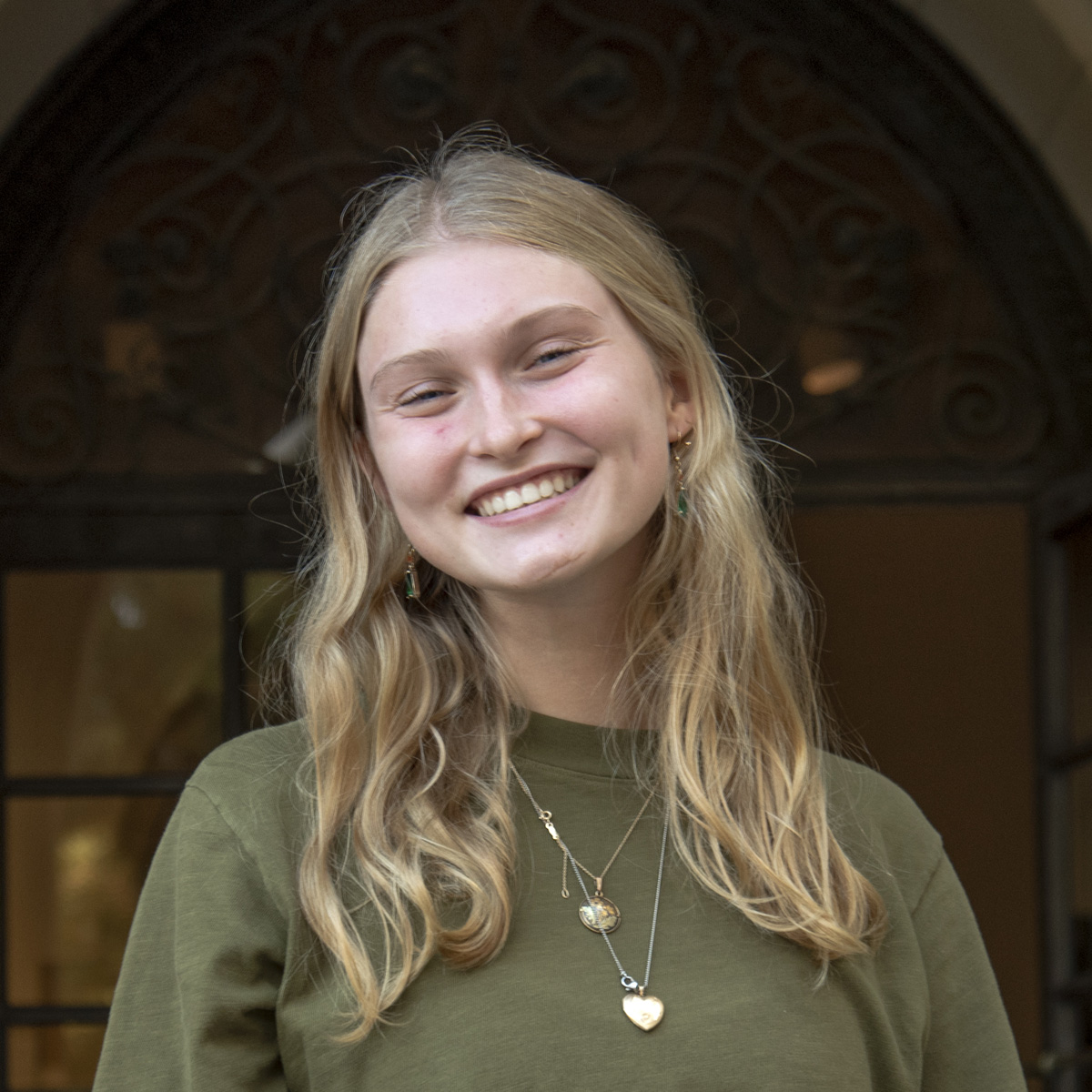 With horse and carriage in tow, Stagecoach has made its return.
Hosted each year the weekend after Coachella Valley Music and Arts Festival comes to a close, Stagecoach Festival and its two stages are the West Coast's hub for country music. The Empire Polo Field in Indio, California, is transformed for the third weekend in a row, trading out polo horses for a large sculpture of the animal from Friday to Sunday.
Read on for the Daily Bruin's coverage of Stagecoach Day 3.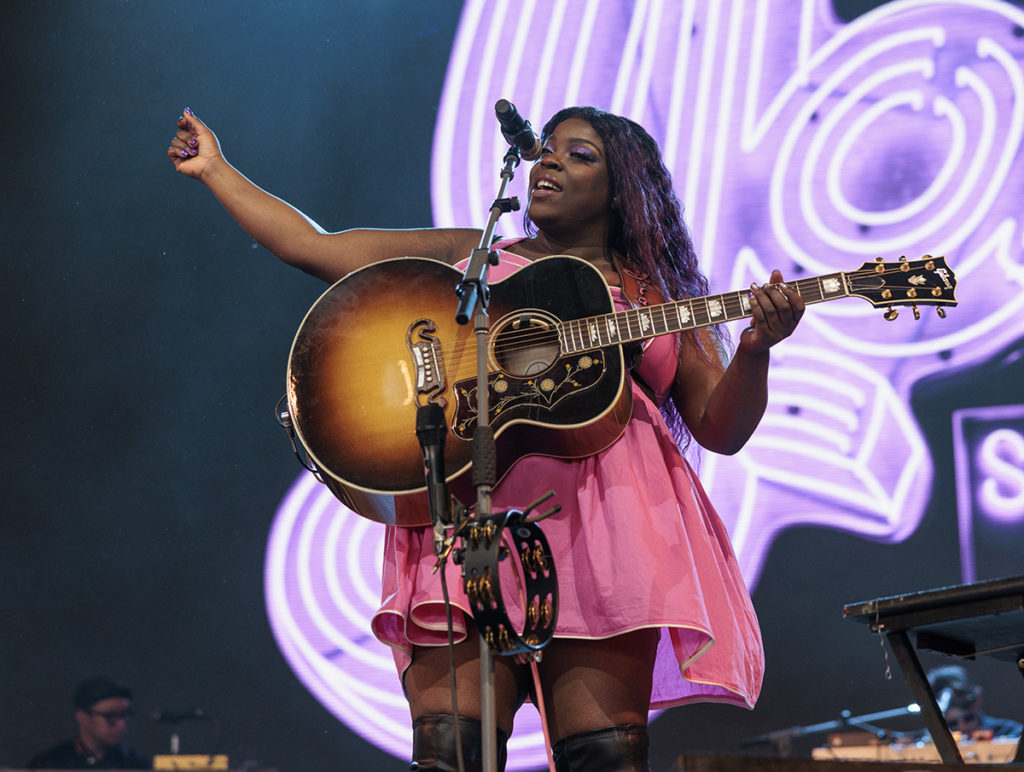 Yola
On Sunday afternoon, Yola painted Palomino purple and pink.
Snappy drums and tambourine paved the path for Yola's entrance at 4:30 p.m. on the Palomino stage, and she wore a pink belted dress and purple eyeshadow. Strumming and snapping along, the singer harmonized with two male supporting singers for the opening song, "Barely Alive."
Yola then switched out her acoustic guitar for an electric one as the first notes of "Starlight" twinkled. Her guitar strap was decorated with her name – which matched the purple neon "Yola: Stand For Myself" sign design behind her – and a Black Power fist above. Synths and a thicker bass line ushered in "Dancing Away In Tears" as Yola strutted the length of the stage and danced in her knee-high black boots.
About halfway through her set, Yola took a moment to speak to the crowd, announcing, "I'm English! Surprise!" The singer wasn't the only international performer at Stagecoach this year, with Canada-based South African artist Orville Peck performing on the same stage the previous night. She performed fellow English artist Elton John's "Goodbye Yellow Brick Road" with vigor, adding John's accent to the end of "vodka."
Closing out with "Stand for Myself," Yola had Palomino on its feet with arms in the air.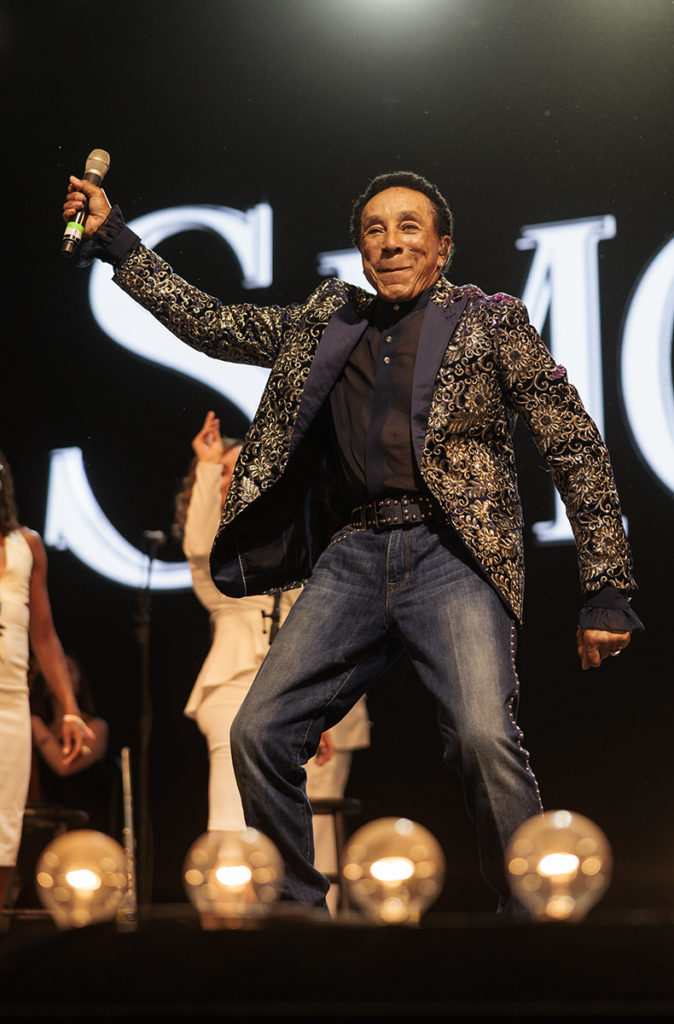 Smokey Robinson
Smokey Robinson brought Motown to the hoedown.
Set to perform for an hour, the former Motown Records giant took the Palomino stage at 7 p.m. in style. The evening sun had just reached the stage as 12 band members walked on wearing monochromatic outfits of either white or black. Robinson crept onstage donning a black suit jacket encrusted with gold designs all over for "Being With You" and proceeding to tenderly hold one of two supporting singers as they looked into one another's eyes.
After performing several songs and halfway unbuttoning his sheer black shirt, Robinson shed his jacket to the crowd chanting his name. He then introduced the following track as his international songwriting hit for The Temptations. "My Girl" swiftly began playing as the background switched from "Smokey" in glistening silver letters to shining red hearts.
Robinson shuffled through tracks such as "Just To See Her," which he thrusted to, garnering raucous cheering. But after gesturing for dramatic effect to "The Tracks Of My Tears," Robinson walked offstage 22 minutes early and didn't return, leaving the crowd confused.
And with his departure, Robinson left audience members in the smoke of the dusty dusk.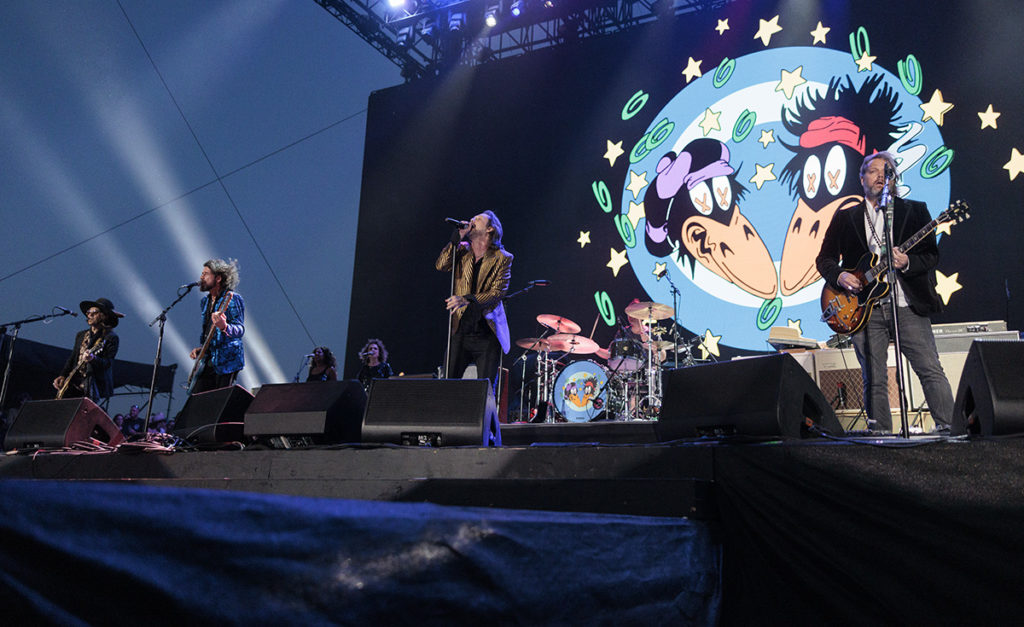 The Black Crowes
The Black Crowes went flying in the desert wind.
The rock band took the Mane Stage at 9:40 p.m. with its logo of two crows displayed in cartoon style on the screen behind it. Despite facing intense winds blowing dust across the field, the frontman Chris Robinson continued performing with enthusiasm, waiting 30 minutes to remark that the audience's cowboy hats must have fit well enough to beat the winds that would have blown them to San Diego.
Afterward, the band proceeded with "Soul Singing," as two female supporting singers echoed Robinson. Deep pinks and reds replaced the previous sunshine tones for the more balladesque "She Talks To Angels" that followed.
Ripping electric guitar riffs remained in the background as the brothers' matching manes blew in the wind. Robinson tilted the microphone stand to lean into the breeze, completing The Black Crowes' discography with soulful harmonica and emphatic jumping for the penultimate song, "Thorn in My Pride." Finally, the night closed with a rainbow of lights for a cover of Otis Redding's "Hard to Handle."
Though the conditions were difficult to tolerate, The Black Crowes' music went down easy.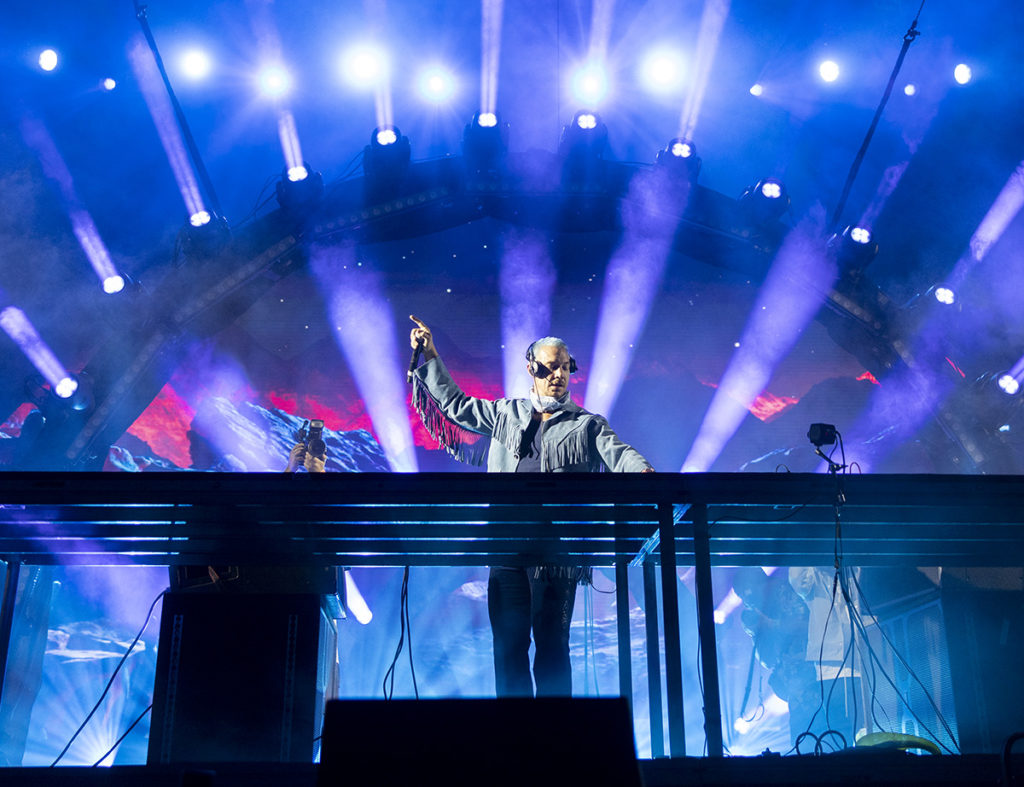 Diplo
Diplo had Stagecoach get low before departing the desert.
Before the DJ emerged on the Palomino stage at 10:50 p.m., celestial buzzing built anticipation as festivalgoers awaited the final performance of Stagecoach 2022. Framed by two semicircles studded with outwardly beaming white lights, Diplo took the stage in the dark with a fringed jean jacket and bandana.
The recent cowboy convert wasn't alone for long, though, as two women began pole dancing stage left and right. After a techno spin on "Body" by Loud Luxury, he paused his fervent rotation of country hits for the crowd to shout the chorus of Creedence Clearwater Revival's "Have You Ever Seen the Rain."
The background alternated from showcasing footage and animated sequences of Joshua Tree National Park and other trippy sequences to showcasing Diplo-branded Western scenes. The DJ's name was spelled out on barrels that rolled from the stage left screen across to stage right's – the first performer to use all of a stage's screens for a coordinated visual effect – and plastered on beer cans labeled "Diplo Light."
Country music wasn't the only genre on the menu, though, as Diplo played Latin artist Daddy Yankee's "Gasolina" and later moved into a hip-hop segment featuring Fetty Wap's "679" and Lil Jon & The East Side Boyz's "Low." The festival's closing act featured Day 2 headliner's final number – Carrie Underwood's "Before He Cheats" – overlaid with a staccato beat.
Ending the evening, Diplo proved country music can be so much more.
Durgin is a senior staff writer for Arts & Entertainment. She previously served as the Music | Fine Arts editor from 2021-2022 and was an Arts contributor from 2020-2021. She is a third-year English and geography student from Meridian, Mississippi.
Durgin is a senior staff writer for Arts & Entertainment. She previously served as the Music | Fine Arts editor from 2021-2022 and was an Arts contributor from 2020-2021. She is a third-year English and geography student from Meridian, Mississippi.