Out of Bounds: Landing a New UCLA Gymnastics Coach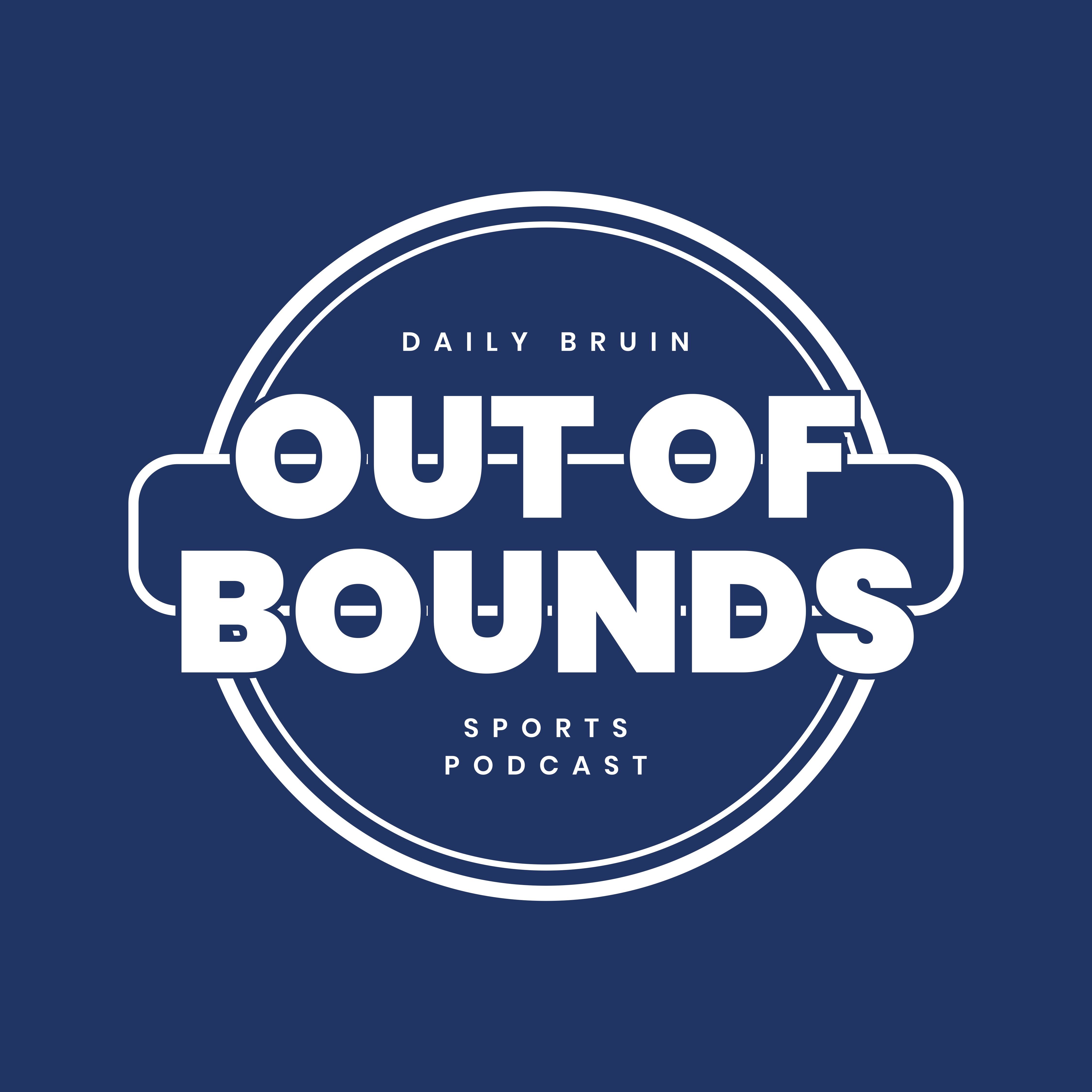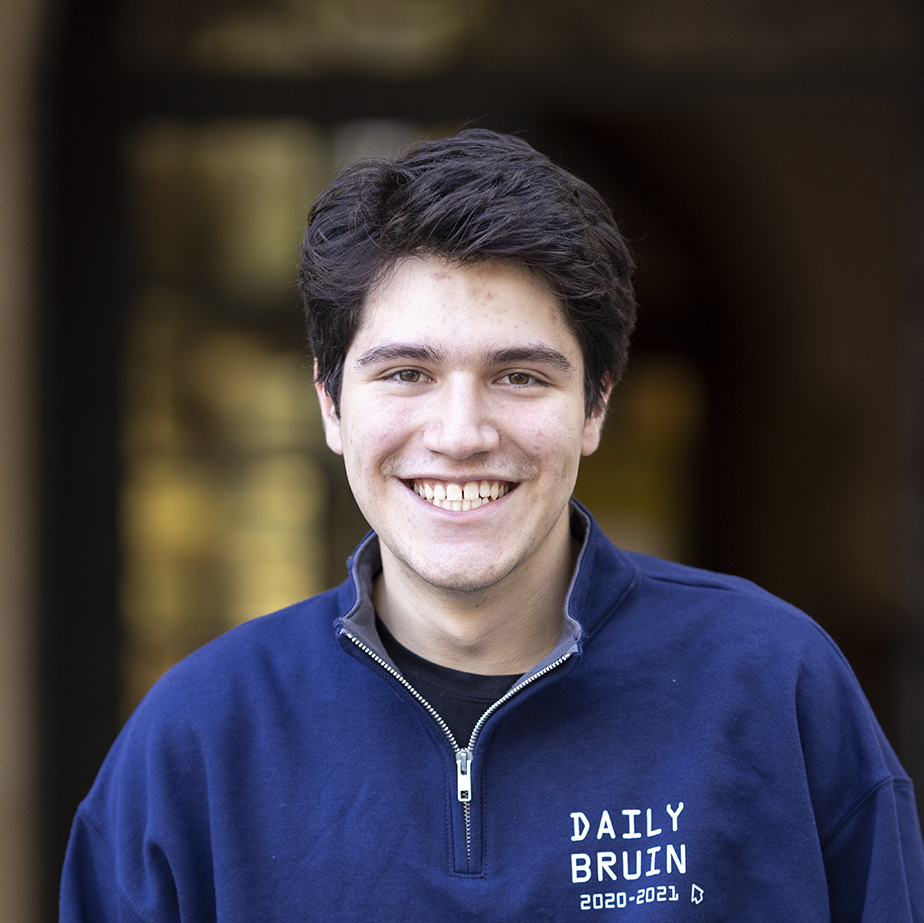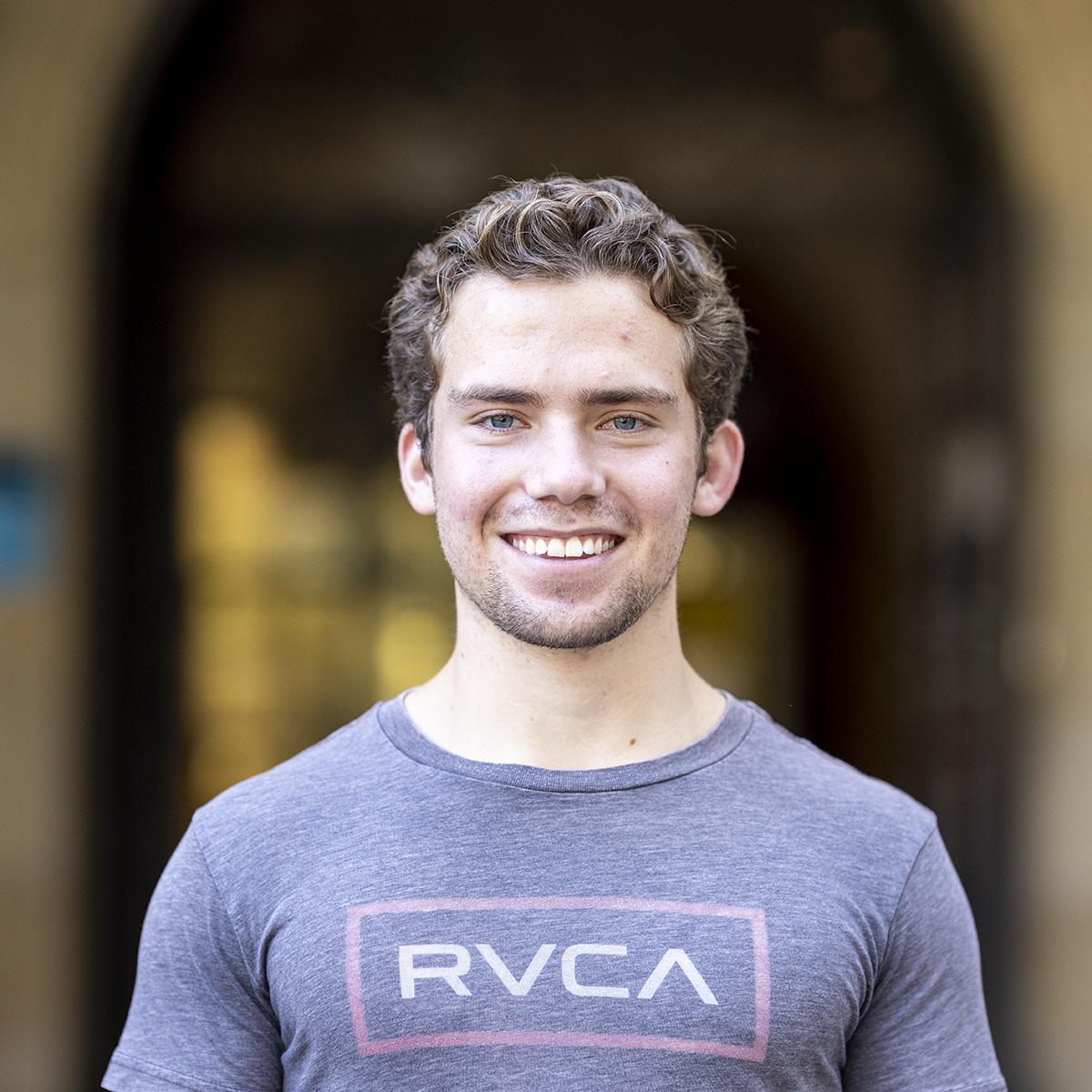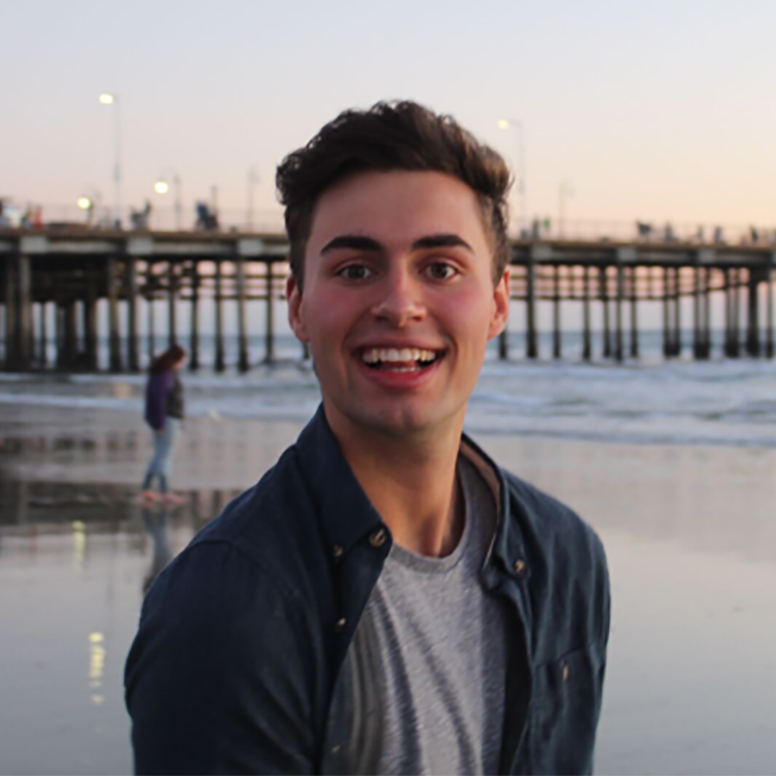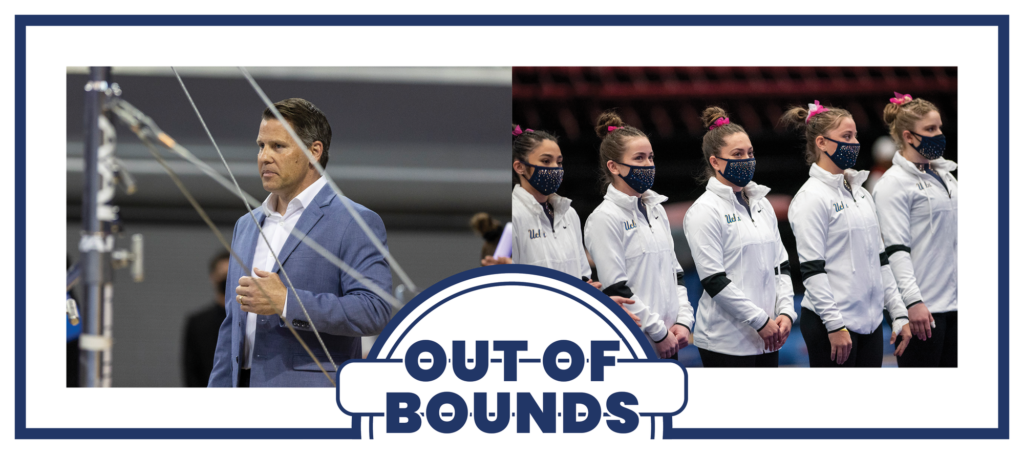 In this episode of "Out of Bounds," Daily Bruin's sports podcast, Sports editor Jon Christon talks with assistant Sports editor Sam Settleman and Sports staffer Nico Edgar about Chris Waller's recent resignation as UCLA gymnastics's head coach and their thoughts on the prospects for his replacement.

Jon Christon: Hi, my name is Jon Christon, and this is "Out of Bounds," Daily Bruin's sports podcast.
JC: Hi again, everyone. My name is Jon. I'm the Sports editor here at the Daily Bruin. We'll just jump right into it. We have a special gymnastics-themed podcast episode today with all the news that has been surrounding the gymnastics program and I had to bring in Daily Bruin's two resident gym experts, Sam Settleman and Nico Edgar. Sam and Nico, how are you guys doing today?
Sam Settleman: I'm doing good. We've been talking about doing this gym podcast for a while and now we're finally making it happen, so I'm excited.
Nico Edgar: Yeah, I'm doing well, too. Happy to be here for my first podcast ever.
JC: Really? Are you excited?
NE: I'm excited. I'm excited.
JC: It's harder than it looks. So, good luck. But you guys know Sam and Nico from their "gymternet" fame. Both acquire many, many likes when they tweet about gym, so let's hear what they have to say about the gym situation here at UCLA. So, we'll just get started with talking about the biggest news in the last— the biggest UCLA gymnastics news in the past few months has been Chris Waller resigning. He resigned last Tuesday, April 19. We're recording this Tuesday, April 26. So, if anything happens between now and the time this goes up, we did not know about it yet. So, don't take it out on us. But yeah, Waller has been— this season has been marred by controversy for Waller, as we all know, and he officially called it quits last week. So just want to ask, turn the mic over to Sam and Nico, what were your guys' immediate reactions when you heard the Waller resignation news?
SS: I might be in the minority on this one, but I was initially surprised by it. I thought, given the way the season was going, I thought something was going to happen at the beginning of the year, and once it didn't, I thought it was an issue that was going to kind of mull over and kind of— Waller would continue and nothing would be made of it. I thought the team looked a lot different towards the end of the year than they did at the beginning of the year, not just as a athletic program but in terms of their bond as a team. Clearly, that was not true internally, and that's probably what prompted him to resign. But I was kind of surprised. I think it's a good move for the program. Obviously, you know, it's Waller's decision, but I think for the program, just hitting the reset button will be good in the end. But I was not— I was kind of surprised by the decision.
NE: Yeah, I was definitely the opposite end of the spectrum there. I very much expected Waller to resign or get fired after the season. It didn't seem like all the controversy surrounding the Alexis Jeffrey transfer and gymnasts going on a podcast and calling for his firing was anything that he could come back from. So I was— it felt like the resignation was essentially inevitable at some point. And I think going through the season and going through interviews and seeing how he interacted with the gymnasts during meets and not really being in the midst of the team anymore, you could tell that that relationship was essentially gone and that he should not have been continuing as coach.
JC: Yeah. So, I think to further this discussion, we have to look back a little further to Waller's tenure as a whole. Obviously, he was hired in the 2019 offseason, taking over for the legendary Miss Val (former coach Valorie Kondos Field). There's a little bit of controversy surrounding that with who else they could have hired. But we'll save that for later. But he was here for three seasons, started off with the 2020 season, then 2021, again 2022 this year. But I just want to ask you guys, how would you characterize his tenure with UCLA as a whole? Because, obviously, he was an assistant before that, he competed at UCLA as a gymnast, but just taking in the last three years, how would you characterize his tenure?
SS: I think it's easy to look at the results and say it's been largely a failure. But I think you do have to put it into context a little bit. When he took over for Miss Val after the 2019 season, you know, they were just one year removed from a championship. And it looked like they were bound to, you know, do that again, in 2020. The team was ranked No. 3 in the country when the season was cut short because of the pandemic in March of 2020. You know, they were really peaking at the right time. And obviously, that was because they had you know, one of the most decorated senior classes maybe in NCAA gymnastics history, led obviously by Kyla Ross. But once that season was done, and they kind of all graduated, the program really just lacked the same level of talent that it had built up over the last couple of years. So when you move on to 2021, you know, a lot of the freshmen deferred because of the Olympics and they welcomed the class of just three freshman gymnasts. And so their talent level was just not where it used to be. And because of that, they ranked outside of the top 10 for most of the season. And even if they did peak at the end of the year, they really didn't have a chance to make nationals. So, they missed nationals for the first time since 2006. And again, it's easy to say a lot of this is Waller's doing, you know, this was his first time as a head coach of the program. But obviously he was doing something right, I guess you could say, to, you know, bring the program to where they were previously. You know, he spent 17 years as an assistant before becoming head coach. And, you know, I think they won four national championships during that time span, so certainly no lack of success in that realm. And then really 2022 was a lot of the same for the team in terms of they did bring in more talent but didn't quite capitalize on it the way they would have liked.
NE: Yeah, I think 2022 is a really interesting season, right? Because 2021, there was a pretty clear talent gap between, say, UCLA and some of the top teams like Michigan and Utah, but 2022, we had, right, we had Jordan Chiles come in, an Olympic silver medalist, and then we had Brooklyn Moors and Ana Padurariu come in as well. And it seemed like this freshman class should have been able to stabilize somewhat, and then you come out and you – in your first meet of the season – you have your worst score in an eternity, essentially, right? So, that that freshman class gets off to an extremely rough start. And so on the gymnastics side, things aren't going well. And then you have the Alexis Jeffrey transfer, right? So we have rumors surface that Alexis Jeffrey is transferring, that there's something going on inside the program that really no one outside knows about. And then we hear that she actually does transfer. And 2022, just that rollercoaster kind of just continues, right? So we start off with this horrible score and then a transfer and then it just compounds. So we have Margzetta Frazier, one of the biggest leaders on the team, a senior, she comes out and tweets at UCLA athletic director Martin Jarmond. She asked, "Can you talk to our coaches, please?" Senior Norah Flatley echoes that as well. And then the gymnastics don't really get better. Right? Second meet of the season, it's around a 196. It's still not great, not where they want to be with the talent level that they have. I forgot to mention, as well, right in the first meet of the season, Marz (Frazier) goes out and breaks her foot because she's competing injured and one of the mantras that we hear in gymnastics is, you know, "You're going to get hurt if you're not there completely and if you don't want to be competing," and, so, yeah, Marz (Frazier) and Sekai Wright, another senior, then after this kind of rough start to the season and all the controversy surrounding Jeffrey's transfer, go out onto the Amanda Seales podcast called "Small Doses with Amanda Seales." And this is when it really gets rough for Waller because Marz (Frazier), who is probably the biggest leader on the team, and it's— Sam and I have interviewed her multiple times over the years. You know, she's the one that the SID (sports information director) always picks for us to interview because she's super eloquent. And she really represents what UCLA gymnastics has been about. And Marz (Frazier) ends up going on the podcast and saying, "I want the head coach gone." And that is essentially your most important gymnast, probably – from a team aspect, not necessarily from gymnastics aspect – going out and saying, "I don't want this coach to be here anymore." And that's something that he never really rebounded from. So there's the more that surface is in that podcast, right? Marz (Frazier) says that the team administrators essentially try to push this issue away. They bring in some external sources to talk about mental health, etc. But the issue doesn't really get resolved. It feels like the athletics department and the team just wants it to fizzle out. And that is not a resolution that the team was comfortable with at that point. So this fizzling kind of does occur a little bit, right? Marz (Frazier) is injured so she's not with the team anymore. Waller brings Sekai Wright back into the lineups after she hadn't traveled with the team to Minnesota for the first meet because of the uncomfortable situation going on. But then, you know, and you focus on gymnastics again. And you bring— you come in, Utah comes in one of the best teams in the country, and UCLA goes over 197, over 197.500 for the first time this season and the first time in a long time actually. And it looks like the team has turned a corner and everyone's moving on. And that's what we're hearing from the team as well. You know, they want to move on from what was going on at the start of the season. Unfortunately, that form doesn't persist, right? So, you— team ends up struggling again. You wind up fourth at Pac-12 championships, you beat out Michigan at the regional finals, and then you miss nationals after Missouri just eclipses you on the last routine, and you miss nationals for the second straight season. And that's a big failure for a program like UCLA. We hadn't missed nationals, you know, since 2006. So even though the gymnastics started reaching a better level, essentially what you have happening is you have a controversy that's still kind of simmering in the background. And one of the leaders on the team in Marz (Frazier) isn't really with the team. She hasn't been— you know, she's not at meets, she wasn't traveling with the team, and she didn't compete at all this season. And then you miss nationals for the second season in a row. And I think at that point, you know, it's easy for any outside observer to say this program isn't where it was when Chris Waller took over.
SS: Yeah, I mean, I think you just said it, Nico. We can talk as much as we want about gymnastics and how this team has kind of taken a step back these last two years in terms of outcomes and results and making nationals or not making nationals. But really, I don't think this was a decision from Waller's side or the program's side to, you know, make this happen and make this split happen because of their results gymnastically. I think this was largely just a product of the controversy earlier in the year, and something that was really unresolved, and they kind of just needed to hit a reset button and start over at head coach.
NE: Right. And I mean, something that we talk about a lot, you know, in sports, and you hear in pro sports is when a coach is struggling, when a team is struggling, do they still have the locker room? And I think, you know, even though we're on the outside of the team a lot, right, but we still— we're still sitting there right on the sidelines when we're seeing meets. And we still see how the coach interacts with the gymnasts, whether gymnasts avoid the coach, whether they want to talk to him. And it really seemed like at some points that Waller didn't have this close connection that you really need as a gymnastic coach for gymnasts to perform their best. So yeah, it seems like even though, you know, the results weren't there, but if you don't have the trust of your team, you're not going to be a successful coach.
JC: Yeah. And just touching on that, knowing what you know about Waller – what went wrong with him as head coach – what kind of qualities are you guys looking for in the next head coach of UCLA gymnastics?
SS: Yeah, I mean, I think first and foremost, you know, to rectify the problem with the controversy internally, you have to look for someone that's going to prioritize the athletes first. You know, you can look at results as much as you want, you can try to find someone who's going to bring you back to that championship-caliber team. But the first way you're going to have to approach that problem is by getting the team back to being committed to each other and to the sport. Because like Nico said, gymnastics is kind of a unique sport where a lot of it is incredibly mentality-based. And if you're in a good place, mentally, you can be in a much different place, gymnastically, than you are if you're not in a good place mentally. And you hear that student-athletes talk about this all the time. But you know, when you feel good about yourself and when you feel good about where you are in terms of gymnastics, you do a lot better than when you don't. And I think they talked a lot about how, at the beginning of the year, you know, gymnastics is something they love to do. But it didn't feel like practice was something they looked forward to, during the controversy, and when things on the team weren't at a great point. And obviously, if you're not looking forward to practice and competition, you're not going to be at your best. So, I think the first quality that the coach needs is to be someone who's going to prioritize the student-athletes and prioritize that community within the team, and get everybody kind of buy in to the same mentality and be kind of in a more together place than they were this year.
NE: Yeah, that's definitely the biggest thing is, right, you need to be able to form a cohesive unit on the team again. And I think that one of the big flaws the season was that, once, say, the athletes' mental states started deteriorating, and there was this controversy going on, Waller didn't have the ability to rein it back in. And that continues. So, big shout out to Norah Flatley here, right? Norah was amazing. She was an all-arounder for the team this season. Absolutely their MVP, no doubt about it. But when she, at nationals, decided that she was going to take floor and beam routines and said, "I can't compete because I'm not in the right mental state," you know, you need a program that's going to embrace that. And you need a program where gymnasts feel comfortable going through with that. And she was able to do that because she's a leader, but I'm sure she wasn't the only one struggling with her mental state on the team during the season. So, we also had a wave of injuries, and there's definitely a possibility that that played into that mid season. And I think that the biggest thing for a coach is going to be really reestablishing this cohesiveness of the team and building a relationship where the athletes feel like they can trust the coach. Because that was really what was lacking this year. I think another very important aspect, though, of any new coach that they bring in is someone who's very competitive and who really wants to bring UCLA back to kind of this pinnacle of gymnastics because it is— this program is so nationally recognized and internationally recognized, and it's really a world renowned program and two seasons where they rank lower than 10th in the end of season rankings is honestly pretty embarrassing. No matter what's going on. Because you do have the talent there to be a better gymnastics team. So, I think they need to bring a coach in who, one, can definitely bring that cohesiveness back as a team, but also who's going to prioritize winning. And who's going to say, my, one of my priorities is bringing back, UCLA back, to this, you know, Mount Rushmore of gymnastics teams where they haven't been for two seasons.
SS: Yeah. And to go back to your point earlier, I think this is a especially young team, and it's a team that's going to get younger next year when, you know, people like senior Norah Flatley, when she graduates, and when the rest of that senior class graduates, if they choose not to take a fifth year, this is going to be a really young team. They got a lot of freshmen this year. And I think you have an opportunity to hire a new coach who can kind of set a new foundation and a new culture and can get people to buy in to that now. So maybe you need someone who's more on the experience side who has kind of more leadership experience than maybe a current assistant head coach who doesn't have that same experience kind of leading a program. Because you need someone to kind of reset the foundation of what UCLA gymnastics is, because currently, the way that it was, has been run for the last three years, was not something that the gymnasts really bought into.
NE: Exactly. Yeah, I totally agree. It's definitely not— you know, the way they're running it is not sustainable right now. And I think Marz (Frazier) said it best in one of her tweets earlier, you know, the next coach they bring in should be— a coach should first and foremost be a nurturer. And especially if you have a really young class coming in, and you already have this large contingent of freshmen, you want someone who can come in and you know, kind of be an authoritative voice, but at the same time nurture their growth and help them develop as gymnasts. And I think that you need to bring in someone who's going to stabilize the program because if you don't have a stable environment, that development just is not going to happen.
JC: Yeah, and you guys kind of hinted at it, but it sounds like both of you would be against hiring a current assistant at UCLA, elevating someone? Because, you know, usually with the resignation, a lot of people first look at who's under them, who's an assistant that they could elevate? Quick and easy like that. But you guys both think they should just clear house, right?
SS: Yeah, I mean, I think UCLA in the past has been very much a program like that, where, you know, obviously, Waller was an assistant coach in this program for many years before he got the promotion to head coach. So when he resigned, I think everybody looked at, you know, assistant coach Dom Palange or associate head coach Kristina Comforte as kind of maybe two primary candidates in the search. But I really do feel like they are going to go elsewhere. One, because what we talked about before about the unresolved controversy, and how, you know, they might have been involved in the same controversy that Waller was kind of intertwined in with the transfer of Alexis Jeffrey. So you might have to kind of just clean house and start fresh with the coaching staff. And then also, I think neither of them have much experience as assistant coaches, let alone head coaches. So I think if you're UCLA, you want to look for someone who has much more experience, and you might have to look externally to do so.
NE: Yeah, I'm fully with Sam there. I already came out on Twitter and said, 'I don't think they're going internal.' That's what my gut feeling is telling me. Dom Palange seems like he has a really good rapport with the team. Overall, you know, at the end of the season, he was the one giving them their pep talks and hyping them up. Kristina Comforte, that's a very different discussion because beam last season was a huge struggle for UCLA. There was no consistency there whatsoever, which is obviously the complete opposite of the kind of stability that you're looking for. Beam, this year, was much better. Another reason I don't think they're going take Dom Palange and promote him is just that vault hasn't been a great event for UCLA the past two seasons. They've established a pretty solid floor, but they haven't been able to reach that ceiling that a lot of national championship contenders have. So, I would definitely expect the team to go external with this choice.
JC: Yeah, and obviously, you guys kind of said this, but it would be the first time in a long while the gymnastics program's hired outside the program. So it is going to be a monumental hire that, hopefully, they can have the same level of consistency this time around. But one big caveat with that is the athletics department is in 10s of millions of dollars of debt right now. So obviously, we're not gonna be able to poach a big name from a big name program who's already a head coach. But with that in mind, who are some external candidates you guys have been seeing? You guys are so plugged in with gym Twitter – gymternet. So I know you guys have some ideas, some candidates, so just want to see what you guys think. Who are some external candidates that could look at?
SS: Yeah, I mean, I think we talked a lot about how you might want to look for someone who has head coaching experience. But like you just said, it's tough for the athletic department to poach someone like that, a big name who might not be willing to leave their current job. And I think in a sport like gymnastics where you know, being a head coach often means a long-term commitment – like Miss Val, for instance, is someone who spent a lot of time in this program and that's true for a lot of coaches around the country. But when you look kind of externally, I think the first name that comes to people's minds is Jordyn Wieber, obviously, who spent a lot of time in the UCLA program as a coach and otherwise, and currently the Arkansas head coach. She's someone who was kind of, at least thought to be, in contention for the head coaching job when Waller got hired in 2019. But UCLA ended up going with Waller over Jordyn Wieber. And Wieber ended up at Arkansas, where she is currently. So I think everybody kind of looks at that as the primary candidate. But it's, again, it'd be tough to imagine her leaving Arkansas, somewhere where she just started, to come back to UCLA for that job.
NE: Yeah, I think that Jordyn Wieber, obviously, is the first name that comes to mind. And I think another thing we'd be remiss not to mention is that I do think they're going to go with a female candidate for this job, after kind of seeing the difficulties that Waller had building a relationship with his team over the past two seasons. But let's talk a little bit about assistant coaches here. So I think someone who I know the gymternet has been, and gym Twitter, has been very fond of is Carly Dockendorf, a Utah assistant coach, and she's been, she was the NCAA Region assistant coach of the year in 2020. And she essentially has made Utah the top beam team in the country. So if UCLA could get her, that'd obviously be a huge hire, coming from one of the most prestigious gymnastics program and, you know, a direct Pac-12 rival if we can say it like that. So she— Utah has been ranked top three on beam the past two seasons since, you know, she's taken over coaching that as the primary event. And she's also shown an ability to really nurture gymnasts on beam so we're talking about like Cristal Isa, right, you have Cristal Isa, you have Maile O'Keefe, who got two perfect 10s this season, you have Abby Paulson, all these all-Americans on that certain event, and I think that's going to be very— if they can get Dockendorf away from Utah, and if they're looking at her, you know, bringing her in as a nurturer for, say, someone like Emily Lee, who hasn't been around the team this season, but is a beautiful beam worker, or, you know, we have also Frida Esparza, who is working on beam. We have Ana Padurariu, who's working on beam. We have Emma Malabuyo, who is working on beam. So we have all these young UCLA gymnasts on beam. If maybe they can get Dockendorf, and really, from Utah to help out on that event and, you know, make UCLA kind of a formidable force there, that could be a huge hire. Another assistant that they might want to think about is Jessa (Hansen) Parker from Iowa. Our friends over at College Gym News let us know that she's ready for a promotion. She's been at Iowa since 2021, and they've actually had a lot of success since she's been an assistant there. They've had two of their top finishes nationally ever. 17th last year and 15th this year, which doesn't sound like a lot, but you know, that's only three spots lower than UCLA. So those are really good improvements from where the program was before that. And another big aspect of Parker over at Iowa is that she's essentially kind of helped craft Iowa into this very, very strong floor team. And we know what UCLA can do on floor and we know that that's our signature event. So maybe bringing someone in who can continue to strengthen that and bring consistency to an event where we say, 'Hey, we know that we're going to score at least 49.300 on this event every day,' giving us a floor might be very beneficial for the program.
SS: Yeah, I mean, I think the most fun part about this job search as a whole is there are so many candidates kind of in the running and nobody really knows where UCLA is leaning. You look at someone like Jenny Hansen, you know the head coach of Minnesota, certainly someone whose name has come up in this discussion. I know a lot of people were talking about Amy Smith, who was a former UCLA athlete herself, and Utah State head coach just got hired by Clemson this morning. She is someone who has some allegations against her, so that was somewhere that I think a lot of people didn't want to see the program go. And then you also look elsewhere at Larissa Libby, the Iowa head coach; Joanne Bowers, San Jose State head coach; Ashley Johnston, who's the Auburn associate head coach, everybody knows, you know, what they did this year. And then obviously, I'd be remiss not to mention Kyla Ross, one of the most esteemed gymnasts in college gymnastics history, and obviously a UCLA alum. That's someone that, again, could be beneficial for the program, but it'd be tough to imagine them going for someone that young with that little experience at that sort of high level coaching position. But yeah, this is, you know, really going to be an interesting search over these next few days and weeks, because really, we don't know where they're going and what direction they're looking for. I think, everybody looking at it from an outside perspective thinks that they're going to go external, and maybe go for someone who has more experience. But at the end of the day, that's not really what UCLA has been over the last couple decades. So it's going to be interesting to see if they kind of hit that reset button fully.
JC: To wrap us up, as brief as possible, I'm going to ask each of you to put on your athletic director shoes real quick, and, if you were Martin Jarmond in this case, who would you want to hire as the next head coach at UCLA gymnastics?
NE: OK, I'll take this one first. I think everyone knows where my heart and my head are leaning. I think they should go poach one of the Red Rocks coaches. I think they should go and try and get Carly Dockendorf. I really think that'd be a great hire. She's still pretty young. And you're bringing in a female head coach who seemingly, you know, has a track record as a nurturer who can work with individual gymnasts really well. So I think that'd be a great fit. I will say, you know, we talked about— Sam just mentioned Kyla Ross. I don't— you know, the problem is you need to find someone who has a leadership ability, the ability to stabilize, who you also want to be young, you know, to foster a good culture. And I think Dockendorf has a pretty good mix of all of those. So, you know, get her out of snowy Utah, bring her into Westwood. I know her, I read that her husband has a pretty high position, high paying position in Utah's athletic department, and it's not that far away, you know, it's only an hour and a half, easy, easy flight out there. So that's where that's where I think they're going go.
SS: I'm going to preface my answer by saying this is not my prediction for who I think's actually going to get the job. I, like most people, don't actually have a good sense of where they're leaning. But I think an ideal scenario, you'd have to go with Jordyn Wieber, almost. It's someone who kind of checks off every box. She has the experience in that program. She is someone who now has head coaching experience over at Arkansas. And I think she could be the best candidate to kind of reset the program but not entirely reset because she has a lot of experience with UCLA and obviously has a lot of success coaching floor and she kind of knows the program well. So I think you could kind of get a fresh start with Wieber. But at the same time, bring in some of the elements that have made UCLA gymnastics so good as a program over the last couple decades.
JC: Well, that'll do it from us here at "Out of Bounds." I want to thank Sam and Nico for coming on. Nico, how was your first podcast experience?
NE: Thanks for having me, man. This is great. This is great.
JC: As always, I want to thank Zoe Willoughby, our Podcasts producer for helping us out here today. Went a little over time, so I'll rush this conclusion. But yeah, as always "Out of Bounds" is brought to you by the Daily Bruin, UCLA's student newspaper. You can listen to this show and others by the Daily Bruin on Spotify, Apple Podcasts and SoundCloud, and a transcript for this show is always available at dailybruin.com. Thanks, everyone.
Christon is currently a Sports senior staff writer. He was previously the Sports editor on the men's basketball and football beats and the assistant Sports editor on the women's basketball, softball, men's tennis and women's tennis beats. Christon was previously a contributor on the women's basketball and softball beats.
Christon is currently a Sports senior staff writer. He was previously the Sports editor on the men's basketball and football beats and the assistant Sports editor on the women's basketball, softball, men's tennis and women's tennis beats. Christon was previously a contributor on the women's basketball and softball beats.
Settleman is currently the Sports editor on the football, men's basketball and gymnastics beats. He was previously an assistant editor on the gymnastics, women's soccer, women's golf, men's water polo and women's water polo beats and a contributor on the gymnastics and women's water polo beats.
Settleman is currently the Sports editor on the football, men's basketball and gymnastics beats. He was previously an assistant editor on the gymnastics, women's soccer, women's golf, men's water polo and women's water polo beats and a contributor on the gymnastics and women's water polo beats.
Edgar is currently a Sports staffer on the gymnastics beat. He was previously a contributor on the men's tennis beat.
Edgar is currently a Sports staffer on the gymnastics beat. He was previously a contributor on the men's tennis beat.