UCLA Film & Television Archive, Farhang Foundation celebrate Iranian cinema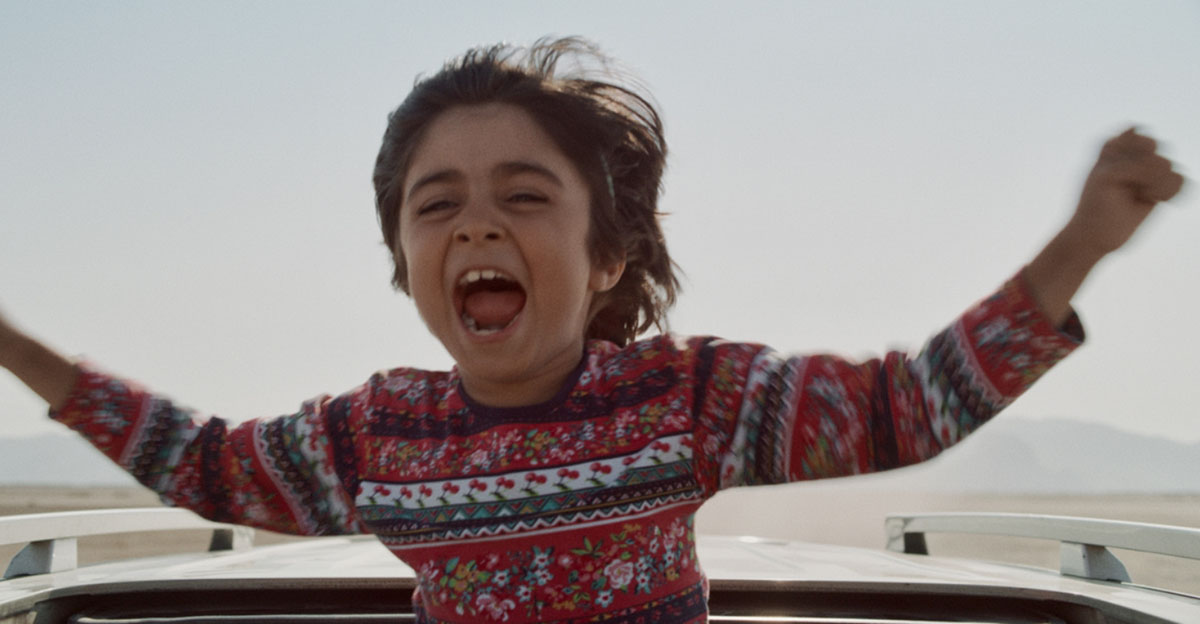 Rayan Sarlak plays Little Brother in writer-director Panah Panahi's feature debut "Hit the Road." The film will be the first shown in a nine-film series at the 2022 UCLA Celebration of Iranian Cinema. (Courtesy of Kino Lorber)
April 27, 2022 10:09 p.m.
Iranian cinema is hitting the ground – and the road – running with its newest celebration of film.
The UCLA Film & Television Archive and Farhang Foundation are continuing their tradition of embracing Iranian cinema since the event's start in 1990.
Taking place at the Billy Wilder Theater from Friday to May 8, the 2022 UCLA Celebration of Iranian Cinema highlights work from past and present Iranian filmmakers. The nine-film series will commence with Panah Panahi's directorial debut, "Hit the Road," which unfolds in the Iranian countryside and tracks the endeavors of a family as they travel to the border, film programmer Paul Malcolm said.
"It's such a fantastic family story that plays out like a road trip movie, but also, there's a thriller element to it," Malcolm said. "He (Panahi) combines all of these different genre elements into it but never really loses focus on what the story is really about, which is the heart of this family and their relationship together."
As the director and writer, Panahi, who was interviewed by the Daily Bruin in Farsi, said he drew inspiration to script the film after his best friend recollected the experience of his family secretly escaping Iran. While Panahi said he is not typically emotional, the story was moving nonetheless, and he could not help but entertain the emotions of the family, their feelings and the emptiness of thoughts left unsaid as they traveled.
Panahi's film is only the first showing of nine films. With the series's films being hand-picked by the archive programmers, Malcom said the process is a yearlong commitment that helps ensure an expansive set of films. Striving to parallel the versatile collection of films produced each year in Iran, he said he still finds the applicability and universality of the narratives to remain constant regardless of their stylistic distinctness.
[Related: UCLA Film & Television Archive hosts talk highlighting impacts of 'China Girl']
Specifically, Malcolm said he compares "Hit the Road" to Ahmad Bahrami's 2020 film "The Wasteland," as their inherent differences juxtapose their comparable cores. "The Wasteland" is black and white, consisting of long-tracking shots that complement the slow pacing and granular narrative development, he said. Conversely, Malcolm said a film such as "Hit the Road" reveals its plot in a staggered, parsing manner, involving an endearing yet roping narrative that engrosses audiences into a winding road trip. Despite the prominent aesthetic and stylistic differences, Malcolm said he acknowledges both films draw from the human experience, incorporating sentiments and themes such as family to explore struggles of identity, politics and culture.
"The best filmmakers always speak from a specific cultural or political experience into a universal connection," Malcolm said. "I find that to be the most gratifying and inspiring thing. The films always feel so very specific in their context, but so universal in the message and in their feelings."
Iranian cinema's narratives of the human struggle have also been recognized through the Academy Awards. Mark Amin, vice chairman of the Farhang Foundation, said Iranian filmmakers have made numerous notable achievements in the industry such as Asghar Farhadi's two wins in the international feature film category for films "A Separation" and "The Salesman."
Amin added that while national guidelines create unusual circumstances for producing films in Iran, the filmmakers consequently manage to produce pieces that address themes and messages as they loop through restrictions.
Additionally, Amin said filmmakers out of Iran typically select artistic venues of film prioritizing color scheme, pacing, subject matter or cinematography in contrast to the bold, visual effects typical of Western films. He said this often naturally leads Iranian films to comprise of smaller sets that centralize characters, dialogue and settings that inspire intimate viewer experiences.
[Related: Getty Villa exhibition explores Persia's cultural power in ancient world]
Despite a larger emphasis on characters and dialogue, Iranian filmmakers must address other quandaries. Specifically, Panahi said he was dealt difficult cards when creating in Iran, as his initial script was not given a film permit because of strict censorship guidelines. He said the government claimed the familial dynamic deviated too heavily from perceived traditional Iranian structures, and the initial script's insertion of smoking, a pet dog and cursing likely further dissuaded the government from issuing a permit.
Combating the sudden stagnation of his debut film, Panahi said he was quick to act as he altered the plot and manipulated aspects such as cursing and smoking to appease and bypass such guidelines. Panahi said this let him receive a permit that allowed the film to be shown outside Iran, he said.
Ultimately, Amin said the series and watching experience were made feasible between the collaborative efforts of the Farhang Foundation and The Archive. Sharing Iranian culture and art at large, the foundation focuses on events that may inspire cultural and artistic pride in attendees, he said. Given the political and geopolitical tensions in the world involving the country, Amin said he believes Iranians have a hunger to be seen beyond what is portrayed in media. While he said a film showing may be small in scale, he hopes Iranian audiences exit the screenings with a greater sense of self-identity and heritage.
"To some degree, we've (Iranians have) all felt … demonized for the geopolitical situation going on in Iran even though most of us have come here because we (want) to get away from that," Amin said. "Seeing these films being prominently shown and promoted helps people feel confident and comfortable with their background and culture."