Student-made card game Loot Brutes seeks to tap into players' greed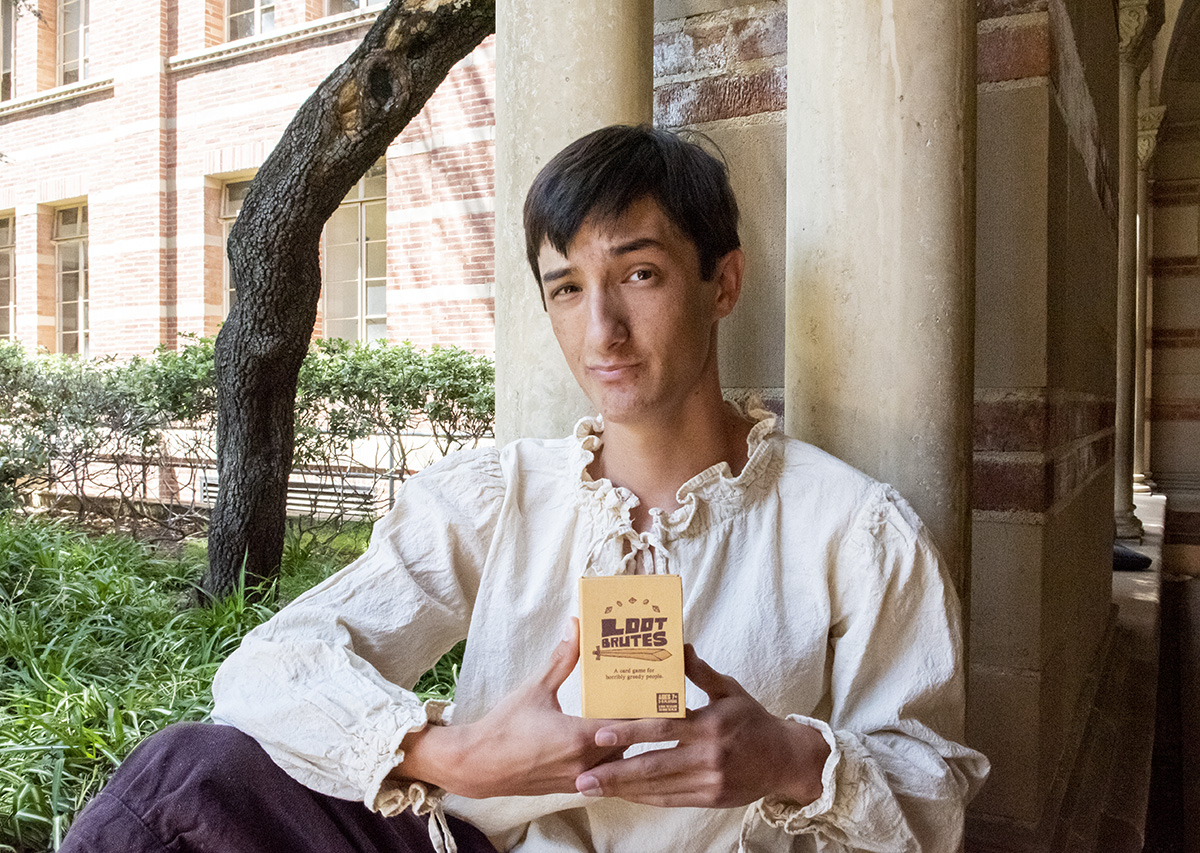 Third-year communication student Nick Leivers poses with his game, Loot Brutes. Designed with portability in mind, he said the game is meant to entice greed and encourage playful vengeance. (Photo by Emily Kohen/Daily Bruin)
April 27, 2022 10:19 p.m.
Loot Brutes brings out the Midas in everyone.
Nick Leivers, a third-year communication student, said he developed the card game Loot Brutes with avarice and portability in mind. Currently available through Kickstarter until May 4, Loot Brutes, which was published under Leivers' company NL Games, is a card game meant for three to five players who battle their way to gain the most loot by the time the deck is depleted, Leivers said.
"I want them (players) to feel greedy," Leivers said. "I want you (them) to really look at your (their) friends and then see them not as friends anymore, but as enemies."
To advertise Loot Brutes, Leivers said he started a Kickstarter and social media account for his game, creating custom trailers and instruction videos that all feature his simple and vibrant art style. His Instagram account showcases the early brainstorming of game mechanics as well as Adobe Illustrator renderings of the playing cards.
Third-year design and media arts student Valentin Nguyen served as moral support and as another peer to bounce ideas off during Leivers' transition to pursuing art. To expand his influence, Leivers marketed his new game at the student flea market in Bruin Plaza along with his other artwork, including stickers and pins, Nguyen said.
[Related: Graduate student commentates on rigid art world through experimental game design]
Although he has since transitioned to game design, Nguyen said Leivers initially joined the Bruin AdTeam, UCLA's competitive marketing and advertisement team, to pursue graphic design in marketing and advertisement. Leivers said he incorporated his simple doodles into the playing card graphics in order to emphasize the simplicity of the game itself. After backing the card game Exploding Kittens on Kickstarter 10 years ago, Leivers said he was inspired to emulate Exploding Kittens' rapid pace and relatively low complexity in his own game.
"It felt almost revolutionary to me," Leivers said. "It was so simple, the concept that you have a deck of cards (with) an objective, and I really liked that. The whole point of Exploding Kittens is that you're avoiding something, whereas in this case I want you (them) to want to try to get as much as you (they) can."
Leivers' goal to create a simple game also stems from his struggles developing his quarantine passion project, Plunder Quest, he said. With a full game board, five decks of cards, spinners and character pieces, Plunder Quest cost about $100 per unit and was inconvenient to play because of its large space requirement, Leivers said. A compact card game was the ideal solution to the production and portability limitations of Plunder Quest, as he said he could continue his interest in game design while allowing players to fit a deck of cards in their pocket.
To develop a game like Loot Brutes, Leivers said his roommate, third-year psychology student Dylan Applegate, helped him playtest the game when it was still in its early stages. Leivers said Applegate provided critical feedback, serving as a gauge for how a player may react to small details such as font size and certain game mechanics. Even if he was awake late at night completing classwork, Applegate said he served as a peer reviewer who could critique minutiae.
"When we started playtests, we had little index cards that we were using as the example cards," Applegate said. "I would playtest it with him, and we would take notes on what worked and what didn't."
Loot Brutes was not the first time Leivers used hand-drawn components to playtest a game. Leivers said his methodology of using quickly scribbled example pieces was reminiscent of his childhood hobby of making board games with Sharpie markers and cardboard from calendars. In the process of creating rough outlines of the games, Leivers said he felt inspired by the ability to call his game his own.
[Related: Student-run business Jewels by Jocy brings beaded accessories to buyers]
In addition to the hand-drawn playable components, Leivers had to apply more than just his design skills, such as business and financial knowledge, to get his Kickstarter off the ground, Applegate said. Although the Kickstarter is ending soon, along with the selling of Loot Brutes copies, Leivers said he is currently working with Gorilla Games to develop a new multiplayer game called Love Conquers All.
Though game development consumes headspace and time, Leivers said his effort toward creating Loot Brutes served as relaxation, not work. Throughout spring quarter, he maximized his schedule with classes only on Tuesdays and Thursdays in order to balance his game development aspirations with school. Although he is not a student majoring in design and art, Leivers said he was still able to fully develop a card game like Loot Brutes.
"I didn't think I would be making games now in college," Leivers said. "But looking back, I did make board games out of cardboard and markers with my friends, and it was a lot of fun. I think I just really like the quality that games can have, where it brings (they bring) people together … and put them in a different world."