Coachella 2022: Festival's 2nd day features energetic acts from range of pop, hip-hop artists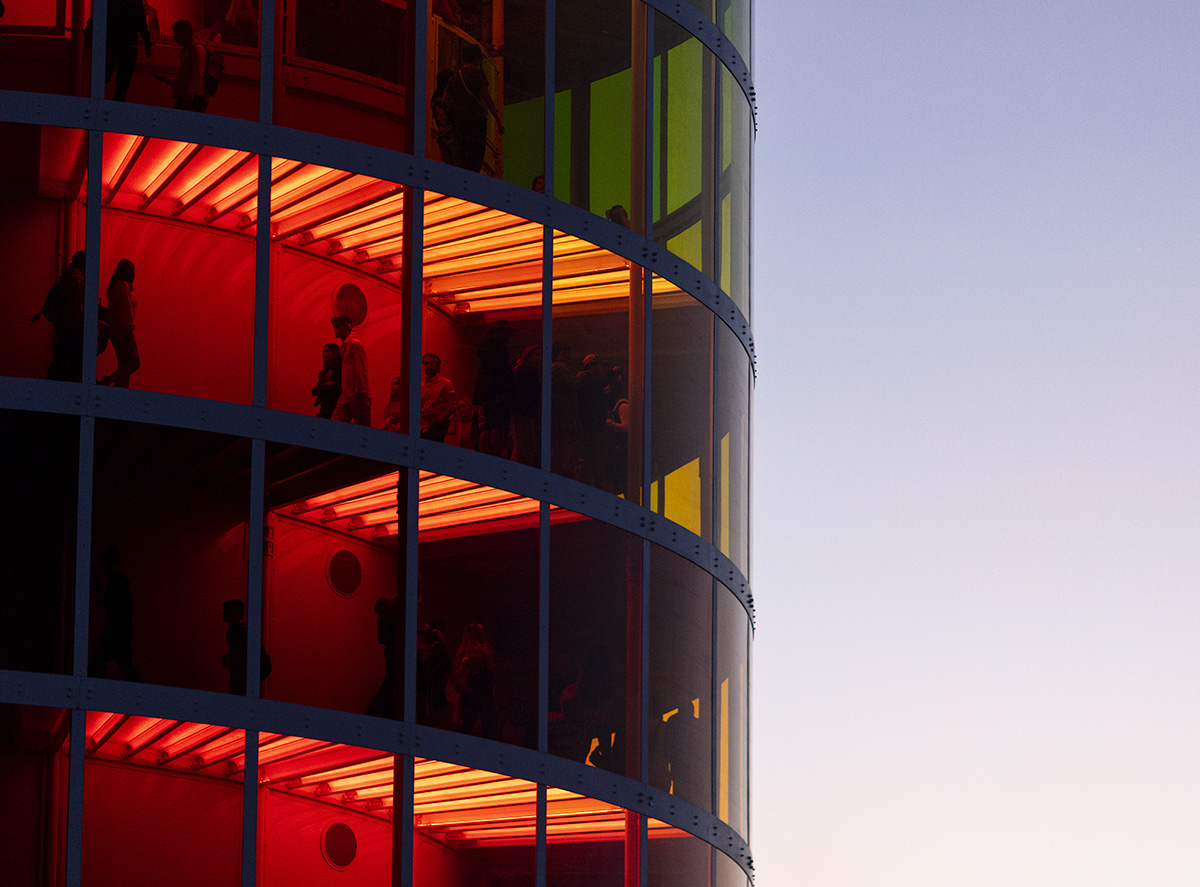 Coachella's rainbow tower, "SPECTRA," glows during dusk as festival attendees make their way up the spiral ramp. Day 2 of the music festival featured more than 60 performers, with electropop singer Billie Eilish headlining the night. (Ashley Kenney/Photo editor)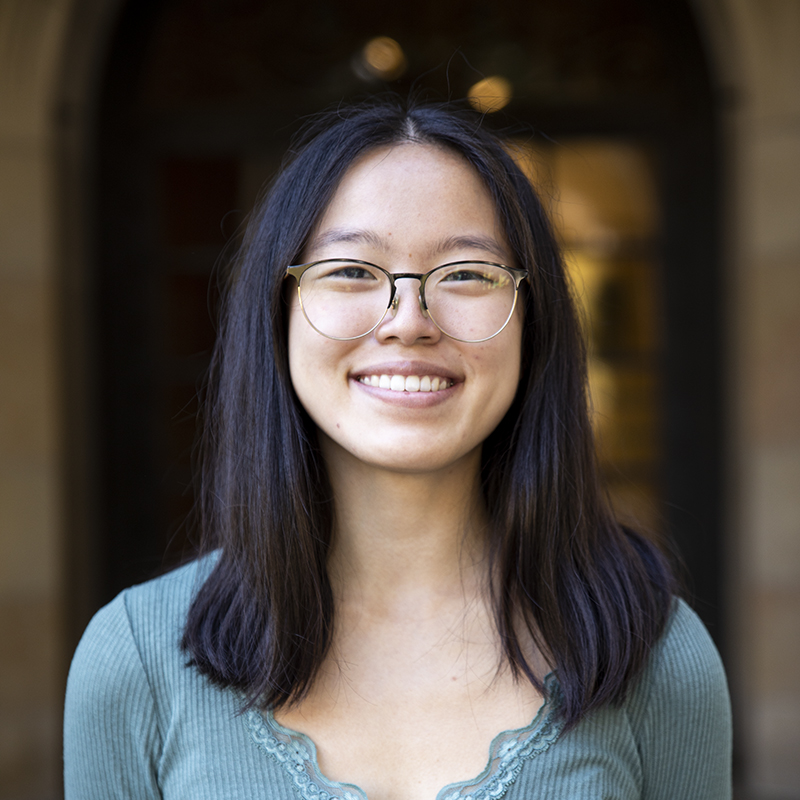 April 24, 2022 12:18 p.m.
This post was updated April 25 at 12:25 a.m.
Coachella has made its comeback.
The annual Coachella Valley Music and Arts Festival has returned for 2022 after a two-year hiatus caused by the COVID-19 pandemic. Held at the Empire Polo Club on April 15-17 and Friday to Sunday, it welcomed back festival attendees with a variety of musicians, lining up performances concurrently across seven stages for 12 hours.
Read on for the Daily Bruin's coverage of the second day of Coachella Weekend 2.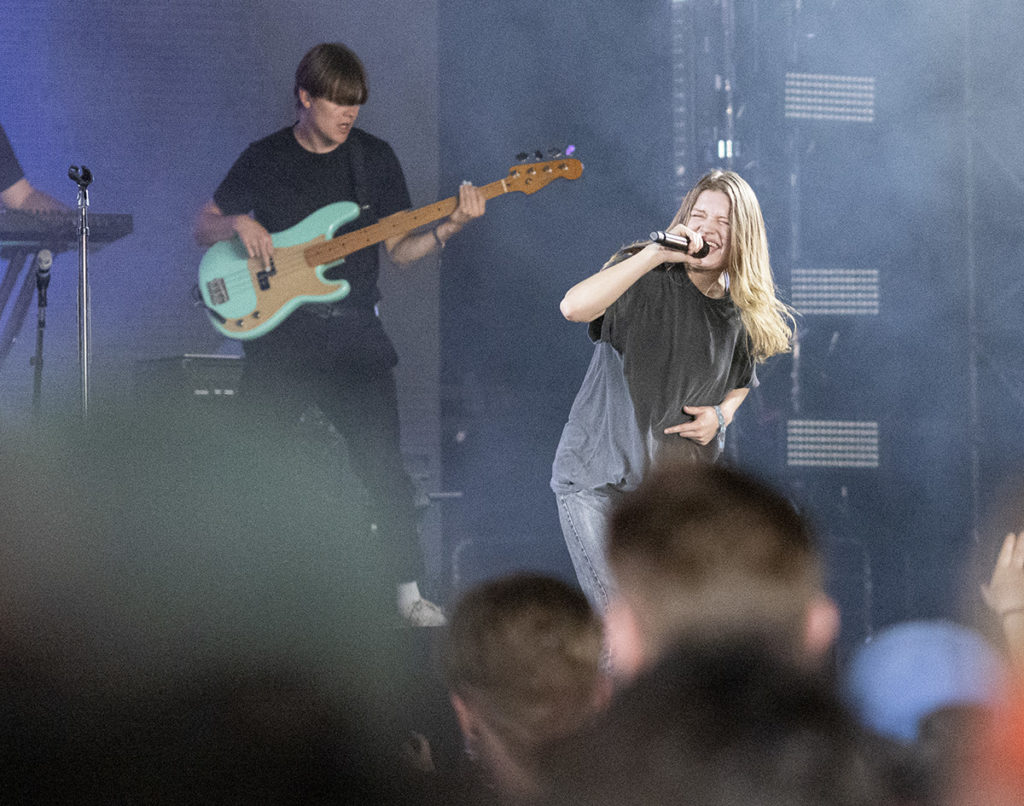 girl in red
Artist girl in red took the stage in black.
Sporting a simplistic monochromatic black outfit, the Norwegian singer, also known as Marie Ulven, appeared on the Mojave Stage at 5:50 p.m. She graced the platform with a roar, shrieking before immediately launching into "You Stupid Bitch" and erratically jerking her legs to the beat.
Girl in red bantered with the audience, joking about TikToks she had seen that mocked Coachella as a chance for attendees to spend multiple days both dehydrated and drunk in the desert. She also shared an anecdote about a Brazilian fan who took a photo with her at the Hollywood Sign a few days prior and gave the fan – who was waving a Brazilian flag in the crowd – a shoutout.
When she wasn't joking with the crowd, she was bouncing around on stage as she belted out signature songs like "we fell in love in october," which was accompanied by a video montage of meadows and kissing. Several fans in the front of the audience hoisted up Norwegian flags, a nod to her native country, as girl in red animatedly played her blue electric guitar.
And with red, blue or black, girl in red delivered a colorful performance.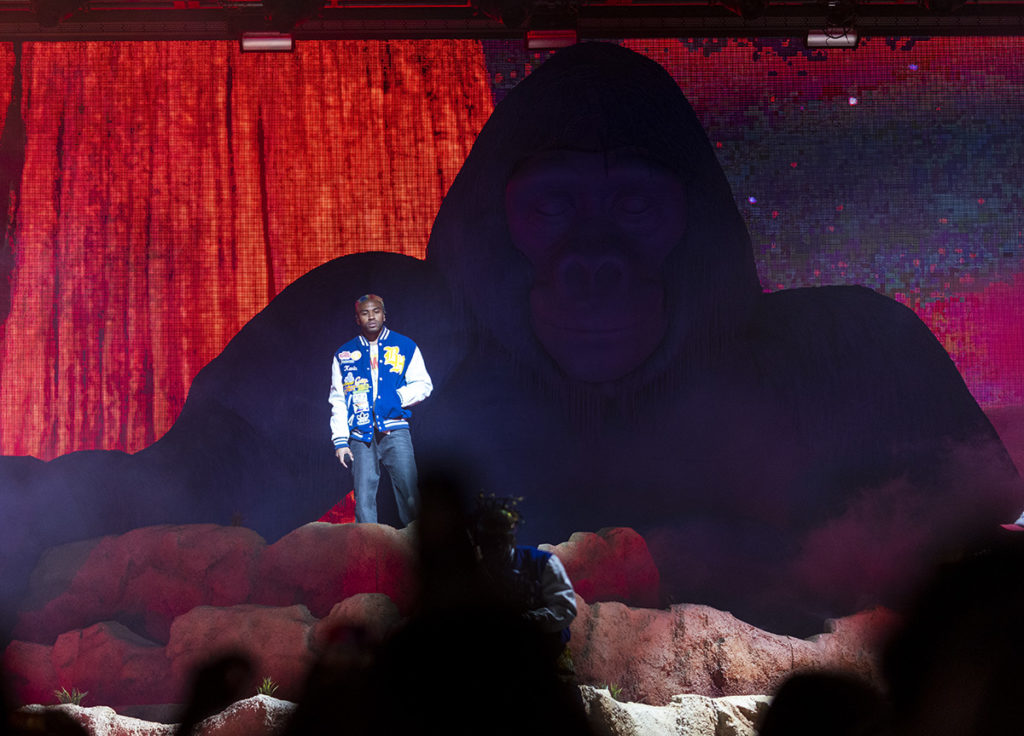 BROCKHAMPTON
For its final wish, BROCKHAMPTON requested a mosh pit.
Striding onto the Sahara Stage at 8:25 p.m. in what was announced to be the group's final performance together, BROCKHAMPTON pulled out all the stops, from overhead strobe lights to a massive faux gorilla. Before beginning the set, the collective of seven – donning identical varsity letterman jackets – formed a small huddle, moving in rhythm side to side as the flashing lights reached fever peak.
The hip-hop group performed a variety of songs from its discography, starting with songs from its debut album "SATURATION" and splicing more well-known hits such as "SUGAR" and "BLEACH" in between. There were constant reminders throughout the set that this would be the group's last show, including many quips about how the music industry is currently oversaturated with queer hip-hop artists and the group's niche is no longer distinct.
Before the final song, BROCKHAMPTON demanded that the crowd open up to create a space for a mosh pit as audience members began jumping about, pausing to hold up hearts with their hands. As the set came to an end, the group officially announced that the show was over, took a synchronized bow and thanked California.
In response, the festivalgoers gave boisterous applause.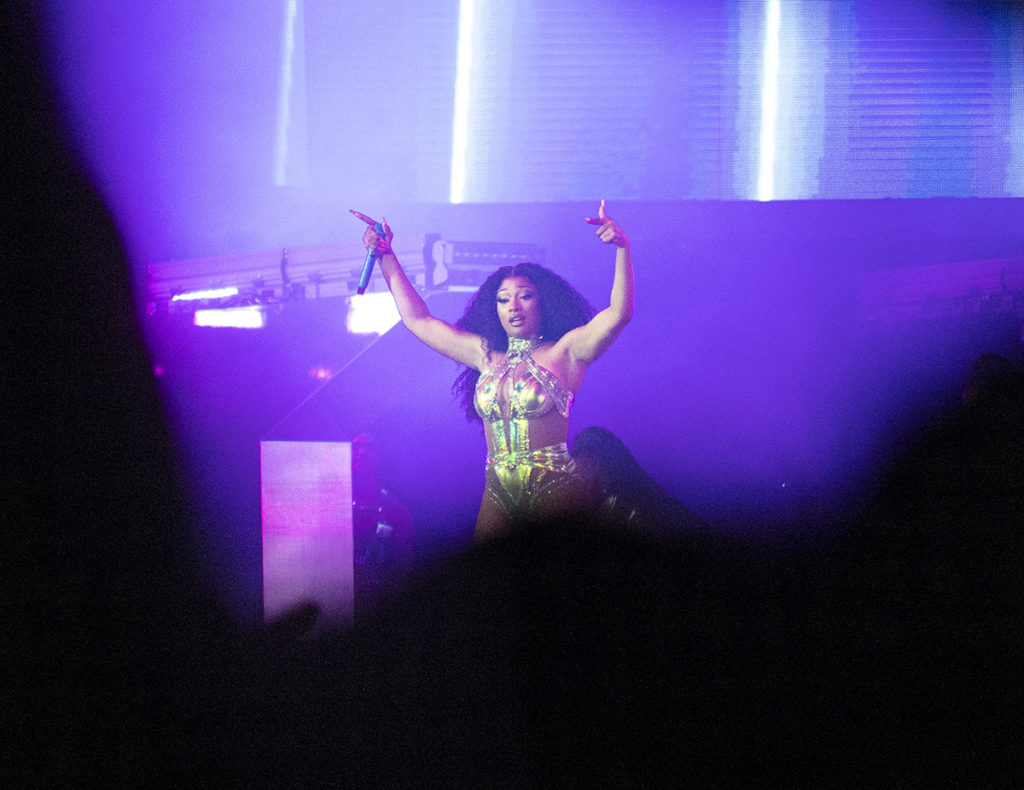 Megan Thee Stallion
Megan Thee Stallion knows exactly where all her hotties are at.
At 10 p.m., the Coachella Stage swarmed with fans eager to watch the Houston rapper take the stage. After a short clip of a mechanical horse with red eyes galloping toward the audience, she descended from a set of stairs in a metallic emerald green ensemble flanked by backup dancers in similar silver getups, who helped her change into a lighter green costume after one song.
Her collection of backup dancers remained on the stage for the extensive choreography present in her entire set, all twerking in sync. Megan Thee Stallion made another costume change during her performance, telling the audience that it was a magic trick before leaving them for two songs played by the DJ and reappearing in a blue and rainbow bedazzled leotard.
Between songs, she frequently requested for the hotties in the crowd to cheer as a brief pause before she dove into popular hits like "WAP" and "Savage Remix," encouraging the audience to rap Cardi B's and Beyoncé's respective verses. Before she closed the night out for the headliner, Megan Thee Stallion reiterated her various nicknames, lastly telling her audience that if they still didn't know who she was, they should ask their significant others.
With that, she strutted off the stage, leaving with her heat.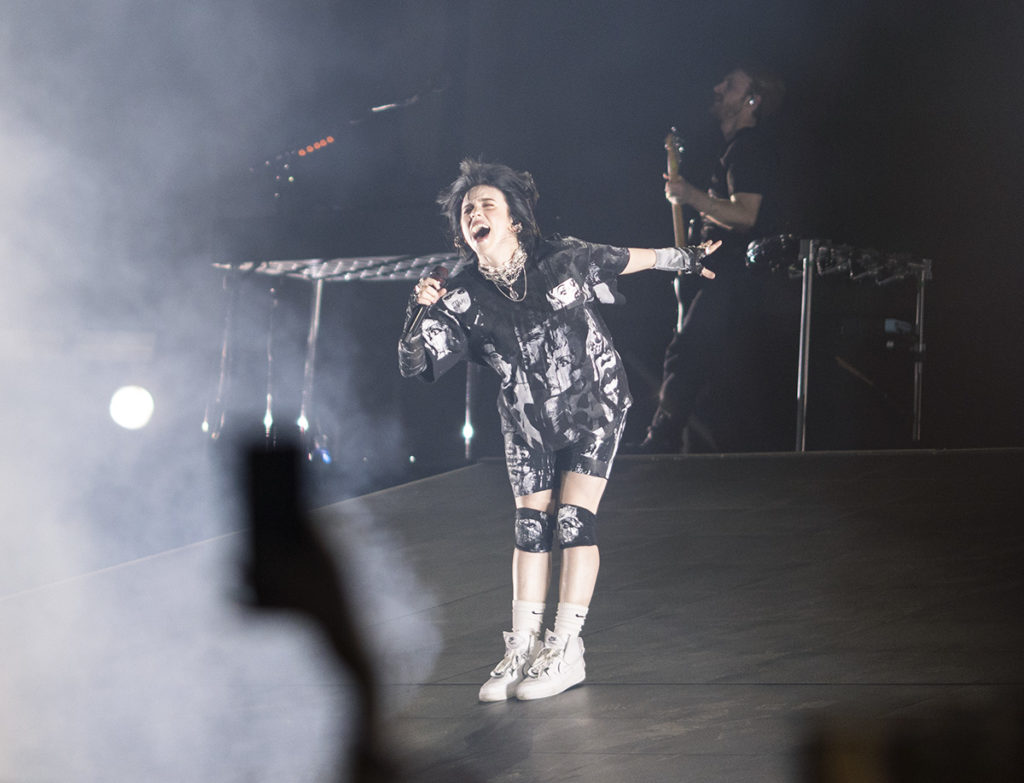 Billie Eilish
There were no bad guys permitted at Billie Eilish's show.
Headlining Day 2 at 11:30 p.m. on the Coachella Stage, the electropop artist declared three rules for the night: not to be rude, not to judge others and to have fun. Her set opened promptly, filled with gusts of mist and erratically blinking stage screens before going pitch black to reveal Eilish on the stage's catwalk. Decked out in an oversized T-shirt, bicycle shorts and knee pads, Eilish sauntered up and down the platform, playfully moving her body in time with the beat.
She excitedly introduced her band, which consisted of her drummer alongside her brother and guitarist FINNEAS. Both musicians were stationed on opposite ends of the stage with a large ramp in between them for Eilish to walk on. Pyrotechnics between the musicians also made appearances in time with the beat, and the singer did not shy away from getting on all fours and sliding around the ramp to enhance the dramatic effect of her production.
Performing a variety of tracks of assorted moods, including the groovy "Billie Bossa Nova" and the angsty "you should see me in a crown," Eilish also set up her stage design accordingly with clips of dancing feet for the former song and flashy high beams for the latter. After an acoustic, sit-down performance of Paramore's "Misery Business" with the band's former frontwoman Hayley Williams, Eilish concluded her headlining performance with "Happier Than Ever."
And judging by the rowdy applause, the audience, too, was happier with her.
Xu is a senior staff writer for Arts & Entertainment. She previously served as the Arts editor from 2021-2022, the Music | Fine Arts editor from 2020-2021 and an Arts reporter from 2019-2020. She is a fourth-year neuroscience and anthropology student from Philadelphia, Pennsylvania.
Xu is a senior staff writer for Arts & Entertainment. She previously served as the Arts editor from 2021-2022, the Music | Fine Arts editor from 2020-2021 and an Arts reporter from 2019-2020. She is a fourth-year neuroscience and anthropology student from Philadelphia, Pennsylvania.